July, 18, 2014
Jul 18
11:00
AM ET
Examining the
Cincinnati Bengals
' roster:
QUARTERBACKS (3)
The Bengals were content with having just two quarterbacks on the 53-man roster last season, but expect them to take three this year. McCarron would be the odd man out, but since they drafted him this year and made him a de facto heir apparent to the position in case something happens with Dalton in the next few seasons, they probably won't cut him or place him on the practice squad. In Campbell, the Bengals also get a tried and true veteran who could step in if Dalton's play is unsatisfactory, or if he gets hurt.
RUNNING BACKS (5)
This grouping includes Charles at H-back, meaning the Bengals are more likely to take four true running backs. I'd argue that neither Green-Ellis, Peerman nor Charles is a lock right now to make the team, but there are compelling reasons for each being part of the 53-man roster.
Rex Burkhead
and
James Wilder Jr.
also have real chances to be part of the full roster.
RECEIVERS (5)
The top three on this list are locks to make the team. The true battle during training camp will be for the other two spots. If this group holds, that means veterans
Brandon Tate
and
Jasper Collins
, former Bengals practice squad player
Cobi Hamilton
and undrafted rookies
Colin Lockett
and
Alex Neutz
won't make the team. Tate would be the real notable cut here after performing well as a kick returner and filling in at punt returner last year. With a fully healthy secondary around him, though, expect
Adam Jones
to get back to returning punts. While the Bengals will give Tate opportunities to contribute in the passing game (he's had only 14 catches in three seasons with Cincinnati) this preseason, Sanzenbacher can also do much of what Tate can. Sanzenbacher has been more consistent in the passing game and could fill in as a returner on punts or kickoffs. Hamilton's size (6-foot-2) and leaping ability make him a possible pick to make the team, but performance would be a reason for cutting him. Wright's special-teams background and his strong showing in minicamp and organized team activities make him a possibility too.
TIGHT ENDS (3)
Gresham is entering a contract year, and expectations have never been higher for him. The Bengals believe he can play better than he has in recent years and hope to get that type of production out of him. An offseason hernia surgery might have Gresham out of the mix early in training camp, but he ought to make the team, just like Eifert and Smith, who re-signed this spring to help bolster the position group after Gresham's injury.
OFFENSIVE LINEMEN (9)
It's possible the Bengals end up taking only nine linemen so they can fit additional players at other positions. For instance, they could end up taking another running back or another receiver. It's common for most teams to have nine or 10 linemen, and this group seems to provide the versatility coaches are seeking. Hopkins, an undrafted rookie, was used at a variety of spots in the spring. Of the undrafted free-agent linemen the Bengals signed this year,
Trey Hopkins
-- a versatile guard who was used in a variety of ways this spring -- has the best shot to make the team, but even he's just barely left off this list.
DEFENSIVE LINE (9)
The only player on this list who wasn't on last year's 53-man roster is
Will Clarke
. The rookie was drafted in the third round in May. He effectively takes the roster spot of
Michael Johnson
, who signed with Tampa Bay in the offseason. This may be the most set group on the team.
LINEBACKERS (6)
Like the receivers, the top spots at linebacker are pretty much squared away. In this case, it's a veritable lock that Vontaze Burfict, Emmanuel Lamur, Vincent Rey and Rey Maualuga will make the team. The two remaining linebackers, on the other hand, will be part of one of the better position battles on the team. DiManche and Flowers have the best chances among the rest of the outside linebackers to make the team, but they'll have to fend off
Sean Porter
,
Brandon Joiner
and
James Davidson
too.
Dontay Moch
could make the team because of his versatility as a stand-up defensive end and hybrid linebacker.
J.K. Schaffer
was snubbed on this list at middle linebacker, but there's a lot about his drive and internal makeup that could make him a repeat roster surprise.
CORNERBACKS (6)
The top four positions are effectively locked down. Kirkpatrick runs the risk of being cut for performance reasons, but it's unlikely he will be dismissed because the Bengals would take a $1.2 million cap hit if they let go of the former first-round pick. The sixth cornerback spot will be a battle between Hampton,
R.J. Stanford
,
Lavelle Westbrooks
,
Chris Lewis-Harris
and
Onterio McCalebb
. Hampton has some versatility and ability the Bengals like, as well as special-teams leanings.
SAFETIES (4)
This may end up being one of the tougher cuts Bengals coaches have, if they end up keeping just four safeties.
Taylor Mays
would be the odd man out in this situation, which might come as a surprise given how well his spring practices seemed to go. Nelson and Iloka are virtual locks, Manning seems like a good possibility and Williams appears to factor into the team's future at the position.
SPECIALISTS (3)
These guys aren't going anywhere. The punter, kicker and long snapper will make the team.
July, 10, 2014
Jul 10
12:00
PM ET
If the
Cincinnati Bengals
are going to continue their recent run of success in the next three seasons, they will have to accomplish a number of things.
It's a monumental task to pick just one.
Dalton
So much of the Bengals' immediate future hinges on what happens at the quarterback position, either later this offseason or during or after this coming regular season. For now,
Andy Dalton
remains the starting quarterback, even while the team tries to negotiate a contract extension with him and his agent. Little ground has been covered in the talks. It is becoming apparent that the more time passes without a new deal the more Dalton may be content playing out the 2014 season and trying to do enough to earn a second-contract salary that competes with the league's elite passers.
Let's pretend Dalton is still a Bengal over the next two or three seasons.
If he is, the Bengals' biggest key to success will be to keep a bevy of playmakers around him. As we saw countless times last season -- and should see in 2014 -- Dalton's receivers and running backs are good enough to routinely bail the offense out of challenging circumstances. Running back
Giovani Bernard
will be looking for a new contract after next season and should get it if he continues to showcase the type of agility and speed that made him such a weapon as a rookie in 2013. Having the bigger
Jeremy Hill
paired with Bernard will help give the offense balance not only in the running game but also in the short passing game. Receivers A.J. Green and
Marvin Jones
also need to be around to catch passes. Green should still be in a Bengals uniform in two years if not three.
If Dalton is no longer a Bengal in the next two or three seasons, Cincinnati must continue building a top-10 defense that can play alongside
AJ McCarron
. The 2014 draft pick is currently the apparent heir at quarterback and would start if Dalton is gone next offseason. Much like the defense helped carry Dalton through his first two years in Cincinnati, the unit would have to do the same for McCarron.
June, 12, 2014
Jun 12
5:15
PM ET
CINCINNATI -- The mandatory minicamp portion of the
Cincinnati Bengals
' offseason has come to an end, meaning summer is well within view.
Following three voluntary organized team activity practices next week, the Bengals are off until July 24, when they take to Paul Brown Stadium's practice fields for the start of training camp. The only day next week media are permitted to watch the team practice is Monday. After that day, we won't see all 90 players on a field together until training camp.
That makes Thursday's final minicamp practice an important last step in springtime football.
Here are a few brief observations from the workout:
June, 11, 2014
Jun 11
6:00
PM ET
CINCINNATI -- Since his Queen City arrival about a month ago,
AJ McCarron
's nights have followed a distinct pattern.
If the rookie quarterback is not at a Cincinnati Reds baseball game or taking in a quick meal at a local eatery, he is in his new Ohio River Valley abode with his nose buried in a
Cincinnati Bengals
-issued iPad until past midnight while his famous fiance looks on.
Still six weeks and one day shy of the start of training camp, it's all about learning for the first-year player. It's not about trying to supplant the veteran starter from Day 1 of training camp, or taking first- or second-team reps throughout the preseason. For the foreseeable future, it's about learning the Bengals' offense, adapting to it and playing as well within it as he can.
[+] Enlarge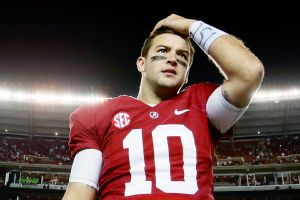 Kevin C. Cox/Getty ImagesAJ McCarron is spending his early days with the Bengals just trying to get a handle on the playbook.
All of that means it's also about subjecting his partner, Sports Illustrated model and former Miss Alabama Katherine Webb, to hours upon hours of football.
"She's having to sit there and watch the game when she probably didn't want to," McCarron said Wednesday, adding that he felt bad for subjecting her to it. "But right now, it's just a lot of studying and trying to make everything like it's natural and I don't have to think about it."
McCarron added that part of his Sunday night was spent watching the Miss USA beauty pageant with Webb.
Tuesday night, though, it was back to football. McCarron said he stayed up to 12:30 a.m. breaking down protections, coverages and blitzes as he sifted through offensive coordinator Hue Jackson's new system. He thinks the study has been paying off.
"I feel like I'm in a good groove right now, and I feel like I'm in a good place," McCarron said. "I'm catching on."
He's also healing. After being forced to only hand off the football during the first two weeks of voluntary organized team activities, McCarron has been throwing during the minicamp all this week. On both Tuesday and Wednesday, he was mostly firing shorter passes to running backs tucked at the bottom of coverage patterns. After dealing with so-called "arm tightness" the first two weeks, he's been cleared to at least throw in a limited capacity. Eventually, the Bengals will work up to allowing him to make longer throws.
Still, he was glad to have a chance to make the ones he did.
"Just to get back in the swing of things and being able to have reps throwing the ball instead of just run plays the whole time; it's definitely good," McCarron said.
In addition to his late-night film study, McCarron credited Jackson and quarterbacks coach Ken Zampese for helping him quicken his pace of learning.
"It's Coach Zamp. We're really close," McCarron said. "He's a really good friend and a great coach. He's helped me a ton. We've spent a lot of hours together going over everything. He's been a huge help to me so far, and he pushes me. That's what I like. I want somebody where, if I don't do right, they get on me and just throw me in the fire. Coach Hue and Zamp have done that."
June, 3, 2014
Jun 3
8:30
AM ET
CINCINNATI -- After closing their last two organized team activity practices to the media last week, the
Cincinnati Bengals
are back open Tuesday morning as they begin the second week of voluntary OTAs.
There was a lot gleaned from the lone open practice last week, and there ought to be even more learned this week as the team starts finally settling into the flow of the workout schedule. Following this week's three practices, the team will convene again three times next week for a mandatory minicamp before meeting for one final three-day stretch of OTAs the week of June 16. After that players are released until July 24, when they begin training camp at Paul Brown Stadium.
Ahead of this week's lone day of open practice, here are a few items to watch for:
Gresham's status. Tight end Jermaine Gresham was the lone holdout during last week's workouts. According to Bengals.com, he has an injury he suffered earlier this offseason, but isn't believed to be in jeopardy of missing training camp. We'll see if more official word will be provided by the team Tuesday, and if he ends up making at least a sideline appearance. Last week, other injured players, Leon Hall, Geno Atkins, Clint Boling and Mike Pollak showed up but did not go through the full practice. Pollak didn't go through stretching like the other three.
Offensive line rotations. With Pollak presumably still out, we'll be keeping an eye on the Bengals' offensive line rotation. Last week they subbed Trevor Robinson and rookie Russell Bodine in at center. With Boling still out rehabbing from his ACL injury, Pro Bowl left tackle Andrew Whitworth got a few snaps at left guard just as he did at the end of last season. Others played the position with the first-team unit, as well, though, including undrafted free agent Trey Hopkins. At this stage in the offseason, it's all about getting reserves some meaningful snaps and figuring out who might be able to play where in the event an emergency insertion is needed.
Rookie learning curve. Along with Bodine and Hopkins, the Bengals have 18 other first-year players who are trying to pick up their offensive and defensive schemes and acclimate themselves to the terminology both playbooks have. Cornerback Darqueze Dennard addressed his steep learning curve in interviews last week. He said he's been helped by many of the veterans on the defense, including third-year linebacker Vontaze Burfict. Two other rookies to watch this week are running back Jeremy Hill and quarterback AJ McCarron. Both missed part of last week while attending the NFLPA's "Rookie Premiere" event in Los Angeles. After practicing last Tuesday, they were at the event Wednesday and Thursday, meaning they will be a bit behind their peers now that they are back this week.
Defensive line rotations. Much like the offensive line with its changes due to injuries, the Bengals experimented with defensive line rotations last week and ought to continue to do so. Second-year defensive end Margus Hunt got some playing time at left end, although that was the position Carlos Dunlap occupied much of last season. Dunlap played some at right end, as well, as the Bengals started tinkering with possible switches along the front based upon the packages they're playing. Several of the ends could see action on the line's interior as part of pass-rush details in Cincinnati's nickel defense.
Lamur's place. After missing the entire 2013 regular season, outside linebacker Emmanuel Lamur is back. More of a cover linebacker, the Bengals would like to see if he can stay on the field often as their linebacker rotation takes shape. With his size and length, the 6-foot-4 Lamur matches up well with tight ends. In a division that has some good ones, it'll be important the Bengals have such a healthy defender of Lamur's make up this year.
Tempo, tempo. It wasn't hard to notice the Bengals' stepped up offensive tempo during last week's practices. It probably won't change this week, either. Again, it's not so much that the Bengals are getting into hurry-up mode, it's just that they're getting out of the huddle and to the line a lot quicker.
May, 16, 2014
May 16
3:45
PM ET
CINCINNATI -- Former
Cincinnati Bengals
backup
Greg McElroy
chimed in Thursday night on the controversy surrounding fifth-round quarterback
AJ McCarron
when he spoke honestly and openly about his former college teammate's place in the NFL, and the rumors that character flaws contributed to his draft slide.
McElroy
Speaking to AL.com at an Alabama football spring tour event in Nashville, McElroy, a former Alabama quarterback and new analyst for ESPN's SEC Network, said he
felt bad for McCarron in the wake of rumors
that helped spoil the 23-year-old's draft weekend. McElroy added, however, that he felt McCarron also needed to take ownership of the overall situation.
"I feel like he needs to stop making excuses to a certain extent," McElroy said. "But, I think AJ, he's going to go to a place, a good situation, a really good organization, and all of those things will be water under the bridge and he'll be able to prove himself worth of wherever it is he was picked by his play. And that's all that matters at this point."
McCarron was drafted 164th overall last Saturday. When OTAs begin in Cincinnati in two weeks, he's expected to be the No. 3 quarterback on the roster behind starter
Andy Dalton
and veteran backup
Jason Campbell
.
Two days after McCarron was drafted, the Bengals released backup
Josh Johnson
, completing their quarterbacks purge. Earlier this month, fellow backup
Zac Robinson
was cut after spending all of last season on the physically unable to perform list. McElroy, who was the team's practice squad quarterback, retired earlier this offseason, ending his three-year career.
"I feel bad. I do," McElroy said about McCarron and the weekend rumors that his pre-draft behavior "rubbed teams the wrong way." "Everything he's said has been taken out of context, certainly. But I think people are also looking for him to say something, and I don't necessarily think that's fair. But I also think he created that by putting undue expectations on himself in the actual draft situation."
McCarron admitted earlier this week to telling team executives he thought he was better than some of the mid-round projections he had been receiving.
"I guess when teams met with me, they wanted me to say I'll be a third-round guy and a mediocre quarterback," McCarron said Wednesday. "Maybe I was too honest or something. I'm an honest person and say what I feel. That's how I feel about my play. If that turns a team off, then at the end of the day, to me, they didn't really want you. I was myself."
[+] Enlarge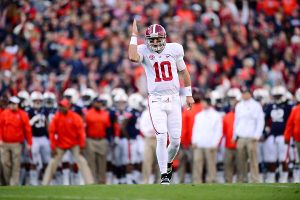 Phil Ellsworth/ESPN ImagesAJ McCarron needs to get past draft-weekend rumors about his character and take ownership of his situation with the Bengals, his former Alabama teammate Greg McElroy said.
ESPN NFL Insider Adam Schefter was among those who reported last Saturday that some team executives weren't impressed by McCarron following pre-draft meetings with him. NFL Network reported that some were bugged by how cocky they felt McCarron came off.
"He was critical of other people," Schefter also said.
McCarron admitted Wednesday to
being hurt by the chatter about him
. He and fellow Bengal and Alabama product
Wallace Gilberry
felt there was a misread of his confidence.
"A lot of people will confuse confidence with cockiness," Gilberry said. "With where he's been, I know where he's from and I know how he grew up. I know him. And it's like I told him, 'Everybody's not going to like you and this world isn't for everybody to like you. The ones that respect you, respect them. And the ones that don't, you show them why they should.'"
McCarron must have taken that advice to heart.
"Hopefully at the end of the day I'll get the last laugh," McCarron said.
McElroy, who beat McCarron for Alabama's starting quarterback job McCarron's redshirt freshman season, shares the rookie's optimism.
"He does have a fiery personality. He has a chip on his shoulder. All of those things are accurate," McElroy said. "And I think AJ is a great kid. I think that right now, he just needed the draft to be settled and maybe not say as much as he did, but that's all been said and done now. Now he'll be able to go forward and speak through his play and he'll do a great job of that."
May, 14, 2014
May 14
5:30
PM ET
CINCINNATI -- Cocky? Rambunctious? Bad teammate? Locker-room cancer?
The player who stood before media for nearly 15 minutes Wednesday afternoon appeared anything but all of the descriptors listed above.
[+] Enlarge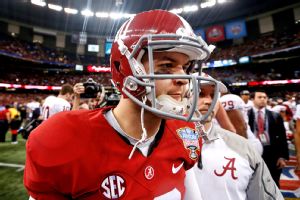 Derick E. Hingle/USA TODAY SportsThe Bengals will find out sooner rather than later what kind of leader rookie QB AJ McCarron is on the field.
As new
Cincinnati Bengals
quarterback
AJ McCarron
held an unofficial introductory news conference Wednesday with reporters as he stood in the shadow of Paul Brown Stadium's South end zone, he didn't offer any overly brash proclamations or guarantees. He didn't threaten to chuck a cameraman into the stands. No teammates, either old or new, were tossed underneath any physical or metaphorical buses.
Instead, he was calm, mostly patient and polite as he answered questions. He even added, in his slight southern Alabama twang, a "no ma'am" as he prefaced one of his responses.
He showed his vulnerability, too, admitting that
he was hurt by recent reports that questioned his character
.
So who was this guy? Was he the same person who was chided all day Saturday and supposedly blasted all offseason behind the closed doors of several team front offices? On Wednesday, he didn't appear that way.
But remember, looks can sometimes be deceiving.
To hear McCarron and one of his former college teammates tell it, Saturday's reports were a case of mistaken persona. Two of them in particular, one from ESPN insider Adam Schefter and another from NFL Network said officials from multiple teams weren't impressed with McCarron during pre-draft meetings. Some team officials apparently felt he was too cocky and had an ego large enough to fill their entire stadiums.
McCarron, a starter on two national championship teams at Alabama, believes his confidence may have been misinterpreted as cockiness.
"Through my college years I've never been cocky," McCarron said. "I've always given respect to my teammates before myself."
Before we go too much further, let me point out I've done some homework on McCarron since Saturday. I've heard some of the same things Schefter and others did from a few people who were around Alabama's football program on a regular basis. An argument could be made that the claims I heard may have been buffered by the timing of the other remarks about McCarron that had been made earlier in the weekend, but they do come from intelligent people whom I trust.
But perhaps they misread his confidence as cockiness, too? Maybe, maybe not. I can't know for certain until I've spent more time around McCarron myself. One day isn't much of a sample size.
Bengals cornerback
Dre Kirkpatrick
has his share of experiences involving McCarron to rely on though. He's known the quarterback since 2009, the same year they both enrolled at Alabama. The two played three seasons together before Kirkpatrick was drafted by Cincinnati in 2012.
"He's a competitor," Kirkpatrick said. "I watched him our freshman year try to compete for the job. Obviously he didn't get the job. But he always had a great attitude about it."
Kirkpatrick added he felt McCarron outplayed the starting quarterback, recently retired and former Bengal
Greg McElroy
. The top job was won by the elder McElory, though, because "he had more wisdom," Kirkpatrick said.
"I've seen him get fiery," Kirkpatrick added of McCarron. "I've seen him get mad. Maybe his receivers aren't getting the ball because we're picking the balls off. He gets mad -- he gets onto them. He lets them know by saying like, 'Let's pick it up.' He doesn't like slacking players because he's not going to go out there and be a slacking player."
So the question is: Is it confidence or cockiness that really fuels McCarron? Was it confidence or cockiness that the Bengals saw?
Does it really matter which, though?
Regardless the distinction between the traits, it's clear the Bengals saw something in McCarron that they didn't see in their starting quarterback. Time will ultimately judge whether McCarron is simply confident in his abilities or just overly cocky. There is a hope around the Bengals, though, that with McCarron around,
Andy Dalton
will eventually develop either of the two characteristics; ones offensive coordinator Hue Jackson believes a signal-caller ought to have.
"A lot of people call me cocky," Jackson said. "I have a lot of confidence, too, and I kind of like that in a guy.
"I kind of like that in a quarterback."
May, 11, 2014
May 11
3:15
PM ET
CINCINNATI -- The Bengals avoided making too many splash picks in this year's NFL draft, but the selections they did make still earned high marks from ESPN draft insider Mel Kiper Jr.
In Kiper's post-draft grades published Sunday, the Bengals trended on the positive side of the curve.
He gave them a "B."

I'd have to agree, and depending upon how you view draft hauls, I'd argue that maybe they deserve an even higher grade than that.
From the traditional "best player available" draft model, a solid "B" probably is about the cap on what grade one could give them. After all, one could easily consider
Carlos Hyde
a better-rated running back than
Jeremy Hill
, the second-round pick the Bengals ultimately made. Hyde certainly had his off-field red flags, but they seemed tame compared to Hill's conviction for sexual assault in high school and college arrest that stemmed from a bar fight that was caught on camera. In the third round, there also seemed to be better rated players on the board at other positions instead of defensive end William Clarke.
If you instead choose to view the Bengals' draft through the lens of addressing team needs, they probably deserve a "B-plus" and could even make their own case for a fringe "A-minus." They did end up selecting players -- and good ones -- at the spots they needed the most. Their first-round pick,
Darqueze Dennard
, fit a need for cornerback and he certainly was the best player available at the time of his selection. The fourth-round trade up for center
Russell Bodine
was brilliant and arguably one of the more underrated moves of the entire draft. That pick, along with Hill's, showed how serious the Bengals are about turning their offense into a more physical and run-focused machine.
Along with the key offensive additions, the Bengals also had defensive picks that reflect their belief of where the league is headed from a schematic standpoint. With so many offensive players coming out of spread systems in college, you're beginning to see NFL teams spread out the field with multiple receivers and tight ends and backs who can catch passes out of the backfield. As a result, defenses are in nickel packages more often than they might have been in the past, meaning they need players on the field who can cover the taller receivers, the bigger tight ends who are playing slot receiver-types of roles, and the athletic backs who sometimes get flanked out, too.
The Bengals' pick of Dennard reflects how seriously they take their man-press coverage. Acoording to some draft pundits, Dennard may have been the best cover corner in the draft. Along with him, the Bengals added a tall defensive end in Clarke whose long arms and height can help disrupt short-to-intermediate passing windows on the edges. Sixth-round pick
Marquis Flowers
could eventually be the ideal nickel backer after playing everywhere in the secondary in college. He's been a safety before and was both a Sam and Will linebacker at Arizona. The Bengals believe his athleticism will be perfect against some of the offenses they'll have to see.
Cornerback
Lavelle Westbrooks
' selection in the seventh round also shows of the serious emphasis the Bengals are hoping to put on defensive coverage. Like Flowers, the Bengals hope to use him on specials teams.
Then there's the fifth-round pick, quarterback
AJ McCarron
. His selection might have been in response to Georgia quarterback Aaron Murray being taken one spot before at No. 163 to the Chiefs, but the Bengals' brass contends they liked McCarron anyway, even despite the Day 3 reports that said he rubbed some team executives the wrong way during the pre-draft process.
McCarron's persona is different than starting quarterback
Andy Dalton
's. And while Dalton still should be convinced that he is not entering a quarterback controversy, he still has to wonder if McCarron's addition was to help step up the competition at the position. The move certainly seems to suggest that.
May, 10, 2014
May 10
12:00
PM ET
The
Baltimore Ravens
head into the final day of the 2014 draft looking for a possible future backup quarterback. There are still plenty of options remaining for the Ravens because only five quarterbacks were taken in the first two rounds and none were selected in the third round.
Here are six names to remember for the Ravens:
Zach Mettenberger, LSU (fourth round): Great size and arm strength but comes with character concerns.
AJ McCarron, Alabama (fourth round): A game manager who is extremely smart and brings tremendous leadership.
Aaron Murray, Georgia (fourth round): Experienced starter with a quick release but lacks size and arm strength.
Logan Thomas, Virginia Tech (fifth or sixth round): Arguably best arm of the draft but struggled in clutch situations and big games.
Keith Wenning, Ball State (sixth or seventh round): Experienced and clutch starter but has an average arm.
Jeff Matthews, Cornell (sixth or round): Strong-armed and accurate passer who lacks ideal athleticism.
Quarterback is a need for the Ravens because
Tyrod Taylor
has been less than impressive and is entering the final year of his contract. If the Ravens draft a quarterback, the rookie could serve as No. 3 on the depth chart this year and replace Taylor as the primary backup to
Joe Flacco
in 2015.
There is a possibility that the Ravens could have a shot at signing either
Case Keenum
or
T.J. Yates
, both of whom played under new Ravens offensive coordinator Gary Kubiak in Houston. The Texans could end up releasing one of them if they draft a quarterback or trade for the Patriots'
Ryan Mallett
, who could be available after New England drafted
Jimmy Garoppolo
in the second round.
Another option is signing a veteran free agent after the draft like
David Carr
. The No. 1 overall pick of the 2002 draft, Carr played one season under Kubiak in Houston but he was out of football last year.
The Ravens' remaining picks are: fourth round (Nos. 134 and 138), fifth round (No. 175) and sixth round (No. 194).
May, 6, 2014
May 6
4:15
PM ET
GREEN BAY, Wis. -- Let's get this out of the way from the top: We know
Green Bay Packers
general manager Ted Thompson does not draft for need -- or so he says.
But in the months leading up to this week's draft, Thompson and his scouts have spent hundreds of hours not only discussing the prospects who will be available to them but also their current roster and its strengths and weaknesses.
With that in mind, let's break the 12 position groups that make up the roster into four parts based on the following categories of draft needs.
We will define them this way:
Part 1: Negligible
-- positions where there is little or no need.
Part 2: Non-essential
-- positions where there is a need but it is not paramount to fill.
Part 3: Secondary
-- positions where there is a need but not at the critical level.
Part 4: Pressing
-- positions where it is imperative that help be found.
On Monday, we
looked at the negligible needs
, Nos. 10-12.
Next up are the nonessential needs.
7. Quarterback
: It's too early to start thinking about a replacement for
Aaron Rodgers
, who turned 30 last December and is under contract through 2019, but they need to find the next
Matt Flynn
-- a long-term backup who can be counted on to win games just in case. Flynn is back under a one-year deal, but coach Mike McCarthy has said he would like to develop a young quarterback. Is that
Scott Tolzien
? Perhaps, but don't be surprised if they bring in a mid-to-late-round quarterback.
Possible players of interest
:
AJ McCarron
, Alabama;
Tom Savage
, Pittsburgh;
David Fales
, San Jose State;
Keith Wenning
, Ball State;
Brock Jensen
, North Dakota State.
8. Cornerback
: The Packers committed to
Sam Shields
this offseason with a four-year, $39 million contract just as free agency opened, but veteran
Tramon Williams
is in the final year of his contract.
Casey Hayward
is expected to be back from the hamstring injury that ruined his 2013 season, and there's depth with
Micah Hyde
,
Davon House
and
James Nixon
, although Hyde may move to safety. If the right corner fell to the Packers, Thompson might jump at the chance.
Possible players of interest
:
Justin Gilbert
, Oklahoma State;
Kyle Fuller
, Virginia Tech;
Lamarcus Joyner
, Florida State;
Keith McGill
, Utah;
Stan Jean-Baptiste
, Nebraska.
9. Outside linebacker:
Like defensive end, this is another position where there's plenty of talent depending on who lines up where. Beyond Pro Bowler
Clay Matthews
, there's
Julius Peppers
(who will play a combination DL-OLB), former first-round pick
Nick Perry
, former second-round pick
Mike Neal
and second-year players
Andy Mulumba
and
Nate Palmer
.
Possible players of interest
:
Anthony Barr
, UCLA;
Kyle Van Noy
, BYU;
Jeremiah Attaochu
, Georgia Tech;
Demarcus Lawrence
, Boise State.
May, 1, 2014
May 1
8:00
AM ET
There are few secrets about Bruce Arians as a coach.
He likes to throw long and deep, and he likes to put up a lot of points. And here's another thing we know about Arians: He's had some great quarterbacks.
With the draft less than a week away and speculation increasing that the
Arizona Cardinals
will take a quarterback with one of their six picks, what kind of quarterback Arians favors has become a hot topic.
Here is what we know: Arians has had a lot of success with taller quarterbacks who don't run much. Just look at
Peyton Manning
,
Ben Roethlisberger
and
Andrew Luck
. They can run, but don't in Arians' system. And most every quarterback that fits those dimensions has succeeded in his scheme.
Here's a look at the past six quarterbacks Arians has coached and the top 10 quarterback prospects in this year's draft, according to ESPN:
April, 30, 2014
Apr 30
1:00
PM ET
BRISTOL, Conn. -- The
New Orleans Saints
aren't in the market for their next starting quarterback yet, with starter
Drew Brees
still thriving at age 35.
But Georgia draft prospect
Aaron Murray
said, "I'll gladly back up Drew for a few years. That's fine with me. He's my favorite quarterback."
I chatted with both Murray and Alabama quarterback
AJ McCarron
this week while they were doing a series of media interviews at ESPN headquarters.
[+] Enlarge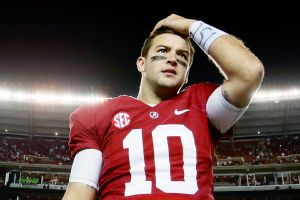 Kevin C. Cox/Getty ImagesAlabama's AJ McCarron says backing up the Saints' Drew Brees "would be a great situation, for sure."
Both former SEC stars are projected as mid-round draft prospects -- which probably makes both of them long shots for the Saints since they likely won't invest a premium pick on the position.
But never say never. Saints coach Sean Payton loves working with quarterbacks, and he said recently that the scouting department always takes a close look at quarterbacks leading up to the draft because the position is so vital. Perhaps a prospect like Murray or McCarron or Virginia Tech's
Logan Thomas
could be a tempting mid-round option.
Murray and McCarron both said they didn't visit New Orleans during the pre-draft process. But they both said they had very positive experiences while spending time with coaches at various offseason events like the scouting combine, Senior Bowl or pro days.
"I know Coach Payton really well," said McCarron, who was promoting AXE Hair Gels during his ESPN rounds. "He came over and talked to me several times, came over and talked to me some at my pro day. He's a great man. ...
"And then I got to know Drew, I met him up at the Super Bowl, and he's a great dude. Unbelievable. One of the best probably ever to play the game at that position. So, yeah, that would be a great situation, for sure."

Murray
Murray, who at 6-foot-1, 207 pounds, is a smaller quarterback like Brees, said Brees has long been his favorite quarterback to watch. He said former Georgia defensive coordinator Todd Grantham used to provide players with NFL tapes, and he watched more of Brees than anyone else.
"We have very similar styles. Not only just on the field just playing ball, but leadership as well," Murray said. "That's something I work extremely hard to do, to take control of the team and represent the University of Georgia both on and off the field. And that's something he does well ...
"And then you just go to ball, and he's a lot of fun to watch. ... All summer long I'd be watching some of his games, what he does maneuvering out of the pocket, watching him get through reads."
A mid-round prospect that might make even more sense for New Orleans is Alabama receiver
Kevin Norwood
, whose stock has seemed to be on the rise based on recent talk from draft analysts.
"Supposedly now they're talking about he's a third round (pick)," McCarron said of the 6-2, 198-pounder, raving about what a clutch receiver and a "genuine dude" he is. "I think just a lot of offensive players at Alabama are underrated coming out, just because our defense is always the main focus, playing for a defensive coach like Coach (Nick) Saban. So I think it's just an offensive burden in a way, that we have in a way, coming out. Just kind of pushed to the side almost.
"But Kevin's gonna be a hell of a receiver."

NFL SCOREBOARD
Thursday, 8/28
WEEKLY LEADERS