January, 18, 2011
1/18/11
4:00
PM ET
Will the Pittsburgh Steelers clean up their special-teams gaffes from their regular-season meeting with the New York Jets?
Your resident AFC North blogger asked Steelers coach Mike Tomlin on Tuesday what the Steelers need to do better on special teams in their rematch against the Jets.
[+] Enlarge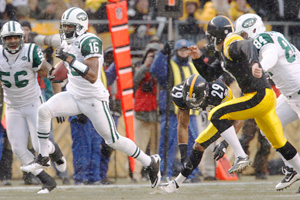 AP Photo/Keith SrakocicBrad Smith's 97-yard kick return for a touchdown was key in the Jets' Week 15 win over Pittsburgh.
"We need to stop
Brad Smith
from going 97 yards," Tomlin said. "That's a good start."
Contrary to popular belief, the Steelers didn't lose to the Jets in Week 15 because of poor offense or poor defense. The Steelers outgained the Jets by 101 yards, and Pittsburgh's offense outscored New York's 17-13.
But hidden yards on special teams and Smith's 97-yard kickoff return for a touchdown proved to be the difference in New York's 22-17 victory. New York gained 177 total yards on kickoff and punt returns, which had an impact on field position and consistently gave the Jets a short field. This will be an area to watch for Pittsburgh in the AFC Championship Game.
Pittsburgh's coverage teams have been an issue in previous seasons, so much so that the Steelers fired former special-teams coach Bob Ligashesky and hired Al Everest this season. Pittsburgh's special teams have made strides in the first year under Everest. But his unit probably had its worst game of the season against the Jets.
Smith missed the Jets' divisional-round victory over the
New England Patriots
on Sunday with a groin injury. His status for this Sunday's game is still to be determined, but the Steelers know the Jets are still dangerous in the third phase of the game.
"They're a very good group," Tomlin said. "It doesn't matter whether Brad Smith is back there or [Antonio] Cromartie is back there. You saw what [Cromartie] did against Indianapolis at a critical time. He's a very capable and dangerous return man, but they have a team of potentially capable return men."
March, 9, 2010
3/09/10
11:30
AM ET

There are years when the
Pittsburgh Steelers
may go an entire offseason without signing four free agents.
This week they decided to sign four players in one day.
So what happened?
In addition to retaining veteran safety
Ryan Clark
, the Steelers also added safety
Will Allen
and receivers
Antwaan Randle El
and
Arnaz Battle
. Pittsburgh reportedly dished out at least $25 million worth of contracts Monday, although the amount for Randle El's three-year deal isn't known.
Retaining Clark was a goal for the Steelers, despite some rough patches in negotiations. He was visiting with the
Miami Dolphins
Monday, but a four-year deal was reached with Pittsburgh. Clark will return to his natural spot as the starting safety opposite
Troy Polamalu
.
The other three signings all have a significant theme: Improving special teams.
Pittsburgh's return and coverage teams were an underlying weakness that contributed to last season's 9-7 finish. Allen can be a backup safety and a core player on coverage teams, while both Battle and Randle El have experience returning kicks. Battle can play in kick coverage, as well.
The Steelers recently hired Al Everest to coach special teams this upcoming season. Everest now has some new toys to play with thanks to Pittsburgh's rare, but busy, day in free agency.
March, 8, 2010
3/08/10
3:13
PM ET
The moves teams make in free agency can be predictable based on personal connections.
So many of these moves are somewhat predictable if we pay close enough attention to the connections. St. Louis made another reconnection Monday when they signed defensive tackle Fred Robbins, who played for Rams coach Steve Spagnuolo when both were with the Giants. The Cardinals reportedly have interest in linebackers Joey Porter and Larry Foote, who played for the Steelers when Arizona's Ken Whisenhunt was a coach for Pittsburgh. On and on it goes.
It makes sense for teams to seek players they know will fit their systems. I also think teams can value familiarity too much. Sometimes it's easier for a coach to plug in a known part than to put in the work needed to develop a younger or more talented player.
January, 18, 2010
1/18/10
4:26
PM ET
The 49ers' hiring of Kurt Schottenheimer to coach their special teams should work out because the team has good personnel at snapper, kicker and punter.

But replacing Al Everest with Schottenheimer is a curious move. Everest was known as a solid special-teams coach (he could wind up with the Steelers). Schottenheimer has a long history as an NFL assistant coach, but he has not coached special teams since 1994.

The 49ers' return game was poor in 2009. I think that was because they lacked a good return specialist, not because Everest forgot how to coach returners.

Schottenheimer otherwise inherits a solid situation. The 49ers are set at snapper, kicker and punter. They have one of the NFL's very best special-teams players in Michael Robinson. Coach Mike Singletary has made toughness a priority, and toughness is critical for good special teams.
December, 7, 2009
12/07/09
3:19
PM ET
The 49ers' ill-fated decision to call a reverse during a punt return against the Seahawks resulted from a coaching miscommunication.
That was the word from head coach Mike Singletary during his news conference Monday.
The 49ers had worked on the play in practice, Singletary said, but that should not have automatically led to the team calling the reverse during the game.
"That was my fault for not articulating that we might do it in the game but we are not for sure going to do it in the game," Singletary said. "That is my fault for not making it more plain. Whenever something like that happens, it is my fault. The communication should be better. We didn't touch on it the way we should have to say we are definitely going to do it in the game."
Special teams coach Al Everest presumably made the call to run the reverse under the assumption that Singletary had signed off on the decision. I will attempt to confirm that part of the scenario through the 49ers.
Brandon Jones
muffed the handoff exchange with
Arnaz Battle
. The Seahawks recovered and scored a touchdown shortly thereafter.
"It's just a situation in which you have two players back there and one player, Brandon Jones, is not really your normal guy to do that," Singletary said, "so maybe you don't want to have him do that. Just go ahead and let Arnaz return punts. Keep it simple and go forward from that. But we did practice it last week, so it showed up in the game."
Singletary's accountability on these matters is important. Jones also owned up to his mistake on the play. Longer term, players must have confidence that their coaches will make the right decisions and handle such situations properly. As a first-year head coach, Singletary will certainly be looking to improve.
October, 20, 2008
10/20/08
8:01
AM ET
Posted by ESPN.com's Mike Sando
Matt Barrows of the Sacramento Bee sees the 49ers' game against Seattle as a potential must-win for coach Mike Nolan.
Also from Barrows: Nolan is suddenly open to considering a change at quarterback after J.T. O'Sullivan suffers through another turnover-plagued performance.
More from Barrows: Manny Lawson says his surgically repaired knee hasn't bothered him all season, one reason the linebacker blocked another field-goal try.
Gwen Knapp of the San Francisco Chronicle says O'Sullivan remains the 49ers' best option at quarterback, which isn't saying much.
Chrissy Mauck of 49ers.com checks in with Frank Gore after the running back's least productive game as a full-time starter.
Also from Mauck: Josh Morgan provides one of the few bright spots for the 49ers.
John Crumpacker of the San Francisco Chronicle says the Giants didn't need to be at their best to beat the mistake-prone 49ers. Nolan cites a lack of discipline.
Also from Crumpacker: A report card singling out special-teams coach Al Everest for praise.
More from Crumpacker: Morgan became the second receiver in two-wide personnel groupings, a change for the 49ers. Also, Allen Rossum's first-quarter injury hurt the return game.
More from Crumpacker: A closer look at how the 49ers set up the blocked field goal. Tully Banta-Cain noticed the Giants' guards were going low, one reason Lawson was able to jump over the top for the block.
Matt Maiocco of the Santa Rosa Press-Democrat quotes Nolan as saying the 49ers aren't headed in the right direction. A home loss to Seattle in Week 8 might be enough to seal Nolan's fate.
Also from Maiocco: The 49ers are the first team in NFL history to return blocked field goals for touchdowns in consecutive games. Meanwhile, Nolan offers a "fuzzy" explanation for not using a timeout when the team had three remaining.
More from Maiocco: O'Sullivan gets an "F" on the postgame report card.
Dan Brown of the San Jose Mercury News gives O'Sullivan a "D" on his report card.
Also from Brown: Another look at Morgan's reemergence, plus a classic note about how the Giants' game-day program listed Mike Holmgren as the 49ers' head coach. Ouch!
More from Brown: O'Sullivan joins Nolan on the hot seat.
More from Brown: A bad game for the Giants beats what the 49ers might offer on a good day.
John Ryan of the San Jose Mercury News points to the Rams' success after a coaching change in suggesting the 49ers should fire Nolan.
Ann Killion of the San Jose Mercury News uses the word "inept" to describe the 49ers' franchise, ownership, coach and quarterback.