January, 3, 2014
Jan 3
11:01
AM ET
IRVING, Texas -- For the second straight year the
Dallas Cowboys
will see their special teams coordinator interview for an NFL head coaching vacancy.
According to ESPN's John Clayton, Rich Bisaccia will interview with the
Washington Redskins
. Last year Joe DeCamillis interviewed with the
Chicago Bears
and eventually joined Marc Trestman's staff as assistant head coach/special teams coordinator.
Bisaccia put together one of the better special teams' units in the NFL last season, but he almost never got to the Cowboys. If things had not worked out, then he would be coaching in the BCS Championship game for Auburn. He was the school's running backs, special teams and assistant head coach for 22 days before joining the Cowboys last winter.
Bisaccia and Redskins general manager Bruce Allen worked together for years with the
Tampa Bay Buccaneers
.
Bisaccia was Jason Garrett's top choice last season, but he also interviewed Bruce DeHaven, a former Cowboys' special teams coach, and Alan Lowry.
The Cowboys saw improvement in their kickoff and punt return averages, albeit minimally in the punt returns. The kickoff and punt coverage were also improved by fractions, and there were no major breakdowns.
In 2012, the Cowboys had a punt blocked, a punt returned for a touchdown, and a kickoff returned for a touchdown. This season, the longest punt return allowed was 26 yards, and the longest kickoff return was 45 yards.
With injuries on defense, Bisaccia had to mix and match his units, but they were able to hold up their end of the bargain.
November, 15, 2013
11/15/13
12:28
PM ET
A review of four hot issues from the
Tennessee Titans
' 30-27
loss
to the
Indianapolis Colts
at LP Field:
Foku
Missing Fokou:
When linebacker
Moise Fokou
hurt his knee Oct. 13 at Seattle, some of us believed the Titans might be better off with
Colin McCarthy
plugged in at middle linebacker. It's not as though McCarthy's been terrible, but three of the four games without Fokou have been run-defense disasters -- 153 yards to San Francisco, 160 to St. Louis and 137 to Indianapolis. (There was a 54-yard game against Jacksonville, too.) Getting Fokou back might not be the answer, but this was a better defense when he was running it.
Special teams:
Of all the moves Mike Munchak made, firing Alan Lowry might have been the biggest. Current special teams coach Nate Kaczor isn't making the mistakes, and his units have been hard-hit by the injuries, but the Titans have been far more likely to commit a gaffe on special teams than produce a play. Every team in the league should have a guy they can call up from the practice squad who can field kicks and punts and secure the ball.
Devon Wylie
's kick return fumble -- which was the result of him bumping into a teammate -- was an absolute killer.
Fitzpatrick
Third and short:
I'm fine with the Titans' willingness to throw in an unconventional situation. They converted an early third-and-1 with a 12-yard pass to
Delanie Walker
. But the second time they faced third-and-1, when they were running the ball well,
Ryan Fitzpatrick
threw incomplete for
Kendall Wright
to stall a drive after just three plays. Shouldn't a team trying to create a we-can-run-when-we-want MO at least allow for the possibility of running it by not going with the empty backfield? They went empty on a third-and-2 a bit later, and converted thanks to a roughing call against
Robert Mathis
.
Covering Coby Fleener:
The tight end wound up with eight catches for 107 yards and was a key to the Colts' win. The Titans have been far better against tight ends this season than the past couple years, mostly because safety
George Wilson
's been part of the dime and three-safety nickel packages. Wilson played one snap on defense, and the Titans defended Fleener with base and regular nickel personnel. The three top cornerbacks, free safety
Michael Griffin
and strongside linebacker
Akeem Ayers
were all involved in tackling him.
September, 8, 2013
9/08/13
6:54
PM ET
PITTSBURGH -- Every theme the
Tennessee Titans
hit, and hit, and hit again through the offseason and the preseason was on display in their season-opening win at Heinz field Sunday.
Let's run through their core beliefs and how they translated into the
16-9 victory
.

Brown
Be physical on both sides of the ball:
The Titans didn't run the ball great, but they ran it well enough to hand it off 37 times.
Jake Locker
's runs, including two kneel-downs made for a total of 42 rush attempts for 112 yards. Sure they'd like more than 2.7 yards a carry. But against a
Pittsburgh Steelers
team that is typically stout against the run, being able to run it that much is a win.
The defense managed to sack
Ben Roethlisberger
, who's a tough guy to drag down, five times. Defensive tackle
Jurrell Casey
and weakside linebacker
Zach Brown
had two sacks apiece. A couple new players -- end
Ropati Pitoitua
and middle linebacker
Moise Fokou
-- made significant contributions to the effort.
The Steelers suffered several injuries. Center
Maurkice Pouncey
's wasn't from anything Tennessee did, he got hit by linemate
David DeCastro
. But the physical game certainly had a role in injuries to
LaRod Stephens-Howling
(knee), cornerback
Cortez Allen
(ankle) and inside linebacker
Larry Foote
(biceps). The Titans weren't nearly as banged up.
Withstand adversity:
Things couldn't have started any worse. Return man
Darius Reynaud
inexplicably decided that despite some room, he wanted to turn a bouncing kickoff into a touchback. The trouble was he picked up the ball just across the goal line and pulled it back in to take a knee.
He's got to make a better decision in such circumstances, and his failure to do so is on him. He was able to have a sense of humor about it since the Titans overcame it.
An aside. One thing he said postgame bothered me a bit.
Asked what sort of rules he's to follow in such circumstances, he said. "I set back seven deep, if the ball is kicked five yards deep I can run up on it. But on that type of play, we never practiced that play. I'm going to get that in practice this week just to get a good look on it. … Next time we'll get that right."
Mike Munchak fired Alan Lowry, a coach who had a reputation for his special teams being prepared for anything and everything, after last season.
Don't put Locker in bad situations:
Locker was sacked only once. He ran the offense efficiently, and his teammates said he was confidently in command in the huddle. He ran for a nice 5-yard gain on one option play with
Chris Johnson
. He was 11 for 20 for 125 yards with no touchdowns, no interceptions and a long of 25 yards.
He threw a couple off-target passes, but never appeared flustered by a defense that's got the capacity to make young quarterbacks panicky.
A key to putting him in good spots was productive first downs. In the first half, the Titans averaged second-and-5.2. For the game, nine of 21 second downs were second-and-6 or less.
Stop the run to make opponents one-dimensional:
The Steelers turned 15 carries into 32 yards. And their long run was eight yards by
Isaac Redman
, who also coughed up a fumble as the Steelers were about to score to go up 9-0.
***
All in all, it was a great day for creating a feeling that work and points of emphasis have paid off.
"Overall, we were exactly what we were trying to work towards in the preseason," left tackle
Michael Roos
said. "I think that one drive we had 13 straight run plays or something like that. (Actually 12 of 13 plays.) That's what we've been trying to get to. Impose our will on them and keep drives alive."
November, 4, 2012
11/04/12
9:06
PM ET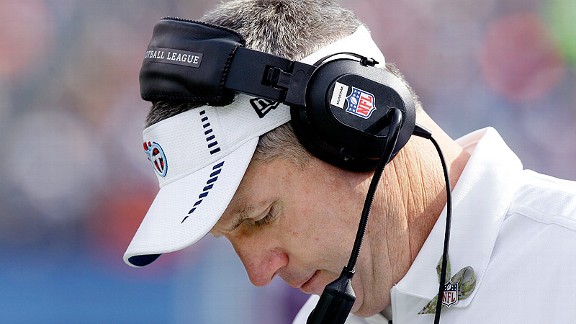 AP Photo/Wade PayneMike Munchak and the Titans have a lot of work to do after Sunday's blowout loss to the Bears.
NASHVILLE, Tenn. -- Titans coaches warned players all week about how
Charles Tillman
strips the ball, offering specifics of his techniques.
Then four Titans went out and got stripped by the Bears cornerback, including
Kenny Britt
on the game's first play from scrimmage.
What does that say about the quality of players on Tennessee's roster and their ability to absorb and execute a coaching message?
Not anything good.
Tennessee unraveled quickly and thoroughly en route to its
51-20 loss to the Bears
Sunday at LP Field. It would have been hard to play a worse first quarter had the Titans game-planned for it. And some of their gaffes made it hard to see anything but an undisciplined, unprepared and ineffective cast of characters that isn't the nucleus for a resurgence but a core lacking the sort of central DNA necessary to create a contender.
It also created more questions in my mind than I've ever had before about the job security of coach Mike Munchak and his staff.
"If a team underperforms, I'm the first guy you should look at for that, not anybody else, not assistant coaches, it starts with me," Munchak said. "If we don't finish the season the way it should, then what needs to happen will happen. ...
"We've got seven games to play. If we win all seven, all of a sudden this would be kind of a wasted argument."
Yes, on the heels of this debacle, let's dream of seven-game winning streaks.
But first, how about cleaning up things like illegal formation penalties on consecutive first-quarter plays, where a receiver covered up the tight end?
"We had those plays in our hands days ago and had a meeting about it [Saturday] night and had a meeting about it [Sunday] morning," quarterback
Matt Hasselbeck
said. "I don't know what to say. That's not good."
Rookie receiver
Kendall Wright
said he thought he was responsible for at least one of the calls.
"It hurt the team a lot," he said. "But what I did at practice all week, I thought I was on the ball. I screwed it up. It's my fault all the way."
He thought he was on the ball all week, but he was supposed to be off the ball and no one spotted it or corrected it until the officiating crew got a look on Sunday? Sorry, but that is some major evidence in a case against the people running things for this team right now.
"We just have to pay attention more and know the right things to do, know where to line up,"
Chris Johnson
said. "These coaches all week gave us the right formula and we had a good week of practice. It makes it even worse when you have a good week of practice and do everything right during the week, get to the game and mess up."
The Titans were out of this game in a flash, trailing 28-2 at the end of an atrocious first quarter.
"We screwed up from the get-go," guard
Steve Hutchinson
said.
[+] Enlarge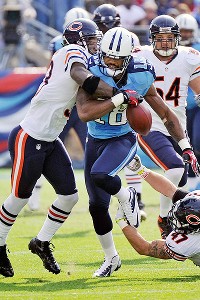 Frederick Breedon/Getty ImagesChicago's Charles Tillman made an impact right from the start of Sunday's game.
The log for the first 15 minutes:
"That first quarter is horrible," Wright said. "We can't spot anybody 28 points and expect to come back and win."
Jordan Babineaux
was the one Titans player I talked to who didn't offer an immediate defense of the coaches and the plan.
"You got any questions, you've got to ask the defensive coordinator," he said, referring to Jerry Gray.
I asked about the blocked punt, where he was lined up as the personal protector, but where he didn't offer protection, running to the right and cutting out of the backfield entirely. He said I'd need to ask the special teams coach, Alan Lowry.
The Titans' margin for error is obviously small against a good team. They didn't have room for this brand of clunker.
"Sometimes what is said is that wasn't us and we'll just sweep it under the rug and get back to being us," Hasselbeck said. "But those are good teams that built a cushion for themselves that are up front in their division and playoffs are probably on the way anyway. ... We can't have a stinker. We can't just lay an egg like that. So that's what's disappointing. It's hard to say that just wasn't us."
"It's a bad loss," McCourty said. "When you go out and it's as embarrassing as that is, it just sucks to be a part of it."
Where do they go from here?
A year ago, they were 9-7, narrowly missing the playoffs. This year it looks like that record could earn a spot in the postseason field. There are a couple teams every year that weren't looking good at the halfway point and finish big.
Munchak will sell the Titans that they can be that team.
What degree of belief will he get back? What degree of belief does he deserve back?
Down 31-5 at the half, he challenged his team to go out and do something special, something unexpected.
That didn't happen.
After it was over, he preached about how everyone is in this together, how they've got to stick together, that they can't split.
Munchak may be able to glue players together and the roster may be composed of guys who will stay unified. The sad truth is such solidarity may ultimately not mean a thing when it comes to altering the Titans' fortunes.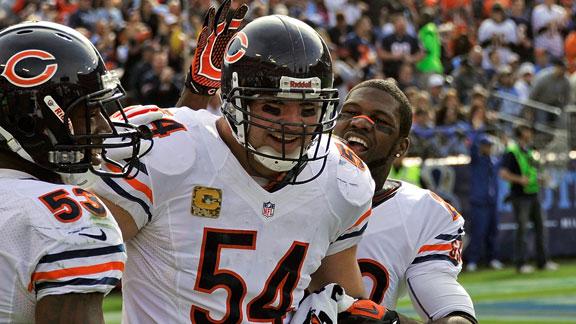 August, 23, 2012
8/23/12
5:15
PM ET
NASHVILLE, Tenn. -- Virtually every team has a preseason underdog emerge.
With the Titans, it's
Darius Reynaud
. As a return man and running back working after starters were out, he's done impressive work in the Titans first two preseason games.
This has generated four big questions:
Could the Titans keep four running backs?

Could the Titans create room for Reynaud by using No. 3 back Jamie Harper as a fullback once in a while, and not keep a fullback?

Could he beat out Javon Ringer, the incumbent No. 2 running back?

Could he unseat Marc Mariani as the team's return man?
[+] Enlarge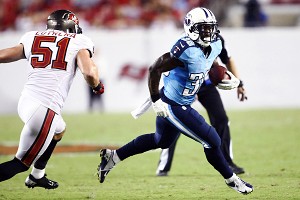 Douglas Jones/US PRESSWIREHas Darius Reynaud has played well enough to force himself onto the Titans' roster?
I doubt Reynaud unseats Ringer, though I'd have no issue with it. Titans coaches and brass seem to love Ringer.
I doubt they abandon fullback, though it's such a narrow, situational role I'd have no complaint about leaning on a two-tight end package more often.
I doubt he takes Mariani's job, though I'd wouldn't argue against that either, as I think Mariani is a bit overrated. (Mike Munchak said this week Reynaud's made it a legit competition.)
The four running back scenario may be most likely, but to keep a fourth back that player will have to be able to contribute on special teams as a non-returner.
We'll get a taste of whether Reynaud can do that Thursday night, when the Titans host the Cardinals at LP Field.
Special teams coach Alan Lowry said he will use Reynaud on the kickoff coverage and punt coverage teams against Arizona as the Titans get their first sampling of what Reynaud can do in that capacity.
"My sense is he can do whatever he wants," Lowry said. "He's a good football player. He's got speed and strength. I hope we have enough plays, I don't know."
Reynaud's previously been with the Vikings and Giants.
"Reynaud is interesting and I am not quite sure why he has never stuck anywhere," said Matt Williamson of Scouts Inc. "He is kind of like a
Percy Harvin
Lite. He's real good with the ball in his hands, a running back/receiver tweener type who also can be an effective returner."
He's still got a good, positive attitude and knows he can play. Reynaud is not worried about all these scenarios, he's just glad he's created them.
"My job is to make their job as hard as possible," he said of the Titans decision-makers.
He worked in the sort of jobs he'll have tonight on special teams when he was with the Giants. As for the return man debate, Lowery said he thought a race between Mariani and Reynaud would be close and Reynaud agreed, though he said of course he'd win.
Who would Williamson start as his return man if these were his two choices?
"I would say that is a pretty good competition," Williamson said. "Reynaud runs lower and with more power. He might be shiftier laterally too. But Mariani has really good vision, is quick to get upfield and probably is the faster of the two. Edge to Mariani, who is also more reliable."
November, 26, 2010
11/26/10
3:43
PM ET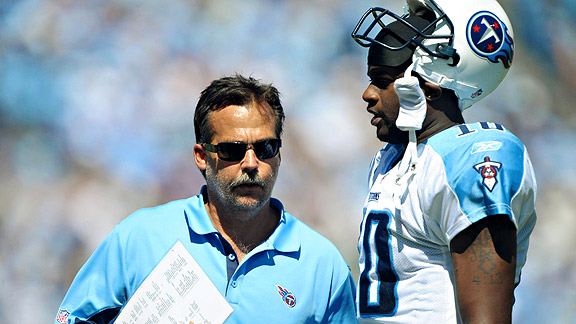 Kirby Lee/US PresswireFor Bud Adams, the choice won't be as simple as picking Vince Young or Jeff Fisher.
NASHVILLE, Tenn. -- The
Vince Young
-Jeff Fisher showdown and its spillover has many observers thinking Bud Adams will ultimately have to choose one or the other.
But the math in the equation is off, and this is not a simple, one-against-one situation.
If the love-struck Adams chooses his favorite quarterback, he's not only going to lose Fisher,
he's going to lose all, or most, of Fisher's staff
.
While Adams would be making a poor choice, even he'd have to admit that Young at his best isn't going to do much to offset the loss of some excellent assistant coaches.
All but one Titans assistant coach is working with an expiring contract, according to a Titans source. Fisher's contract runs through 2011.
In a typical scenario, Fisher would get an extension and then line up his assistants with deals of the same length.
"We are in the process of extending contracts for the entire staff," Fisher said after practice Friday. "I don't comment on negotiations other than to say we're in the process."
But there has been no word on any talks about a new deal for Fisher, and now it's a safe bet there will not be one before the Young issues are resolved. If they come to fruition, those staff extensions could be for only one season.
And the uncertain labor situation gives Adams the potential to hold off on anything new until after things are settled between the league and the players, in case he has to withstand a lockout.
Whenever it comes around, the staff issue is more significant now given the battle between Fisher and Young and Adams' comments to The Tennessean saying he expects the two to find a way
to co-exist
next season.
I think we're past the point where that's a possibility and Adams is going to have to make a choice. Hopefully it's a well-reasoned one.
[+] Enlarge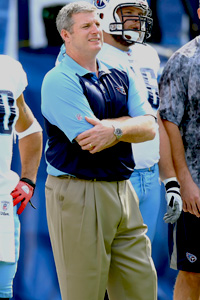 AP Photo/Kevin TerrellThe Titans' solid pass protection and good run blocking are due to efforts by coach Mike Munchak.
Pick Young, and you probably sacrifice
Mike Munchak
.
Munchak is one of eight members of the Houston Oilers/
Tennessee Titans
franchise in the Pro Football Hall of Fame. He's a steady teacher who recognizes talent and has consistently groomed quality guys. The Titans have regularly had good pass protection and solid run blocking in large part because of Munchak's exhaustive work.
Pick Young, and you probably sacrifice Jim Washburn.
The Titans' defense is tied for second in the NFL with 30 sacks. They've come from players Washburn has rebuilt such as
Jason Babin
,
Dave Ball
and
Tony Brown
or guys he encouraged the front office to draft, such as
Jason Jones
. A large number of franchises in the league would love to add a high-energy defensive line coach who can get production from such reclamation projects and draft picks.
Those two are key coaches on a staff that's widely regarded around the league as one of the best. A staff Fisher has been able to shape and hold onto because of his stability and the loyalty he shows -- occasionally to a fault.
His staff also includes offensive coordinator Mike Heimerdinger, who has been mentioned as a candidate for head-coaching jobs and once interviewed with San Francisco for its top post; defensive coordinator Chuck Cecil; veteran linebackers coach Dave McGinnis, who has been head coach of two teams; defensive backs coach Marcus Robertson, who had an excellent career as a safety for the franchise; special teams coach Alan Lowry, who scripted the Music City Miracle; strength and conditioning coach Steve Watterson; receivers coach Fred Graves; tight ends coach John Zernhelt; running backs coach Craig Johnson; and quarterback coach Dowell Loggains.
They are not all irreplaceable superstars, of course. And with expiring contracts, some of them could be moving on even if Fisher is firmly in place.
Washburn is a Nashville fixture who appreciates the second-chance Fisher gave him in 1999. But if he becomes a coaching free agent, perhaps a team with a bad defensive line would make him an offer too good to refuse.
Still, the chances he stays in Tennessee are far higher if Fisher is in the big office. I'd be willing to bet the same would be true for all the assistants.
If Adams chooses to stick with Young and Fisher negotiates out of his contract, or if another team strikes a deal to give the Titans picks to get Fisher out of his last year, I predict all the assistants would be totally turned off by Adams' choice.
Some might have to stay if they could to ensure themselves of a job. But given any sort of choice, I believe they'd be unlikely to sign new deals with Tennessee to work under Fisher' replacement.
More likely, these assistants would rejoin Fisher with a new team if he is able to move on for 2011. If not, they would find jobs elsewhere. The older guys might ponder retirement or take a year off with assurances from Fisher that they'd have a job with him once he re-enters the league.
The top in-house candidate to replace Fisher with the Titans would have to be Heimerdinger, and I believe his loyalty to Fisher would mean he wouldn't even allow his representative to talk to Adams about the post.
Even Fisher's harshest critics have to appreciate assistants like Munchak and Washburn and acknowledge they'd be difficult to replace. (You can make a case against Fisher, sure. But in a head-to-head against Young there is no way not to choose the coach.)
If Adams makes his move against Fisher, Fisher could have solidarity from his staff of 16.
If Young is the one shown the door, he'd be walking through it alone.
August, 6, 2008
8/06/08
12:46
PM ET
Posted by ESPN.com's Paul Kuharsky
NASHVILLE -- Maybe some of St. Louis' short throws would have turned into big gains in a game situation.


But in a joint-practice situation, those completions that are such a big part of what the Rams do were hardly the highlight.
I thought Tennessee's defense manhandled the Rams for the most part, and the Titans set the tone in that side of practice Wednesday morning. They got the better of most of the fights, too.
A run down out of my notebook:
Torry Holt caught a pass over the middle and got leveled by Calvin Lowry, who popped his helmet off. The official nearby told Holt: "If you buckled your chin strap, that wouldn't happen."
Reserve defensive back Chris Carr had a good morning running as the second-team left corner, getting his hands on multiple balls and delivering a few nice hits, including one in run support on back Travis Minor.
Corner Cortland Finnegan went for a sideline kill shot on Holt on a short ball and missed, flying by.
DB Vincent Fuller pulled in two interceptions, both of Brock Berlin. On the first, Fuller timed it up beautifully, jumping a short pass for Shaine Smith on the sideline in the red zone. It would have a touchdown return for sure.
During a field goal period, Titans special teams coach Alan Lowry pointed out to an official that Rams long snapper Chris Massey was flinching and tensing his arms before the snap to try to prompt someone to jump.
Vanden Bosch was frustrated after he worked part of a two-man rush in the one-on-one period, as guard Roy Schuening pushed him back and forced him to take a lengthy looping route to the quarterback.
On to the fights:
Finnegan wrapped receiver Reche Caldwell in his arms and wrestled him to the ground for a scrap. Finnegan has scratches above and below his right eye.
After Michael Griffin crushed Dane Looker, Bulluck and Caldwell went at it. Bulluck's one-two swipe took off Caldwell's helmet. "It's his third team in two years, that's what I told him," Bulluck said.
After Joe Klopfenstein ran under a deep ball down the middle and into the end zone on a play where the Titans busted coverage, a big bout broke out near the sideline at the line of scrimmage -- Vanden Bosch and Goldberg's fight spilled into a full-team melee. Both teams were huddled up as their coaches tried to calm things down.
Rams tackle Mark LeVoir and Titans end Sean Conover weren't finished, however, and went at it with LeVoir getting the upper hand. Vanden Bosch, who wasn't in the play and didn't have his helmet on, came flying in as support staff.
Holt's take on all the extracurriculars:
"As excessive as that got, it does take away from the work," he said. "Now you're totally getting away from your technique and what you're trying to do as a football team. But as far as the mixing it up and the physicality, I think it's great for both football teams. Your macho comes out and you see where you are. There is some give and take there, but we were able to settle those differences and finish up on a good note."

NFL SCOREBOARD
Sunday, 2/2
WEEKLY LEADERS