NFL Nation:

Albert McClellan
October, 18, 2013
10/18/13
2:21
PM ET
OWINGS MILLS, Md. -- Three
Baltimore Ravens
linebackers are on the injury report for Sunday's game at the
Pittsburgh Steelers
, including two at inside linebacker.
Bynes
The Ravens officially ruled out starting inside linebacker
Josh Bynes
after he had surgery on his infected finger. Rookie second-round pick
Arthur Brown
is expected to make his first career start.
Outside linebacker
Courtney Upshaw
(foot) and inside linebacker
Albert McClellan
(shoulder) are both listed as questionable. Upshaw has been limited all week, and McClellan played last Sunday with the same injury.
Without Bynes, the Ravens may consider activating
Jameel McClain
from the physically unable to perform list. McClain, who suffered a spinal cord contusion 10 months ago, is listed as probable after practicing all week.
Defensive tackle
Haloti Ngata
is listed as questionable, but he returned to the game last Sunday after straining his elbow.
Here is the Ravens' official injury report:
OUT
: ILB Josh Bynes (finger, thigh).
DOUBTFUL
: WR
Brandon Stokley
(groin), C
Ryan Jensen
(foot).
QUESTIONABLE
: CB
Chykie Brown
(thigh), DT
Terrence Cody
(knee), LB Albert McClellan (shoulder), DT Haloti Ngata (elbow), LB Courtney Upshaw (foot), CB
Lardarius Webb
(hamstring).
PROBABLE
: DE
Chris Canty
(groin), LB Jameel McClain (neck), DT
Marcus Spears
(knee).
June, 1, 2013
6/01/13
10:00
AM ET
OWINGS MILLS, Md. -- For their 17 years in Baltimore, this was
Ray Lewis
' defense. Now, as the defending Super Bowl champion Ravens completed the second week of offseason workouts, this has become a doughnut defense. That is, one with a hole in the middle of it.
Rolando McClain
retired before he even practiced for the Ravens. Second-round pick
Arthur Brown
is sidelined but hopes to return by training camp after undergoing sports-hernia surgery.
Jameel McClain
has yet to be cleared for full-team drills after a spinal-cord contusion caused him to miss the final three regular-season games of 2012 and all of the playoffs. And
Albert McClellan
didn't practice Friday because of an undisclosed injury.
Who's left at inside linebacker for the Ravens?
Josh Bynes
,
Nigel Carr
,
Bryan Hall
and
Brandon Copeland
. All four were undrafted and two of them (Hall and Copeland) are converting from defensive linemen.
The Ravens, though, know they have time to get healthy. There are still three full months before they kick off the regular season at Denver.
[+] Enlarge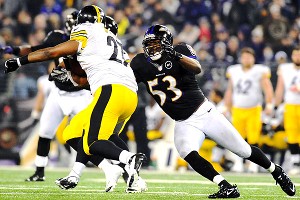 Evan Habeeb/USA TODAY SportsJameel McClain aims to be back at linebacker come the Ravens' Sept. 5 opener at Denver.
"You can go back 50 years, no matter who the linebacker was -- whether it was [Dick] Butkus or whether it's Ray Lewis -- no matter who it is, someone always ends up stepping up and has to step up to be the next guy in that situation," defensive coordinator Dean Pees said.
This isn't like last season, when Pees and the Ravens knew they would open the season without
Terrell Suggs
. The hope is that Brown and Jameel McClain will be manning the middle for Baltimore by training camp.
Brown told reporters Friday that he's "making progress daily" and is taking mental reps. Not being on the field during offseason workouts will hurt Brown, who is making the transition from a 4-3 defense to a 3-4 scheme.
McClain has been optimistic about his chances of returning this season. He's been participating in individual drills and there are no restrictions to his training regimen.
"We definitely want Jameel out there," Pees said. "It's very critical from the standpoint of he's our leadership out there. He's kind of the only veteran inside guy that we really have in there."
Despite the injuries, there are high expectations for the Ravens defense. The additions of linebacker
Elvis Dumervil
, safety
Michael Huff
, defensive lineman
Chris Canty
along with the return of cornerback
Lardarius Webb
from a season-ending knee injury should boost a defense that finished No. 17 in the NFL last season, the Ravens' worst defensive ranking since 2002.
Pees was asked if this year's defense will be better than the one that helped Baltimore win a Super Bowl.
"It's really always unfair to say ahead of time what the defense is going to be," Pees said. "We have to be better than we were last year. We were good in the playoffs -- good enough -- but we weren't good enough during the season for us to be the kind of defense that we want to be. We have to be better than we were a year ago, I'll put it that way. I don't know whether we will be, but we need to be."
August, 30, 2012
8/30/12
11:23
PM ET
Nearly all the AFC North teams played it safe in Thursday night's preseason finales.
Ben Roethlisberger
,
Joe Flacco
and
Brandon Weeden
all sat out and watched the backup quarterbacks play.
The only starter who played, the Bengals'
Andy Dalton
, left in the first quarter with an injury but it's not considered serious. Dalton said his hand went "a little numb" after getting hit in the arm but it's "no problem at all." Bengals coach Marvin Lewis said, "Andy's fine. He'll be fine for Baltimore. He would have gone right back in this game if it had been the regular season." So, crisis averted.
If you couldn't watch all four division teams play simultaneously, you're in luck. I had my eye on each one and here are some observations:
BENGALS AT COLTS


In the
20-16 loss at Indianapolis
, Dalton was hurt on the opening drive after getting sandwiched. Offensive tackles
Andrew Whitworth
and
Dennis Roland
both got beaten for sacks on the play. It hasn't been a great preseason for Whitworth, who is the second-best left tackle in the division.
The Bengals didn't play their top two running backs,
BenJarvus Green-Ellis
and
Bernard Scott
, because both are recovering from injuries and are getting ready for the regular-season opener. For once, Cincinnati's run game didn't suffer.
Brian Leonard
ran hard and broke tackles for 27 yards on three carries.
Cedric Peerman
, who makes more of an impact on special teams, looked good on a 13-yard run up the middle.
No one wants to see Dalton hurt. The Bengals, though, have to feel comfortable with backup
Bruce Gradkowski
. He finished 12 of 19 for 95 yards and led his fourth touchdown drive of the preseason.
Rookie wide receiver
Marvin Jones
displayed some resiliency in the second quarter. On the same drive in which he dropped a touchdown pass, he came back to catch a back-shoulder throw from Gradkowski and ran into the end zone. Jones is making a push for some playing time this year.
BEARS AT BROWNS


In the
28-20 loss to Chicago
,
Colt McCoy
watched his strong preseason take a nosedive. In his first start this summer, McCoy was 2 of 5 for 16 yards for a 9.1 quarterback rating. That's going to put a dent into McCoy's 119.1 rating from the first three games. McCoy was also intercepted on a high pass that was thrown with no pressure around him. The Browns will let everyone know what they plan to do with McCoy on Friday.
The Browns have a concern at linebacker after rookie
James-Michael Johnson
left with an oblique injury. With
Chris Gocong
out for the season with an Achilles injury and
Scott Fujita
facing a three-game suspension from the NFL, Cleveland planned to depend on Johnson and
Kaluka Maiava
. The Browns might need Fujita to win his appeal to avoid going deeper on the depth chart. Johnson was having a strong performance before getting injured on an open-field tackle.
Backup running back
Montario Hardesty
had trouble getting back to the line of scrimmage because he got little help from his blockers. He finished with 24 yards on six carries and he didn't fumble for the first time since the preseason opener.
Brandon Jackson
fared much better, gaining 48 yards on seven carries.
Cornerback
James Dockery
was flagged twice for pass interference in the second quarter. The second one eventually led to a touchdown. Rookie cornerback
Trevin Wade
was physical and had good coverage in allowing the first touchdown of the game.
As if the Browns needed something else to worry about, they have to iron some things out on special teams.
Reggie Hodges
got his second punt blocked this preseason.
RAVENS AT RAMS


In a
31-17 loss at St. Louis
,
Sergio Kindle
hurt his chances of surviving Friday's cutdown. He hit quarterback
Sam Bradford
a full second late, drawing a roughing-the-passer penalty to help the Rams convert third-and-22. Kindle, a 2010 second-round pick, was on the bubble entering this game.
Continuing Thursday night's trend of rookies getting hurt, second-round pick
Courtney Upshaw
will have an MRI for his strained shoulder, according to coach John Harbaugh. Upshaw has been backing up
Albert McClellan
at outside linebacker.
Veteran linebacker
Brendon Ayanbadejo
had his worst game with the Ravens. Working with the first-team defense because most of the starters sat, Ayanbadejo struggled against the run and got lost in coverage. It was so bad that he
apologized for his performance
on Twitter.
What I like the most about
Tyrod Taylor
, who started in place of Flacco, is his ability to make plays with his legs. Even though he focused more on being a pocket passer, Taylor wasn't hesitant to take off for a 22-yard scramble. He did get stripped from behind earlier in the game, but it was the result of a third-string lineman (
Cord Howard
) getting beat by a former first-round pick (
Robert Quinn
).
Looking at
Curtis Painter
's up-and-down performance, I'm not sure he convinced the Ravens to keep three quarterbacks. He threw two touchdowns and was intercepted three times. One interception was returned 76 yards for a touchdown.
Justin Tucker
missed his first kick of the preseason, but it's difficult to be critical of him. It was a 57-yard attempt. He later hit a 49-yarder in the third quarter.
PANTHERS AT STEELERS


If this was
Charlie Batch
's last game with the Steelers, he made it a memorable one, or at least as memorable as the preseason gets. In the
17-16 victory
over Carolina, he completed 11 of 14 passes for 102 yards. Batch showed great touch in leading Emmauel Sanders out of double coverage for a 37-yard touchdown. The new rule regarding injured reserve helps Batch's chances of sticking around Pittsburgh for an 11th season, but there's no guarantee that he'll make the cut.
For the second consecutive week, a Steelers draft pick went down with a serious knee injury. With two minutes left in the third quarter, linebacker
Sean Spence
hyperextended his knee while chasing quarterback
Jimmy Clausen
. Spence's knee bent awkwardly underneath him, and the third-round pick needed to be carted off the field. Spence was expected to make an impact on special teams this season and could have received playing time if there were injuries at inside linebacker. Unlike
David DeCastro
's knee injury, this one happened on the natural grass of Heinz Field.
This isn't a newsflash, but rookie running back-receiver-returner
Chris Rainey
is a game-changer. He twice scored on punt returns in one quarter, only to have both brought back because of penalties. This would've given him the touchdown trifecta. The fifth-round pick had scored on a 41-yard run and a 57-yard catch this summer.
Nose tackle
Casey Hampton
made his preseason debut after having ACL surgery in January. His presence was felt immediately as he got off a block from guard
Mike Pollak
and made a tackle. Hampton's return was good to see for the Steelers, even though
Steve McLendon
has played well enough to start.
Jonathan Dwyer
solidfied himself as the primary backup to
Isaac Redman
, and the Steelers could need him based on Redman's durability. Dwyer was physical (even delivered a stiff-arm) and showed good feet to elude tacklers. He finished with 63 yards on 13 carries, a 4.8-yard average.
August, 26, 2012
8/26/12
9:00
AM ET
There's a chance that Steelers first-round pick
David DeCastro
is done for the season after
suffering a right knee injury
in Saturday night's 38-7 preseason win at Buffalo. "It's potentially severe," coach Mike Tomlin said after the game. "We'll see what the MRI says."
The rest of the division says: Welcome to the club, Steelers.
With DeCastro getting hurt, the top pick for each AFC North team has now been injured for an extended period. Browns running back
Trent Richardson
(knee), Bengals cornerback
Dre Kirkpatrick
(knee) and Ravens outside linebacker
Courtney Upshaw
(shoulder) all missed a large chunk of training camp and have yet to start a game in the preseason.
Richardson, the third overall pick who had his knee scoped Aug. 9, is expected to play in the regular-season opener, albeit in a limited role. Kirkpatrick, the 17th pick of the 2012 draft, hurt himself before reporting to camp and just began practicing a week ago. Upshaw, a second-round pick, was out for seven days in camp and has yet to unseat
Albert McClellan
for the rush linebacker job since his return.
The difference with DeCastro is that his injury might leave him sidelined for his entire rookie season. After having a rough start to camp, DeCastro has looked more than solid in the preseason. Now, after watching his right knee bent awkwardly, the Steelers will have to wait for the MRI to see if they'll get him back this season.
While this continues the bad luck for the top picks in the division, it also could extend the Steelers' rough streak with knee injuries. Since the regular-season finale on Jan. 1, Pittsburgh has seen four starters (running back
Rashard Mendenhall
, offensive tackle
Max Starks
, nose tackle
Casey Hampton
and fullback
David Johnson
) suffer torn anterior cruciate ligaments.
August, 23, 2012
8/23/12
10:36
PM ET
BALTIMORE -- Ravens quarterback
Joe Flacco
has been showing more command of the offense this preseason. In the
48-17 win
over the
Jacksonville Jaguars
, Flacco looked to be in total control.
Orchestrating the team's new no-huddle attack, Flacco completed 27 of 36 passes for 266 yards with two touchdowns and one interception. These numbers are even more impressive considering he didn't play three full quarters.


Flacco continually looked downfield, completing five passes of more than 15 yards. He also connected with nine different receivers.
This isn't to say Flacco was perfect. He could have been picked off on the team's first trip in the red zone, where he forced a pass in between two defenders to get to
Anquan Boldin
. Flacco also misfired on two deep passes, putting too much air to an open
Torrey Smith
and not putting any air to
Jacoby Jones
.
But Flacco came up big in the critical situations. He hit Boldin on third-and-goal for a 5-yard touchdown and sidestepped a pass-rusher to find
Vonta Leach
for an 8-yard touchdown.
Here are other observations from the Ravens' third preseason game:
In a move that will cause many to jump to conclusions, the Ravens allowed undrafted rookie Justin Tucker to handle all the kicking duties and gave Billy Cundiff the night off. Tucker took advantage by hitting a 53-yard field goal in the second quarter.
Ravens cornerbacks Lardarius Webb (team-leading six tackles) and Jimmy Smith played much more physical than the first two preseason games. That's not a surprise since this game was against quarterback Blaine Gabbert and not Matt Ryan or Matthew Stafford. Smith was too aggressive at times and got flagged for pass interference in the third quarter. It was not a particularly good night for cornerback Cary Williams, who got beat on a 27-yard pass to rookie Justin Blackmon.
A big focus for Baltimore this offseason has been improving special teams after allowing three touchdowns off returns last season. The Ravens, though, have a lot of work to do in that area. Former Ravens running back Jalen Parmele returned the first two kickoffs of the second half for 42 and 47 yards.
Wide receiver Torrey Smith is showing no lingering effects from an ankle injury that sidelined him last game. He caught eight passes for 103 yards, continuing what has been an impressive summer for the 2011 second-round pick.
Bryant McKinnie made his first start at left tackle, but Baltimore didn't really have a choice. With Marshal Yanda being held out with an leg injury (not considered serious), the Ravens moved Bobbie Williams from left to right guard and put Kelechi Osemele from right tackle to left guard. That shifted Michael Oher from left to right tackle. Hope you got all of that because there will be a quiz later.
Undrafted rookie running back Bobby Rainey (Western Kentucky) should have secured a spot as the team's third running back. He caught three passes for 73 yards and showed great burst on a 48-yard touchdown. Backup running back Bernard Pierce had a productive night with 10 carries for 35 yards, which included a 20-yard run. He wowed the home crowd by hurdling a defender.
Albert McClellan started at outside linebacker for the third straight preseason game, but rookie second-round pick Courtney Upshaw saw a lot of time with the starters. The Ravens obviously wanted to get an extended look at Upshaw, who recorded his first sack in the second half.
The Ravens put together five touchdown drives of at least 80 yards against Jacksonville. The 48 points are the most the Ravens have ever scored in a preseason.
NFL SCOREBOARD
Thursday, 10/2
Sunday, 10/5
Monday, 10/6