December, 3, 2010
12/03/10
4:00
PM ET
»
NFC Final Word
:
East
|
West
|
North
|
South
»
AFC
:
East
|
West
|
North
|
South
Five nuggets of knowledge about Week 13:
[+] Enlarge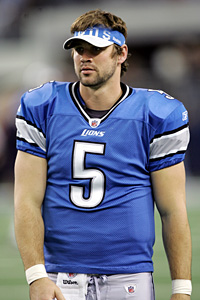 AP Photo/Paul JasienskiLions quarterback Drew Stanton will be making his second NFL start Sunday against Chicago.
Bad combination:
The
Chicago Bears
are tied for the NFL lead with 26 takeaways this season. In the
Detroit Lions
'
Drew Stanton
, they'll face a quarterback who has thrown seven interceptions in 104 career attempts while also losing two fumbles. That's nine turnovers in one start and eight relief appearances. If the Lions are going to take any pressure off Stanton, it will have to be with a running game likely to feature No. 3 tailback
Maurice Morris
. I don't like Stanton's chances of navigating the Bears' defense mistake-free, which is what he'll have to do in order to win this game. The Bears have 16 interceptions this season, 13 of which have come against their standard four-man pass rush. That means they'll be sitting back in coverage Sunday, simply waiting for Stanton to make a bad decision or an inaccurate throw.
History in the making?
The Lions haven't won an NFC North game since defeating the Bears in Week 8 of the 2007 season. Since then, they're 0-18 against the Bears,
Green Bay Packers
and
Minnesota Vikings
. Overall since that 16-7 victory against the Bears, the Lions have lost 46 of 51 games. Only one of their five victories over that stretch has been against a team with a winning record at the time, their Week 8 victory against the
Washington Redskins
this season. For those hoping or believing the Lions will win Sunday, I present these facts without comment to provide context for how historic such a victory would be.
Loving Lambeau:
How big of a late-season home-field advantage is Lambeau Field? Beginning in 1992, the Packers are 34-6 in regular-season home games played in December or January, according to the Elias Sports Bureau. That .850 winning percentage is by far the best in the NFL over that span. (The
New England Patriots
are No. 2 at .789.) The 18-year trend has spanned multiple coaching tenures, from Mike Holmgren (13-1) to Mike Sherman (13-2) to Mike McCarthy (7-2). And if you're keeping track, it's been even longer since the Packers lost a regular-season game -- at any point in the season -- to the
San Francisco 49ers
. The last time was in 1990, and the Packers have since won eight consecutive games against the 49ers. I realize every game stands on its own merit, but from a pregame perspective, this is a pretty good matchup for the Packers.
Brown and Blue all over:
You might not recognize the Packers on Sunday when they first trot onto the field. They'll be wearing throwback uniforms from the 1929 "Acme" Packers team that won the franchise's first world championship. In those days, the Packers wore blue jerseys, brown pants and brown (logo-free) helmets. So that's what they'll be wearing Sunday. If you're interested, Packers.com
published a photo gallery
this week of staff members putting the final touches on said uniforms. I'm no style maven, so I'll let you be the judge.
Mettle testing:
With a quarterback who committed 22 turnovers in the first 10 games of the season, Minnesota Vikings interim coach Leslie Frazier wants his team focused on the running game. That sentiment makes especially good sense for Sunday's game against the
Buffalo Bills
, who are giving up significantly more yards rushing per game than any other NFL team. Opponents are averaging 167.4 yards per game against them. The next worst rush defense is the
Arizona Cardinals
, who are giving up 146.5. This matchup is good timing for the Vikings, who at best will have a gimpy
Adrian Peterson
(ankle) on the field. Whether or not Peterson plays, you can expect significant doses of rookie
Toby Gerhart
and possibly No. 3 tailback
Albert Young
as well.
November, 30, 2010
11/30/10
4:25
PM ET
For those of you asking, it appears the initial diagnosis on
Minnesota Vikings
tailback
Adrian Peterson
was accurate: He has a sprained right ankle, but tests have revealed nothing more.
Interim coach Leslie Frazier confirmed the information Tuesday during an
interview with ESPN 1500 Twin Cities
. (Audio available through the same link.)
"We don't think it's any more than an ankle sprain," Frazier said. "Now it's just a matter of what he can or can't do. ... We'll know a little more [Wednesday] as he tries to put some weight on it and move around. We're anxious to find out how he comes along."
Peterson has played in 51 consecutive games and has a substantial pain threshold, but it's tough for any running back to excel with a sprained ankle. At the very least, you can expect rookie
Toby Gerhart
to take some or all of the first-team repetitions in practice this week and for third-string tailback
Albert Young
to be active for Sunday's game against the
Buffalo Bills
.
October, 31, 2010
10/31/10
3:15
PM ET
October, 19, 2010
10/19/10
3:02
PM ET
»
NFC High Energy
:
East
|
West
|
North
|
South
»
AFC
:
East
|
West
|
North
|
South
A look at a player who gave his team a significant boost in Week 6.
During the course of Sunday's 24-21 victory over the
Dallas Cowboys
, the
Minnesota Vikings
lined up
Percy Harvin
as an outside receiver, in the slot, as a tailback and as their kickoff returner.
[+] Enlarge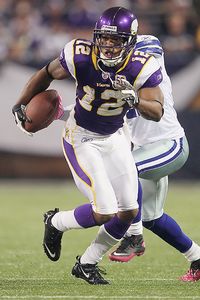 Jeff Gross/Getty ImagesWill more playing time help keep star WR Percy Harvin happy in Minnesota?
In a preview of how the Vikings might utilize him moving forward, Harvin caught three passes for 21 yards, rushed twice for 18 yards and returned a kickoff 95 yards for a game-changing touchdown to open the second half.
Harvin said that coaches approached him last week about their plan to diversify his contributions, motivated in part by a lack of production behind tailback
Adrian Peterson
. He gained 11 yards to convert a second-and-10 on one rush, and on the other, he went 7 yards on second-and-8.
"I was able to take the push off AP and give him some breaks," Harvin said. "It worked out pretty good, so hopefully we'll see more of it."
The Vikings haven't had much luck replacing backup tailback
Chester Taylor
.
Toby Gerhart
and
Albert Young
have combined for 35 yards on 13 carries this season. There has been some discussion about adding punt return duties to Harvin's task list, but you wonder if he'll emerge as their primary change-of-pace behind Peterson in the backfield as well.
October, 17, 2010
10/17/10
3:36
PM ET
MINNEAPOLIS -- We need to clarify the
Minnesota Vikings
' pregame inactive list after an inaccurate list was distributed in the press box.
Cornerback
Chris Cook
, who wasn't expected to play because of a knee injury, is in fact inactive.
Tailback
Toby Gerhart
is also active and will back up
Adrian Peterson
along with
Albert Young
.
October, 17, 2010
10/17/10
3:05
PM ET
MINNEAPOLIS -- There were a few surprises Sunday on the
Minnesota Vikings
' inactive list. Cornerback
Chris Cook
, less than two weeks removed from surgery to repair a torn meniscus, is active and available to play Sunday against the
Dallas Cowboys
.
Center
John Sullivan
(calf) is also active, but
Jon Cooper
will start at center.
August, 30, 2010
8/30/10
1:52
PM ET
As we enter the final week of the preseason, position battles and depth chart competition should be nearing their conclusion. No clear answers generally means trouble. So with that timing in mind, let's take a look at the key summer issues in each NFC North locale:

Chicago Bears
Unsettled positions:
Both safeties and strongside linebacker
Comment:
The safety issue will come down to how quickly rookie
Major Wright
can return from a fractured finger. If it's soon, he could be the free safety with
Chris Harris
at strong. If not, the Bears might have to patch the position together with Harris at free safety and
Danieal Manning
or
Craig Steltz
on the strong side. Meanwhile,
Nick Roach
seemed to have the linebacker job won before having knee surgery. Can
Pisa Tinoisamoa
hold him off?

Detroit Lions
Unsettled positions:
No. 2 cornerback, strong safety
Comment:
Jonathan Wade
held down the cornerback job in camp until a finger injury knocked him from the lineup.
Eric King
or
Dre' Bly
could be his short- and/or long-term replacement.
C.C. Brown
was the first-team strong safety for most of camp, but his hand was in a cast last week.
Randy Phillips
has been the primary replacement, but fellow rookie
Amari Spievey
was moved from cornerback to safety last week.

Green Bay Packers
Unsettled positions:
Left guard and punter
Comment:
Daryn Colledge
won the left guard job by default after a hip flexor slowed rookie
Bryan Bulaga
.
Tim Masthay
appears to have an edge on
Chris Bryan
in the punting battle, but the Packers will take the competition through the end of the week.

Minnesota Vikings
Unsettled positions:
No. 2 cornerback, strong safety, center, third-down back
Comment:
Rookie
Chris Cook
appears on the brink of beating out
Lito Sheppard
and
Asher Allen
for the right cornerback job.
Tyrell Johnson
is trying to hold off
Jamarca Sanford
at safety. That battle is too close to call. The Vikings are worried that center
John Sullivan
's calf injury has put him too far behind to be ready for the Sept. 9 season opener at New Orleans, leaving them to decide whether to play backup
Jon Cooper
or move over right guard
Anthony Herrera
. The Vikings have rotated
Adrian Peterson
,
Toby Gerhart
and
Albert Young
in the third-down role and might use a combination when the season begins.
June, 15, 2010
6/15/10
12:17
PM ET
I'm resisting the urge to place the kind of significance that I'd love to put on the
Minnesota Vikings
'
decision to sign
veteran running back
Ryan Moats
, a move that came days after All-Pro starter
Adrian Peterson
skipped veteran minicamp to attend a hometown parade in his honor.

Moats
Timing is one reason to be intrigued by this signing. Here's another: Moats played for then-Philadelphia offensive coordinator Brad Childress when both were with the Eagles in 2005. The Philadelphia connection has always been significant as it relates to player moves under Childress.
As much as Moats' arrival might bolster theories that there is
more to the Peterson issue
, I'm not going there yet. Here's the more likely explanation: The departure of veteran
Chester Taylor
left the Vikings with no experienced runners behind Peterson.
Albert Young
got 12 mop-up carries as a first-year player last season,
Darius Reynaud
is a converted receiver and
Toby Gerhart
is a rookie.
Moats, 27, rushed for a career-high 390 yards and four touchdowns last season for the
Houston Texans
, where he was a primary backup to starter
Steve Slaton
. Regardless of Peterson's status, it makes sense to have at least one experienced hand for depth purposes. It's not uncommon for teams to use organized team activities and minicamps to test young players and then fill in perceived roster gaps afterward.
That's my story and I'm sticking to it ... for now.
March, 14, 2010
3/14/10
7:20
PM ET
My reaction to Minnesota's
swing-and-miss
with running back
LaDainian Tomlinson
is the same as when
Chester Taylor
jumped to Chicago
. The Vikings' backup running back job is an important but ultimately secondary role as long as starter
Adrian Peterson
plays a full season, and it should be viewed accordingly.

Tomlinson

Taylor
I couldn't get worked up about Taylor's departure, and I really don't consider it a crisis now that Tomlinson has agreed to terms with the
New York Jets
. Over the past two seasons, Taylor touched the ball 284 times via rushing or pass plays. That averages out to 8.88 touches per game, or about 14 percent of the Vikings' offensive plays over that span. That's not a big enough number to lose sleep over, in my opinion.
Peterson is the focus of the Vikings' running game, and you're kidding yourself if you think they will pull back on his carries because of continuing fumble problems. Tomlinson no doubt had several reasons for signing with the Jets, but I'm sure this undeniable fact was one of them: He's going to be more involved in the Jets offense (current starter:
Shonn Greene
) than he would have been in the Vikings'.
From Minnesota's perspective, it made sense to pursue a future Hall of Famer. If he wanted to gear down his career to that extent, bully for the Vikings. But it's not surprising he chose the other option.
Discussion will naturally turn to veteran
Brian Westbrook
, who played under Vikings coach Brad Childress when Childress was Philadelphia's offensive coordinator. Childress has always had great respect for Westbrook, but it's only fair to note the Vikings have yet to show interest. Westbrook's history of concussions makes him a risk for any team he might sign with.
Without Taylor or Tomlinson, the Vikings wouldn't have an experienced back to take over if Peterson is sidelined for an extended period of time. But for now, it will be interesting to see if the Vikings give second-year player
Albert Young
at least an offseason look at the role.
Childress
talked up
Young during a radio interview last week. It's also possible to find immediate running back help in the draft.
The Vikings would have done well to sign Tomlinson, but I don't think his decision qualifies as a blow. It just adds a little pressure on their depth chart and draft preparations.
March, 5, 2010
3/05/10
2:30
PM ET
Two down with one (big) name to go in Chicago.
ESPN's Adam Schefter reports the Bears have agreed to terms with free agent running back
Chester Taylor
on a four-year contract worth $12.5 million. The deal includes $7 million in guarantees, which was more than enough to convince Taylor to jump from the Bears' NFC North rivals.
[+] Enlarge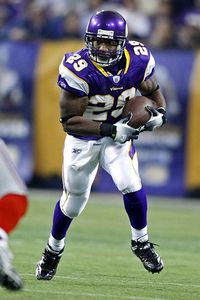 Bruce Kluckhohn/US PresswireChester Taylor reportedly agreed to a four-year deal worth $12.5 million.
(By the way, it appears to be a matter of time before defensive end
Julius Peppers
follows Taylor and tight end
Brandon Manumaleuna
by signing on the Bears' dotted line.)
I'm sure the Vikings aren't thrilled to have lost Taylor to a division rival. But I just don't see how they could have guaranteed a player $7 million for 150 touches in 2010. That's what Taylor averaged the past two seasons while playing behind starter
Adrian Peterson
, and the only way that figure would have changed next season is if Peterson gets hurt.
This was simply a matter of Taylor being more valuable to the Bears than he was to the Vikings. The Vikings will have their pick of veteran replacements for Taylor, from
Brian Westbrook
to
LaDainian Tomlinson
, or they could elevate youngster
Albert Young
. They wanted Taylor back, but they can navigate his loss.
The Bears, on the other hand, had justifiable reasons for throwing elite cash in Taylor's direction. Starter
Matt Forte
slumped in his second season and is far from the long-term lock that Peterson is. Assuming Forte maintains his starting job, Taylor fills a role the Bears have been trying to address for two years: A change-of-pace back who can reliably spell the starter. And Taylor has all the skills necessary to succeed in Mike Martz's offense, from his soft hands to his discipline against the blitz to his open-field running ability after the catch.
The Bears have added a legitimate offensive weapon who will land in a compatible system while surrounded by teammates who will afford him the limited role he can succeed in. The Vikings bid farewell to a part-time player who would have been an awfully expensive insurance policy. I can't argue with either decision.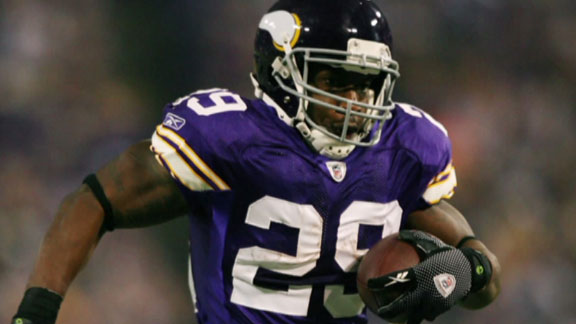 NFL SCOREBOARD
Thursday, 9/11
Sunday, 9/14
Monday, 9/15
WEEKLY LEADERS