August, 13, 2011
8/13/11
11:48
PM ET

The
New York Giants
could have used a feel-good preseason opener Saturday night. No, I don't think you can read much into these preseason games. You don't know which teams are game-planning and which aren't. You can make judgments on individual efforts in certain cases, and get a sense of what teams might be planning in terms of playing time and defensive and offensive alignments. But when we say a team looked good or bad in a preseason game, we are not making any predictions or judgments about the way the season will go based on that.
All of that said, after a week in which they got knocked around in free agency and faced questions about whether their offseason plan was sound or even extant, the Giants could have used a match that left them feeling good about things. Kind of like the one the Redskins had Friday.
They didn't get it.
Yeah, some good things happened in their
20-10 exhibition loss
to the
Carolina Panthers
.
Jason Pierre-Paul
was the star of the first half, looking fast, athletic and hungry as he recorded two sacks. Both punters looked good, third receiver candidates
Domenik Hixon
and
Victor Cruz
had nice moments, and
Michael Boley
ran back an interception for a touchdown on the first series of the game. But all in all, it wasn't a good night. There were tackling issues, communication issues and special teams issues. The backup offensive line was so bad that it may have gotten kicker
Lawrence Tynes
hurt.
Other than the Tynes thing, none of this is cause for any reason concern. Just because they were sloppy Saturday night doesn't mean anything about the season. I'm just saying, given the way their fans were feeling in the wake of the free-agent departures of
Steve Smith
, they could have used a better performance.
Here's some stuff I saw:
[+] Enlarge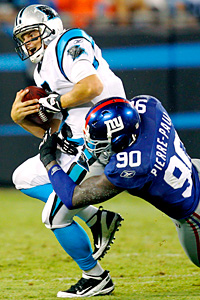 AP Photo/Chuck BurtonJason Pierre-Paul nabbed two sacks and could be a viable replacement if Osi Umenyiora continues to sit out.
1. Pierre-Paul looks like a monster.
The Giants' 2010 first-rounder has been getting a lot of snaps with the starters in practice with
Osi Umenyiora
sitting out, and he looked fantastic Saturday night. Two sacks, pressure on almost every play, quickness off the edge, athleticism, determination -- everything you want in a pass rusher. If Umenyiora wants to continue to sit out because of his contract, the Giants have some tape they can show him of a guy who looks like a very capable replacement. If Umenyiora wants to come back, the Giants have even more depth on the offensive line and can keep
Mathias Kiwanuka
at linebacker. Pierre-Paul's rapid development would be a very useful thing for the Giants.
2. Other good stuff from the defensive line.
We saw encouraging play from the defensive tackles, too, with
Chris Canty
getting into the backfield,
Rocky Bernard
getting a sack, rookie
Marvin Austin
playing well in the second half and the Giants generally producing a lot of pressure with their defensive front. As expected, they moved Kiwanuka up to the line in passing downs, and they did the same thing with
Adrian Tracy
when he replaced Kiwanuka in the second quarter. Tracy played well, helping generate the pressure that led to the Bernard sack as well as
Alex Hall
's. The Giants are looking for depth at linebacker, and Tracy could help if he plays like this.
3. The punters look good. The coverage? Not so much.
Matt Dodge
hit a couple of nice punts, including one that looked a little bit like a
Jeff Feagles
directional special. But
Steve Weatherford
was one of the best punters in the league the last couple of years and hits the ball farther than Dodge does. Could be tough for Dodge to win this competition. And regardless of who wins it, the coverage team will just have to do a better job. This is one area that actually does mean something in preseason, because the guys on special-teams coverage units should be playing hard and trying to win roster spots. They were miserable all night until Cruz came up with a big solo tackle on a punt return in the third quarter. A guy like
Michael Coe
, who has an opportunity with the Giants losing so much depth at cornerback, needs to come up bigger than he did on
Armanti Edwards
' long first return.
3a. Also, one punt-related question:
Why in the world did Tom Coughlin call for a 56-yard field goal attempt in the first quarter when Tynes is coming off knee surgery and he's trying to get a look at two punters? Just wondering. Seemed like a weird decision. Tynes, who is also the only kicker I've seen so far this preseason who hasn't been able to kick it through the end zone on kickoffs, missed the attempt.
4. William Beatty -- some good, some bad:
The new starting left tackle got manhandled a bit on the first two offensive series, looking overwhelmed and doing a lot of reaching and grabbing as he was getting beaten off the edge. But he seemed to settle in and looked much more authoritative and aggressive on the next few series. He stayed in longer than did the other starting offensive linemen, and it's no coincidence. Whether Beatty is ready to handle his new full-time job will go a long way toward determining how well the Giants handle their transition to this new offensive line assignment.
5. Brian Witherspoon was a bright spot.
The Giants' starting secondary looks as though it should be very good (though there did seem to be some communication issues there early on). The question is whether they have depth behind the starters, with
Prince Amukamara
and
Bruce Johnson
hurt. Witherspoon was a star of the second half on special teams as well as at cornerback. A guy to watch as the preseason rolls along.
6. Quick hits:
It was fun to watch top draft pick
Cam Newton
get his first game action for the Panthers. He beat Giants rookie
Tyler Sash
with a great throw on his first drive, but Sash and Coe made good plays to help keep him from capping that drive with a touchdown pass. ... It appears as though Hixon is the leader for that No. 3 receiver spot. He got a lot of work in the slot in the second half with
Sage Rosenfels
throwing to him. ... I thought
Danny Ware
looked all right as a third-down back catching screen passes. ... The word on Tynes was a thigh contusion, which is better than a knee injury for sure.
More on the Giants on Sunday, as you'll get my "Camp Confidential" report on them. Meantime, let me know what you thought.
December, 19, 2010
12/19/10
12:08
PM ET
By
Matt Mosley
| ESPN.com
EAST RUTHERFORD, N.J. -- The
Philadelphia Eagles
will be back to full strength at cornerback with the return of Pro Bowler
Asante Samuel
on Sunday against the
New York Giants
. Samuel was a game-time decision because of a knee injury, but he'll be ready to go.
Dimitri Patterson
will start on the other side and
Joselio Hanson
will go back to his nickel role.
The bad news for Eagles fans is that right tackle
Winston Justice
is once again inactive. He'll be replaced by
King Dunlap
at right tackle. And that means that Dunlap will see a steady diet of defensive end
Justin Tuck
in this game. Eagles new defensive end
Derrick Burgess
is also inactive. Rookie defensive end
Daniel Te'o-Nesheim
should see some time in today's game. Eagles wide receiver
DeSean Jackson
(foot) will also be ready to go today.
Giants inactives:
RS/WR
Darius Reynaud
, DB
Michael Coe
, TE
Jake Ballard
, G
Mitch Petrus
, OL
Jamon Meredith
, WR
Devin Thomas
, DE
Alex Hall
, DT
Linval Joseph
Eagles inactives:
QB
Mike Kafka
, CB
Brandon Hughes
, LB
Stewart Bradley
, LB
Keenan Clayton
, T
Austin Howard
, DE Derrick Burgess, T Winston Justice, TE
Garrett Mills
October, 24, 2010
10/24/10
2:46
PM ET
SEATTLE -- The weather forecast calling for rain at Qwest Field has proved more accurate than reports suggesting
Steve Breaston
would likely return from injury to start for the
Arizona Cardinals
in Week 7.
Breaston was named among the Cardinals' inactive players minutes ago. Rookie
Andre Roberts
starts in his place. Receiver
Stephen Williams
is also inactive. He has a back injury. Arizona's active receivers include
Larry Fitzgerald
,
Max Komar
,
Early Doucet
and
Onrea Jones
.
Also inactive for Arizona: safety
Hamza Abdullah
, cornerback
Trumaine McBride
, center
Ben Claxton
, linebacker
Alex Hall
and nose tackle
Gabe Watson
.
John Skelton
is the third quarterback.
Doucet's return from injury should help Arizona deal with Breaston's continuing absence. Breaston did provide a deep threat, however, and the Cardinals could miss his ability to strike downfield. Seattle has one fewer top-flight target to worry about defending, welcome news for the Seahawks as they play without starting corner
Kelly Jennings
.
August, 2, 2010
8/02/10
2:48
PM ET
FLAGSTAFF, Ariz. -- Checking out the
Arizona Cardinals
' linebackers was a top priority heading into the team's morning practice Monday.
It remains a priority heading into the afternoon practice, largely because the team did not work in full pads during the early session. It's tough to get much from watching linebackers run around without hitting something.
The position is in transition for Arizona. That's probably a good thing at outside linebacker, where the Cardinals have a mix of established veterans (
Joey Porter
,
Clark Haggans
) and promising young talent (
Cody Brown
,
Will Davis
).
The situation at inside linebacker appears tenuous while
Gerald Hayes
recovers from back surgery. Rookie second-round choice
Daryl Washington
should get a chance to play extensively early in the season. The Cardinals tried to sign
Keith Bulluck
, who signed with the
New York Giants
instead. They submitted a waiver claim for
Alex Hall
, but the Giants' claim prevailed based on their inferior record last season. Arizona could be a candidate to sign a linebacker after teams release players to comply with roster limits.
"We're going to be fine," predicted inside linebacker
Paris Lenon
, who signed with Arizona after spending last season in St. Louis.
Coming shortly: Ken Whisenhunt and
Matt Leinart
are scheduled to appear for interviews between practices. Much more from Cardinals camp as the day progresses, particularly after the team works in pads later Monday.
March, 11, 2009
3/11/09
4:00
PM ET
Posted by ESPN.com's James Walker
The Cleveland Browns are bringing a lot of players from the New York Jets over to join new head coach Eric Mangini.
But are they good enough to make a difference?
The names C.J. Mosley, Hank Poteat, David Bowens and Abram Elam don't strike a chord with many Browns fans. The four spent a majority of their careers as backups or role players.
Yet ironically all four players have a shot for much bigger roles in Cleveland, which provides a great opportunity to shine but also demonstrates how talent-deprived the Browns are.
Bowens and Elam, a restricted free agent, have a chance to make the biggest impact. Bowens has 32.5 career sacks and, despite starting just seven games the past two years, he should start for Cleveland right away. Bowens can play both inside and outside linebacker with the Browns, replacing players such as Leon Williams or Alex Hall.
Elam had 69 tackles and an interception in 2008 and could fill the safety spot left open by Sean Jones, who joined the Philadelphia Eagles. The Jets have one week to match Cleveland's offer for Elam.
Poteat would have to beat out one of Cleveland's young corners in Eric Wright and Brandon McDonald. But at the very least, Poteat, 31, can play the nickel and teach Wright and McDonald the nuances of Mangini's system. Mosley was signed to provide depth on the defensive line, which is also an area the Browns will address in the draft.
All four signings are not overwhelming but could turn out to be solid. And when you're trying to completely rebuild a roster, that's not a bad thing.
September, 5, 2008
9/05/08
8:56
AM ET
Posted by ESPN.com's James Walker
Here are the most interesting stories in the AFC North:
Morning take: This is further proof that few pro sports teams are woven into the city's fabric quite like the Pittsburgh Steelers.
Morning take: We've liked Alex Hall since minicamp. Now "Kamerion Wimbley-lite" gets a chance to show what he can do.
Morning take: Guess which team just received additional insight on Cincinnati's offense for Sunday's game?
Morning take: Win and produce, and Mr. 8-5 can do whatever he wants. Lose and play poorly, and there will be some finger-pointing his way after drawing so much attention.