October, 10, 2012
10/10/12
11:41
AM ET
Alex Karras retired from the NFL before I was born. So for me and many others who grew up in places other than Detroit, he was a goofball actor who -- we found out later -- just so happened to be a pretty darn good football player a few decades earlier.
Karras had lived a full life when
he died Wednesday morning at the age of 77
, and we don't devote a post to every former NFC North player who passes away. But Karras transcended football in a way that didn't often happen for players of his era (1958-71), and in many ways he paved the way for the celebrity status that current NFL players enjoy as a matter of course.
[+] Enlarge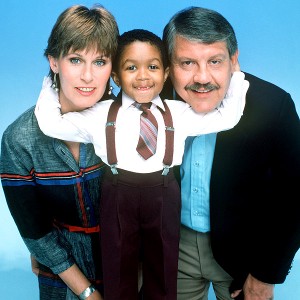 Getty ImagesAlex Karras starred as the lovable dad in the 1980s sitcom "Webster."
Karras' break came in 1963, when he was a central character in the non-fiction "Paper Lion: Confessions of a Second-string Quarterback," written by sports journalist George Plimpton, who had spent training camp trying out to be a Lions backup quarterback. Karras played himself in the 1968 movie adaptation, and his wit and talents for physical humor helped him move full-time into acting after his retirement in 1970.
His
role as Mongo in "Blazing Saddles
" made him a household name for many. I mean, who wouldn't remember the guy who punched a horse? In the 1980s, Karras' role in developing and playing a sentimental father on television's "Webster" introduced him to another generation.
This is not to downplay Karras' dominance as a football player in the 1960's, when he made the NFL's All-Decade team as a defensive lineman. The point is that Karras' life was only beginning when he retired from the game at age 35.
The next time you see a former athlete branching out into another form of entertainment unrelated to the game, you can know that Karras played a role in paving that path. And when you see a former athlete fail at it, you'll realize how talented Karras really was.
May, 2, 2012
5/02/12
2:48
PM ET
The
season-long suspension
of
New Orleans Saints
linebacker
Jonathan Vilma
pretty much is unprecedented in the NFL.
There have been plenty of one-year suspensions (and some longer) for substance-abuse violations. But Vilma's suspension ranks as one of the longest in history.
With help from the Associated Press, by way of ESPN Stats & Information, here's a list of the longest non-substance-abuse suspensions in NFL history:
Art Schlichter, Life, suspended 1 year for gambling in 1983, never reinstated
Merle Hapes, 8 years, suspended for conversing with known gambler in 1946, reinstated in 1954
Frank Filchock, 3 years, suspended for conversing with known gambler in 1947, reinstated in 1950
Michael Vick, 2 years, 2 games, suspended indefinitely in 2007 after pleading guilty to role in dogfighting
Plaxico Burress, 2 years, suspended for duration of jail term in 2009 after pleading guilty to criminal possession of a weapon
Donte' Stallworth, 1 year, suspended for 1 year after pleading guilty to DUI manslaughter in 2009
Paul Hornung, 1 year, suspended 1 year for gambling in 1963
Alex Karras, 1 year, suspended 1 year for gambling in 1963
Adam Jones, 1 year, suspended 1 year for violating Personal Conduct Policy in 2007
Those suspensions all involved off-field actions. Here is the list of the longest NFL suspensions for on-field incidents:
March, 21, 2012
3/21/12
1:16
PM ET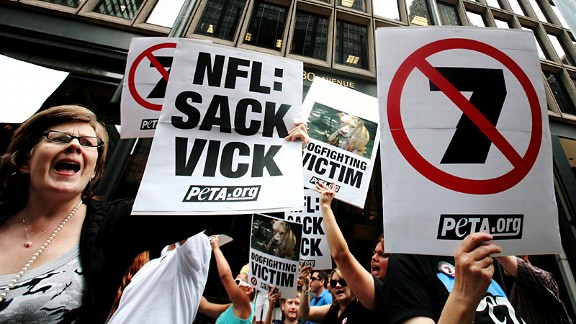 AP Photo/Bebeto MatthewsMichael Vick's arrest and imprisonment shocked the NFL and sent the Falcons reeling.
The most significant scandals in NFL history affected individuals and organizations alike. The nature of the allegations, the prominence of the individuals involved, the punishment meted out and the overall impact led us to single out the following five, realizing there were others worth strong consideration.
1. Michael Vick to prison.
Involvement in a dogfighting ring brought down one of the NFL's highest-profile, most dynamic quarterbacks in his prime. Vick was released and sent to prison, sending the
Atlanta Falcons
into turmoil. Vick owed nearly $20 million when he filed for bankruptcy in 2008 and the Falcons had to rebuild their franchise.
2. Saints bounties
. Offering cash payments for injuries inflicted on opponents
brought down the wrath from commissioner Roger Goodell
: Saints coach Sean Payton was suspended for one year, former defensive coordinator Gregg Williams was suspended indefinitely, general manager Mickey Loomis was suspended for eight regular-season games, the team was fined $500,000 and lost two second-round draft picks (one in 2012 and '13) for their participation in a bounty program.
[+] Enlarge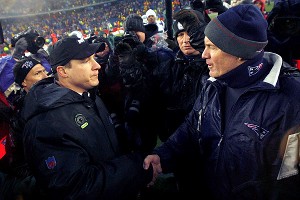 Jim Rogash/Getty ImagesThe New England Patriots haven't won a Super Bowl since cheating allegations cost them $750,000 and a draft pick.
3. Spygate allegations.
Cheating claims levied against the
New England Patriots
threatened to tarnish the legacy of a flagship franchise at the peak of its powers. Commissioner Roger Goodell determined the Patriots acted against league rules by videotaping opponents' hand signals. The NFL levied $750,000 in fines and revoked the Patriots' first-round choice in 2008.
4. Hornung/Karras gambling.
The NFL suspended Paul Hornung and Alex Karras for the 1963 season after both admitted to betting on NFL games. Hornung and Karras were both Pro Bowl players and Hornung was one of the league's biggest stars playing for the NFL's most iconic team: the
Green Bay Packers
. Commissioner Pete Rozelle reinstated both players in 1964, and Hornung wound up in the Hall of Fame.
Art Schlichter's one-year ban two decades later also deserves mention among player gambling scandals, but his standing in the league wasn't as strong at the time.
5. Eddie DeBartolo Jr. suspended.
The
San Francisco 49ers
' former owner remains a beloved figure in team lore. He was a finalist for the Hall of Fame this year. But his 1998 felony conviction for failing to report extortion relating to a Louisiana casino project produced a $1 million fine and one-year NFL suspension. DeBartolo wound up selling the 49ers, precipitating a decade of futility for the organization.
July, 1, 2010
7/01/10
11:00
AM ET
Notable players:
Running back Mel Farr, center Ed Flanagan, tight end Charlie Sanders, linebacker Paul Naumoff, defensive tackle Alex Karras, cornerback Lem Barney, cornerback Dick LeBeau.
[+] Enlarge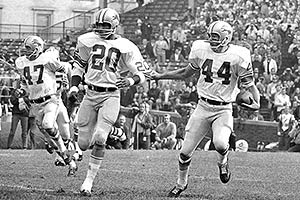 AP Photo/Jim PalmerCornerbacks Lem Barney and Dick LeBeau combined to snag 16 interceptions during the 1970 season.
Analysis:
I'm fully aware that this franchise played for four NFL Championships during the 1950s, winning in 1952, 1953 and 1957. It was without question the golden age of Lions football, but you can make a decent argument that the best team came two decades later.
The 1970 Lions ranked second in the NFL in points scored and points allowed, won their first two games by a combined score of 78-3 and finished the season with the league's second-highest average point differential (10.4), according to pro football-reference.com. They had the best turnover ratio in the league, were the victims of Tom Dempsey's then-record 63-yard field goal and produced an impressive five-game winning streak to end the regular season.
This team fielded two Hall of Fame cornerbacks, and both Barney and LeBeau had the best seasons of their careers. LeBeau intercepted nine passes, while Barney had seven -- returning two for touchdowns. The Barney/LeBeau team helped the Lions limit the powerful Dallas Cowboys to five points in the playoffs, and that total should have been enough for an offense that put up at least 28 points in six of its regular-season games.
But the offense inexplicably fell flat that day in a 5-0 defeat, leaving Lions fans their first in a series of torturous "what-ifs." At the time, there was a feeling the Lions were
bound for a Super Bowl victory
had they gotten past the Cowboys.
I realize there is some room for discussion here. But the 1970s were a newly competitive era for the NFL, and that's where I landed when comparing this team with the 1950s teams.
Most impressive victory:
I'll go with a tie for the Lions' collective performances in shutting out Green Bay twice -- 40-0 in the season opener and 20-0 in the season finale. The Packers weren't a good team that year but they did win six of their other 12 games.
Did you know?
The 1970 Lions were the first wild-card playoff team in NFL history. When the league merged with the AFL, the postseason was expanded to eight teams -- three division winners and one wild-card team.
Did you know, Part II?
Soul musician Marvin Gaye had a failed tryout for the 1970 team.
Honorable mention
1952:
A high-powered offense scored 40-plus points five times on the way to a 9-3 record and an NFL Championship.
1953:
A similar team scored a touchdown in the final minutes of the championship game to become the third team in NFL history at that point to win back-to-back titles.
1957:
The Lions overcame the training camp resignation of coach Buddy Parker and the broken leg of quarterback Bobby Layne to win its last NFL title.
November, 8, 2008
11/08/08
11:33
AM ET
Posted by ESPN.com's Kevin Seifert
One more thought on the Jared Allen-Matt Schaub storyline that ultimately led to some hard feelings and a $50,000 fine for Allen.
Intent is not a part of most NFL rules. So it makes no difference that Allen steadfastly maintained he wasn't trying to hurt Schaub by hitting him below the knees last Sunday. (And given the state of the Texans' quarterback situation, the Vikings might have been better off with Schaub in the game rather than backup Sage Rosenfels, anyway.)
But Allen's intent doesn't matter. The reason the league put that rule into place is that a quarterback's eyes are never supposed to be on the pass rush. He's not always going to see a defensive lineman lurking near his feet, and certainly not if the lineman comes from behind. A shot below the knee is the easiest way to get the quarterback to the ground, but it puts him in a high-risk injury situation -- especially if his feet are planted to throw -- that the league isn't willing to perpetuate.
Allen seemed pretty upset earlier this week when he thought Houston coach Gary Kubiak accused him of intentionally trying to hurt Schaub. Kubiak clarified those comments Friday and said: "By no means do we think this young man was trying to hurt anybody."
We'll leave conspiracy theories for another day. But even if you give Allen the benefit of the doubt, and that he was merely playing out his instinct to bring down the quarterback, it should now be clear the NFL isn't interested in explanations.
Continuing around the NFC North on a wintry Saturday morning in the Upper Midwest: