February, 10, 2014
Feb 10
6:30
PM ET
The
Arizona Cardinals
won't draft Missouri defensive end
Michael Sam
in May.
And it has nothing to do with his sexual orientation.
The Cardinals are stocked, if not overstocked, at outside linebacker, the position Sam will most likely have to transition to if he gets drafted in a 3-4 scheme, which the Cardinals run. At about 6-foot-2, 260 pounds, he's too short to play off the edge for Cardinals defensive coordinator Todd Bowles – especially when Arizona's starting defensive end is 6-8, 300-pound
Calais Campbell
.
Sam would be better fit as an OLB, but during their mad dash through free agency last year, the Cardinals made the position a point of emphasis. Already with
Sam Acho
, Arizona added
Lorenzo Alexander
,
Matt Shaughnessy
and
John Abraham
through free agency and drafted
Alex Okafor
. During the season, the Cardinals signed
Dontay Moch
and
Marcus Benard
, who also contributed this past season.
Sam's spot on the Cardinals' roster is essentially filled by Acho, who at 6-3, 257, has the most similar body type to Sam. And Acho, most likely, isn't going anywhere anytime soon.
Arizona was able to fight through a decimated OLB corps last season to still register the top-ranked run defense in the league and the sixth-best defense overall. In Week 3 against New Orleans, the Cardinals lost Acho, Alexander and Okafor in a freak series of injuries within one game. In their place, Abraham became an every-down linebacker and Shaughnessy stepped up and proved worthy of his one-year deal.
Sam came out publicly Sunday night, making him the first openly gay college prospect in the history of the NFL. By now, less than 24 hours after his story was aired on ESPN and printed in The New York Times, it's well known. He came out to his Missouri teammates back in August and proceeded to have a stellar season.
If the Cardinals pass on Sam, it's not because he's gay. It's because they don't need him. It's a football decision.
December, 10, 2013
12/10/13
8:00
PM ET
TEMPE, Ariz. -- Losing rookie safety
Tyrann Mathieu
for the season wasn't just a blow to the
Arizona Cardinals
' secondary, it's a continued decimation of the Cards' 2013 draft class.

Mathieu is Arizona's fourth drafted rookie to suffer a season-ending injury this season, following guard
Jonathan Cooper
in the preseason and linebacker
Alex Okafor
in Week 3. Wide receiver Ryan Swope was forced to retire after suffering a concussion during minicamp. Arizona only has four draft picks on its active roster after releasing tight end
D.C. Jefferson
, a seventh-round pick, in early November.
The Cardinals' four injured draft picks are tied for most in the NFL with the
Green Bay Packers
and
Houston Texans
this season.
Cardinals coach Bruce Arians was concerned another rookie was about to be sidelined two weeks ago when rookie running back
Andre Ellington
, Arizona's second sixth-round pick, tweaked his left knee leading up to the Eagles game on Dec. 1. Arians thought Ellington, who was sidelined for the game, had hurt his ACL. But it turned out to be not nearly that bad as Ellington played Sunday against the Rams.
Arians doesn't expect Mathieu to return by training camp next year, but the other rookies, Cooper and Okafor, are slated to be healthy by July.
"It definitely has got us," the coach said. "We got lucky with Andre Ellington.
"But, yeah, with Swope and Coop and the rest of them, it's a shame because we really needed them."
September, 25, 2013
9/25/13
8:00
AM ET
SARASOTA, Fla. -- Handling a loss is part of the game. And waiting on a star to return from an injury also comes with the territory.
Having to rebuild an entire position because of injuries, well, that might have been coach Bruce Arians' "Welcome to the NFL" moment. And how he responds could spell out the rest of the season for the
Arizona Cardinals
.
A depth chart is built with this type of situation in mind. Both of Arizona's starting outside linebackers,
Lorenzo Alexander
(Lisfranc) and
Sam Acho
(fibula), left Sunday's 31-7 loss to the
New Orleans Saints
with season-ending injuries. It was a blow to the defense, but it's not the end of the world. Enter the backups. Rookie
Alex Okafor
filled in for Acho, but saw only five plays. Which, Arians said on national radio Tuesday night, was all he needed to tear a biceps tendon.
Okafor is out for the season, too.
Enter … well, nobody.
Teams aren't built to back up the backup. Anyone who posits otherwise simply doesn't understand the dynamics of football. With a 53-man roster, 22 spots are slotted for starters. Give each one a backup and that's 44 players, with nine openings left for special teams and specialists.
[+] Enlarge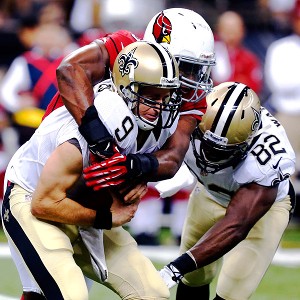 AP Photo/Bill HaberSam Acho recorded a sack of Saints QB Drew Brees before leaving with a broken fibula.
The only two outside linebackers to survive Sunday were
John Abraham
and
Matt Shaughnessy
, both of whom tend to play as outside rushers off the line, or, in Shaughnessy's case, sometimes in the middle of the line.
Losing three of a unit's five players, no matter what team it is, can bring panic. But the Cardinals have reacted swiftly, trying to piece together a competitive outside-linebacking unit.
They filled out the roster with a couple of internal promotions,
Dontay Moch
and rookie Kenny Demens, from the practice squad (the latter move according to Arians) and signed
Vic So'oto
to the active roster. It's a solid start to a process that may last the rest of the season. The outside linebackers could be liability until at least two of the injured players return next year.
Arians likes Moch's speed, which can help this defense improve its pass rush. Arizona has recorded just one sack off the edge this season, by Acho, against the Saints.
The Cardinals have three primary options at this point: Stay with the new outside linebackers, revamp the entire unit -- inside and out -- when
Daryl Washington
returns Monday or change the defense, putting more men at the line of scrimmage and keeping the inside guys at their natural position.
If Arizona stays in a 3-4 with its current players, there's a good chance the outside backers will be rotated throughout the season because of general manager Steve Keim's penchant to comb the waiver wire. If Moch produces, he can earn himself a consistent starting job because of how Arians operates. Arians works with who's in front of him, and if Moch can prove he's worthy of staying on the field, Arians will leave him there.
But if the Cardinals decide to revamp the entire unit, the new faces on the roster may be relegated to the sideline. There'd be a learning curve, however. With Washington returning, Arians and defensive coordinator Todd Bowles could play him,
Karlos Dansby
and
Jasper Brinkley
together. Herein lies the problem. All three are inside backers -- and so is rookie
Kevin Minter
, who's out with a hamstring injury and isn't expected back for a few weeks. If one is willing to convert to outside and the Cardinals want to keep their 3-4 scheme, they could move Moch or another addition to the outside until Minter returns.
If Arizona decides to change schemes, it could keep Washington, Dansby and Brinkley as the linebackers, although two would have to learn outside-LB tendencies. Then the Cardinals could bring Abraham off the edge more often, especially against pass-happy offenses -- of which the NFC West is full. According to Pro Football Focus, Abraham led Arizona with five quarterback hurries on 29 pass rushes.
There's a lot to be decided in the next couple weeks, although most of the major decisions that would affect the rest of the season won't likely happen until Washington returns.
This is the equivalent of a vacation gone wrong but you can't leave. The weather is bad. Nothing seems to go right. But the Cardinals are just trying to get through this week, miles away from home, and salvage their trip by getting back to .500.
September, 3, 2013
9/03/13
10:30
AM ET
Eighty-six of the first 88 players drafted in 2013 remain on 53-man rosters entering Week 1. The two exceptions play for NFC West teams.
The
Arizona Cardinals
'
Jonathan Cooper
, chosen seventh overall, suffered a season-ending leg injury during preseason. He is on injured reserve. The
San Francisco 49ers
'
Tank Carradine
, chosen 40th overall, remains on the reserve/non-football injury list while recovering from a knee injury.
Twenty-five of 39 NFC West choices this year remain on their original teams' 53-man rosters. That includes all seven picks for the
St. Louis Rams
and seven of nine for the Cardinals. The 49ers and
Seattle Seahawks
had a higher number of picks arranged lower within each round, and fewer open roster spots to accommodate them.
Injuries have left six picks from the division on various injured lists. Three of the Seahawks' top five picks will not help the team anytime soon. That includes Harper, defensive tackle
Jesse Williams
(injured reserve) and cornerback
Tharold Simon
(reserve/physically unable to perform).
Percy Harvin
, who cost Seattle its 2013 first-round choice, is also injured.
Five 2013 draft choices from the division landed on their original teams' practice squads. One of them, fourth-round choice Chris Harper, subsequently left his original team (Seattle Seahawks) to sign with the 49ers' 53-man roster.
Three picks from the St. Louis Rams and one from the 49ers are scheduled to start in Week 1. Cooper would have started for the Cardinals if healthy.
Harper wasn't the only NFC West draft choice to land on another team. The 49ers'
Marcus Cooper
, a seventh-round choice, wound up with Kansas City after the Chiefs claimed him off waivers.
July, 12, 2013
7/12/13
12:00
PM ET
»
NFC Eight in the Box:
East
|
West
|
North
|
South
»
AFC:
East
|
West
|
North
|
South
A look at the one offseason move each team in the NFC West needed to make, but didn't:

Arizona Cardinals:
Pass-rushing outside linebacker is one position where the team could have upgraded more aggressively. Using a fourth-round pick for
Alex Okafor
addressed the position to some degree.
Sam Acho
,
O'Brien Schofield
and
Lorenzo Alexander
are the other players expected to factor on the outside in 3-4 looks. The Cardinals haven't been hurting for sacks. Their defensive front could generate pressure more directly if the responsibilities for ends
Calais Campbell
and
Darnell Dockett
evolve as expected. But with inside linebacker and leading 2012 sacker
Daryl Washington
serving a four-game suspension to open the season, Arizona might need more pass-rush presence from the perimeter.

St. Louis Rams:
The Rams appear set on defense except at safety, where
Darian Stewart
and 2013 third-round choice
T.J. McDonald
are the projected starters after the team parted with 2012 starters
Craig Dahl
(signed by San Francisco) and
Quintin Mikell
(released for salary reasons). Stewart played 83 percent of the defensive snaps in 2011, but his playing time fell to 7 percent last season. McDonald is just getting started. Safety is one position the team could address by adding a veteran as the summer progresses. For now, it's a question mark. We should note, however, that rookie linebacker and first-round pick
Alec Ogletree
adds considerable range and coverage potential to the defense. He could wind up drawing some coverage responsibilities.

San Francisco 49ers:
This roster doesn't have many holes, so we'll have to reach a little. Some thought the 49ers needed to upgrade more at cornerback, but the team thought restoring its front seven would plug some of the leaks that sprung in the secondary late last season. On offense, hindsight says the team could have moved even more aggressively at wide receiver, but there was no way to know
Michael Crabtree
would suffer a torn Achilles tendon during routine offseason workouts. Even then, San Francisco was proactive by acquiring
Anquan Boldin
before Crabtree's injury. Swing tackle was one position where the 49ers arguably needed another option. Re-signing
Adam Snyder
provided some insurance there.

Seattle Seahawks:
The Seahawks, like the 49ers, have a roster without many holes. They addressed key needs for a nickel corner (
Antoine Winfield
) and pass-rush help (
Cliff Avril
,
Michael Bennett
). The offensive line is one area where the team arguably could have moved more aggressively. An injury to one of the starting tackles could force guard
Paul McQuistan
to play out of position while taxing depth on the interior, particularly if 2011 first-round pick
James Carpenter
doesn't shake significant injury concerns. The Seahawks believe in line coach Tom Cable's ability to make just about any situation work. He's their insurance policy.
May, 31, 2013
5/31/13
12:01
PM ET
»
NFC Eight in the Box
:
East
|
West
|
North
|
South
»
AFC
:
East
|
West
|
North
|
South
A look at a player entering a contract year on each NFC West team who must deliver in 2013:

Arizona Cardinals:
O'Brien Schofield
. An ankle injury against the
Green Bay Packers
last season ended Schofield's season prematurely after nine games and four sacks. The outside linebacker still set a career high for playing time with 471 snaps. The Cardinals' new coaching staff will be watching to see whether Schofield can stay healthy and produce in a tweaked scheme. Schofield's career was steadily gaining momentum through his first two-plus seasons after the 2010 fourth-round choice recovered from an ACL injury suffered at the Senior Bowl. Then, in Week 9 last season, Schofield was chasing Packers quarterback
Aaron Rodgers
after beating his man off the ball when teammate
Darnell Dockett
dove toward Rodgers, spinning around and inadvertently
chopping down Schofield
at the legs. The team used a fourth-round pick this offseason for
Alex Okafor
, who could push Schofield eventually.

St. Louis Rams:
Rodger Saffold
. The Rams once planned to build their line around Saffold and
Jason Smith
at the tackle spots. Smith flamed out and is no longer with the team. Saffold has appeared in 35 games, starting all of them, since the Rams made him the first player selected in the second round of the 2010 draft. However, injuries have forced him to the sideline for a combined 13 games over the past two seasons. Saffold enters the final year of his rookie deal as the projected starter at right tackle. He started on the left side most recently, but the newly signed
Jake Long
will man that spot for the foreseeable future. Saffold needs to stay on the field and play well if he hopes to maximize his value with the Rams or another team beyond this season.

San Francisco 49ers:
Donte Whitner
. Coach Jim Harbaugh went into free agency this offseason saying the team valued Pro Bowl free safety
Dashon Goldson
. He said Goldson was the type of player a team wants to reward. There still wasn't money in the budget for Goldson, who signed with Tampa Bay in free agency. Whitner is the 49ers' other hard-hitting safety, perhaps best known for the crushing hit he put on New Orleans'
Pierre Thomas
during a playoff game two seasons ago. He has started all but one game for the 49ers over the past two seasons, and he will be 28 this season -- hardly ancient by NFL safety standards. The 49ers have had tough choices to make on defense, however, and they'll have more to make in their secondary in the not-too-distant future. Cornerback
Tarell Brown
is also unsigned beyond 2013.

Seattle Seahawks:
Golden Tate
. The receiver set career highs in 2012 with 45 receptions for 688 yards and seven touchdowns. He averaged 15.3 yards per reception, a gain of more than four yards over his previous career average. The Seahawks loved what they saw from Tate, but that did not stop them from acquiring
Percy Harvin
from the
Minnesota Vikings
and making Harvin the highest-paid receiver on the team. Harvin's arrival invited questions about whether Tate figured into the Seahawks' long-term plans. It also invited questions about whether the team would continue paying fellow receiver
Sidney Rice
at Rice's current rate. The Seahawks think Harvin's arrival will create better matchups for Tate. Whatever the case, Tate needs a strong season to validate what he accomplished in 2012. Otherwise, the Seahawks and other suitors can point to Tate's first two seasons when trying to set his value.
May, 7, 2013
5/07/13
11:00
AM ET
Sometimes it takes a few years to fully assess an NFL draft class' impact. Imperiled veterans can't afford to wait that long.
Among the NFC West veterans on alert as 2013 rookies arrive for minicamps Friday:
May, 4, 2013
5/04/13
11:31
AM ET
Our
post-draft amendments
to
pre-draft positional rankings
continue with Matt Williamson, NFL scout for ESPN.com.
Up next: linebackers.
NFC West teams drafted six of them if we count the
San Francisco 49ers
'
Corey Lemonier
and the
Arizona Cardinals
'
Alex Okafor
as 3-4 outside linebackers, which we will do for the purposes of this exercise. We probably should have counted
Seattle Seahawks
seventh-rounder
Ty Powell
with
the defensive linemen
given that he projects to the "Leo" position, but there is some crossover with the linebackers as well.
The six draftees:
Alec Ogletree
(30th overall pick) to the
St. Louis Rams
;
Kevin Minter
(45th) and Okafor (103rd) to the Cardinals; Lemonier (88th) and
Nick Moody
(180th) to the 49ers; and Powell (231st) to the Seahawks.
Matt and I pick up the conversation from there.
Sando:
I see you're keeping the rankings at linebacker in the same order even though the Rams added a potentially dynamic player at the position in Ogletree.
Williamson:
The 49ers have to stay No. 1, of course. They have the best linebackers in the league and they added Lemonier. He is a fast, long, skinny edge guy who doesn't hold up real well against big guys. He gets off the ball well, not real fluid, doesn't change direction great, but beats you with speed and eats up space with long strides. A good looking prospect.
Sando:
The race for No. 2 has to be closer after this draft.

Williamson:
Those three are pretty close now. You look at the Rams vs. Seattle. I look at two of the Rams' three starters as being strong, even Pro Bowl types now.
James Laurinaitis
and Ogletree vs.
Bobby Wagner
and
K.J. Wright
. I would give the edge to Seattle because I think Wagner is the best of the bunch and we do not yet know whether Ogletree will be a Pro Bowl-type player.
Sando:
The Cardinals are fourth?
Williamson:
It's not easy. Minter compliments
Daryl Washington
extremely well. He is a real heady, tough guy and a leader. He stuffs the run better than average and looks like a two-down player who could possibly play more than that. I could see him on the field as an every-down guy while Washington is suspended. Ideally, though, he comes off. Washington is a total stud if he can stay out of trouble. Those two could form one of the better inside linebacker pairings in the league, but I still put them four.
Sando:
It gets back to what you think of their outside linebackers.
Williamson:
We have to operate under the assumption Arizona is a 3-4 team and they are still light as 3-4 outside linebackers. Nobody there scares me. They have a bunch of No. 2s. I liked Okafor as a late-second or third-round prospect, but not as a real difference maker. If you are going to be a 3-4 team, your outside linebackers are still a negative.
Sando:
There is some uncertainty as to how the Cardinals are going to tweak this defense. It really could be more of a 4-3.
Williamson:
If they trend to a 4-3, two of their three starters are very strong, like with the Seahawks and Ramss. If we pretend Seattle, St. Louis and Arizona all line up in a base 4-3, each would have two really good starters. I would rank those players in order as Washington, Wagner, Laurinaitis and Wright, then Ogletree and Minter. All six could go to the Pro Bowl, although it is a stretch to say that with Minter right now.
Sando:
Earning league-wide honors as a linebacker from the NFC is tough duty. The 49ers had four linebackers earn spots on the Associated Press All-Pro teams last season.
Aldon Smith
,
Patrick Willis
and
NaVorro Bowman
were first-team selections.
Ahmad Brooks
was a second-team choice. The Cardinals' Washington was a second-team choice. I noticed you left off the Rams'
Jo-Lonn Dunbar
when listing the six non-49ers linebackers you liked.
Williamson:
I like Dunbar -- not a ton, but he is serviceable. That position is not a hole for them.
Sando:
We alluded to some uncertainty with how the Cardinals will play defense. I think Seattle is in transition at linebacker to some degree as well. The Seahawks appear likely to give
Cliff Avril
and possibly
Bruce Irvin
work at strong-side linebacker, in which case Wright would shift to the weak side. We'll have a better idea what Seattle and Arizona have in mind once training camps get going.
May, 2, 2013
5/02/13
2:46
PM ET
Our
post-draft amendments
to
pre-draft positional rankings
continue with Matt Williamson, NFL scout for ESPN.com.
Up next: defensive linemen.
NFC West teams drafted four of them if we count the
San Francisco 49ers
'
Corey Lemonier
and the
Arizona Cardinals
'
Alex Okafor
as 3-4 outside linebackers, which we will do for the purposes of this exercise.
The four draftees: Tank Carradine (40th overall choice) and
Quinton Dial
(157th) to the 49ers; and
Jordan Hill
(87th) and
Jesse Williams
(137th) to the
Seattle Seahawks
.
Williamson moved up the 49ers from fourth to second in his defensive line rankings following the draft. Seattle remains No. 1. The
St. Louis Rams
and Cardinals each dropped one spot to accommodate the 49ers' rise.
Then as now, the rankings are close. There's no shame in having the fourth-best line in the NFC West. We pick up the conversation from there.
Williamson:
I love Tank Carradine. Dial, the kid from Alabama, is a worthy addition. Carradine seemed like a really curious fit to me at first because I thought of him more as an outside linebacker, an edge player. But people were calling me out during our draft chat and saying he is going to be a defensive end for them.
Sando:
Yeah, Carradine is in that 275-pound range.
Justin Smith
and
Ray McDonald
were in that range, and they projected to defensive end with the 49ers. All 3-4s are not the same and we know defensive coordinator Vic Fangio likes an active defensive front.
Williamson:
Smith and McDonald are not a whole lot different. The 49ers' defensive ends aren't like
Aaron Smith
was in Pittsburgh. Justin Smith was 4-3 end. I buy that, but I also think
like we talked about
before, it wouldn't blow me away if we saw more 4-3 from them.
Sando:
Yeah, when they added
Glenn Dorsey
, the first thought was that he would be best suited in a 4-3 defense, not a 3-4. And I know the 49ers move around their guys up front. I know they play with a four-man line a decent percentage of the time.
Williamson:
They don't have the pure nose on the team any more. We will see more multiple fronts, which gets more bodies involved. One problem with that defense is they played only 12 guys, 13 guys most of the time. That hurts them late in the season with too many people worn down.
Sando:
That was the case late last season. It's why the 49ers addressed their front seven more than they addressed their cornerback situation. They think the corners can be fine if the front is healthy and deeper. Shifting gears, you left Seattle at No. 1 along the line. The Seahawks also added two defensive linemen in this draft.
Williamson:
Jesse Williams can be a great player. If his knee had checked out better, I had him penciled in for the 49ers in the first round. Hill is a shorter guy, a leverage and quickness player. I'm not sure they really have anyone else like him.
Brandon Mebane
is bigger and stronger. Hill plays the Mebane position or is just an interior pass-rusher. I think Hill is an energy guy. Get him out there 20-30 snaps a game. He is like a curveball. You're used to playing against power with Mebane and then they change it up. Mebane would be much stouter.
Sando:
Hill was drafted before Williams, but he's getting a lot less attention.
Williamson:
Williams is the wild card of this draft. On tape, he is a later first-round player. Big, really strong, moves really well. There have to be legitimate concerns about his health, but we don't always find out the extent of those before the draft. Every year, guys fall two or three rounds further than they should. We sit there saying all these teams should take Jesse Williams, but then after a while, something must be wrong with Jesse Williams.
Sando:
The Seahawks did not sound concerned, but teams don't really express concerns on draft day, either.
Williamson:
Alabama plays a 3-4 and Williams was a defensive end for them when they had
Josh Chapman
. He can play all over the line. He played the nose, but he is not a
Casey Hampton
. He can be
Red Bryant
, but he could also be
Alan Branch
and maybe Mebane, too.
Sando:
The Rams and Cardinals did not draft defensive linemen given that we're counting Okafor at linebacker for now. The Cardinals said they could add a defensive tackle in free agency. Some in the media have linked them to
Sedrick Ellis
.
Williamson:
If they do sign Ellis, that is yet another indication we'll see more 4-3 there as well. The guys they are adding are not true 3-4 guys.
Calais Campbell
can do both.
Darnell Dockett
is better in a 4-3.
Frostee Rucker
and
Matt Shaughnessy
don't really have 3-4 experience. They are better as 4-3 ends. Okafor can be as much 3-4 outside linebacker as 4-3 end if Campbell is your heavier 4-3 end, Dockett is your three-technique and then
Dan Williams
or Ellis would be your one-technique. Okafor would be your open-side guy.
Sando:
The scheme uncertainties in Arizona could lead us to revisit the rankings as we learn more and get a better feel for how specific players fit.
April, 27, 2013
4/27/13
12:37
PM ET
The
Arizona Cardinals
have drafted for defense with three of their first four selections in the 2013 NFL draft after ranking 31st last season with 25 offensive touchdowns.

Misplaced priorities? Not necessarily.
The team upgraded at quarterback by adding
Carson Palmer
by trade. The offensive line will be healthier and more talented with first-round pick
Jonathan Cooper
in the lineup. The line was already improving late last season.
That is how the Cardinals can feel good about leaning toward defense to this point in the draft despite fielding one of the NFL's best units on that side of the ball in 2012.
Texas defensive end
Alex Okafor
was the choice for Arizona with the 103rd overall pick (fourth round) Saturday. The team previously selected Cooper in the first round, linebacker
Kevin Minter
in the second and LSU cornerback
Tyrann Mathieu
in the third round.
April, 17, 2013
4/17/13
2:52
PM ET
Mel Kiper Jr. goes three rounds deep in a mock draft today, just eight days removed from the start of the real thing.
You can peruse the
team-by-team results

or follow his draft
in order
.

Jacksonville Jaguars

Rd. 1 (2) OT
Luke Joeckel
, Texas A&M
Rd. 2 (33) QB
Matt Barkley
, USC
Rd. 3 (64) CB
Johnthan Banks
, Mississippi St.
Kiper's analysis:
I know this isn't the biggest need on the board, but given where Jacksonville is from a personnel standpoint, if the best player in the draft is available at the No. 2 pick -- and my current left tackle is potentially gone after this year -- I'm taking the guy. This is a franchise that has taken the guy it wants and eschewed great value too many times in recent years, but that's not the case here. Take Joeckel, get better at tackle, do a better job of protecting the QB and whether I stick with
Blaine Gabbert
or let the next guy take over, I've at least given him a reasonable chance to succeed. That next guy might be the second-round pick.
My thoughts:
Kiper has Detroit moving up to No. 1 for cornerback
Dee Milliner
, which leaves Joeckel available for the Jaguars. The Jaguars need a sure thing, and this is a tackle rated as a sure thing, so I don't think you factor
Eugene Monroe
into it too much.
Tennessee Titans

Rd. 1 (10) G
Jonathan Cooper
, North Carolina
Rd. 2 (40) WR
Justin Hunter
, Tennessee
Rd. 3 (70) DE
Alex Okafor
, Texas
Rd. 3 (97) DE
John Simon
, Ohio St.
Kiper's analysis:
The way the board breaks, Cooper becomes the best value at a need spot. With (
Ezekiel) Ansah
going to Buffalo at No. 8, I look to improve my other guard position. With Cooper and free-agent acquisition
Andy Levitre
, I could have one of the better guard tandems in the league.
Shonn Greene
is on the roster because there's going to be more of an emphasis on power running, and Cooper helps accomplish that.
My thoughts:
I don't believe they'd prefer Cooper to
Chance Warmack
if both are on the board as they are here. Cooper may rate as more athletic, but the Titans got their athletic, pulling guard in Levitre. If they go guard I think they'd like a power tandem in pairing Warmack with right tackle
David Stewart
. Hunter seems like good value and can help them get past
Kenny Britt
after his contract runs out. I don't expect two of the four top picks to be spent on one position as Kiper does here in the third-round at defensive end.
Indianapolis Colts

Rd. 1 (24) CB
Desmond Trufant
, Washington
Rd. 3 (86) OLB
Trevardo Williams
, Connecticut
Kiper's analysis:
Vontae Davis
is a decent starter at CB when he's playing up to his full capability, but
Greg Toler
is a fringy starter. If the board breaks this way, I'd be getting below average value at outside linebacker and guard right here, and
Cordarrelle Patterson
and
Tavon Austin
are off the board. (Also, wide receiver is a need, but not a desperate one.) Where I end up is with Trufant, a cornerback with a diverse skill set. He can work in man or zone and offers defenses some flexibility.
My thoughts:
Versatility is good, but ultimately if they have sufficient man corners, the ability of their DBs to play zone shouldn't matter a great deal in Chuck Pagano's system. Davis, Toler and
Darius Butler
are not enough as the top three so if they can land a top corner at No. 24 that will be great. Kiper sees Williams as a guy who can help the pass rush quickly and they need that badly, too.
Houston Texans

Rd. 1 (27) OT
Menelik Watson
, Florida St.
Rd. 2 (57) WR
Quinton Patton
, Louisiana Tech
Rd. 3 (89) LB
Steve Beauharnais
, Rutgers
Rd. 3 (95) FB
Lonnie Pryor
, Florida St.
Kiper's analysis:
The Texans need a right tackle, and Watson's grade fits this draft range for me. He's a great athlete, and could certainly challenge to start early. I know some NFL personnel folks who think he could move inside, but in either instance I'm looking for help up front. This offensive system starts there, and you need a nimble guy for the scheme.
My thoughts:
I wouldn't object to these first three picks, though I do not expect the Texans to go offensive line in the first round. As for Pryor, Kiper says part of the rationale for putting him in Houston is that
Greg Jones
"isn't a true fullback." I respectively disagree with that so long as Jones is healthy.
March, 27, 2013
3/27/13
11:00
AM ET
Expect the
Denver Broncos
to add a pass-rusher to their list of draft needs.
Elvis Dumervil
moved on after the infamous fax-machine fiasco. The team is looking for a replacement, but talks with
Dwight Freeney
and
John Abraham
are reportedly not going well. Still, I can see Freeney backing off on big contract demands because he very likely won't get what he wants.
Assuming then that the Broncos look for a complement to star pass-rusher
Von Miller
in the early rounds, let's look at some potential fits:
Tank Carradine, Florida State:
He is coming off a major knee injury. He should be available when Denver picks at No. 28. He has great film.
Margus Hunt, SMU:
He is raw and will be 26 when the NFL season starts. More likely a second- or third-round prospect. He does have strong pass-rush ability.
Sam Montgomery, LSU:
Probably more of a second-round pick. He has a chance to be a complete player.
Damontre Moore, Texas A&M:
Moore has been falling down some boards after a poor showing at the NFL combine and in interviews. But he is only 20 and has produced on the field -- so falling to No. 28 might be a stretch. He'd be a great value there and I'm sure he'd love to reunite with Miller.
Alex Okafor, Texas:
He might be more of a second-round pick. He has a chance to develop into a good pass-rusher.
NFL SCOREBOARD
Sunday, 2/2
WEEKLY LEADERS