NFL Nation:

all-decade team
August, 3, 2012
8/03/12
8:03
AM ET
Nearly 10 years before the NFC South even came into existence, there was a pivotal college game that helped shape the history of two of the division's franchises.
It took place on Sept. 26, 1992, at Alabama's Legion Field. History says that the Crimson Tide defeated Louisiana Tech 13-0 that day, but that doesn't come close to telling the whole story.
[+] Enlarge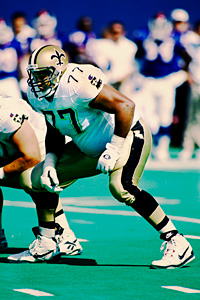 US PresswireWillie Roaf was named All-Pro seven times and was an 11-time Pro Bowl pick in 13 seasons.
What's significant about that day was the matchup of Louisiana Tech offensive tackle Willie Roaf against Alabama defensive end Eric Curry. Paired with defensive end John Copeland, Curry was one of the best-known players in the nation. Roaf, barely recruited out of high school, had started to attract some attention, but that game put him firmly on the radar of NFL scouts.
On that day, Curry's final statistical line had zeroes in the categories for sacks and tackles.
"I say that was a big game because they were the No. 1-ranked defense and those guys got drafted real high,'' Roaf said in a recent conference call. "I had a pretty good game and pretty much got after them. It was a step-up game for me as far as playing those guys.''
On Saturday, Roaf will take the ultimate step up. He'll be inducted into the Pro Football Hall of Fame in Canton, Ohio. He'll become just the second player to spend the bulk of his career with the Saints to be inducted (linebacker Rickey Jackson was the first). Roaf played for the Saints from 1993 through 2001, then went to the Kansas City Chiefs until 2005. In his career, he was selected to 11 Pro Bowls; he was named first-team All-Pro four times with the Saints and three times with the Chiefs. He made the NFL's All-Decade Team for the 1990s and the 2000s.
But let's go back to that day in 1992 and look a little more at how it affected two franchises. Although the Saints were up and down during Roaf's time with them, they always could count on having one of the league's best left tackles. Part of what sold the Saints on Roaf was how well he played against Curry. That game, no doubt, played a major role in why the Saints selected Roaf with the eighth overall pick in the 1993 draft.
Maybe Tampa Bay's scouts, coaching staff and front office should have watched the tape of Curry and Roaf a little more closely, because it might have shown some warning signs. Instead, the Bucs learned their lesson the hard way.
They used the No. 6 overall pick in that draft to take Curry. Aside from an overly enthusiastic hug of former NFL commissioner Paul Tagliabue on draft day, Curry provided no highlights during his time with the Buccaneers. He produced 12.5 sacks in five seasons in Tampa Bay and went down with Broderick Thomas as one of the Bucs' all-time draft busts.
Speaking of busts, Roaf will have his on display in the Hall of Fame.
February, 4, 2012
2/04/12
6:07
PM ET
As they near their 50
th
year of existence, the
New Orleans Saints
finally have a legacy.
The arrival of coach Sean Payton and
Drew Brees
in 2006 has made the Saints one of the league's top teams since and they won the franchise's first Super Bowl in the 2009 season. But the real cool thing is the recent success undoubtedly has helped people remember some of the bright spots of what had been a mostly inglorious franchise history.
[+] Enlarge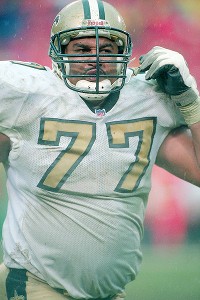 AP Photo/G. Newman LowranceThe Saints weren't a dominant team in the 1990s, but don't blame Willie Roaf. In his 13-year career, Roaf was selected to 11 Pro Bowls.
The latest example of that came Saturday as offensive tackle Willie Roaf was elected to the Pro Football Hall of Fame. This summer, Roaf joins linebacker Rickey Jackson, a 2010 inductee, as the only player to spend the bulk of his career with the Saints in the Hall of Fame.
Roaf's selection was more than deserved. In a 13-year career, he was an All-Pro seven times and a Pro Bowl selection 11 times. He also was selected to the All-Decade team for the 1990s and 2000s.
Roaf played for the Saints from 1993 through 2001 and then went onto finish his career with the
Kansas City Chiefs
. His final season was 2005. There's no doubt Kansas City fans are celebrating this one as well, but this is bigger for New Orleans because Roaf spent the bulk of his career there.
The Saints weren't great during Roaf's tenure. They won two NFC West titles (that's the division they played in before the NFC South came into existence in 2002), but little else. That could have worked against Roaf, but it didn't. His résumé was strong enough because he was viewed as one of the elite tackles of his era.
He and Jackson now represent the Saints in the Hall of Fame, even though this isn't like baseball's Hall of Fame, where an inductee has to choose which team's cap he wants forever on his plaque.
Roaf did some time with Kansas City and Jackson also played in San Francisco. But they'll be viewed mostly as Saints and that's great for the franchise's legacy.
There's some pride from the old days now and the legacy is only going to continue to grow with the success of the modern-era Saints. It's a virtual certainty that Brees will join Jackson and Roaf five years after his retirement. And there could be more. Tight end
Jimmy Graham
is only in his second season, but he's showing signs he can be an all-time great.
Guards
Jahri Evans
and
Carl Nicks
are generally viewed as the best in the league at their position. If they keep that going, they could also get there. If Payton continues to pile up wins and offensive records, he someday could be a candidate.
The Saints have built a legacy through the years, but Roaf's selection takes it to another level and there's going to be plenty more to come.
February, 2, 2012
2/02/12
8:47
AM ET
By the end of the day Saturday, Rickey Jackson could have some company.
[+] Enlarge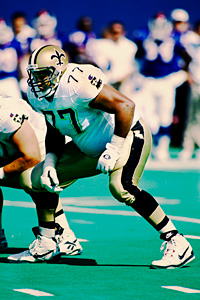 US PRESSWIREWillie Roaf was named All-Pro seven times and was an 11-time Pro Bowl pick in 13 seasons.
At the moment, Jackson is the only player to have spent most of his career with the New Orleans Saints that is in the Pro Football Hall of Fame. That could change very soon because offensive tackle Willie Roaf will be a finalist when the voters gather Saturday.
Roaf also was a finalist last year and reportedly came very close to selection. But Roaf's chances in this class might be even better than they were last year. There is no slam-dunk first-time candidate and that could open the door for Roaf.
His resume already does a pretty good job of that. Roaf played for the Saints from 1993 through 2001 and finished his career with the Kansas City Chiefs, from 2002 through '05. During those 13 seasons, Roaf was an All-Pro seven times and a Pro Bowl choice 11 times. He also was a member of the All-Decade Team for the 1990s.
The biggest obstacle I see for Roaf's selection this year is that Dermontti Dawson and Will Shields also are on the ballot. That makes three strong offensive-line candidates from the modern era, but I'd take Roaf ahead of the other two.
It's hard to quantify offensive linemen because you can't trace their statistics as easily as you can those of skill-position players. You look at things like longevity, All-Pro and Pro Bowl selections and how their teams fared.
If you go by that, I think it backs up my belief that Roaf is the best candidate. First off, he was a tackle. That's a more difficult position than center, which Dawson played, and guard, which Shields played.
Dawson and Roaf each played 13 seasons and Shields played 14, so the longevity issue is basically a draw.
Roaf's seven All-Pro selections might be the strongest argument for his candidacy. Making All-Pro is a much bigger deal than making a Pro Bowl squad because it means you're among the best in the league, not just in your conference. Dawson was All-Pro six times. Shields got the honor three times.
Roaf also made 11 Pro Bowls, while Shields went to 12 and Dawson six.
Some people may look at the fact that Dawson played for the Pittsburgh Steelers and give him a big edge over Roaf and Shields. The Saints and Chiefs were far from dominant teams when Roaf played for them. He was part of a division champion only twice. Shields, who spent his entire career in Kansas City, is in the same boat. Shields played for four division champions. But the Chiefs never won a Super Bowl or an AFC title while he was there.
But the fact Dawson played for Pittsburgh shouldn't give him as much of an edge over Roaf and Shields as some people might think. Although the Steelers have been good for most of their history, they weren't particularly dominant during Dawson's time. They did win five division championships and one conference title. But Dawson never was on a Super Bowl champion.
So the fact Roaf didn't play on great teams shouldn't hurt him. The fact he was one of the best tackles ever should land him in the Hall of Fame.
February, 1, 2011
2/01/11
3:13
PM ET
He was an offensive lineman, which means statistical numbers can't tell the whole story. So how do we know
Willie Roaf
should be elected to the Pro Football Hall of Fame?
[+] Enlarge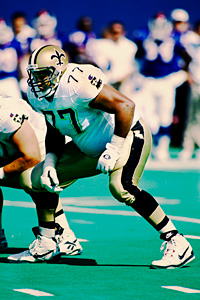 US PRESSWIREWillie Roaf was named All-Pro seven times and was an 11-time Pro Bowl pick in 13 seasons.
It's simple really. You compare him to the best offensive linemen ever. If he stacks up, he gets in. If he doesn't have the résumé, he doesn't get in.
I'll make the case right now that Roaf's résumé is sparkling and he should be elected Saturday when voters in Texas see his name as a finalist in the first year he's eligible. I've been in that election room before and I know there will be some critics that will say Roaf, who spent most of his career with the
New Orleans Saints
and finished it with the
Kansas City Chiefs
, doesn't have any Super Bowl rings and that he didn't play on a lot of great teams.
So what? The thing that really matters is that Roaf was among the best ever at what he did. Off the top of your head, who's the best offensive tackle ever? I'm guessing a lot of people will say Anthony Munoz, who was inducted into the shrine in Canton, Ohio in 1998. Some younger people might argue for Baltimore's
Jonathan Ogden
, who won't be eligible for election until 2013.
The reality is Roaf is right there with them in every way you can measure an offensive tackle. In his 13-year career, Roaf made the Pro Bowl 11 times. That's the same number of Pro Bowl berths Munoz and Odgen had. No offensive tackle has made the Pro Bowl as many times as Roaf, Munoz and Ogden.
Another good measuring stick is to see if a guy has made an all-decade team because that means he was the best at his position for at least most of a decade. Well, Roaf did that -- twice. He was selected to the all-decade team for the 1990s and the 2000s.
Roaf was durable and dominant and that means he's deserving of a spot in the Hall of Fame. Last year,
Rickey Jackson
became the first New Orleans player elected to the Hall of Fame on the day before the Saints won the first Super Bowl in franchise history.
There will be no repeat on Sunday since the Saints were knocked out in the first round of the playoffs. But there should be a repeat Saturday and the Saints should have their second Hall of Famer.
"William Roaf was one of the greatest players in our franchise's history,'' Saints owner Tom Benson said. "He's one of the greatest players to ever play his position and someone that myself and our fans have a great appreciation for. Hopefully, William will have the opportunity to join Rickey Jackson in Canton this summer."
February, 19, 2010
2/19/10
12:00
PM ET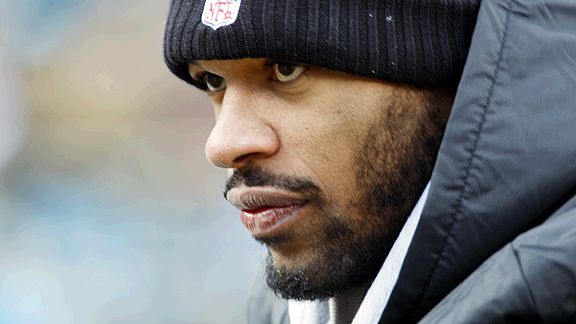 AP Photo/Nell RedmondEven after eight seasons in Carolina, Julius Peppers remains a mystery to many who follow the team.
When
Julius Peppers
first came to Charlotte back in 2002, the key to the city was under his doormat. The deeds for two states were waiting in his mailbox.
The home-grown kid was going to own both of the Carolinas and be the first true superstar to play for the
Carolina Panthers
. It would be almost like Michael Jordan getting drafted by the former Charlotte Hornets instead of the Chicago Bulls.
So what the heck is happening now? Why does it look as if the man who was supposed to be the King of the Queen City and the Count of the Carolinas is about to walk away from a franchise and a fan base that so wanted to embrace him? Why does it look like the Panthers are willing to sit back and watch the best player they've ever had go?
If you could answer those questions with one statement or even point to a single issue, this wouldn't be happening because it could have been resolved. The curious case of Peppers and the Panthers is beyond complicated. Sure, football and money are involved. But it goes way deeper than that. The divorce that appears about to happen if the Panthers don't put the franchise tag on their defensive end before Feb. 25 and let him become a free agent also involves emotions, personalities and a marriage that never was as close to being perfect as it looked on paper.
Blame can flow both ways on this and it's not accurate to say either side is entirely right or entirely wrong. But it is fair to say they both were flawed and maybe this pairing was doomed from the very start.
Let's start with Peppers. If you don't know him, don't feel bad because, basically, nobody knows him. Since the day he walked in the door of Bank of America Stadium, his teammates, coaches and team employees have tried to figure him out. They never have.
I covered Peppers on a daily basis for The Charlotte Observer from the day he was drafted until I left for this space right after the 2007 season. I saw and talked with Peppers many times, but the truth is I've had deeper conversations with my cat.
Peppers is a mystery wrapped in the body of a pass-rusher. He came in as an extremely shy and quiet kid. The only difference in that now is he's no longer a kid. He's 30 and, although he went on a Charlotte radio station recently and said he didn't want to stay with the Panthers, nobody knows what it is he really wants. Nobody really has been able to crack that one.
January, 28, 2010
1/28/10
12:30
PM ET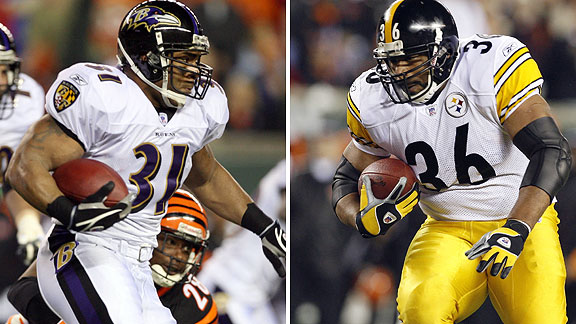 Matthew Emmons/US PresswireRunning backs Jamal Lewis and Jerome Bettis combined to rush for 15,806 yards during the 2000s.
The AFC North earned three Super Bowl titles this past decade, which means there were plenty of great players in the division over that span.
Here is our AFC North all-decade team.
Quarterback:
Ben Roethlisberger
(
Pittsburgh Steelers
)
Analysis:
You can really start and stop this argument with Roethlisberger's two Super Bowls wins in the decade. In terms of starting quarterbacks, Roethlisberger trails only the
New England Patriots
'
Tom Brady
, who won three titles in the decade. Outside of
Carson Palmer
of the
Cincinnati Bengals
, no one was even remotely close for consideration, unless you wanted to reach for quarterbacks who had one or two good seasons in the decade, such as Kordell Stewart,
Joe Flacco
or
Derek Anderson
.
Other considerations:
Palmer (Bengals)
Running backs:
Jamal Lewis
(
Cleveland Browns
/
Baltimore Ravens
) and
Jerome Bettis
(Steelers)
Analysis:
Typical of the AFC North, our all-decade backfield is as physical and heavy duty as it gets. Lewis, who retired after the 2009 season, registered 10,607 total rushing yards as a member of the Browns and Ravens. He had a 2,000-yard season with Baltimore in 2003. Bettis played six seasons (2000-05) in the decade with the Steelers and rushed for 5,199 yards in that span. Both players won Super Bowls and will be considered for the Hall of Fame. Although we don't have a traditional fullback, Bettis is versatile and big enough for the position.
Other considerations:
Willie Parker
(Steelers),
Rudi Johnson
(Bengals)
[+] Enlarge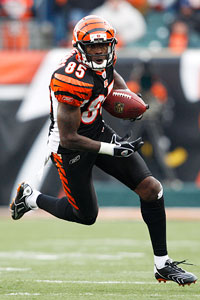 Frank Victores/US PresswireChad Ochocinco is just 48 yards short of reaching 10,000 career receiving yards.
Receivers:
Chad Ochocinco
(Bengals) and
Hines Ward
(Steelers)
Analysis:
We have a good mix at receiver. Ochocinco came to Cincinnati as a raw second-round pick who worked his way to become a six-time Pro Bowler and one of the biggest personalities in the NFL. Ward, a four-time Pro Bowler in the decade, was a former college quarterback who now is one of the toughest and smartest players in the league.
Other considerations:
T.J. Houshmandzadeh
(Bengals),
Derrick Mason
(Ravens)
Tight End:
Todd Heap
(Ravens)
Analysis:
When you look at the total numbers over the past decade, Heap was the clear choice as the top tight end in the division. Heap caught 427 passes over that span and made two Pro Bowls. Pittsburgh's
Heath Miller
, who has 244 receptions, is two years younger and may eventually match Heap's production. But Heap has the better numbers to date. Former Browns tight end
Kellen Winslow
Jr. also put up impressive numbers in just three full seasons with Cleveland.
Other considerations:
Miller (Steelers), Winslow Jr. (Browns)
Offensive line:
OT
Jonathan Ogden
(Ravens), OT
Willie Anderson
(Bengals/Ravens), G
Eric Steinbach
(Browns/Bengals), G
Alan Faneca
(Steelers), C
Jeff Hartings
(Steelers)
Analysis:
Besides leaving off three-time Pro Bowler
Joe Thomas
, putting the offensive line together was easier than I thought. Anderson of the Bengals got the edge over Thomas for two reasons: He's a natural right tackle and played nine years last decade at a high level. Thomas, with just three years, doesn't have the same longevity.
Other considerations:
OT Thomas (Browns), OT
Levi Jones
(Bengals), C
Rich Braham
(Bengals)
Specialists:
K
Matt Stover
(Ravens), P
Chris Gardocki
(Steelers/Browns), KR
Josh Cribbs
(Browns), LS
Ryan Pontbriand
(Browns)
Analysis:
Stover made the Pro Bowl in 2000, and his 93.3 field goal percentage in 2006 led the NFL. He's been consistent for a very long time, which is all you ask from kickers. Gardocki and
Dave Zastudil
is a toss up. But Gardocki led the NFL in punts two years in a row (2000 and 2001) as well as punting yards in 2000. Zastudil cannot boast those claims. Cribbs was a no-brainer, and teammate Pontbriand made two Pro Bowls as Cleveland's long-snapper.
Other considerations:
K
Phil Dawson
(Browns), K
Jeff Reed
(Steelers), P Zastudil (Ravens/Browns),
B.J. Sams
(Ravens)
Defense line:
Casey Hampton
(Steelers),
Aaron Smith
(Steelers),
Justin Smith
(Bengals)
Analysis:
It's only fair that the AFC North all-decade defense runs a 3-4 scheme. Since 2001, Hampton has embodied what a 3-4 nose tackle looks like and plays like. He has five Pro Bowls in the decade, including this past season. Aaron Smith also is a prototype for 3-4 defensive ends. He's always put personal numbers aside so other defenders in Pittsburgh could flourish. Justin Smith of Cincinnati never quite lived up to his lofty draft status. But he was a consistent player for the Bengals.
Other considerations:
DT
Kelly Gregg
(Ravens), DE
Kimo von Oelhoffen
(Steelers), DE
Trevor Pryce
(Ravens)
[+] Enlarge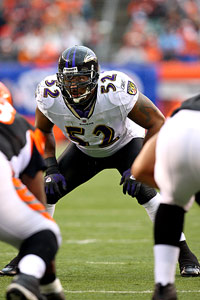 Tom Szczerbowski/US PresswireRay Lewis was the AP Defensive Player of the Year in 2000 and 2003.
Linebackers:
ILB
Ray Lewis
(Ravens), ILB
James Farrior
(Steelers), OLB
Joey Porter
(Steelers), OLB
Terrell Suggs
(Ravens)
Analysis:
You can win a lot of games with this group. You have intelligence and physicality in the middle, and plenty of pass-rush ability on the outside. Lewis, a future Hall of Famer, is the captain and emotional leader of the all-decade defense. Farrior also has the smarts to keep everyone in line, while Suggs and Porter can fly around and wreak havoc on the quarterback. There were several very good candidates at outside linebacker. But Porter and Suggs were dominant forces in the AFC North for a longer period.
Other considerations:
OLB
James Harrison
(Steelers), OLB
Adalius Thomas
(Ravens)
Defensive backs:
CB
Chris McAlister
(Ravens), CB
Ike Taylor
(Steelers), S
Troy Polamalu
(Steelers), S
Ed Reed
(Ravens)
Analysis:
Polamalu and Reed are two of the all-time great safeties, so there is no debate there. Also, fans may recently remember the aging and injured McAlister who was cut by the Ravens last year. But at one point "C-Mac" was the most physically dominant cornerback in the division. Taylor won two Super Bowls with the Steelers and is the best of what's left at cornerback. I also considered
Anthony Henry
, who played in Cleveland for four years during the decade and had one stellar season when he led the NFL with 10 interceptions in 2001.
Other considerations:
CB Henry (Browns), S
Rod Woodson
(Ravens)
June, 25, 2009
6/25/09
1:30
PM ET
Posted by ESPN.com's James Walker
Although the 2009 season could have major ramifications on the debate for team of the decade, the AFC North should have a sense of pride to be the only division in football to have a pair of top-5 franchises.
According to NFC West blogger Mike Sando's mathematical formula, the Pittsburgh Steelers (No. 3) and Baltimore Ravens (No. 5) were elite NFL franchises in the past decade. The grade included factors such as regular-season wins, playoff appearances and victories and losses in the Super Bowl since 2000.
Although a spirited case could be made that Pittsburgh should be the No. 2 franchise ahead of the Indianapolis Colts, Indianapolis did have more success than the Steelers in the regular season. Pittsburgh had more success than the Colts in the playoffs, including two Super Bowls wins compared to Indianapolis' one. But it wasn't enough to put the Steelers on top in this particular formula.
Pittsburgh, the defending Super Bowl champion, is trying to be the first team to repeat since the 2003-04 New England Patriots, who are the top-rated franchise in this decade with three Super Bowl wins.
But if the Steelers find a way to tie New England's mark, trying to pinpoint the best team of the past 10 years will be very difficult.
June, 25, 2009
6/25/09
11:20
AM ET
Posted by ESPN.com's Mike Sando
The Patriots have won more regular-season, playoff and Super Bowl games than any NFL team since the 2000 season. That made them an easy choice for team of the decade.
Ranking the 31 other teams took a little more work.
I settled on a formula with five key variables: regular-season victories, playoff appearances, playoff victories, Super Bowl victories and Super Bowl defeats. The formula added the following five numbers to create a power ranking for the decade:
Winning percentage times nine
Playoff appearances divided by nine
Playoff victories divided by nine
Super Bowl victories divided by nine
Super Bowl defeats divided by 18
The formula, adjusted for the Texans to account for their shorter history, ranked the top eight teams as you see them in the chart. I then made a few adjustments after consulting with our other seven divisional bloggers.
Rank
Team
Wins
Win Pct.
Playoff Appear- ances
Playoff Wins
Playoff Win Pct.
Super Bowl Wins
Super Bowl Losses
1

Patriots

102
.708
6
14
.824
3
1
2

Colts
101
.701
8
7
.500
1
0
3

Steelers
94

.653
6
10
.714
2
0
4

Eagles
92

.639
7
10
.58
8
0
1
5

Ravens
83
.576
5
7
.636
1
0
6

Giants
80
.556
6
6
.545
1
1
7

Packers
84
.583
5
3
.375
0
0
8

Titans
83
.576
5
2
.286
0
0
9

Bucs
76
.528
5
3
.429
1
0
10

Seahawks
77
.535
5
4
.444
0
1
11

Broncos
85
.590
4
1
.200
0
0
12

Bears
74
.514
3
2
.400
0
1
13

Panthers
71
.493
3
5
.625
0
1
14

Chargers
72
.500
4
3
.429
0
0
15

Rams
70
.486
4
3
.429
0
1
16

Jets

71
.493
4
2
.333
0
0
17

Vikings
72
.500
3
2
.400
0

0
18

Dolphins
72
.500
3
1
.250
0
0
19

Saints
70
.486
2
2
.500
0
0
20

Cowboys
71
.493
3
0
.000
0
0
21

Falcons
66
.458
3
2
.400
0
0
22

Jaguars
69
.479
2
1
.333
0
0
23

Redskins
66
.458
2
1
.333
0
0
24

Raiders
57
.396
3
4
.571
0
1
25

Chiefs
66
.458
2
0
.000
0
0
26

Cardinals
52
.361
1
3
.750
0
1
27

49ers
60
.417
2
1
.333
0
0
28

Bills
60
.417
0
0
N/A
0

0
29

Bengals
58
.403
1
0
.000
0
0

30

Browns
52
.361
1
0
.000

0
0
31

Texans
40
.357
0
0
N/A
0
0
32

Lions
40
.278
0
0
N/A
0

0
Three teams -- Tampa Bay, Chicago and Arizona -- moved up two spots higher than the formula ranked them. The rationale:
Bucs: We agreed to move Tampa Bay into the ninth spot, leapfrogging Seattle and Denver, by valuing the Bucs' Super Bowl victory over the Seahawks' one additional postseason victory and the playoff-faltering Broncos' superior regular-season record.

Bears: Chicago moved past Carolina and San Diego because the Chargers never reached a Super Bowl and the Panthers' regular-season record was below .500.

Cardinals: Arizona moved up two spots, past the 49ers and Bills, based on the Cardinals' three postseason victories and Super Bowl appearance last season.
The formula helped cut through perceptions. For example:
The Raiders are routinely derided for their ongoing run of futility, but they own three playoff appearances, four playoff victories and a Super Bowl appearance during the decade. Only six teams have a higher playoff winning percentage in the decade.
The Cowboys are a high-profile franchise, but they're below .500 during the regular season this decade. They are one of only seven teams without a playoff victory during that time.
The Redskins are another high-profile franchise, but only eight teams have a lower winning percentage during the decade. Washington owns two playoff appearances and one playoff victory during the decade.
The Bills, Texans and Lions are the only teams without a playoff appearance during the decade. The Texans and Lions also owned the lowest regular-season winning percentages. That made them easy choices as the two worst teams in the rankings.
Also: Click here to download a spreadsheet ranking each team by r
egular-season wins, losses, ties, winning percentage, playoff appearances, playoff wins, playoff losses, playoff winning percentage, Super Bowl wins and Super Bowl losses. The spreadsheet also shows the difference between the formula's rankings and the actual rankings.

June, 23, 2009
6/23/09
11:45
AM ET
Posted by ESPN.com's James Walker
The AFC North has always been strong in the trenches, and that showed in ESPN.com's unveiling of the NFL's all-decade offensive team Tuesday.
Two players, both linemen, made the cut: Former Baltimore Ravens tackle Jonathan Ogden and former Steelers guard Alan Faneca. Ogden is retired and Faneca spent most of his career in Pittsburgh before signing a lucrative free-agent contract with the New York Jets in 2008.
No skill players from the AFC North were selected, which is reflective of the style of football most successful in the division. Three defensive players -- linebacker Ray Lewis and safeties Ed Reed and Troy Polamalu -- also made the all-decade defensive team.
Overall, five players made ESPN.com's all-decade list, and all are current or former Ravens and Steelers. Fullback Lorenzo Neal also made the team, yet played just one season with Baltimore this decade in 2008.
Here is the complete all-decade offense:
QB: Tom Brady, New England
RB: LaDainian Tomlinson, San Diego
FB: Lorenzo Neal, Cincinnati/San Diego/Baltimore
WR: Marvin Harrison, Indianapolis
WR: Torry Holt, St. Louis
TE: Tony Gonzalez, Kansas City
T: Walter Jones, Seattle
T: Jonathan Ogden, Baltimore
G: Alan Faneca, Pittsburgh/N.Y. Jets
G: Steve Hutchinson, Seattle/Minnesota
C: Olin Kreutz, Chicago