NFL Nation:

All-NFC South team
January, 2, 2014
Jan 2
10:00
AM ET
»
NFC Teams
:
East
|
West
|
North
|
South
»
AFC
:
East
|
West
|
North
|
South
TAMPA, Fla. -- The All-NFC South team is out, and the
Tampa Bay Buccaneers
fared about as well as you'd expect from a 4-12 team.

Five members of the Buccaneers were chosen to the team, which was chosen by the four writers who cover the division's teams. Let's start with the offense because that will be short.
Wide receiver
Vincent Jackson
was the only member of the Bucs' offense selected. He deserved it because he put up solid numbers despite drawing constant double-teams after No. 2 receiver
Mike Williams
went out with an injury just before midseason.
Now, let's flip over to the defense, where the Bucs fared pretty well. They placed four players on the defense, and none of them is a surprise.
Gerald McCoy
might be the best all-around defensive tackle in the game right now. Second-year linebacker
Lavonte David
had a breakthrough season and established himself as one of the top players in the league at his position.
Darrelle Revis
brought the Bucs exactly what they were expecting -- a shutdown cornerback. The final member of the Bucs to make the All-NFC South team might come as a surprise to some but shouldn't be a shock to those who watched closely. In the eyes of the coaching staff and front office, strong safety
Mark Barron
really blossomed in his second season.
December, 27, 2012
12/27/12
12:30
PM ET
»
NFC Season Wraps
:
East
|
West
|
North
|
South
»
AFC
:
East
|
West
|
North
|
South
Five things to know and my all-division team.
Division MVP:
Matt Ryan
, Falcons. You could make a case for him as the MVP of the entire league. With one game remaining in his fifth season, Ryan already has career highs in completions (394), passing yards (4,481) and touchdown passes (31). His 69.0 completion percentage also is way over his career average.
[+] Enlarge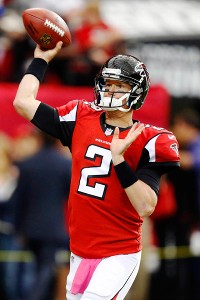 Josh D. Weiss/US PresswireFalcons QB Matt Ryan has made a case to be the league's MVP.
But the most impressive thing about Ryan's season might be the 13 wins he already has led the Falcons to. It all has come in a season in which the Falcons have overhauled their offense to make the passing game a priority. With the running game posing almost no threat, Ryan has carried this offense.
Biggest disappointment:
The
Carolina Panthers
. Back in the preseason, the Panthers were a trendy pick as a team on the rise. The media, myself included, thought quarterback
Cam Newton
would only build on a fantastic rookie season and that Carolina had fixed its defense. Fans got giddy and even center
Ryan Kalil
joined the fray, taking out a full-page ad in The Charlotte Observer that promised a Super Bowl victory.
Instead, the Panthers didn't even come close to making the playoffs. They started so poorly that general manager Marty Hurney was fired in October and coach Ron Rivera clearly is on the hot seat. The current three-game winning streak might get Rivera another year. But you have to wonder why a team with this much talent didn't open the season playing the way it is now.
The story that never stopped:
The
New Orleans Saints
dominated the offseason headlines for the entire league (maybe the entire sports world) when the NFL exposed their three-year bounty program. Coach Sean Payton drew a season-long suspension, general manager Mickey Loomis got eight games and assistant head coach Joe Vitt was suspended for the first six games. Linebacker
Jonathan Vilma
was given a season-long suspension and defensive end
Will Smith
was hit with a four-game suspension.
While all that was going on, fans also started sweating as negotiations between quarterback
Drew Brees
and the team dragged on far too long. Brees finally signed and Vilma and Smith tied things up in the appeals process before eventually having their suspensions vacated. All the drama took a toll as the Saints started 0-4 before getting on a bit of a roll and briefly entering the playoff picture. But the soap opera isn't over. During the season, it was revealed that the NFL had voided the contract Payton signed last year. He could end up being a free agent when he is reinstated.
Has the window closed?
Even if Payton does return to the Saints, they might not automatically be the winning team they were the previous three seasons. This team will face major salary-cap issues in the offseason, and veterans like Vilma, Smith and
Roman Harper
could be gone.
The defense needs lots of work up front and some more help in the secondary. Left tackle
Jermon Bushrod
is eligible to be a free agent and the wide receivers are getting older. No matter who is coaching the Saints, they're going to need some major work in the offseason.
The turnaround that wasn't:
Right from the start of the season, it appeared new coach Greg Schiano was having a huge positive impact on the Buccaneers. At first, the Bucs were piling up moral victories by playing close against good teams. Then, they started winning and got to 6-4, the playoffs looked like a possibility and
Josh Freeman
was looking like a franchise quarterback.
But something has gone horribly wrong the past five games. Freeman suddenly reverted to his 2011 form, the pass defense has been ridiculously bad and the Bucs are having a second straight miserable December. That makes you wonder if the team is buying into Schiano's hardline style. It works for guys like Bill Belichick and Tom Coughlin because they win. But when a coach like that is losing, you have to wonder if he's another Nick Saban or Ray Perkins.
All-Division Team
You will quickly notice that the Falcons dominate the All-NFC South team. That's largely because they ran away with the division and winning counts for a lot in my eyes. That's why I took
Julio Jones
as the second receiver over
Vincent Jackson
,
Steve Smith
and
Marques Colston
. Those three had stats as good or better than Jones, but his play has helped the Falcons win 13 games so far. I also used that logic in choosing both of Atlanta's starting cornerbacks, although it certainly helped that the other three teams had major problems at cornerback.
January, 24, 2012
1/24/12
3:02
PM ET
It was a big year for offense in the NFC South. The
New Orleans Saints
set all sorts of records. The
Carolina Panthers
lit up scoreboards and, when the
Atlanta Falcons
were on, they sometimes were spectacular.
That made for some difficult choices, but here's my All-NFC South offense.
Tackle: Jordan Gross, Panthers.
He's getting along in years, but Gross is still the best tackle in the division.
Tackle: Jermon Bushrod, Saints.
This was a really tough call because Tampa Bay's
Donald Penn
seemed destined for this spot, but his play slipped as the Bucs collapsed and lost their last 10 games. I refuse to put any offensive lineman from Atlanta on this team, so I'm going with Bushrod almost by default. I know he made the Pro Bowl, but I'm not convinced Bushrod is anything more than an ordinary left tackle. But he's better than any other tackle the NFC South had to offer.
Guard: Carl Nicks, Saints.
He might be the best guard in the NFL.
Guard: Jahri Evans, Saints.
If Nicks isn't the best guard in the NFL, then Evans is.
Center: Ryan Kalil, Panthers.
He's becoming a Pro Bowl regular and might be the best center in the league.
Wide receiver: Steve Smith, Panthers.
Rookie quarterback
Cam Newton
came along and revitalized Smith's career. But I also think Smith deserves a lot of the credit for Newton's success.
Wide receiver: Marques Colston, Saints.
I went back and forth on this one between Colston and Atlanta's
Roddy White
and Tampa Bay's
Mike Williams
also got some consideration. I'm joking. Williams didn't get one bit of consideration. White's numbers were slightly better than Colston's in terms of catches and receiving yards. But Colston missed a couple games with a broken collarbone and still had very nice numbers in an offense where there are a ton of other options. White had nice numbers, but he didn't look like the dominant receiver he was a year ago. White led the league in drops.
Tight end: Jimmy Graham, Saints.
This one was easy. Atlanta's
Tony Gonzalez
had a very nice season and is the best tight end in history. But Graham had one of the most prolific seasons ever by a tight end in only his second season. Graham should only continue to get better and, if he stays healthy, he could eventually pass Gonzalez as the best tight end ever.
Fullback: Jed Collins, Saints.
In his first real NFL season (Collins was with Cleveland in 2008), he emerged as a steady role player in the league's best offense. Collins didn't have much in the way of numbers, but his blocking was a key factor in the offenses' success. If Atlanta's
Ovie Mughelli
hadn't gotten injured, he'd be in this spot. But Collins is a worthy replacement.
Running back: Darren Sproles, Saints.
Sproles ended up with an NFL record for all-purpose yards. Out of the backfield, he contributed as a runner and receiver and created enormous matchup problems for opposing defenses.
Running back: Michael Turner.
Yeah, I'm going with two running backs because it's my team, I can want and there are two guys that deserve to be on here. Turner looked slow for most of the second half of the season. But he still rushed for 1,340 yards and 11 touchdowns. That's not a bad season by any measure.
Quarterback: Drew Brees, Saints.
He threw for a league-record 5,476 yards and also passed for 46 touchdowns. Brees has been great for a long time, but he took his game to another level. He's the reason the Saints won 13 games without a defense.
January, 24, 2012
1/24/12
1:23
PM ET
Defense wasn't a strength in the NFC South in the 2011 season. In fact, it was a big problem for the
New Orleans Saints
,
Carolina Panthers
and
Tampa Bay Buccaneers
and only an occasional strength for the
Atlanta Falcons
.
But there were some solid individual performances. With that in mind, let's roll out the All-NFC South defense.
Defensive end: Charles Johnson, Panthers.
He got his huge contract in the summer, but didn't take the money and disappear. Johnson came through with nine sacks and also played the run fairly well.
Defensive end: Adrian Clayborn, Buccaneers.
Yes, I'm taking the rookie over Atlanta veteran
John Abraham
. I know Abraham ended up with 9.5 sacks, but 3.5 of them came against Jacksonville and rookie quarterback
Blaine Gabbert
. Abraham was ordinary most of the season and was on the field for only 13 percent of Atlanta's defensive snaps. Clayborn finished with 7.5 sacks. He also was on the field for about 80 percent of Tampa Bay's defensive snaps, showed he can rush the passer and played the run well. Not much went right for the Bucs in the 2011 season. But they hit on their first-round draft pick.
Defensive tackle: Corey Peters, Falcons.
He started in 2010, but was only a run-stuffer then. Peters emerged into a complete defensive tackle in his second season and showed signs he can generate a pass rush in the middle.
Defensive tackle: Brian Price, Buccaneers.
Off the top of my head, I was preparing to go with Atlanta's
Jonathan Babineaux
or New Orleans'
Sedrick Ellis
. Then I looked at their statistics and I couldn't bring myself to do it. I'm going with Price, who quietly put together a nice season. He finished with three sacks and was one of the few Bucs who played the run well. More importantly, Price made a nice comeback from surgery on his pelvis and played through the pain of an ankle injury for most of the second half of the season.
Linebacker: Curtis Lofton, Falcons.
In a year in which Carolina's
Jon Beason
was hurt and New Orleans'
Jonathan Vilma
slowed down, Lofton emerged as the NFC South's best middle linebacker.
Linebacker: Sean Weatherspoon, Falcons.
The second-year pro might now be the division's best all-around linebacker. Weatherspoon is a playmaker and plays with an attitude that the rest of Atlanta's defense needs to copy.
Linebacker: James Anderson, Panthers.
With Beason and
Thomas Davis
going down early, Anderson was the bright spot in Carolina's linebacker corps.
Cornerback: Jabari Greer, Saints.
He often gets overlooked, but this guy is the best cover corner in the division.
Cornerback: Chris Gamble, Panthers.
Gamble got benched by coach John Fox at the end of the 2010 season and his career appeared to be on the downside. But Gamble got a fresh start with coach Ron Rivera and bounced back with a strong season.
Safety: Malcolm Jenkins, Saints.
He didn't make as many big plays as I think he's capable of, but Jenkins is an enormous talent. If the Saints can add a pass rush, the big plays will flow for Jenkins.
Safety: Thomas DeCoud, Falcons.
He was benched briefly early in the season, but DeCoud seemed to get the message that he needed to play better. He finished the season with four interceptions and 86 tackles.
September, 2, 2008
9/02/08
2:35
PM ET
Posted by ESPN.com's Pat Yasinskas
With ESPN.com's new NFL Blog Network, I've decided to do something that's never been done before. I'm going to pick a preseason All-NFC South team.
We'll start with the offense today, unveil the defense tomorrow and, after the season, we'll go back and do it all over again -- when it actually will be based on production, not speculation.
Here goes:

Brees
QUARTERBACK: Drew Brees, New Orleans
Jake Delhomme and Jeff Garcia also have been to the Pro Bowl and they could get there again this year. But Brees is the safest choice of the four quarterbacks because there are no questions about his health or age.
RUNNING BACK: Michael Turner, Atlanta
I know, Turner's never been a starter before and the Falcons probably aren't going to be very good. But, remember, this is all speculative. Besides, there aren't a lot of choices here. If this were a lifetime achievement award, Deuce McAllister and Warrick Dunn would be worthy. But it remains to be seen how healthy McAllister is and Dunn may be nothing more than a third-down back. Reggie Bush and DeAngelo Williams are question marks and I'm not going to anoint Carolina rookie Jonathan Stewart before he's ever taken a snap, although I think he's going to be good. Tampa Bay's Earnest Graham is solid, but there's not much upside. I'm going with Turner because there aren't questions about his age or health and he's got upside.
FULLBACK: Mike Karney, New Orleans
Close call here because Carolina's Brad Hoover, Atlanta's Ovie Mughelli and Tampa Bay's B.J. Askew are all pretty much the same guy as Karney. They're all solid blockers and none of them are real threats with the ball. Karney gets the nod because he's got an All-Pro selection (2006, second team) on his resume.

Shockey
TIGHT END: Jeremy Shockey, New Orleans
This is the easiest choice on the entire offense. Shockey's the only true pass-catching threat in the division at this position.
WIDE RECEIVERS: Steve Smith, Carolina and Marques Colston, New Orleans
Roddy White and Joey Galloway also got consideration, but you can't beat Smith and Colston. In fact, if you could put them together, their contrasting size and style might make the perfect receiver duo.
CENTER: Jeff Faine, Tampa Bay
The Bucs paid him a ton of money to anchor their offensive line. Faine's a pro's pro and he's already become the leader of this line.
GUARDS: Jahri Evans, New Orleans and Justin Blalock, Atlanta
Very quietly, Evans has developed into a very solid player. Blalock gets the nod over Tampa Bay's Davin Joseph, who is out with a broken foot. Blalock's only a second-year pro, but the Falcons are expecting big things from him. Blalock's presence at left guard is one reason why the Falcons are comfortable starting rookie Sam Baker at left tackle.
| | |
| --- | --- |
| | |
| Gross | Brown |
TACKLES: Carolina's Jordan Gross and New Orleans' Jammal Brown
Yeah, I know, they're both left tackles. But this is a paper team and there's flexibility. Besides, Gross has spent a large chunk of his career on the right side. If this team ever had to take the field, I'd put Gross on the right side and Brown on the left because they're the two best tackles in the division.
KICKER: Carolina's John Kasay
Until he had a dismal preseason, Tampa Bay's Matt Bryant would have been in the argument. Atlanta's Jason Elam also got strong consideration. Bottom line: If I needed someone to kick a field goal to win a game, Kasay's the guy.

NFL SCOREBOARD
Thursday, 9/4
Sunday, 9/7
Monday, 9/8