July, 11, 2014
Jul 11
10:00
AM ET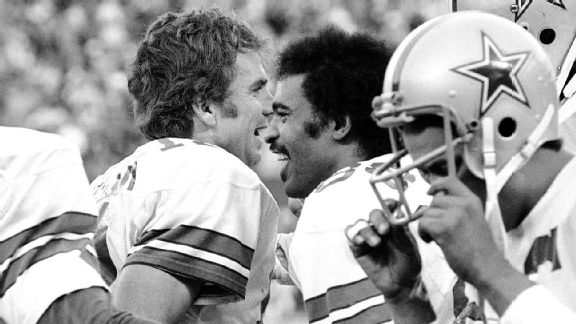 AP Photo/Bill Kostroum
Score:
Cowboys 17, Vikings 14
Date:
Dec. 28, 1975
Site:
Metropolitan Stadium
With nearly 40,000 votes cast, Roger Staubach's Hail Mary pass to Drew Pearson was voted as the most memorable play in
Dallas Cowboys
' history by the ESPN.com readers.
Troy Aikman's fourth-quarter pass to Alvin Harper in the 1992 NFC Championship Game against the
San Francisco 49ers
that set in motion the 1990s dynasty finished second. Bob Lilly's sack of Bob Griese in Super Bowl VI was a distant third even if it propelled the Cowboys to their first championship.

The voters got this one right. Staubach is the most iconic player in franchise history, and that play is frozen in time. It was one of the most iconic plays in NFL history and introduced "Hail Mary," into the league's lexicon. You cannot write the history of the NFL without that play.
To recap the play: With time running out in a 1975 divisional playoff game against the
Minnesota Vikings
, the Cowboys had the ball at midfield and needed a miracle. They had dominated statistically, but the Vikings had a 14-10 lead.
Staubach pumped to his left after taking the shotgun snap, in hopes of moving safety Paul Krause away from the sideline. As he pumped, Staubach said he nearly lost the ball and as a result the pass was underthrown.
Subsequently, Pearson had to pull up and either knocked Nate Wright down (Minnesota's version) or made an excellent adjustment to the ball (Dallas' version) to score the winning touchdown, pinning the ball against his right hip.
Some of you wondered why Tony Dorsett's 99-yard run, Emmitt Smith's carry in which he broke Walter Payton's rushing record or his stiff-arm of Lawrence Taylor playing with a separated shoulder, Clint Longley's Thanksgiving Day heave against the Redskins or even Leon Lett's miscue in Super Bowl XXVII didn't make the list.
Two of my personal favorites: Marion Barber's run out of the end zone against the
New England Patriots
breaking seven tackles and
Tony Romo
's first-down scramble vs. the
St. Louis Rams
after a shotgun snap sailed over his head didn't make the list either.
There needed to be some historic value to the play. The Hail Mary had that, so did Aikman-to-Harper and Lilly's sack.
But there's no question which play had the most value.
April, 9, 2014
Apr 9
12:00
PM ET
IRVING, Texas -- There was a time when the way the
Dallas Cowboys
ran their draft room was the envy of the league.
One of those years was back in 1991 and
Mike Tanier of Sports on Earth
ranked the Cowboys selecting Russell Maryland and Alvin Harper that year as ninth best on the all-time list of teams with two first-round picks.
The Cowboys actually had three first-round picks that year thanks to a deal with the
Washington Redskins
, but traded Kelvin Pritchett to the
Detroit Lions
for picks in the second, third and fourth rounds.
In Maryland, the top overall pick, the Cowboys got a vital piece to their vastly underrated defensive line. In Harper, the No. 12 pick, they got a complement to Michael Irvin who Norv Turner knew how to maximize.
In trading Pritchett, who had a solid career, the Cowboys got linebacker Dixon Edwards, guard James Richards and defensive end Tony Hill. Edwards was a starter, but Hill lasted two seasons and Richards didn't make the team.
The Cowboys had two first-round picks in 1992, 2005 and 2008 as well.
In 1992, they took cornerback Kevin Smith (No. 17) and linebacker Robert Jones (No. 24), who became starters on Super Bowl teams. In 2005, they took outside linebacker
DeMarcus Ware
(No. 11) and defensive tackle
Marcus Spears
(No. 20). Ware became the franchise's all-time leader in sacks. In 2008, the Cowboys selected running back
Felix Jones
(No. 22) and cornerback
Mike Jenkins
(No. 25). Neither signed a second contract, although Jenkins had a Pro Bowl season.
February, 27, 2014
Feb 27
10:00
AM ET
IRVING, Texas -- Tuesday marked the 25th anniversary of Jerry Jones' purchase of the
Dallas Cowboys
and Texas Stadium for $140 million.
The highs have been high, but the lows have been low, especially since the Cowboys last won a Super Bowl in the 1995 season.
Here we will look at Jones' top five moments as the Cowboys' owner and general manager while realizing that a large segment of the fandom will not give him any credit for what happened in the early years when Jimmy Johnson was around.
1. How do you like those Super Bowls?
[+] Enlarge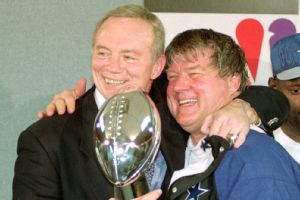 AP Photo/Charles KrupaOwner Jerry Jones and coach Jimmy Johnson celebrate their 30-13 win over Buffalo in Super Bowl XXVIII on Jan. 30, 1994, in Atlanta.
The Cowboys won three titles in Jones' first seven years as owner. They became the first team to win three Super Bowls in a four-year span, becoming the team of the 1990s with the Triplets -- Michael Irvin, Troy Aikman and Emmitt Smith -- becoming household names. The Cowboys beat the
Buffalo Bills
in Super Bowls XXVII and XXVIII by a combined score of 82-30. They claimed Super Bowl XXX with Barry Switzer as coach by beating the
Pittsburgh Steelers
27-17, exacting some revenge for the '70s Cowboys who could not beat Terry Bradshaw & Co.
2. Hiring Jimmy Johnson
Jones expressed regret Sunday about the rushed nature of firing legendary coach Tom Landry, but there is no doubt he made the right decision in bringing his former college teammate Johnson with him to the Cowboys. Johnson was the best coach in college football at the time at the University of Miami and brought a brashness that took the NFL by storm. The Cowboys suffered greatly in 1989 by going 1-15, but by Johnson's second year they were competing for a playoff spot in the final week of the season and winning a playoff game by the third year. By Year No. 4, Johnson had his first of two straight Super Bowl wins. It ended badly between Jones and Johnson, wrecking what could have been a history-making era because of the egos of the owner and the coach.
3. The trade of all trades
This is where the Jimmy and Jerry camps will always be divided. If you were a Jimmy guy, he engineered the trade of Herschel Walker to the
Minnesota Vikings
. If you were a Jerry guy, he had the final say. Regardless of who you want to credit, the moment is in Jones' era as owner and is among his biggest moments. The Walker trade brought about the formation of the Super Bowl teams. The Cowboys received five players and eight picks, turning those picks into Smith, Alvin Harper, Dixon Edwards and Darren Woodson. It might be the best trade in NFL history.
4. A new home
At $2.1 billion, there is no stadium like AT&T Stadium. This will be the monument Jones leaves whenever he is no longer the owner and general manager of the team. To get the stadium built, Jones acquiesced to a degree by bringing in Bill Parcells as coach in 2003 after three straight 5-11 finishes. With Parcells and the coach's two Super Bowl wins, Jones could show people he was serious about winning and changing his ways. The stadium is unmatched in the NFL, if not the world, with its nightclub-type feel, center-hung digital board, retractable roof and sliding doors. The Cowboys might not have the same home-field advantage they had at Texas Stadium, but the stadium has delivered a Super Bowl, an NBA All-Star Game, numerous concerts and the upcoming Final Four.
5. Trading for Charles Haley
Again, this will divide the Jimmy and Jerry camps, but Haley was the piece to the puzzle who got the Cowboys over the top. It weakened the Cowboys' biggest rival at the time, the
San Francisco 49ers
, and brought the Dallas defense an attitude it lacked. The signing of Deion Sanders in 1995 also weakened the Niners, but Haley brought two titles -- if not the third, as well. The drafting of Smith, No. 17 overall, was another top moment with him becoming the NFL's all-time leading rusher. But Haley's arrival brought to Dallas what the fans want most: Super Bowls.
November, 15, 2012
11/15/12
11:30
AM ET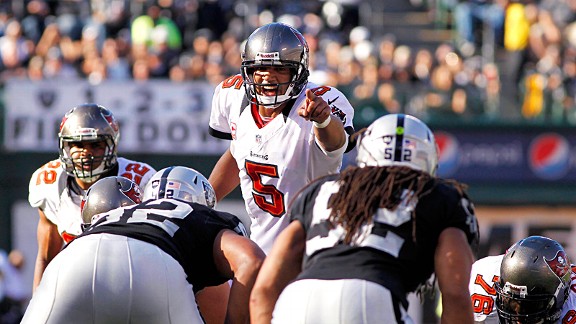 Cary Edmondson/US PresswireTampa Bay quarterback Josh Freeman is directing the league's third-highest scoring offense.
This really has been true for only five weeks, but I don't think I'm going out on a limb by saying the
Tampa Bay Buccaneers
have the most exciting offense in franchise history and they have a true franchise quarterback for the first time.
Start thinking about the history of this franchise because that's a part of why I feel comfortable making those statements. We'll run through that inglorious history in just a moment, but let's start with the past five games.
In that stretch,
Josh Freeman
, who entered the season as a huge question mark, has established himself as a big-time quarterback. Rookie running back
Doug Martin
has become such a phenomenon that he finally might have shed
that nickname
he doesn't like. And wide receiver
Vincent Jackson
has turned out to be worth every penny of that five-year, $55 million contract he signed back in March.
In each of the past five games, the Bucs have scored at least 28 points. When's the last time that happened?
Never.
What's happened in the past five games has vaulted the Bucs into the league lead in average yards per play (6.21). They're averaging 28.9 points per game, which ranks them behind only New England (see
Brady, Tom
) and Denver (see
Manning, Peyton
). Speaking of Peyton Manning, he's second in the league with an average of 8.20 yards per pass attempt. Freeman is No. 1 at 8.27.
Martin had a 251-yard, four-touchdown game at Oakland and has turned out to be the "all-purpose back'' that coach Greg Schiano and general manager Mark Dominik talked about on the night they drafted him.
Jackson's leading the league by averaging 21.4 yards per reception. Heck, teammate
Mike Williams
is second at 18.3.
Heck, if this keeps up, we might be calling Freeman, Martin and Jackson "The Triplets'', the way Troy Aikman, Emmitt Smith and Michael Irvin used to be referred to in their Dallas glory days. At times, some people got carried away and called the Cowboys' stars "The Quadruplets'' because they actually thought Alvin Harper was good.
That's a perfect way to jump back into the history of offensive football and the Buccaneers. Harper was the receiver the Bucs signed in the mid-1990s to be their Irvin. Instead, the thing most Tampa Bay fans remember about him is that he got part of his finger sliced off in a training-room accident.
For their entire existence, including the good years, the Bucs have been anywhere from dismal to mediocre on offense. They won a Super Bowl with Brad Johnson as their quarterback and Monte Kiffin commanding a defense for the ages. They won a lot of games and tasted their first sustained success under coach Tony Dungy ... with Kiffin commanding a defense for the ages.
At one point in the 1990s, Tampa Bay's bread-and-butter offensive play was having Errict Rhett run into Mike Alstott's back and fall as far forward as possible. They later upgraded and had Warrick Dunn run into Alstott's back and actually make a cut or two.
Even back during the first rise to prominence (1979), Tampa Bay was much more defined by Lee Roy Selmon and the defense than it was by the offense and Doug Williams.
Speaking of Williams, he was the best quarterback in franchise history -- until Freeman's emergence. Between them, the Bucs have trotted out the likes of Steve Young (before he became Steve Young in San Francisco), Vinny Testaverde, Craig Erickson, Trent Dilfer, Shaun King, Brian Griese and Jeff Garcia.
[+] Enlarge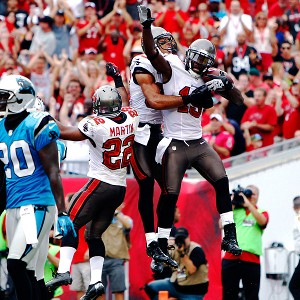 Matt Stamey/US PresswireA supporting cast that features receivers Mike Williams (19) and Vincent Jackson (83) and running back Doug Martin makes the Bucs' offense so fearsome.
Although Young, Testaverde and Dilfer had talent, they never had a chance in Tampa Bay because they didn't have a supporting cast. Williams was easily the best quarterback in Tampa Bay history, but I'm not sure you can call him a franchise quarterback because his tenure lasted from 1978 until he left for the United States Football League in a contract squabble following the 1982 season.
Freeman's not going to follow a similar route. He's under contract through 2013, but, after what he's shown this season, I think it's safe to say Freeman's going to be around a lot longer than that. Sometime in the offseason, the Bucs almost certainly will give Freeman a big contract extension.
Freeman has bounced back from the disastrous final season of the Raheem Morris era. He's turned out to be everything Schiano and offensive coordinator Mike Sullivan said he would be upon their arrival. Schiano and Sullivan said they wanted to build an offense that ran the ball consistently and they wanted to take some shots downfield in the passing game.
That formula's working. According to ESPN Stats & Information, Freeman leads the league with 19 completions on throws of 20 yards or more. Jackson leads the NFL with 10 receptions on throws of 20 yards or more.
Williams has revived a career that seemed to stall last year. The Bucs plucked receiver
Tiquan Underwood
off the scrap heap and he's turning in big plays. Martin is making things happen in the running game and as a receiver and the offense is clicking, despite the fact the Bucs are without injured Pro Bowl guards
Carl Nicks
and
Davin Joseph
.
For the longest time, there was a joke in Tampa Bay that the most exciting offense the region ever saw was the "Fun and Gun'' orchestrated by Steve Spurrier and the USFL's Tampa Bay Bandits, who, briefly, were more popular than the Bucs in the 1980s.
Those Bandits were wildly entertaining, but part of the reason they're so fondly remembered is because the Bucs always were boring -- and usually bad -- on offense.
Until now.
March, 12, 2012
3/12/12
4:40
PM ET
Just about everywhere you look or listen there is speculation the
Tampa Bay Buccaneers
will be in hot pursuit of wide receiver
Vincent Jackson
.
It makes sense on many levels, starting with the facts that the Bucs need a true No. 1 receiver and Jackson probably is the best available in free agency. There's likely to be competition from Chicago and Washington and perhaps some other teams. The
San Diego Chargers
are also holding out a bit of hope that they can re-sign Jackson.
[+] Enlarge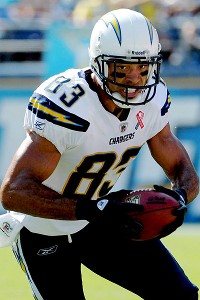 Kirby Lee/US PRESSWIREVincent Jackson, a proven No. 1 receiver, could help the Bucs win more games in the NFC South.
But the Chargers will only do that if his price tag is somewhere around $11 million a season. If it gets higher than that, he likely will walk and Tampa Bay's a very logical place for one of the top members of this free-agent class.
The Bucs have about $43 million in salary-cap space and it's become increasingly clear the Bucs want to do everything possible to put quarterback
Josh Freeman
in position to succeed. Jackson certainly would help in that regard.
At 6-foot-5 and 230 pounds, Jackson may not sound like the deep threat so many think the Bucs need. But Jackson is a bit of a freak of nature when it comes to his speed, plus he uses his strength to get separation.
Just look at his numbers when it comes to yards per catch. Last season, Jackson averaged 18.4 yards per catch. That's the second-highest total of his career and the highest (19.7) came in his rookie season when he was used as a third receiver.
That shows Jackson isn't losing a step, which is a concern for a receiver who just turned 29. It looks like Jackson has several good years left and the Bucs shouldn't let their infamous history of bringing in receivers scare them off. Jackson's not
Alvin Harper
or
Bert Emanuel
, guys that were No. 2 receivers elsewhere that the Bucs thought could emerge as No. 1 guys. Jackson also isn't
Keyshawn Johnson
,
Joey Galloway
or
Antonio Bryant
, guys who produced in the short term, but, for various reasons, didn't last in the long term.
Jackson is a proven No. 1 receiver. Although he had some off-field problems, those appear to be behind him and teammates and media members who have covered him say Jackson doesn't have the "diva'' personality so many receivers do. He's described as very quiet and always has been liked by his coaches.
If the Bucs are going to get Jackson, it likely will cost them around $12-$13 million a year. That's a lot, but the Bucs have indicated they're ready to spend money after going lightly in free agency in recent years.
Jackson is the one guy out there that seems like a sure thing. Pittsburgh's
Mike Wallace
is a restricted free agent and I don't think the Bucs are looking to give up draft picks. New Orleans
Marques Colston
isn't a speed guy and he's been banged up at times in the past.
If the Bucs don't get Jackson, then they need to look in a different direction.
Robert Meachem
(Saints),
Mario Manningham
(Giants) and
Laurent Robinson
(Cowboys) are guys that can stretch the field, but none of them is a true No. 1 receiver, although they'd come at a much lower price tag than Jackson. But even adding a speed guy could make it easier for Tampa Bay's current group of receivers –
Mike Williams
,
Arrelious Benn
,
Dezmon Briscoe
,
Preston Parker
and
Sammie Stroughter
— to get open.
June, 9, 2011
6/09/11
11:04
AM ET
You know, someday, maybe not too far in the future, the Redskins are going to be back on top. And when they are, they're going to look back on the summer of 2011 and laugh. "Hahahahaha," the Redskins fans will say. "Remember when the only lists we ever finished on top of were the bad ones? Gosh, those were some goofy times. What a laugh we get now, remembering them."
Meanwhile, Football Outsiders has this list of the
top 10 most disappointing free agents
of the past 25 years. And while it's an Insider piece that not all of you will be able to read, I'm going to reveal the name at the top of the list. Ready? Seriously, I hope you're sitting down for this. It's ... it's ...
Haynesworth
Yeah. It's
Albert Haynesworth
.
"Haynesworth has pocketed nearly $35 million from the Redskins, produced 53 tackles and 6.5 quarterback sacks in 20 games and has been a near-constant headache for two coaching staffs," Brian McIntyre writes. "Haynesworth complained about his role in former coordinator Greg Blache's defense and challenged the authority of new head coach Mike Shanahan last summer, failing to complete the team's conditioning test, which relegated him to working against trash cans after the rest of the team had practiced. During the season, Haynesworth refused to play certain roles, leaving Shanahan with no choice but to suspend him without pay for the final month of the regular season."
Hey, I'm no scout, but none of that sounds very good. I will say, though, that I was there for some of those conditioning-test days, and those trash cans had
no chance
against Big Al.
Making matters worse for Redskins fans who are probably getting sick of these kinds of posts, there's no other NFC East player or team represented in the top 10. In fact,
Alvin Harper
finished No. 2 and
Larry Brown
No. 10 for deals they signed with other teams after leaving the Cowboys.
Someday, Redskins fans, you will have your revenge. It may be hard to see it from here, but someday it'll happen. It just has to.
November, 14, 2008
11/14/08
5:45
PM ET
Posted by ESPN.com's Pat Yasinskas
TAMPA, Fla. -- In the early to mid-1990s, being a fan of the Tampa Bay Buccaneers was no fun. Covering them as a sports writer, where it's not supposed to matter if the team you cover wins or loses, was pure drudgery.
That's because the Bucs were beyond bad. Walking into the locker room in those days was miserable. First off, the locker room was in the old One Buc Place, where part of the weight room was outside on a porch and it wasn't uncommon to see rats in the hallways.
Coach Sam Wyche was coming apart at the seams and the players (we're talking the likes of Tyji Armstrong and Alvin Harper) were running the team. And double-digit losses in a season were the norm.
There weren't many smiles out at One Buc Place in those days, except from my co-worker and mentor at The Tampa Tribune, the great Nick Pugliese, who always was in a good mood.
And John Lynch.
Back in those days, Lynch was a breathe of fresh air in a place that desperately needed it. In a very bad situation, the young safety brought class and dignity. He didn't play a lot under Wyche and Lynch even admitted he was having doubts about his decision to give up a career in baseball.
NFL SCOREBOARD
Thursday, 9/4
Sunday, 9/7
Monday, 9/8