NFL Nation:

Alvin Pearman
March, 30, 2011
3/30/11
11:48
AM ET
Our periodic look at the best and worst draft pick by position for each team begins with running back. We'll look at draft results since realignment in 2002, since that's when the Texans came into existence and gives us the most level comparison.

Houston Texans
Best:
Arian Foster
is the best guy they've had, but he was undrafted so he doesn't qualify. It's not a great list, but the best of the lot was
Domanick Williams
, who became Domanick Davis, a fourth-rounder in 2003. In three seasons, he averaged 4.1 yards a carry and scored 28 touchdowns. That's pretty solid production for a back during a three-year stretch when his team was 14-34.
Worst:
Lots of options here. I remember thinking that 2002 fourth-rounder
Jonathan Wells
was simply not an NFL back.
Vernand Morency
(2005, third),
Wali Lundy
(2006, sixth) and
Tony Hollings
(2003, second in the supplemental draft) were also not good. The Texans got just one season plus one game out of Morency, who couldn't get ahead of
Ron Dayne
, Lundy or
Samkon Gado
. But the least value came from Hollings, who earned just 49 carries in three seasons. Pro Football Reference says his weighted career average ranks him 10,562nd since 1950.

Indianapolis Colts
Best:
He takes a lot of grief because he's not necessarily a big producer for fantasy leagues, but
Joseph Addai
(2006, first) is very effective at doing what's asked when he's healthy. He's got a darting style that's suited for the team, he's a great pass-catcher and he's very reliable in protecting
Peyton Manning
.
Worst:
The team spent late picks on backs in 2002 (
Brian Allen
), 2005 (
Anthony Davis
) and 2006 (
T.J. Rushing
) and none of them did much. Hard to grade hard on such low picks, but it's too early to talk
Donald Brown
(2009 first-rounder) here. Allen had one kick return in 2003 and Davis didn't make the team. We'll declare it a tie, acknowledging a hit with either would have qualified as a nice surprise.

Jacksonville Jaguars
Best:
Maurice Jones-Drew
is the centerpiece of the team and was a steal in the second round (60th overall) of the 2006 draft. The Jaguars passed on him at No. 28 in the first round, when they took tight end
Marcedes Lewis
. MJD qualifies as the face of the franchise.
Worst:
LaBrandon Toefield
and
Alvin Pearman
made contributions on a team that was in pretty good shape at the position with
Fred Taylor
and then Jones-Drew. So while it's unfair to hit them for a seventh-rounder from 2008, it also means they've done pretty well. Three years into his career,
Chauncey Washington
finished 2010 on the practice squad of the
St. Louis Rams
.

Tennessee Titans
Best:
You'd expect the 24th overall pick to be here and
Chris Johnson
certainly is the selection. He's coming off a 1,364-yard, 12-TD season that was largely regarded as a failure because he'd set the bar so high with his 2,006-yard rushing season in 2009. He's as fast as or faster than any running back in the league.
Worst:
The Titans fell in love with
Chris Henry
at the combine and let his measurable outweigh his unspectacular performance at Arizona. The second-round pick the team spent on Henry in 2007 amounted to a waste. The Titans kept him for three seasons to try to justify spending the 50th overall pick on him, which was longer than the needed to know he was a strikeout. He played in just 10 games.
September, 8, 2010
9/08/10
9:30
AM ET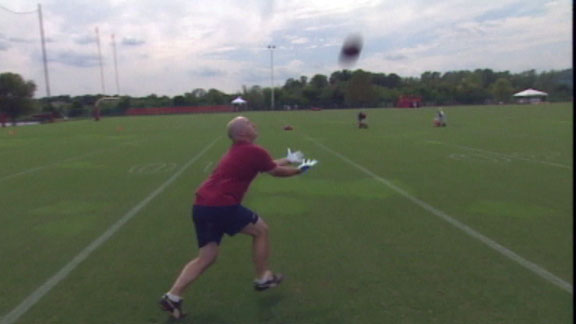 NASHVILLE, Tenn. -- My prospects were mixed, depending on the evaluator.
As I toured the AFC South during training camp, I made special requests to chat with punters and punt returners. With a pending appointment to attempt to field practice punts from the Titans'
Brett Kern
, I was searching for advice, and seeking forecasts.
In Houston, Texans receiver and returner
Jacoby Jones
said I could catch three and a half of eight punts, with a falling-down catch counting as the half.
In Jacksonville, Jaguars halfback and occasional returner
Maurice Jones-Drew
sized me up and said he thought I could catch two of eight.
In Anderson, Ind., Colts punter
Pat McAfee
expected less of me.
"The first four you'll be confused," he said. "You'll get lucky on the fifth one, the sixth one you'll get overconfident. If I were you, I'd just close my eyes and hope it hit me in the chest … I think if you get one, you should be happy."
[+] Enlarge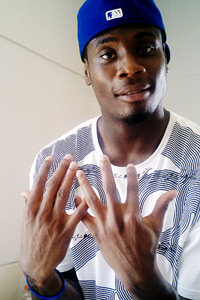 Paul Kuharsky/ESPN.com Houston's Jacoby Jones shows Paul Kuharsky how to hold his hands to field punts.
OK, what stupid thing is Kuharsky up to now?
While I spend a lot less time in bars watching games than I used to, I typically circle to an idea like this once a year. Sit with friends over a cold one and watch a return man flub a punt, and inevitably someone says, "I could have caught that." I've often been that someone.
And so I sought to transfer the question from the pub to the club and started making arrangements to test out the question: Can a fat, bald, 41-year old -- a cue ball covering football -- field a punt from a top professional?
The pointers I collected had me all twisted around, particularly those on ball flight.
Said Jones-Drew: "If the nose of the ball stays up, it's going to be short. But if that nose turns over, you've got to get back because that ball is going to sail a little bit."

Said Houston punter Matt Turk: "It really depends on the height of the ball. If it's turning over, and it's a low ball, you should be backing up. If it's turning over and it's a good hang-time ball, it might fall away from you."

Said McAfee: "If the ball turns over it's going to be straight; if the nose stays up it's going to go right for a right-footed punter."

Said Jones: "With a right-footed punter, if it's a tight spiral, the ball will dive to your left. If it's a wobbly spiral, it dives to your right."
Got all that? I didn't either. Ultimately, I decided it would not be beneficial to try to flip through those notes while the ball was in the air. I'd play it like a center fielder and try concentrating, as Titans receiver and returner
Damian Williams
encouraged, on being square to the ball so any bobbles wouldn't squirt through me.
I just wanted to get to where it would come down -- MJD said a six-yard radius should suffice -- and take my chances.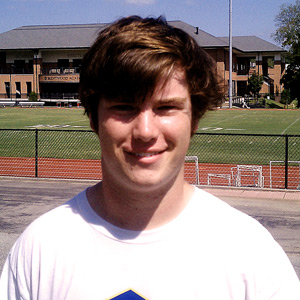 Paul Kuharsky/ESPN.com Nathan Renfro, who punts for Brentwood Academy in suburban Nashville, worked with Paul one afternoon.
When I finished my travels a couple of weeks ago, I
might
have sneaked off one afternoon to get a feel for things with some work at Brentwood Academy in suburban Nashville with Nathan Renfro, a senior punter who might be heading to Northwestern.
Two days later I signed a waiver letting the Titans off the hook should anything go awry, passing on Turk's advice to wear a mouthpiece and tape my fingers. Then, armed -- or should it be handed? -- with a pair of gloves provided by the Titans and with my dusty Puma Kings from my soccer days laced up, I met with Kern.
Some players, including kicker
Rob Bironas
, already were out preparing for practice. Equipment guys I know were milling around. A reporter friend and a PR man looked on from a distance.
I was happy McAfee, the Colts' punter, was hundreds of miles away.
"This is our only opportunity to actually embarrass a media person," he said. "If Brett brings the rain down, it would be absolutely great for all of us. There are 31 other punters looking for him to embarrass you. Hopefully, he will."
I wished Turk was nearby.
"Maul the ball, don't try to use your hands, it won't work," he said. "… I always root for the underdog, so I am rooting for you. I want to be proud of you at the end of this thing."
And so, with a bit of coaching from since-released Titans veteran kick returner
Alvin Pearman
, I took my shot.
I was 2-for-5 in warm-ups, but didn't sufficiently learn from my misses.
Pearman mentioned the parabola of the ball, and I butchered my calculations of that early. The center-fielder approach didn't work, as Kern's first punts reached an apex, then dropped more sharply than I expected. Had I run through them, I'd have had a chance. Slowing for fear they'd take off, I had a pathetic showing. The first bounced in front of me, the second might as well have.
After those two, Kern changed his prediction from two catches on eight punts to none.
His third sailed over my head to the left, and I didn't even get deep enough to make a play on it. I was well-positioned on the fourth and I dropped it.
Finally on No. 5, as McAfee predicted, a catch.
Feeling much more confident, I knew the worst was still ahead. Kern learned former Titans punter Craig Hentrich's famous knuckler at the foot of the master.
Punish me, I shouted to him, give me your most devilish stuff.
Kern didn't hit the first one especially well. Punt No. 6 sent me drifting back and to my right and I got that one, too.
Then he connected on what he said was his most fluttery knuckleball in weeks.
Sliding left and settling, I felt confident I'd done better than a 6-yard radius. I was directly under it and the nose was tilting down right at me. But I might as well have been standing under a flapping fish sent flying by a hurricane. The ball couldn't have been 10 feet over my head when it flattened, shot several yards over my head, then bounced on the turf well behind me.
"I let those hit the ground," Jones said when we talked knuckleballs.
I should have waved my arms and ran away from it screaming "poison" or "Peter" or "pull" or whatever other keyword guys use in those situations to signal teammates to be wary of letting a bouncing punt hit them and turn it live.
Kern and I agreed on a bonus punt, and I raced in to field another dancing knuckleball that bounced off my chest near my shoulder. I thought it would leave a mark.
It didn't. But the next day I noticed the inside of both forearms were painlessly black and blue from just two catches.
Kern was nice about it all. On camera, he said I wasn't the most graceful as I caught the two I did, and that was kind of him. The laughs in the locker room understandably could have come with a far harsher review.
I didn't think it was going to be easy. I didn't expect it to be quite that difficult -- or for me to be quite so clumsy.
Now add the standard conditions real punt returners contend with: a helmet and set of pads, mean gunners and crowd noise.
No thanks.
August, 16, 2010
8/16/10
7:48
PM ET
NASHVILLE, Tenn. -- Stack up all the TV shows and DVDs some people watch and it can be pretty intimidating. That's how Titans return man and running back
Alvin Pearman
, who's not much of a TV or movie guy, looks at his thick volume of training camp reading.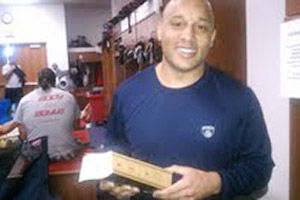 Paul KuharskyAlvin Pearman shows off his copy of "War and Peace."
Still, a copy of "War and Peace" in an NFL locker room is somewhat visually arresting.
Pearman started it a bit before training camp. He says he's not a fast reader but doesn't mind taking his time with a book that has well-developed plot and characters. He's on page 422 of 1,350.
"You know what? It's very enjoyable," Pearman said after emerging from a dip in the Titans' cold tub, book in hand. (One hand, honest.) "And that's the bigger point. It is intimidating, that's the one thing. But when you're working your way through it, you can lose yourself in it.
"And now in training camp, when I am very much engrossed by the demands of football and everything that comes with it, it's nice to have a little mental escape and historical fiction is a nice way."
The perception of Leo Tolstoy's 1869 epic as numbingly boring and it's use as the standard for jokes about things that seem to last forever is way off, Pearman said.
"It's a very fascinating book, so much character development you can't help but identify with several of the main characters," he said. "That's the process that I love, I love character development -- within life and within books…
"It's been on my reading list for a while. It just sort of happened that I started it a little bit before camp. And hopefully I'll finish it before camp's out."
For those of you who want to join Pearman's odyssey, I'm pretty sure
this looks like the version
Pearman's reading. The link provides a nice summary, and a reasonable price too.
August, 15, 2010
8/15/10
10:34
AM ET
Some bullet-point thoughts on the Titans'
20-18
preseason loss at Seattle on Saturday night.
Impressive:
Unimpressive:
Young's last pass was a rollout against his arm (why?) and then a bad decision to throw what turned into an interception by Josh Wilson.
Chris Simms was shaky in relief of Young. He stepped up to change a call and took a shotgun snap off his body, and it turned into a lost fumble. Simms didn't get good protection, checking down a bunch, dinking all night and underthrowing Kenny Britt open up the left side on one deep chance.
On a night when Kerry Collins sat so the Titans could look at Simms and Rusty Smith, Jeff Fisher used veteran Alvin Pearman as the first returner, wasting first-team chances Marc Mariani could have had.
Unfortunate:
Stefan Johnson dislocated his right ankle, creating a poignant scene where Fisher and Pete Carroll, Johnson's college coach, comforted him.
May, 6, 2010
5/06/10
1:00
PM ET
»
NFC Stock Watch
:
East
|
West
|
North
|
South
»
AFC
:
East
|
West
|
North
|
South
Falling

Alvin Pearman, RB, Titans and Mark Jones, WR, Titans
: Pearman didn't have much standing heading into the offseason. The backup running back, who ended the season as the Titans' kick and punt returner, lost major standing with the draft and undrafted rookie signings.
Third-round pick
Damian Williams
is expected to be the leader in the return games, which need a reliable player with some big-play potential after a miserable year where successful fair catches were often an accomplishment.
And while
LenDale White
was dealt away, Pearman ranks fifth at the position behind
Chris Johnson
,
Javon Ringer
,
LeGarrette Blount
and
Stafon Johnson
.
Jones ranks even further down the receivers list. He can make the team only if he absolutely lights it up as a returner while others underachieve. It's a scenario I don't see panning out.
Rising

Antoine Bethea, S, Colts
: It's not a big deal yet or a big surprise. But Bill Polian told the Indianapolis Star's Mike Chappell that the Colts
have talked
to Bethea, a restricted free agent, about a long-term deal.
The steady, poised Bethea probably doesn't get enough credit for being the settling force in the secondary, but he's a key cog in the Colts' defense. That they're acknowledging interest in locking him up long term seems like a good sign to me, as I think he's a guy they've got to hold onto.
He had a team-high four picks and beat out middle linebacker
Gary Brackett
for the team's tackle lead with 120.
December, 25, 2009
12/25/09
6:50
PM ET
NASHVILLE, Tenn. -- Christmas night callout for illegal procedure: Titans punter
Brett Kern
is wearing gray sweatpants either over, or instead of, his uniform pants while holding for Rob Bironas' pregame field goals.
Brett, buddy, everyone is cold out there. Am I wrong in saying he needs to tough it out? Nashville sportswriter David Boclair points out Kern's legs are his livelihood and maybe it's akin to a pitcher wearing a jacket when he runs the bases.
I am told Kern even wears them during the game and takes them off when it's time to punt or hold.
Do we think Ray Guy did that?
Anyway…
Only one lineup change from the pre-printed flip cards --
Nick Hardwick
is starting at center for the Chargers.
Inactives are in, I know you've been waiting anxiously all day, so without further delay:
Titans
Chargers
August, 6, 2009
8/06/09
7:56
AM ET
Posted by ESPN.com's Paul Kuharsky
JACKSONVILLE, Fla. -- There is no denying Jack Del Rio has a fondness for Greg Jones. The fullback is one of the coach's guys.
Some people see it and understand. Others are puzzled.
| | |
| --- | --- |
| | |
| | Fernando Medina/US Presswire |
| | Despite just two carries last season, Greg Jones may be in line for more touches in 2009. |
But part of the decision to let Fred Taylor go and move Maurice Jones-Drew to the lead running back position also included some confidence that the team had alternatives for additional carries starting with Jones, who's averaged just less than 4 yards a touch in his four seasons. (He missed 2006 with a knee injury.)
"When we brought Greg in, we knew we got a terrific college runner with size and we thought the makeup to be a Pro Bowl-type fullback and be a little bit like [former Buccaneer Mike] Alstott in that we think late in games he could really wear on people," Del Rio told me in June. "He's physical and can close things out, can become more of a presence. With Maurice and Fred both, there really weren't the carries for him.
"He's a great athlete, he's very unselfish and I believe in him. I just believe he's a good football player and he's the right kind of guy. But he's got to fight to be the best guy, we're not going to hand anything to anybody."
Rookie Rashad Jennings could earn some carries. He's done a lot to win over coaches, teammates and the press since coming in as a seventh-rounder out of Liberty.
December, 11, 2008
12/11/08
6:09
PM ET
Posted by ESPN.com's Paul Kuharsky
Fred Taylor deserves a better exit, and I hope he gets to make one.
The Jaguars officially put him on injured reserve Thursday with a thumb injury, and they could decide they want to turn more over to Maurice Jones-Drew and pair him with a younger back next year.
| | |
| --- | --- |
| | |
| | Matthew Emmons/US Presswire |
| | Fred Taylor has 11,271 career rushing yards and 62 rushing touchdowns, all with the Jaguars. |
Taylor is a class act and a real pro. Way back in 1999 and 2000, when I covered the Titans for the Tennessean, he repeatedly gave us fodder on conference calls because he could just not get himself to admit the Titans were the better team in Tennessee's Super Bowl season, when they handed the Jaguars their only three losses. Samari Rolle and Jevon Kearse and Keith Bulluck always joked about that unwillingness to concede and talked about him with the sort of cross-rivalry affection that made us figure he had to be a special kind of guy.
This year, my first tracking the entire division, I got to have a couple of long talks with him during training camp and I visited with him after wins and losses. He's a stand-up, no-excuses, candid guy who front office types, coaches, the media and fans wish would rub off on a larger percentage of the NFL player pool.
He's been something to watch, too.
This year, when I've had the good fortune to see a good share of the work of Chris Johnson and Steve Slaton, Taylor's ridiculous 34-yard run in Week 3 at Indy may still rank as the best I have seen live.
Here's what I wrote in my game-column blog that afternoon:
• Taylor's third-quarter 34-yard run that set up Jones-Drew's second touchdown was something to behold.

He started right, benefited from a block in the pack that kept Marlin Jackson from getting his hands on him, bounced backwards and headed left. As he turned the corner, he unsuccessfully tried to set up a block by Garrard, then just flew past him and found room up the left sideline where you would have expected there was none.

"That's how long it was?" he said when asked about it. "It felt like it was about 150. Foremost, they slanted that way. Naturally if I see a lot of the different color going that way, I've got to go opposite.

"Fortunately the linemen kept pushing, I was able to hop out of an ankle tackle, went around. David was trying to lead me, that didn't work, and then I just put my foot down and went North and teammates, they just kept coming, showing great effort. Next thing you know I am 34 yards down the field."

Simple, see?
NFL SCOREBOARD
Thursday, 11/27
Sunday, 11/30
Monday, 12/1
WEEKLY LEADERS