NFL Nation:

Andre Fluellen
November, 28, 2013
11/28/13
7:30
PM ET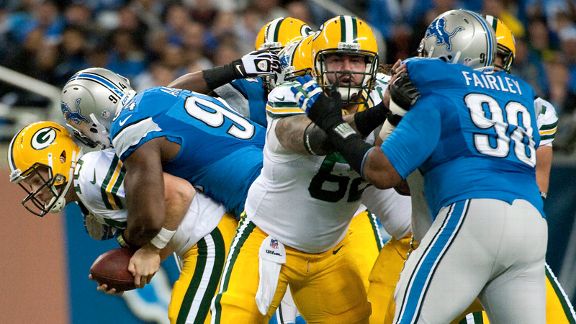 Tim Fuller/USA TODAY SportsDetroit's defensive line stuck to its team approach Thursday, getting after Green Bay QB Matt Flynn.
DETROIT -- In some ways, the
Detroit Lions
' defensive line was sleeping most of the season. It had been inconsistent. It was a group in the middle of the NFL in sacks, a group long on talent and short on statistics.
They would see stacked protections -- to the point that defensive end
Willie Young
would joke with opponents they were on the wrong side just to try to find an opening. They would pressure the quarterback but never actually reach him.
Then Green Bay offensive lineman
Josh Sitton
spoke. Called the Detroit defensive linemen dirtbags. Scumbags. Insulted Lions coach Jim Schwartz. It might have been all the poking
Ndamukong Suh
and
Nick Fairley
needed.
"It's waking up sleeping dogs," cornerback
Rashean Mathis
said. "But that's how he felt. He expressed it.
"We responded."
By the time the Lions'
40-10
thrashing of the Packers ended, the Lions' once-hibernating defensive front was wide awake. And there could be another easy word to describe them.
Dominant. Utterly and completely dominant.
"It's just the performance we always believe we can have," defensive tackle
C.J. Mosley
said.
When the Detroit defensive line plays like it did Thursday -- with 16 tackles, seven quarterback hits, five sacks, two fumble recoveries, one forced fumble and a safety -- the Lions can be one of the top teams in the NFL.
The pressure Detroit's front four can place on an opposing quarterback -- and it appeared the Lions blitzed linebackers and safeties Thursday more often than they usually do -- changes the entire game.
When Detroit can combine that with taking away a quarterback's first read, which the Lions did to
Matt Flynn
, it'll give the Lions enough time to reach the passer.
This was, by far, the best the Lions defense played this season and, by far, the best the Lions have played overall. The way the defense played eliminated pressure on
Matthew Stafford
and the offense because they knew they might get extra opportunities and wouldn't have to score on every possession to win.
It begins with the defensive line, a group that insisted it approached things the same way every week, always rushing the quarterback, but due to quick-twitch passers or protections featuring linemen, tight ends and running backs, it was unable to actually sack the quarterback.
"Every game, we go out and do the same thing over and over," rookie defensive end
Devin Taylor
said. "Every time, something happens. We get closer and closer.
"Finally, today, we were actually able to get back to the quarterback."
It all started before the game. Instead of coming out individually during introductions, the defensive line -- and safety and the soul of the defense,
Louis Delmas
-- ignored that. When Young was announced, the entirety of the line came out.
Together.
After the game, the Lions' defensive linemen said it had nothing to do with being called scumbags and dirtbags by Sitton. It was an idea, Suh said, that came from
Andre Fluellen
to show solidarity.
How they played backed that up. With perhaps a little bit extra because of Sitton.
"Unreal," center
Dominic Raiola
said. "They looked unblockable today. Seriously."
They pretty much were. It wasn't just the line, either. The defense held Green Bay to 24 rushing yards and sacked Flynn almost as often as he completed passes (seven sacks, 10 completions).
Ndamukong Suh
reached the end zone for a safety. That's more than the Packers' offense did all day long.
"It's embarrassing," Sitton said. "We got our a-- beat. Plain and simple. They smacked us today."
Of course, Sitton influenced that. While Detroit's defensive line -- those guys Sitton thought were scumbags and dirtbags a couple of days ago -- tried to downplay what he said, the line played differently Sunday.
The linemen played as if they were trying to prove something. To themselves. To Sitton. To the rest of the NFL.
From the veterans such as Young, who had five tackles and a fumble recovery, and Suh, who had the safety sack, to the rookies such as Taylor and
Ziggy Ansah
, who each had three tackles and two sacks, the entire group appeared both present and almost possessed by a singular goal of flattening Flynn.
"I know it motivated some guys, especially the D-line," offensive tackle
LaAdrian Waddle
said. "I feel like it did motivate them.
"[Green Bay] kind of hurt themselves by saying that, I feel like. Just because it was another thing to add into the pot of extra motivation for those guys."
It was something already percolating, too. Detroit had heard a lot about the dirtiness of its defensive line over the past month, from Chicago's
Brandon Marshall
to Sitton. Combine that with a two-game losing streak to teams with losing records. And giving up two leads in the fourth quarter the past two weeks.
Motivation wasn't going to be an issue. Add Sitton's words and it turned combustible.
It blew up on Sitton. The Packers are now under .500 and well behind Detroit in the NFC North race.
It blew up for Detroit. The Lions once again gained tenuous control of the division, with a 1½-game lead on Chicago because of the tiebreaker they have over the Bears.
It all started with the defensive line, a group that can now be called whatever they want.
"It was, you can say it was a dominating performance. It's just something we've got to string together, man," Mosley said. "I think that'll kind of take us to the next level where we want to be as far as the postseason.
"We've got to string performances like this together."
If they do, the Detroit Lions, up one week, down the next, might just end up making the playoffs after all.
November, 21, 2013
11/21/13
4:30
PM ET
ALLEN PARK, Mich. -- On a day where the
Detroit Lions
got at least a little bit in practice from all of its players, the biggest news of all was who practiced in full:
Nate Burleson
.
Burleson
The wide receiver was not limited in practice for the first time since breaking his forearm in a September car crash, but he was part of the team drills the past two days, a good sign for his potential return.
"Things are looking up for Nate Burleson," Burleson said. "Catching some balls. Getting some high-fives. My friends are talking to me again. Finally feel like things are looking up, man.
'That pizza set me back, man."
It was a good day overall as the Lions had every player on the roster available to practice on at least a limited basis.
Besides Burleson, cornerback
Bill Bentley
practiced fully for the first time in a couple of weeks. Cornerback
Jonte Green
also returned fully after being sick Wednesday. Right tackle
Corey Hilliard
also practiced in full.
There were, though, many Lions limited on Thursday: defensive end
Ziggy Ansah
(ankle); running back
Joique Bell
(Achilles); safety
Louis Delmas
(knee); defensive tackle
Andre Fluellen
(thigh); defensive end
Israel Idonije
(knee); wide receiver
Calvin Johnson
(knee); tight end
Brandon Pettigrew
(knee) and safety
Glover Quin
(ankle).
October, 23, 2013
10/23/13
12:08
PM ET
October, 3, 2013
10/03/13
7:40
PM ET
ALLEN PARK, Mich. -- It is a mentality, a thought process carrying over from high school to college and for the
Detroit Lions
on to the NFL.
Every coach who has ever coached football preaches it and mentions it, how a defense making stops on third downs are instrumental to any victory and any successful season.
[+] Enlarge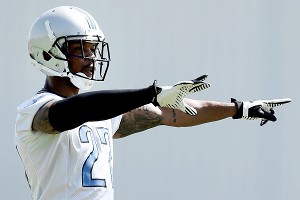 AP Photo/Paul SancyaSafety Glover Quin is one of the key players for a Lions defense that has allowed an NFL-low 10 third-down conversions through four weeks.
This season, no one is accomplishing this better than the Lions, who are allowing teams to convert third downs just 21.3 percent of the time. They are one of two teams, along with Kansas City at 22.2 percent, to keep teams under 30 percent so far this year.
"It's definitely a mentality you've got to have, man," Detroit defensive tackle
C.J. Mosley
said. "We just know what's at stake. It's a big momentum swing to get off on third down if we don't get a sack or a play like that.
"We know what it does for the team so it's very important to us."
If Detroit can keep this pace going -- and Lions coach Jim Schwartz said earlier in the week it would be difficult to do -- it would be the best third-down conversion defense since at least 2001.
Since 2001, only four teams have held teams under a 30 percent conversion rate over an entire season in the NFL: Tennessee (27.7), Baltimore (29.4) and Denver (29.6) in 2003 and Baltimore (28.8) in 2006.
The good news for the Lions there -- if they can keep their pace even close to what it is now and stay under 30 percent, all four of those teams made the playoffs. None won or even made the Super Bowl, but they all had a shot at it by the end of the season.
Detroit wasn't bad on third-down defense a year ago, finishing 10th in the league with a 36.5 percent conversion rate. But the pace the Lions are on now is fairly historic.
The Lions' current rate, though, is extremely impressive -- not only because of the lack of conversion rate but also because of what Detroit is doing on first and second downs to set it up.
The Lions have allowed an NFL-low 10 third-down conversions, not including three penalties that awarded teams first downs. They have only been in third-down situations 47 times this season, a shade under 12 times a game, not including those three penalties.
Detroit's opponents, including those three penalized plays, are averaging 7.54 yards-to-go per third down, according to ESPN Stats & Information, and are gaining an average of 3.5 yards on those third downs, according to Stats & Info. On just the 47 plays that have counted, the Lions are allowing just 2.85 yards for a third-down play and an opponent passer rating of 44.4 -- second-lowest in the league behind Seattle.
Part of why Detroit has been so good in these spots starts with the defensive line, where
Ndamukong Suh
has been a disruptive force all season, and ends with the Lions' two safeties,
Glover Quin
and
Louis Delmas
. Both Quin and Delmas intercepted a pass on third down Sunday against Chicago.
"It's a combination of rush and coverage," defensive tackle
Andre Fluellen
said. "They don't really work without the other. The rush doesn't work without the back end covering and the back end can't cover forever without the rush.
"It's a good combination of that. We've been having a good game plan to do those things."
The Lions have intercepted three passes on third down. They've sacked opposing quarterbacks five times on third down. One of the craziest parts of this? Detroit isn't even bringing a ton of pressure on third downs.
The Lions, per Stats & Information, are only blitzing on 17 percent of opponent's third downs, the second-lowest number in the league.
"We certainly spent a lot of time on third down and we want to get off the field on third down," Schwartz said. "It's just the rate we're going at now is pretty tough to sustain. We have guys that rush. We have some guys in the backend that can get the ball.
"We have some guys that have played pretty smart and matched up routes. I think the combination of the two. We have blitzed from time-to-time, I think that's been effective when we have."
Against Green Bay on Sunday, Detroit will need all of that if it wants to snap its 22-game losing streak in Wisconsin.
Note: Statistics used in this story were provided by ESPN Stats & Information.
September, 23, 2013
9/23/13
2:35
PM ET
ALLEN PARK, Mich. --
Devin Taylor
has been active for one game and been in on three plays in his NFL career.
Now, he's going to potentially play a lot more.
Twice in the past 24 hours, Detroit coach Jim Schwartz has mentioned the rookie as the main possibility to replace
Jason Jones
, who is out for the season after tearing the patellar tendon in his left knee against Washington on Sunday.
Jones was officially placed on injured reserve Monday, according to the Lions.
Looking to Taylor, though, will come after Detroit figures out how it wants to use fellow rookie
Ziggy Ansah
and veteran
Willie Young
. That duo has been among Detroit's top defensive linemen.
"We've got a lot of different ways," Schwartz said. "I think I even said [Sunday] that we're going to lean on Devin Taylor also there. Devin has a lot of the same things that we liked about Jason. We like in Devin.
"He played well at times in the preseason but he needs to grow up quickly. It's no different than anybody else being a young player in the league. You've got to perform."
It's an interesting spot for Taylor, who might be best known for playing on the opposite side of All-American defensive end Jadeveon Clowney last season at South Carolina. Much like his still-in-college counterpart, Taylor possesses freak athleticism.
The 6-foot-7 Taylor won the South Carolina state triple jump title by leaping 48 feet, 3 inches. Not surprisingly, he also played high school basketball.
With the Gamecocks, he had 18.5 career sacks, 161 tackles and intercepted two passes. He returned both interceptions for touchdowns.
The Lions drafted him in the fourth round in April, in part to develop as a replacement for the three defensive ends that left following last season. Now, he'll be in a position to play a lot early in his career.
Detroit also has brought defensive tackle
Andre Fluellen
in for the fourth time. The Lions initially drafted Fluellen in the third round of the 2008 draft and then released him on Aug. 31, 2012. They re-signed him on Dec. 12, 2012, and then brought him back again on July 26. He was cut again last month before the Lions chose to bring him back Monday.
August, 31, 2013
8/31/13
6:28
PM ET

Most significant move:
There were no surprises for the
Detroit Lions
and, really, there were few big decisions. We noted earlier that the team decided to preserve a roster spot for No. 3 quarterback
Kellen Moore
, so the most significant move they did make was placing rookie tight end
Michael Williams
on injured reserve. The Lions had substantial plans for Williams this season as the third tight end in the jumbo package that lineman
Riley Reiff
filled last season. They also hoped to develop his receiving skills as veterans
Brandon Pettigrew
and
Tony Scheffler
enter contract years. Williams had surgery last week to repair a hand injury, and though coach Jim Schwartz said the team had no long-term injuries, Williams is in fact lost for the season. (NFL teams can't start placing players on short-term injured reserve until next week.) As a result, rookie
Joseph Fauria
-- a much better receiver but less of a blocker than Williams -- is on the 53-man roster with Pettigrew and Scheffler.
The dominoes:
The Lions apparently chose veteran Michael Spurlock as their kick returner, necessitating the release of rookie
Steven Miller
, who could return on the practice squad. Spurlock is also a receiver, and for the now he is one of six on the roster, presumably because of
Ryan Broyles
' sore knees. The release of veteran
Matt Willis
means
Kris Durham
is the sixth receiver. You wonder if the Lions would change directions soon in that regard. The Lions sifted through their big group of veteran defensive backups by tapping
Rashean Mathis
as a swing cornerback/safety and
Rocky McIntosh
as a backup linebacker while releasing the rest.
John Wendling
and
Don Carey
are the backup safeties for now.
What's next:
According to multiple reports,
the Lions will place running back
Montell Owens
on short-term injured reserve. That can't happen until next week, so for now he is part of the 53-man roster. He must miss at least six weeks of the regular season. You would think the Lions will bring back a number of the players they cut Saturday for their practice squad, and it's worth remembering that they are No. 5 in priority for NFL waiver claims. Sunday could be a busy day.
List of players cut:
WR:
Corey Fuller
, Matt Willis. RB: Steven Miller,
Shaun Chapas
. OL:
Rodney Austin
,
Kevin Haslam
,
Darren Keyton
,
Jake Scott
. DL:
Andre Fluellen
,
Ogemdi Nwagbuo
,
Xavier Proctor
, Jimmy Sadler-McQueen. LB:
Brandon Hepburn
,
Jon Morgan
(waived/injured)
Chris White
. CB:
Ron Bartell
,
Chris Greenwood
. S:
Amari Spievey
,
Tyrell Johnson
,
Martavius Neloms
(waived/injured) P:
Blake Clingan
.
March, 30, 2012
3/30/12
11:00
AM ET
»
AFC Assessments
:
East
|
West
|
North
|
South
»
NFC
:
East
|
West
|
North
|
South
Chicago Bears
Key additions:
Running back
Michael Bush
, linebacker/special teams
Blake Costanzo
, quarterback
Jason Campbell
, receiver
Brandon Marshall
(trade), receiver
Devin Thomas
, receiver/returner
Eric Weems
.
Key losses:
Running back
Marion Barber
(retired), cornerback
Zack Bowman
, cornerback
Corey Graham
.

Come on back:
Lost in the shuffle of the Marshall trade were the return of three free agents who should play key roles in 2012. Tight end
Kellen Davis
figures to get an expanded role in offensive coordinator Mike Tice's scheme, especially as a receiver. Cornerback
Tim Jennings
should retain his starting role opposite
Charles Tillman
, with
D.J. Moore
in the nickel. And safety
Craig Steltz
will provide reliable depth at safety and will be one of the Bears' special teams leaders after the departure of Graham and Bowman.
What's next:
There is no urgency yet, but the Bears will need to make peace with tailback
Matt Forte
at some point before the summer. Forte isn't happy that he's been made the Bears' franchise player and briefly lost his public composure when Bush signed a deal that guaranteed him about the same amount of money as the franchise tag will pay Forte. It's not a big deal if Forte skips the Bears' offseason program or even misses a few days of training camp, but the Bears will want to find a way to eliminate this issue by early August. Meanwhile, it wouldn't be surprising if the Bears address their offensive line during the draft.
Detroit Lions
Key additions:
Defensive end
Everette Brown
, cornerback
Jacob Lacey
.
Key losses:
Cornerback
Eric Wright
.

All in the family:
With the exception of Wright, the Lions were able to retain the core of their 10-6 team. Among those who re-signed: Tackle
Jeff Backus
, safety
Erik Coleman
, defensive end
Andre Fluellen
, quarterback
Shaun Hill
and linebacker
Stephen Tulloch
. And don't forget that receiver
Calvin Johnson
is locked up for perhaps the rest of his career. He signed a new eight-year contract worth $132 million.
What's next:
The Lions appear interested in adding competition at safety, having hosted free agent
O.J. Atogwe
earlier this month. Adding a safety remains a possibility, if not through free agency, then probably through the draft. And while Backus is re-signed for two years, it wouldn't be surprising if the Lions look for a long-term replacement in the draft.
Green Bay Packers
Key additions:
Defensive lineman
Daniel Muir
, center
Jeff Saturday
, defensive lineman
Anthony Hargrove
.
Key losses:
Quarterback
Matt Flynn
, center
Scott Wells
.

Shocker:
The Packers usually do whatever it takes to keep their own players and avoid having to search the free-agent market for other the castoffs of other teams. They started off that way by re-signing tight end
Jermichael Finley
to a two-year contract, but when they were unable to sign center Scott Wells, they quickly targeted veteran Jeff Saturday and made him their first starting-caliber free-agent signee in five years. General manager Ted Thompson also authorized the acquisition of Hargrove and the pursuit of
Dave Tollefson
.
What's next:
It's not out of the question that the Packers will add a veteran pass-rusher, whether at defensive end or linebacker. Then they'll get back into their comfort zone and start preparing for the draft, where it's reasonable to think they'll use at least one of their 12 picks on a center while also continuing to pursue pass-rushers.
Minnesota Vikings

Key additions:
Cornerback Zack Bowman, tight end
John Carlson
, running back Jerome Felton and offensive lineman
Geoff Schwartz
.
Key losses:
Nose tackle
Remi Ayodele
(release), guards
Anthony Herrera
(release) and
Steve Hutchinson
(release), tight end Jim Kleinsasser (retire), running back Jerome Felton.
Methodical methodology:
The Vikings made one big-money signing, bringing in Carlson as a new weapon for quarterback
Christian Ponder
, and otherwise have spent their offseason getting younger and signing complementary players. General manager Rick Spielman wants to end a cycle of seeking blue-chip players via free agency and instead count on the drafts for his difference-makers.
What's next:
One way or the other, the Vikings need to find a deep threat for Ponder. The draft would seem the most likely place for that will happen. They are also midway through a rebuild of the secondary that could use at least one more cornerback and perhaps two safeties.
January, 7, 2012
1/07/12
6:42
PM ET
NEW ORLEANS -- There are no major surprises on the
Detroit Lions
' inactive list for Saturday night's wild-card playoff game against the
New Orleans Saints
. One minor shift from the recent norm: Cornerback
Don Carey
is active and cornerback
Brandon McDonald
is inactive.
That could be a nod toward special teams, considering the Lions secondary will be at full strength with
Aaron Berry
back in the nickel and
Alphonso Smith
available to play the dime. McDonald had been active for the past two games while Berry rehabilitated a shoulder injury.
As expected, safety
Louis Delmas
is active and will start his first game since Thanksgiving Day. That moves
Chris Harris
to the inactive list; Harris has also been dealing with a back injury.
The rest of the inactives: Quarterback
Drew Stanton
, running back
Joique Bell
, linebacker
Doug Hogue
, guard
Leonard Davis
and defensive lineman
Andre Fluellen
.
September, 4, 2010
9/04/10
8:34
PM ET

Check
here
for a full list of Detroit's's roster moves.
Biggest surprise:
Veteran cornerbacks Dre Bly and
Eric King
were among six cornerbacks released. The Lions' secondary was hardly exemplary during the preseason, but you figured Bly or King would make the team to provide some level of veteran presence. As it stands now, the Lions' cornerbacks include starters
Chris Houston
and
Jonathan Wade
, rookie
Aaron Berry
and newcomer
Alphonso Smith
. I'm not saying it was a mistake to cut Bly and King. Just a bit surprising. Defensive tackle
Landon Cohen
, meanwhile, saw the Lions overhaul his position in the offseason, but seemed to make enough plays in training camp and during the preseason to earn a roster spot. Instead, his spot went to
Andre Fluellen
. Finally, the Lions chose
Aaron Brown
over
DeDe Dorsey
for the final running back spot. Dorsey made two big plays in the preseason finale, but coaches chose Brown's speed and potential special teams contribution.
No-brainers:
I give the Lions credit for releasing linebacker
Vinny Ciurciu
. He entered training camp as a player focused on special teams, but spent most of it filling in for injured middle linebacker
DeAndre Levy
. Ciurciu hasn't played much linebacker in his career, and unfortunately for him, the extended time revealed that he wouldn't be able to hold down the position should he be called on in a relief role during the season.
What's next:
The Lions need to settle their secondary following this weekend of flux. Who is their nickel back? What about the dime? Will rookie
Amari Spievey
remain at safety or move back to cornerback to provide more depth? The team is also going to need to spend some more time looking for depth at linebacker. It wouldn't be a surprise to see them focus at that position over the next few days.
March, 10, 2010
3/10/10
12:00
PM ET
»
NFC Recent History
:
East
|
West
|
North
|
South
»
AFC
:
East
|
West
|
North
|
South
»
Draft Watch
:
Biggest needs
(2/17) |
Busts/gems
(2/24) |
Schemes, themes
(3/3) |
Recent history
(3/10) |
Needs revisited
(3/17) |
Under-the-radar needs
(3/26) |
History in that spot
(3/31) |
Draft approach
(4/7) |
Decision-makers
(4/14) |
Dream scenario/Plan B
(4/21)
Each Wednesday leading up to the NFL draft (April 22-24), the ESPN.com blog network will take a division-by-division look at key aspects of the draft. Today's topic: Recent history.

Chicago Bears
The Bears have been unable to add fresh blood to their pass rush, striking out on defensive end Dan Bazuin in 2007 and getting nothing so far from defensive end/tackle
Jarron Gilbert
(2009). That void, along with a lack of first- or second-round picks this year, left the Bears no choice but to pursue free agent
Julius Peppers
. The Bears have also drafted seven defensive backs over the past three years, and only one of them -- cornerback
Zack Bowman
-- figures as a lock to contribute in 2010. Those failures have left the Bears still looking to fill perhaps both safety positions this offseason. That's one position where you can find a starter in the later rounds, and it almost assuredly will be a focus for the Bears next month.

Detroit Lions
About the only position the Lions have placed on the backburner is quarterback, thanks to their decision to draft
Matthew Stafford
last year. Although Stafford hasn't yet proved he is the Lions' long-term answer, the money he received as the No. 1 pick all but guarantees he will be their starter for the next few years at least. Otherwise, well-known recent failures have left the Lions scrambling to fortify nearly every other position. Given the frequency with which they have drafted first-round receivers, they never should have needed to sign free agents
Bryant Johnson
and
Nate Burleson
in successive years. The failure of defensive linemen
Cliff Avril
,
Andre Fluellen
and
Ikaika Alama-Francis
to provide impact has necessitated a 2010 overhaul that should continue with a defensive tackle coming with the No. 2 overall pick of the draft.

Green Bay Packers
The Packers' biggest problem is that several years of above-average drafting has left them with a lineup of restricted free agents who have established themselves as starters and are ready for their second contracts. In this draft, the Packers shouldn't need to focus on safety, thanks to incumbents
Nick Collins
and
Atari Bigby
. They are in pretty good shape at receiver with former draft choices
Jordy Nelson
and
James Jones
backing up
Greg Jennings
and
Donald Driver
. Tight end
Jermichael Finley
's emergence makes his position a secondary priority. Injuries to former second-round pick
Pat Lee
has made cornerback a priority, and the inability to draft a successor at left tackle forced the Packers to re-sign
Chad Clifton
last week.

Minnesota Vikings
The Vikings head into the 2010 draft with quarterback at the top of their need list in part because they haven't been able to develop former second-round pick
Tarvaris Jackson
into a long-term starter. They also parted ways with second-day draft picks
Tyler Thigpen
and
John David Booty
. But beyond that position, however, focused drafting has left the Vikings able to draft the best available player with most of their picks this year. Although he is still developing, former second-round pick
Tyrell Johnson
is a starter. The same goes for former sixth-round pick
John Sullivan
at center and former second-round pick
Phil Loadholt
at right tackle.
April, 13, 2009
4/13/09
7:16
AM ET
Posted by ESPN.com's Kevin Seifert
We teased you Sunday night with some (bad) pop culture humor. Monday morning, we can tell you what's coming.
Actually, it's already here.
ESPN Chicago -- the Web site.
Yes, Monday is the debut for an ESPN-styled site devoted solely to Chicago sports. Some of the best writers in the ESPN stable -- Gene Wojciechowski, Wayne Drehs, Scoop Jackson and more -- will be contributing regular pieces on the Bears, Cubs, White Sox and Big 10 college sports as well. And Jeff Dickerson, who you might know from ESPN 1000 radio, is writing a Bears blog.
This won't change the frequency and tone of the Bears coverage here on the Black and Blue blog. Consider it another layer at our disposal. I'll do my best to link to the best of the Bears coverage on the site, and from time to time some of our Bears discussions will appear there as well. So check it out.
In the meantime, let's catch up on the weekend and start our sprint to the NFL draft.
February, 5, 2009
2/05/09
7:44
AM ET
Posted by ESPN.com's Kevin Seifert
One more thought on Detroit's decision to part ways with cornerback Leigh Bodden, as first reported Wednesday by John Niyo of the Detroit News.
You could look at this as one of the first significant unravelings of the Matt Millen personnel disaster, one of many that likely will have to take place as the offseason progresses. Millen gave up the Lions' best defensive player, Shaun Rogers, to get Bodden and a third-round draft pick. But as Tom Kowalski of the Mlive.com alludes to, there was a disconnect between the front office and the coaching staff about Bodden's place.
Millen and his advisors no doubt saw Bodden as a long-term fixture for the defense, a classically cocky but talented cornerback who had six interceptions for the Browns in 2007. But former coach Rod Marinelli did not guarantee him a starting job, engendering a mistrust that continued throughout the season. That was Marinelli's policy for all new players, but Millen didn't foresee it being a problem for Bodden despite his personality.
It was an oil-and-water mixture that was never destined to work out, something that might have been clear with more pre-trade research into the matter. It was an example of the type of the disconnect between the front office and coaching staff that new general manager Martin Mayhew has alluded to several times.
If you're wondering, the only thing the Lions have to show for the Rogers trade is defensive tackle Andre Fluellen, who was selected with the third-round pick the Browns included in the trade. Fluellen played in eight games and started two as a rookie in 2008.
Continuing around the NFC North:
Brad Biggs of the Chicago Sun-Times and Vaughn McClure of the Chicago Tribune provide a transcript of an interview that pending free agent receiver T.J. Houshmandzadeh gave a Chicago radio station. The key quote from Houshmandzadeh: "I'm open to everything, I promise you that."
Bob McGinn of the Milwaukee Journal Sentinel analyzes the Packers' shift from Rock Gullickson to Dave Redding as special teams coordinator. Coach Mike McCarthy said he was looking for "a change in environment and attitude." Redding is known as an intense character.
Here's what Minnesota tailback Adrian Peterson said when Philadelphia coach Andy Reid asked him how many times he wanted to carry in the Pro Bowl this weekend: "You can give it to me every time." Here's an Associated Press story on the exchange from Hawaii.

December, 7, 2008
12/07/08
11:47
AM ET
Posted by ESPN.com's Kevin Seifert
DETROIT -- Greetings from a hushed Ford Field. We have a few of lineup changes to bring you as players start warming up:

NFL SCOREBOARD
Thursday, 9/25
Sunday, 9/28
Monday, 9/29
WEEKLY LEADERS