April, 26, 2012
4/26/12
11:27
PM ET
DAVIE, Fla. -- There is no bigger boom-or-bust prospect in the 2012 draft than former Texas A&M quarterback
Ryan Tannehill
. Is he the next prolific NFL quarterback, or simply a product of pre-draft hype that led to becoming a top-10 pick?
Opinions vary. But the
Miami Dolphins
believe they have the answers to the Tannehill question. Miami has more inside knowledge on Tannehill than any other team and drafted its quarterback of the future with the No. 8 overall pick Thursday night.
Tannehill will rejoin Dolphins offensive coordinator and former Aggies coach Mike Sherman, who says Tannehill is a star in the making. There are many critics who believe Tannehill is fool's gold, but the Dolphins are very confident they made the right choice.
"This was an all-in decision," Dolphins general manager Jeff Ireland said firmly. "From the football side, our scouts, our coaches ... we all felt very, very good about it."
Ireland hit the nail on the head. The Dolphins are betting the foreseeable future of the franchise on Tannehill -- for better or for worse.
If Tannehill develops into an upper-echelon quarterback, the Dolphins finally have the biggest piece to change their misfortunes. If Tannehill is a bust, it will set Miami back another three or four years.
"We're excited and thrilled," Dolphins owner Stephen Ross said of their first-round pick. "I've always said you need to be strong at the quarterback position, and now that's one of the strengths of this team. So I couldn't be happier."
The pick doesn't come without pressure. It's been 29 years since the Dolphins drafted a quarterback in the first round:
Dan Marino
in 1983. Those are some big shoes to fill.
It's also no coincidence Miami hasn't had a legitimate, franchise quarterback since Marino retired in 2000. The list of mediocre starting quarterbacks since included
Cleo Lemon
,
Joey Harrington
,
Trent Green
,
Jay Fiedler
,
A.J. Feeley
,
John Beck
and most recently
Chad Henne
. Tannehill will try to avoid being the next name on this infamous list.
Tannehill had only 19 career starts in college. There is a learning curve with Tannehill that isn't as steep for other top quarterback prospects like
Andrew Luck
and
Robert Griffin III
, who went No. 1 and No. 2 to the
Indianapolis Colts
and
Washington Redskins
, respectively.
The good news is Tannehill is not expected to play in 2012. Barring unexpected injuries to Miami veteran quarterbacks
Matt Moore
and
David Garrard
, Tannehill probably will hold a clipboard next season. This will provide Tannehill ample time to learn the NFL game.
[+] Enlarge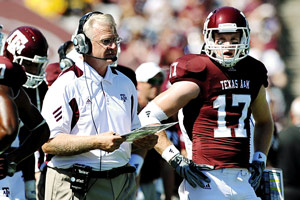 Icon SMIRyan Tannehill will be reunited with former Texas A&M coach Mike Sherman.
Dolphins rookie head coach and former Packers offensive coordinator Joe Philbin kept
Aaron Rodgers
on the bench for several years before he became a starter and it worked out fine. But that wasn't what Tannehill wanted to hear on draft day.
"I want to compete, that's just the competitor in me," Tannehill said in a conference call with the South Florida media. "Obviously with competition comes learning. It doesn't have to be a hostile competition. It's just competing."
Ireland said he's going to leave Tannehill's playing time next season up to the coaching staff. But chances are, we won't know much about Tannehill until 2013. The boom-or-bust talk will have to wait for at least a year.
But Tannehill's ceiling is high if things go right in Miami. It also doesn't hurt that the quarterback competition in the AFC East is not very stout. It's pretty much
Tom Brady
, and then there's everyone else.
Tannehill has the physical ability to potentially rise above the struggling quarterback pile in the division that includes
Mark Sanchez
,
Ryan Fitzpatrick
and
Tim Tebow
. If Tannehill becomes the second-best quarterback in the AFC East over the next two or three years, that's a huge advantage for the rebuilding Dolphins.
Remember this day, Dolphins fans. Tannehill is the draft pick that will either change Miami's misfortunes or extend the team's misery for several more years. The Tannehill mystery won't be solved overnight, but Miami feels it found the piece to eventually build this struggling franchise into a winner.
"I don't know if this energizes the fan base. What energizes the fan base is winning," Ross said. "I'm looking to field a winning team, because energizing a fan base only lasts a very short period of time.
"We're talking about winning in the long haul."
March, 23, 2012
3/23/12
9:52
AM ET
Some thoughts that came out of
Andrew Luck's
pro day Thursday at Stanford.
Luck

He confirmed he'll have a private session with Colts' officials at Stanford in early April, Mike Chappell of the Indianapolis Star reported. That explains why GM Ryan Grigson and coach Chuck Pagano didn't feel they had to be there.
Colts quarterback coach Clyde Christensen told Chappell the workout looked like Luck's game film, steady and solid. He also talked about Luck vs., Robert Griffin III: "I don't think you go wrong either way. You go back and forth and keep looking for something that you can put a little red mark, that they can't do this or can't do that, that maybe there's something (wrong) character-wise. And you can't find one on either kid."
ESPN draft analyst Todd McShay said the session was "surgical," and praised Luck's consistent ball placement that gets receivers right where he wants them.
Steve Young praised the athleticism and, especially, his feet. With Luck, the whole playbook will be open, "guard rail to guard rail."
Trent Dilfer said Luck's ability to make "off-platform throws" is unique.
RG3 had a great pro day too. Players are supposed to look great on their pro days. We're entering the season where we will begin to hear a lot about why the conventional thinking that Luck is a better choice than Griffin is flawed. It makes for compelling TV and reading. But I like what Matt Williamson from Scouts Inc. is saying. He loves Griffin and he loves the Redskins' trade to the second slot in the draft. But he says the Baylor quarterback has reached his ceiling, and that ceiling is No. 2 in the draft.
November, 3, 2011
11/03/11
3:16
PM ET
Peyton Manning
made an impromptu locker room appearance during the Colts' open locker room period Thursday.
The update he provided
to the media was not especially encouraging, but wound up in the same place a lot of previous updates did: He's waiting for positive signs.
Manning
"We're still waiting for the fusion to take place, it's still going slow with that and we still have some issues with the nerve and the regeneration of the nerve. There's really not a schedule, a timeline of where I am…"
"I'd say December is the next checkpoint, and February is another checkpoint. If I'm at a level where I'm cleared to practice, then the greatest venue to see where you are is on the practice field."
December will be the last chance to practice with the team and February is when Manning expects the Colts to decide on his contract option.
"It's a one-year deal with a four-year extension," Manning said of the contract he signed after the lockout. "Part of the reason to practice is so the Colts have a fair chance to evaluate where I am. The team has a right to know where you are physically and where your health is."
I believe Manning makes an appearance like Thursday's when he feels like he needs to reset the conversation, which has recently centered on whether he will be able to return for practice, his contract, whether the Colts would draft Andrew Luck and whether the Colts will stick with Jim Caldwell.
He expects the Colts will make their decision on that in February, which is surely why he listed the month as a key checkpoint in his recovery.
On questions about Caldwell and Luck, he did well to be direct about steering clear.
"Those are all fair questions," he said. "But that's not what I'm going to talk about right now."