April, 19, 2012
4/19/12
10:03
AM ET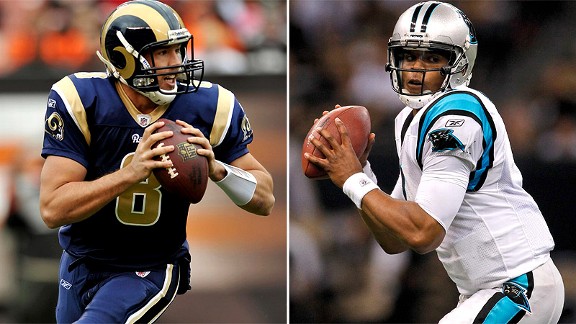 US PresswireSt. Louis' Sam Bradford, left, and Carolina's Cam Newton have helped change the thinking that a Heisman Trophy-winning quarterback won't be successful in the NFL.
There was a time -- like pretty much the last 50 years -- when a Heisman Trophy wasn't a very good thing for a quarterback to have on his résumé as he entered the NFL.
When Baylor's
Robert Griffin III
gets taken early in next week's NFL draft, he could be the latest piece in the trend of turning around the apparent curse on quarterbacks who won the Heisman. It has started to change only recently, but all of the sudden it's looking like the trophy isn't an anchor guaranteeing NFL mediocrity or obscurity for a quarterback.
Look back at 2010 winner
Cam Newton
. He was last year's offensive rookie of the year for the
Carolina Panthers
and set all sorts of rookie passing (and rushing) records. There's big hope in St. Louis that 2008 winner
Sam Bradford
can get back to the promise he showed as a rookie after struggling through a rough 2010 season. Then there's 2007 winner
Tim Tebow
. He couldn't throw spirals in Denver, but he won games. That at least created a market for Tebow to get traded to the
New York Jets
, where it remains to be seen if he'll ever be able to win the starting job away from
Mark Sanchez
.
But there's at least hope that Griffin, Newton, Bradford and Tebow can go on to have long and prosperous NFL careers. Before they came along, there were decades of evidence that suggested quarterbacks should just quit the game after winning the Heisman.
Remember
Troy Smith
,
Eric Crouch
,
Danny Wuerffel
, Charlie Ward and
Gino Torretta
? How about
Ty Detmer
,
Andre Ware
or Pat Sullivan?
They had little to no success in the NFL.
And remember Jason White?
I honestly did not at first. I had to go back and look up White, who won the trophy not all that long ago. He won it in 2003 while putting up some gaudy numbers at the University of Oklahoma. White didn't even get drafted and quit football altogether after a short training-camp stint with the
Tennessee Titans
. He never even played in a regular-season NFL game.
[+] Enlarge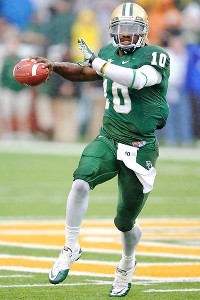 Jerome Miron/US PresswireRobert Griffin III threw for 4,293 yards and 37 touchdowns on his way to winning the Heisman Trophy last season.
Guys like White, Smith, Crouch, Wuerffel, Ward, Torretta, Detmer, Ware and Sullivan all had some things in common. In general, they were able to win the Heisman because they put up big statistics at programs where they were surrounded by elite players. They also had limitations -- usually in size, speed or arm strength -- that prevented them from being taken very seriously by NFL talent evaluators.
But those same evaluators also missed on some Heisman winners who seemed to have what the NFL wanted. Remember
Matt Leinart
?
He came from one of those football factories (USC), where he was surrounded by guys like
Reggie Bush
, but Leinart was supposed to be the one whose college success could transfer to the NFL. That's why the
Arizona Cardinals
drafted him in the first round. But Leinart was nothing short of a tremendous disappointment.
When he flopped, it looked like there really was something to the Heisman Curse.
Prior to Tebow, Bradford, Newton and Griffin, you've got to look at a list of 18 quarterbacks who won the Heisman before you find one who really made it big. You've got to go all the way back to Roger Staubach, who won it for Navy in 1963. He went on to have a great career for the
Dallas Cowboys
and earned a spot in the Pro Football Hall of Fame. Since Staubach won the Heisman, other quarterbacks have had to settle for just getting into the College Football Hall of Fame.
Sure, there have been a few Heisman winners to come out and have some success. Jim Plunkett won two Super Bowls, but his career didn't really take off until he landed with the Raiders after mediocre stints in New England and San Francisco.
Vinny Testaverde had an extremely long NFL career and the longevity led to some impressive career statistics. But Testaverde never had the kind of career so many people imagined when he was coming out of the University of Miami and taken No. 1 overall by the
Tampa Bay Buccaneers
in 1987.
Guys like Steve Spurrier and
Doug Flutie
bounced around and had some success. Then there's
Carson Palmer
, who has had some bright moments, but still is trying to fully live up to the Heisman hype.
But Newton, Griffin, Tebow and Bradford finally might be able to put a stop to the near-half-decade drought of Heisman Trophy winners truly excelling in the NFL.
"Cam Newton is the best thing to ever happen to Robert Griffin III,'' former NFL quarterback
Chris Weinke
said as we discussed this year's crop of quarterbacks back in February. "Just like
Drew Brees
is the best thing to happen to [Wisconsin draft prospect Russell Wilson]. Cam showed that a big, athletic quarterback that can run can be great in the NFL. Brees showed that a guy that's not 6-foot-4 or 6-foot-5 can throw for 5,000 yards in an NFL season. We all know the NFL is a copycat league. Cam's success and Drew's success helps the draft stock of guys like Robert and Russell.''
Ironically, Weinke's name is another one on that
Heisman list
. His story might be the most unique of all the Heisman-winning quarterbacks. Weinke enrolled at Florida State after giving up a minor-league baseball career. He won the Heisman in 2000 and seemed to have the talent of a classic drop-back passer, but the fact he would turn 29 in his rookie training camp, pushed him into the fourth round of the 2001 draft. The Carolina Panthers took him and he started under coach George Seifert as a rookie, but never could quite won over John Fox, who took over the next year.
Weinke spent the next five seasons as a backup in Carolina and finished his career in 2007 with San Francisco.
These days, Weinke has carved a niche as a quarterback guru. He is the director of football operations at IMG Academies in Bradenton, Fla. He has worked extensively with Newton and some other quarterback prospects over the past few years.
Weinke says he's seen the game change just since his playing days ended. Like just about everyone else, he says the NFL has become more driven by quarterbacks. He says natural talent is a prerequisite for NFL success and he points to guys like Newton and Griffin, saying they could be a new prototype. And he goes back to his point about the NFL being a copycat league.
"People are always looking for what works,'' Weinke said. "Cam obviously had a fantastic rookie season. So people look at Robert and say he can do the same thing because the skill sets are similar.''
For Griffin, Newton and Bradford -- and perhaps even Tebow in his own way -- maybe the skill sets are so good that it no longer matters if a quarterback is lugging around a Heisman Trophy.
April, 25, 2009
4/25/09
5:58
PM ET
| | |
| --- | --- |
| | |
| | James Lang/US Presswire |
| | Lions fans do not seem to be thrilled with Detroit's decision to select Matthew Stafford with the No. 1 overall pick. |
Posted by ESPN.com's Kevin Seifert
ALLEN PARK, Mich. -- I watched in amazement Saturday afternoon as Matthew Stafford became the first player in recent memory to get booed as he walked onto the NFL draft stage as the No. 1 overall pick. I blinked a few times when I saw the photo of two Detroit fans with bags over the head -- AFTER they learned Stafford was the Lions' pick.
Maybe I shouldn't have been as surprised. Lions fans haven't held back on their preference for Wake Forest linebacker Aaron Curry. For weeks, I've been getting messages like this one from Adam of Iowa:
"I am a big Lions fan, and I have yet to understand, at any level, why the Lions would draft Stafford. And I'm also getting incredibly sick of listening to all of the experts talk about how Stafford is clearly the best choice for the Lions. These people are all clearly brain-dead. The last thing Detroit needs right now is an over-priced, backup QB who will have zero impact on the 2009 and possibly 2010 seasons. When there are much better players available, why would they consider rolling the dice with a young QB who has shown plenty of flaws throughout the draft process??? If Matt Millen were still in charge, he would be crucified for looking at taking another QB!!! I guess the apple doesn't fall that far from the tree...... Aren't you in Detroit right now? Can you sneak a peek into the draft room and see if Millen is still there??? Let me know."
I am in Detroit, Adam, but they won't let me anywhere near the draft room. One piece of evidence suggests that Millen is nowhere close to here: The Lions didn't draft a receiver.
Seriously, we've hashed through Stafford's perceived shortcomings quite thoroughly on this blog. And so the beauty of Saturday was that Lions officials finally got an opportunity to sell us on why they liked him. What makes Stafford so special?
Lions coach Jim Schwartz called Stafford's throwing motion "classic," which we've heard from many people. Schwartz noted Stafford's ability to step in as a freshman starter at an SEC school. General manager Martin Mayhew said Stafford convinced him by "the way he carried himself" and "how smart he was about the game."
But the most telling explanation I heard came when Schwartz related how Stafford performed during a spring film session. Here's how Schwartz put it:
"We said, 'Before we start watching this game and you start talking us through it, why don't you tell us a little about the game?' He started saying, 'Oh I remember this. The first play of the game we wanted to take a shot. We went 'Twins right demon' and threw an 18-yard pass over the right side.'

"And he started talking through the whole game extemporaneously. We didn't tell him we were going to watch that game. It reminded me of golfers who can tell you every shot they made in a game. We actually had high school film of him when he was here for his visit. He could tell me everything that was getting ready to happen in those games. That kind of recall, that kind of intelligence, was the thing that was most interesting."
You could make an argument that a successful NFL quarterback has three primary characteristics:
The necessary physical tools, from a strong arm to at least nimble feet.
A deep understanding of the game to facilitate sound decision-making.
A personal makeup that makes both a natural leader and relatively impervious to adversity.
Most everyone agrees on No. 1 for Stafford. There have been questions about his 57.1 career completion percentage at Georgia, but Schwartz said a careful observer would discount his middling performance as a true freshman and note Stafford's annual improvement in that area over his three seasons (52.7-55.7-61.4). "We like the fact that we saw improvement from a year-to-year basis," Schwartz said.
Obviously, Schwartz is more than satisfied about No. 2. And as far as No. 3 goes, Schwartz related a story about walking to dinner with Stafford this spring near the Georgia campus.
"It was amazing," Schwartz said. "Every person that passed him on the street all did a double-take and looked and said, 'There goes Matt Stafford.' When grown men are following you around, following us into the restaurant.... He's used to that kind of scrutiny and that gave us a comfort level, too."
Nothing Stafford has experienced can compare to what he is about to step into. The Lions haven't had a Pro Bowl quarterback since Greg Landry in 1971. There have been countless attempts at finding another one, from Andre Ware to Rodney Peete to Joey Harrington. Even that abbreviated list is enough to understand why Lions fans are so skittish about the pick. But now you have at least a little bit of an idea why the Lions are not.
NFL SCOREBOARD
Thursday, 9/4
Sunday, 9/7
Monday, 9/8