NFL Nation:

Andrew Caldwell
August, 27, 2014
8/27/14
7:30
AM ET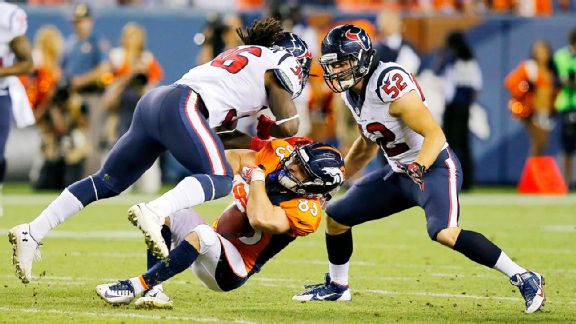 AP Photo/Jack DempseyWes Welker suffered yet another concussion after taking this hit from D.J. Swearinger.
ENGLEWOOD, Colo. -- For most of
Emmanuel Sanders
' NFL career, he has done his business as a wide receiver in that high-impact, high-traffic area where slot receivers roam.
So he knows what
Wes Welker
goes through in the
Denver Broncos
' high-powered offense and knows what it will take to adjust if Welker misses time in the regular season because of a concussion suffered just before halftime in this past Saturday's preseason loss to the
Houston Texans
.
"It's different," Sanders said. "I've played slot every year that I've played football except last year was my first year on the outside. It's a different game. On the outside, you just have to beat one man, really, and that's because they play man-to-man. Whereas in the slot, it's more zone. You have to avoid linebackers, you have to avoid safeties, you have to sit down in the zone and that's where the big hits can come from. Whereas on the outside, they'll come, but they're not going to come as much as in the slot."
Welker, who also suffered concussions Nov. 17 against the
Kansas City Chiefs
and Dec. 8 against the
Tennessee Titans
last season, is currently under the guidelines of the league's concussion protocol. The Broncos don't have a timetable for his return, but under those guidelines to return to full participation in a practice by next Friday -- two days before the Sept. 7 regular-season opener -- Welker would have to be symptom free by Monday.
Welker would also have to be cleared for a return to the field by an independent physician, designated by both the NFL and NFL Players Association.
[+] Enlarge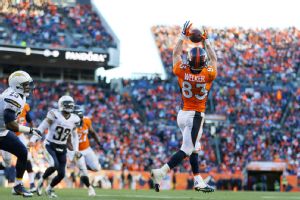 Justin Edmonds/Getty ImagesWes Welker had 73 catches for 778 yards and 10 touchdowns with the Broncos last season.
"He's doing fantastic in the process," said Broncos head coach John Fox, following Tuesday's practice. "We'll take it one day (at a time), and another positive day today."
In their offense, much like how the
Indianapolis Colts
' offense looked with
Peyton Manning
behind center, the Broncos' bread-and-butter plays are the crossing routes, both shallow and deeper down the field, to go with the big-play shots that come down the seam.
With Welker having suffered three concussions in 10 months in the Broncos' offense, offensive coordinator Adam Gase said he would look at how the team is using its slot receivers to see if they are being put in harm's way more often. But Gase also said he didn't believe that to be the case on the play when Welker was injured.
"I think we'll take a look at our route concepts and see what we need to tinker with and maybe why something like that happened," Gase said. "If we have to make an adjustment, we will. If he came to me and said something about a certain route he didn't feel comfortable (with), we would make an adjustment. For right now, I feel like our scheme is pretty good. What happened, like Coach Fox said, it's a football play, and those things happen sometimes."
In their three-wide receiver set, their base formation, they'll line various receivers in the inside slot positions on either side of the formation. But players such as wide receiver
Demaryius Thomas
, Sanders and tight end
Julius Thomas
will line up plenty on the outside, as well.
By contrast Welker will line up on a smattering of snaps on the outside, but he works almost exclusively from the slot. Last season, for example, seven of Welker's 10 scoring receptions came on plays in which he started in the slot. And a look at the game video shows just over 50 of Welker's 73 receptions last season as well as almost 700 of his 778 receiving yards came on plays in which he was lined up in the slot. So, if Welker misses any significant time, it will take some adjustment in the team's offense.
"We're able to move pieces around and still do a lot of the same things that we've done," Gase said. "We don't really teach by position, so everybody can move in and out."
Sanders would certainly get more work as a slot receiver, as would tight end
Jacob Tamme
, but at varying points in training camp the Broncos have given all of their receivers some routes from the slot. Tamme gives the Broncos the option of sticking to a three-wide concept with a little more size in the formation. It's a formation that, at times, forces defenses to go a little bigger because the Broncos are in a two-tight end look.
The Broncos will also use rookie
Cody Latimer
, especially in some of their red zone packages, because of Latimer's size and ability to win the ball in contested situations -- "I felt like that was a strength of mine in college and want it to be in the NFL," he said. Whatever the personnel, the Broncos won't dial back how much, or where, they throw the ball. They'd certainly like to have Welker in the lineup, but believe they have insurance for the loss if they don't.
"If he's not there Week 1, then guess what? Other guys have to come in and step up," Sanders said. "Guys like myself, Demaryius Thomas, everyone has to come together and make this team better and it really doesn't matter who's on the field. ... We work our butt off and we have Peyton Manning as our quarterback, so everything is looking really good. Wes will be back and strong."
February, 15, 2014
2/15/14
7:00
AM ET
With the NFL's scouting combine just around the corner and free agency set to follow on March 11, today marks the third installment of a position-a-day look at where the
Denver Broncos
stand at each spot on the depth chart, the salary-cap commitments and where their needs are greatest.
Today: Wide receivers.
[+] Enlarge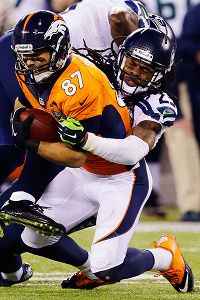 AP Photo/Julio CortezFree agent Eric Decker will have to weigh an opportunity to stay with a winner in Denver against likely higher offers from rebuilding teams.
One thing quarterback
Peyton Manning
believes is a necessity as he works through the to-do list on offense is familiarity with the receivers. It's clear how much he believes that every time he says it takes "years" to really build the comfort level it takes to have an elite passing offense.
Well, coming off a season when three Broncos wide receivers caught at least 73 passes to go with at least 10 touchdowns, the team has at least some uncertainty among the pass-catchers and there likely will be change at the position in the coming weeks and months.
The Alpha:
No doubt here; it's
Demaryius Thomas
, who has officially moved from enormous-potential status into the league's upper crust at the position. He led all wide receivers in the league last season with 14 touchdown catches -- only Saints tight end
Jimmy Graham
had more -- and was the only wideout in the NFL to finish with at least 90 receptions and at least 15 yards per catch. He also was one of the few Broncos to battle his way to at least some production in what was otherwise a dismal Super Bowl loss. He finished with 100-yard games in five of the last seven outings in the regular season to go with two of the Broncos' three postseason games.
Salary cap:
The Broncos have just two receivers from their 53-man roster of 2013 under contract for 2014: Thomas and
Wes Welker
. Welker, because of a $3 million base salary to go with a $3 million roster bonus, checks in at a cap figure for $8 million in '14, which is the fourth-highest cap figure on the team at the moment. Thomas' cap figure is $5.031 million.
Pending free agents:
The Broncos will have to weigh the needs of the present against the demands of the future at this position.
Eric Decker
, with back-to-back 1,000-yard seasons with Manning at quarterback, is an unrestricted free agent in the coming weeks.
But Thomas will be an unrestricted free agent after the 2014 season. The Broncos are going to have to weigh just how much of an offer they can make to Decker now and still commit what they likely will have to commit to Thomas to keep him in the future.
Andre Caldwell
, who finished with three touchdowns among his 16 receptions this past season, is also an unrestricted free agent.
Who could stay:
Caldwell could fit the balance of production/financial commitment the Broncos are looking for from him. They like the veteran's work, and Manning showed he was willing to throw it to Caldwell in almost any situation, including the scoring zone. The Broncos likely don't see Caldwell as more than a No. 4 receiver at this point, but, if the price is right, they would look at bringing him back.
Who could go:
Decker is another matter. Sure, Decker would like to stay, and he has said as much, but a player's best crack at unrestricted free agency is usually the first one. And this is likely one of the few chances Decker will have in the open market with some bargaining power.
Many personnel people see him as a high-quality No. 2, but Decker representatives, on the heels of those back-to-back 1,000-yard seasons with Manning at quarterback, will head into the bidding looking for No. 1 money. That might leave Decker with a decision for a bigger contract for a team that is rebuilding or simply with much less certainty on offense as opposed to considering whatever the Broncos offer him, which is not expected to be what he could get elsewhere.
From the Broncos' perspective, they're going to be selling the potential for success. From Decker's, he's certainly hoping a playoff team elsewhere will see him as a fit. However, it's clear several folks around the league who make the call on such matters noticed Decker's one-catch Super Bowl.
What they like/want:
They'll be looking to add at least one receiver with size and athleticism to go with a physical edge to get off bump coverage. The book on the Broncos' receivers as the season wore on, especially in the Super Bowl, was they could be flustered and knocked out of their game by physical play.
The Broncos also need their pass-catchers to be savvy enough to handle all of the changes the team makes at the line of scrimmage and still be willing to roll up their sleeves to get away from the defensive backs when it's time to get into the pattern.
Need index (1 is low priority, 5 the highest):
4
They are going to have to give the position some attention. Their down-the-road plan took more than a little hit when their gamble to try to keep
Tavarres King
, a fifth-round draft pick in the 2013 draft, on the practice squad failed.
The Broncos briefly promoted King to the roster to keep the
Green Bay Packers
from signing him off of their practice squad in October. The Broncos then tried to get King through waivers a little more than a week later when
Von Miller
was set to return from his suspension, but the
Carolina Panthers
claimed King. King was at least expected to be part of the plan at the position moving forward. The Broncos just felt as if he had gotten a little too entitled as training camp drew to a close and a roster spot looked like a possibility, so they wanted him to work on the practice squad to settle him in a little more. They also kept 11 defensive backs at that time, as well as three quarterbacks, limiting their ability to keep another receiver out of camp.
So, they likely will have to dive in at the draft. A team that runs three wide quite a bit more than 70 percent of the time has just two receivers under contract who have started an NFL game.