June, 14, 2011
6/14/11
1:00
PM ET
Jake Long
or
Joe Thomas
?
It's like deciding between
Tom Brady
and
Peyton Manning
. They're both elite. You can't go wrong with either pick.
But when you belong to ESPN.com's prestigious Power Rankings syndicate, you have to make tough choices.
In this week's left tackle poll, Thomas edged Long by one point. Long was listed first or second on each of the eight division bloggers' ballots. Three of them, including me, placed Long on top. Thomas received one third-place vote, but amassed five first-place votes to come out ahead.
The ballot I submitted:
Jake Long, Dolphins
Joe Thomas, Browns
Jordan Gross, Panthers
Michael Roos, Titans
D'Brickashaw Ferguson, Jets
Ryan Clady, Broncos
Chad Clifton, Packers
Donald Penn, Buccaneers
Doug Free, Cowboys
Andrew Whitworth, Bengals
Choosing between Long and Thomas is splitting hairs. They've been selected for the Pro Bowl every season in the NFL and are the reigning first-team All-Pros. Thomas was the third overall draft pick in 2007, Long the top choice in 2008.
But I gave Long the edge because of the circumstances he has dealt with in Miami.
Thomas has benefited from playing alongside reliable and steady left guard
Eric Steinbach
all four years. Steinbach has started 62 of a possible 64 games. For the past two seasons, first-round pick
Alex Mack
has shined, going to a Pro Bowl last year.
Long has had no such luxuries. He has played next to five left guards in his three seasons:
Justin Smiley
,
Andy Alleman
,
Nate Garner
,
Richie Incognito
and
Pat McQuistan
.
The Dolphins have been just as dicey at center. They should have their fourth different opening day starter in four years after drafting Florida center
Mike Pouncey
. They've used five centers the past three seasons.
Long also played at an All-Pro level last season despite a shoulder injury that had some wondering if he should shut it down.
New England Patriots
fans might be wondering why I didn't include
Matt Light
on my ballot. While he did go to the Pro Bowl as an alternate last year, Stats Inc. blamed him for 10 sacks for 78 yards in losses and four penalties -- all more than his previous two seasons combined.
February, 22, 2011
2/22/11
10:49
AM ET
With the offseason in full swing, let's take a look at one major question facing each AFC South team as it begins preparations for the 2011 season:
HOUSTON TEXANS

How do they fix the secondary?
New defensive coordinator Wade Phillips is charged with repairing and revitalizing a defense that was 30th overall and dead last against the pass. His 3-4 front will alter a lot of things and the Texans will need to add some personnel to fill it out. Better work up front will ease some of the pressure on the defensive backs, but they will need more than that.
We don't know when -- or even if -- there will be free agency. But the Texans need to make a big splash with a veteran outsider.
Nnamdi Asomugha
or
Champ Bailey
could knock every one down a peg at corner, shut down a side of the field or a primary receiver and help transform things. A veteran free safety like
Eric Weddle
could provide a big boost as well.
If the Texans think the pass defense can be fixed by coaching and will improve dramatically with a scheme and maturing kids, they're overestimating what they've got, again.
INDIANAPOLIS COLTS

Are they going to take action to address the offensive line?
We've heard for years about how the Colts would get better at converting that tough third-and-1 in the run game. We saw Bill Polian drop
Ryan Lilja
after pointing to the offensive line as a reason for the loss in Super Bowl XLIV. We heard Polian admit
Rodger Saffold
could have been a solution for the Colts at left tackle.
Now, as
Peyton Manning
heads into the final stretch of his prime, the Colts need to move from talk to action with regard to the offensive line. After last year's comments, Polian added middling free agents
Andy Alleman
and
Adam Terry
and drafted
Jacques McClendon
in the fourth round. Only McClendon stuck and he did nothing.
Getting Manning more time for things to develop downfield and creating more of a push for ball carriers means investing at least one premium draft pick and landing at least one quality veteran via free agency or trade when those windows open. The Colts don't have to find Hall of Fame linemen. But there is a lot of room between some of the guys they've been relying on and that level of talent.
They're overdue to follow through with a real revamping.
JACKSONVILLE JAGUARS

How do they fix the secondary?
With four games a season against Manning and
Matt Schaub
, the Jaguars are woefully unprepared to face them with what they've got at safety. Last season, Jacksonville spent its first four draft picks on defensive linemen. This season, they'd be wise to put a similar emphasis on the secondary, and safety in particular.
Ideally they'd have drafted an up-and-comer to go with a veteran brought in from the outside -- someone like Weddle,
Dawan Landry
,
Quintin Mikell
or
Donte Whitner
. They've already had Bob Sanders in for a look. While depth at cornerback is also an issue, I suspect
Rashean Mathis
,
Derek Cox
and
William Middleton
will all look a lot better if they are playing with safeties who are superior to
Don Carey
and
Courtney Greene
.
They've got a big question at quarterback, too. It's time to draft and develop a signal-caller with more upside who can be more consistent than
David Garrard
. But they contended last season with Garrard. It's possible they can make a playoff push with him under center -- provided they address the secondary.
TENNESSEE TITANS

Who's the quarterback?
There couldn't be a worse time to be uncertain at the position, and the Titans' depth chart at the spot currently has blanks at starter and backup. Blame it on Bud Adams and his love affair with
Vince Young
.
New coach Mike Munchak and his offensive coordinator Chris Palmer don't really know what they will be able to do offensively, because they do not know who they will be asking to do it. General Manager Mike Reinfeldt has said the team will find a veteran and use a draft pick. But if the draft comes before free agency and trades, it will be more difficult to be patient and to take more of a project guy out of college. It's not a good year to need a quarterback in the draft, and the scouting department will have to show it can find someone in the group who will develop into a franchise guy.
Once they do, they could look to make a big move for
Kevin Kolb
,
Carson Palmer
,
Kyle Orton
,
Matt Flynn
or any number of veteran options they believe could operate an offense that will remain run-centric keyed around
Chris Johnson
.
September, 13, 2010
9/13/10
12:11
PM ET
The mailbag is filling up with notes from panicked Colts fans.
The gist of their questions: Isn't it time for the Colts to make a move to get one of the disgruntled offensive linemen out there:
Marcus McNeill
or
Logan Mankins
?
Sure, if the Colts found them a system fit, adding either would give a big boost to the offensive line.
But it's uncharacteristic for the Colts to go outside looking for help. Those guys would be costly, and making a move would amount to a concession that Indy underestimated its offensive line issues.
[+] Enlarge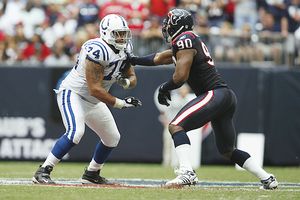 Aaron M. Sprecher/Icon SMIColts tackle Charlie Johnson, shown here last season working against Mario Williams, might be better off moving inside and playing guard.
That's the confusing part of this.
Bill Polian was quick to say the offensive line was a primary issue in the Super Bowl loss to New Orleans.
But the Colts did little to fix it. Left guard
Ryan Lilja
was released. Two street free agents,
Adam Terry
and
Andy Alleman
, didn't stick. Only one of eight draft picks was spent on an offensive lineman, and
Jacques McClendon
was not active in Houston.
The Colts couldn't do major free-agent shopping because the CBA limited the top teams' ability to do so.
Still, with the head honcho saying it was a concern, it sure seems like the Colts could have done more on the line to ensure better protection and better run blocking.
On a bad foot,
Charlie Johnson
put forth a courageous effort against
Mario Williams
. But Johnson's not cast as a left tackle by a lot of personnel folks. If Indy had a franchise left tackle, Johnson would likely be better as a guard. Polian missed on
Tony Ugoh
in 2007. The guy they hoped to be the heir to
Tarik Glenn
was waived/injured and is now on IR.
Putting
Peyton Manning
at risk is a dangerous game. He was face down on the turf, an official checking on him after one hit. He bounced up. But will he always? He absorbed two sacks, eight additional hits and stuff that didn't register in the stat book.
The guys the Colts do have will play better. Manning can continue to get the ball out quickly and make pressure less of an issue.
Joseph Addai
can make the most of what's there. Not every team has a Williams-like threat to mess things up.
In Sunday's loss, the Colts didn't choose to go with two tight ends very often, leaving Johnson mostly on his own. Put tight end
Brody Eldridge
in to help the way I imagined and you're taking one target out of the arsenal. Maybe the Colts do that more if they find it necessary. The choice at Reliant Stadium was to throw it more quickly with more options running routes.
I don't expect Polian to be making calls about McNeill or Mankins Monday.
Polian talked before camp about throwing all the linemen in a pot and seeing who came out as the best group. Injuries to
Jeff Saturday
, Johnson and others made that system more difficult and there was no time to build continuity with the five who started against the Texans.
Still, today, I can understand why Colts' faithful are wondering today why there wasn't more in that pot.
August, 12, 2010
8/12/10
12:09
PM ET
ESPN.com NFL Power Ranking
(pre-camp): 1
ANDERSON, Ind. -- They could have made a bid at an undefeated regular season and their hopes for a Super Bowl win were snuffed out by an onside kick and an untimely pick.
So it should concern the rest of the AFC South that the 2010
Indianapolis Colts
appear to be better than last year's version.
They get two high-quality players, who were injured for most of last year, back in safety
Bob Sanders
and receiver
Anthony Gonzalez
. The Colts added a third edge rusher and a blocking tight end in the draft.
"Coach [Jim] Caldwell wants us to be a consistent team and not one that plays really well one week and not one that goes into a slump the next couple of games and then comes back,"
Peyton Manning
said. "I think we have been pretty consistent. Our offseason work, our execution and our attention to detail in training camp make a difference.
"But what has happened in the past doesn't guarantee you anything for this 2010 season. We have some new players, new coaches and it is up to us to go out and form the identity of his team and to go out and try to win games this season."
THREE HOT ISSUES
[+] Enlarge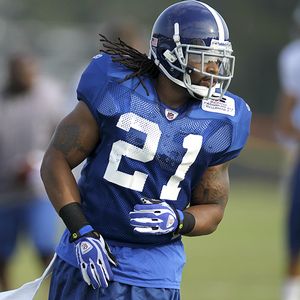 AP Photo/Darron CummingsBob Sanders doesn't plan on changing his style to avoid injuries. "It's a physical game," he said. "I make tackles."
1. Can Sanders stay on the field?
The thing that makes him so good is the same thing that makes him so injury prone. He throws himself around like a torpedo, and suffers the consequences. He's upbeat and happy right now to be spending his time on the field and with coaches and teammates instead of in the training room with medical staff.
"I don't think you can put yourself in less danger on the field," Sanders said when I asked if there was any way he could be less reckless to try to preserve himself. "We're football players so we're going to be physical. It's a physical game. I make tackles. You just never know what's going to happen. You just have to play your best, hope for the best, I pray and put it in God's hands and just try to do my job."
When he's out there, he'll be more creative than when we last saw him playing consistently. Second-year defensive coordinator Larry Coyer is much more willing to blitz than Ron Meeks was.
As good as
Melvin Bullitt
's been as Sanders' replacement, Sanders is a game-altering presence when he's out there. Sanders is making plays in camp. If he's out there, the Colts' defense could be fantastic.
2. Will offensive line changes amount to an upgrade?
Left guard
Ryan Lilja
was let go, so at least one spot will be filled by someone new.
Tony Ugoh
looked like the early choice, but he's been pulled back to tackle to work for the injured
Charlie Johnson
, so
Jamey Richard
is in play. Richard might shift to center while
Jeff Saturday
recovers from a knee scope, which could open the door for rookie
Jacques McClendon
, if he's healthy, or someone like
Jaimie Thomas
.
The talent pool now includes McClendon and tackle
Adam Terry
, but there was no overhaul. Pass protection combined with Manning's ability to get the ball out quick meant few sacks, but the team needs to run better for balance. Short-yardage bugaboos have been a factor in season-ending losses the past two years.
New offensive line coach Pete Metzelaars has a chance to make minor alterations that could have a bearing, and a quality-blocking tight end like
Brody Eldridge
could even help revive the once bread-and-butter stretch play.
[+] Enlarge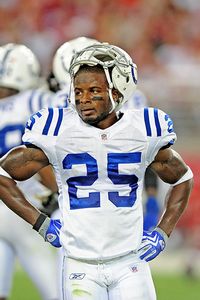 Mark J. Rebilas/US PresswireSecond-year cornerback Jerraud Powers had 66 tackles, a forced fumble and an interception during his rookie season.
3. Will secondary depth hold up?
Bill Polian purged the roster of some injury-prone corners, then saw third-round pick
Kevin Thomas
go down shortly after the draft with a serious knee injury.
Kelvin Hayden
,
Jerraud Powers
and
Jacob Lacey
should be a fine top three, but if one gets hurt,
Deshea Townsend
or
Marcus McCauley
, who were available recently, could be the next option.
If the Colts have to go that deep down the depth chart, their pass rush will be even more vital. But how many teams would love for the fourth cornerback to be a primary issue heading into a season?
BIGGEST SURPRISE
It's hard to find them with a very low-key team that drafts and grooms the bulk of its players. Polian's harped on short-yardage failures, but then the team didn't add a sure fire starter to the line with
Andy Alleman
(already gone), Terry and McClendon.
BIGGEST DISAPPOINTMENT
Before the Colts could start to sort things out, injuries dictated they move offensive linemen around. Saturday is out 2-6 weeks after a knee scope, and Johnson and McClendon are sidelined. It would have been nice to see Metzelaars have a full deck for a long stretch in order to best hold competitions and compare and contrast players. The sooner they resolve the lineup and start to build cohesion, the better. Now it's probably going to be later than would be ideal.
OBSERVATION DECK
[+] Enlarge

AP Photo/Darron CummingsExpect more surprises out of Larry Coyer's defense this season.

In Year 2 of Coyer's tenure as defensive coordinator, I expect the Colts will be more exotic with an occasional surprise look or package -- perhaps most often utilizing their depth at safety where Sanders, Antoine Bethea and Bullitt make for three starting-caliber players.

While the defensive line shows fantastic speed and strength, Mitch King looked the least smooth during the drill in which linemen weave through blocking dummies, turn a corner and try to strip a quarterback. For those excited about him, an adjusted timetable might be advisable.

As the punter and kickoff man, Pat McAfee is electric. But teams in the market for a kickoff specialist might want to keep an eye on Garrett Lindholm, who looks like he can regularly put the ball in the end zone.

Powers carries himself exceptionally well. During a break in one practice, as most guys went to the cool-down tent or took themselves out of football mentality for a minute, he picked the brain of Reggie Wayne. Powers already has become a media favorite, too.

Manning could make good money if his only job was to put on clinics about how to best loft red-zone passes to the pylons in the back corners of the end zones.

Joseph Addai knows what he's doing on every play, and Donald Brown is smart enough to follow his lead, though Brown doesn't shine in pass protection one-on-ones versus linebackers. The Colts will be just fine if the line can block for the runners, and maybe even if it can't. Brown's had more than a year to get pass protections down. If that keeps him off the field any this year, it's no one's fault but his.

Better didn't mean great for the interior defensive line in 2009. Daniel Muir and Antonio Johnson continue to improve, and Fili Moala will make for a third 300-pounder in there. He appears to be comfortable and ready to contribute.

The Colts haven't emphasized the return game and, at times, it's felt almost like they de-emphasized it. But undrafted rookie Brandon James is a miniature speedster who is in position to win at least the punt-return job. He could give Manning and the offense a short field once in a while.

John Chick, who joined the Colts from the Canadian Football League, could win the fourth defensive end spot if he shows a good learning curve and durability.
May, 27, 2010
5/27/10
4:06
PM ET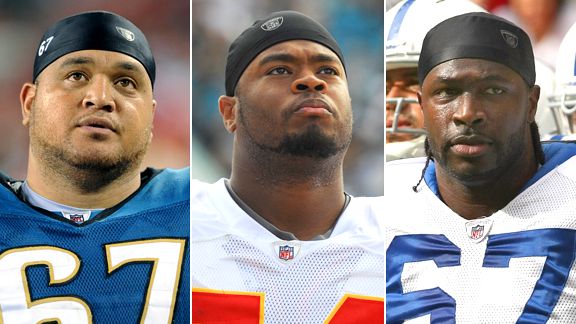 Getty ImagesVeteran offensive linemen Vince Manuwai, Wade Smith and Tony Ugoh are expected to take on different roles or positions this season.
Be it running up the middle or stifling pass-rushers coming that way, the AFC South's looking for change on interior offensive lines heading toward the 2010 season.
The
Tennessee Titans
, who blocked for just the sixth 2,000-yard rusher in league history, have made an alteration. The
Indianapolis Colts
, the defending AFC champs who allowed a league-low 13 sacks, are auditioning interior candidates. The
Houston Texans
and
Jacksonville Jaguars
both identified the interior line as an area in need of improvement, too.
Yet of 32 draft picks by the four teams, just two were used on offensive linemen -- a fourth-rounder by the Colts for guard
Jacques McClendon
and a sixth-rounder by the Texans for guard
Shelley Smith
. And only three veteran additions seem like they can influence the mixes --
Justin Smiley
in Jacksonville,
Wade Smith
in Houston and
Andy Alleman
in Indianapolis.
Said Matt Williamson of Scouts Inc.: "Didn't
anyone
in this division address the interior offensive line during the draft with any pick of substance? That seems odd."
So here's a team-by-team look at what's going on inside, with some thoughts from Williamson:
Jacksonville
The Jaguars appear willing to have true competitions to hash things out.
Last year's interior trio of left guard
Vince Manuwai
, center
Brad Meester
and right guard
Uche Nwaneri
is back. But the team is willing to shuffle, and at least two others are in play now as well -- Smiley, a guard acquired recently from Miami in a trade for an undisclosed draft pick believed to be a conditional seventh, and
Kynan Forney
, a backup guard last year.
At minicamp the weekend following the draft, Jags head coach Jack Del Rio and offensive line coach Andy Heck had flipped Manuwai to the right side, figuring he and right tackle
Eben Britton
are the team's best run-blockers. With the aid of tight end
Marcedes Lewis
and fullback
Greg Jones
, the Jaguars could send
Maurice Jones-Drew
that direction and dare people to stop it.
But at organized team activities (OTAs) this week, Manuwai wasn't working with the starters and Del Rio was talking about how the torn ACL the guard suffered back in the season opener of 2008 was still a factor for him.
"I think he's still a little bothered by that but at some point you've got to get beyond that and go and he knows that," Del Rio said. "I think Vinny still has a ways to go. I think Vinny's working at it. He's got his weight down. He's trying but he needs to play better. I think he knows that. He's working hard it and trying …
"We clearly [come] out of last year saying, 'Look, we've got to have better play with our line, period,' and our two young tackles [
Eugene Monroe
and Britton] we know are going to grow and get better but our interior line needs to pick it up as well. And they are working at it and they are challenging and competing and we expect them to play at a much higher level for us."
I honestly think it's wide open, but I'd be very surprised if Manuwai, who can be a very effective run-blocker, isn't in the starting lineup for the opener against Denver.
Williamson says
: "Adding Smiley could pay dividends, as this offensive line (especially on the interior) really was a problem area last year. Their protection up the gut was really poor. While I have some real doubts any more about Meester, I do like Manuwai quite a bit and expect more from him this year."
Houston
The Texans' run troubles were in large part because of their backs. But they lost guards
Chester Pitts
and
Mike Brisiel
early and it's a tough order for any team to replace 40 percent of its line and keep plugging.
Steve Slaton
had a miserable year as he tried to deal with a neck injury, couldn't hold onto the ball and wound up on injured reserve.
Pitts is a free agent who won't be back and Brisiel has been working as a backup so far in OTAs. The team's lined up with
Kasey Studdard
at left guard,
Chris Myers
and at center and
Antoine Caldwell
at right guard. But Smith's been rotated in some early at center.
With offensive line guru Alex Gibbs gone, the team will still be using his principles. But the three remaining coaches who oversee the position -- John Benton, Frank Pollack and Bruce Matthews -- may have fresher eyes and a willingness to shuffle. And odds are it's second-round pick
Ben Tate
getting many of the carries behind that line.
We should see some real competition for all three slots. I've repeatedly hear good things about Myers. And because Caldwell was a third-rounder, I expect the team would probably like to see him stake a claim.
Gary Kubiak said Studdard and Caldwell have earned the right to say they are starters "right now."
"We are as competitive in there as we've ever been as a team," Kubiak said. "It's going to be hard to hold a job, and it's going to be very competitive to get one. So that makes the team better."
Williamson says:
"I thought Myers played real well and he is an excellent fit in this system. Their interior offensive line is loaded with no-name guys, but overall they are well coached and effective enough. Still, an upgrade at one of the starting guard spots would have been a real nice addition. … Smith is an ideal sixth guy, but not a liability as a starter."
Indianapolis
The Colts paid him a bonus, but still cut
Ryan Lilja
who seemed pretty effective to me at left guard last season. Team officials have worked hard to deflect the idea the Colts made the move because they want to be bigger on the line. But it's a sensible time for a change with Pete Metzelaars taking over for Howard Mudd as line coach and the team looking to be more effective in clutch third-and-short situations and the like.
Tony Ugoh
, who lost out at left tackle, has worked at left guard in recent offseason practice sessions.
Jeff Saturday
is entrenched as
Peyton Manning
's guy at center.
Kyle DeVan
is the incumbent right guard, who came out of nowhere last season.
Presuming no other tackles are shifted inside and that left tackle remains
Charlie Johnson
's job, Ugoh and DeVan face their competition from Alleman, McClendon and 2008 second-rounder
Mike Pollak
.
Bill Polian has talked about throwing everybody out there and seeing what happens. With a new position coach, the fight for roles may not start with any true favorites. While they have to continue to favor pass blocking above all else, I do think it's in their best interest to be a bit more determined to be able to call for and execute runs in key situations with more success.
Williamson says:
"Saturday is obviously the leader and his symbiotic relationship with Peyton carries a ton of weight. He is smart and very technically sound. I do think his game is falling off ever so slightly though. I was shocked that they let Lilja go and thought he was far and away their best guard. Now, they really need to count on youngsters and those youngsters still have a lot to prove."
Tennessee
[+] Enlarge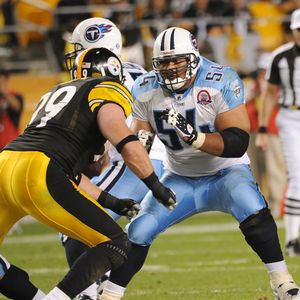 George Gojkovich/Getty ImagesEugene Amano will be taking over at center for Kevin Mawae.
The Titans had the least concern here as they considered their roster, but with
Kevin Mawae
getting older and
Leroy Harris
on the bench and ready to play, they decided to go with youth and size. So last year's left guard,
Eugene Amano,
is replacing Mawae at center, with Harris taking over at left guard.
Tennessee loses leadership and experience in the equation, but gains significant strength. Harris is very much an interior guy, but he's athletic and smart enough that he played effectively at right tackle in a win at San Francisco last season.
A Hall of Famer as a player, line coach Mike Munchak knows when a guy is ready, and he's fully endorsed this plan or the Titans wouldn't be going with it. Whether
Chris Johnson
or someone like
LeGarrette Blount
is running up the middle, I think they'll find a bit more daylight. And
Vince Young
should feel less inside rush closing in on him.
Williamson says:
"You have to wonder how much Mawae will be missed. It isn't that he played great -- and clearly he isn't what he once was -- but just from the standpoint of making the calls and especially from a leadership perspective. So, this interior line is in transition. Right guard
Jake Scott
probably hasn't quite lived up to what Tennessee was expecting to get from him when they signed him in free agency, but he is a quality starting guard. I think Harris has a good amount of ability and could surprise with more playing time."
May, 11, 2010
5/11/10
1:00
PM ET
»
NFC Big Question
:
East
|
West
|
North
|
South
»
AFC
:
East
|
West
|
North
|
South
What will the Colts' offensive line look like in 2010?
Straight answer: We don't know and only can speculate. There will be a new left guard, as
Ryan Lilja
was let go. Beyond that…
[+] Enlarge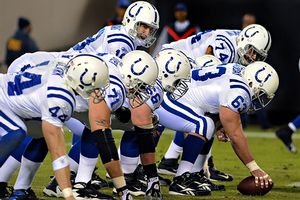 Al Messerschmidt/Getty ImagesThe Colts will be missing at least one member of their 2009 offensive line.
The team has added three players: sixth-year tackle
Adam Terry
, fourth-year guard
Andy Alleman
and fourth-round draft pick
Jacques McClendon
. They also added three undrafted tackles (one who was on the practice squads in Cincinnati, San Diego and Philadelphia last season) and an undrafted guard.
Team president Bill Polian recently said the intent is to toss all 15 offensive linemen on the roster into the OTA, minicamp and training camp mix and see what shakes out. That leaves a lot of room for a lot of scenarios including a tackle like
Charlie Johnson
kicking inside.
It's my feeling that of the four remaining incumbents, only center
Jeff Saturday
is a lock to return in the spot he was in last season. But I also wouldn't be at all surprised if all four -- Johnson at left tackle, Saturday at center,
Kyle DeVan
at right guard,
Ryan Diem
at right tackle -- were in place on opening day in Houston, with only Lilja's replacement a newcomer. The group, after all, was good enough to get the Colts to a second Super Bowl in four years.
Pass protection is going to remain priority one with
Peyton Manning
taking the snaps, but more effective run blocking in some crucial scenarios is a factor that can help the Colts.
They need to lock in a left tackle and go from there. Charlie Johnson could remain in the spot, though some think he's best as the sixth man who can fill in for a few games here and there at tackle or guard.
Tony Ugoh
needs to make his claim to the job now, and could get a clean slate with Pete Metzelaars taking over for longtime offensive line coach Howard Mudd.
A scout from another team told me recently that he thought Polian wanted to see Ugoh developed at the spot while the decisive Mudd had determined Ugoh couldn't be effective enough for the Colts last year. We'll likely never know if that's the case, thought the results of the competitions could give us some degree of information.
Whoever the tackles are, they and the run game should get a boost from
Brody Eldridge
. He's the big blocking tight end the Colts drafted in the fifth round out of Oklahoma. He's not going to hurt the Colts while getting in the way of an extra pass rusher either.
April, 24, 2010
4/24/10
7:20
AM ET
Golden Tate
,
Jordan Shipley
and
Javier Arenas
are gone. The Titans think they got their man in
Damian Williams
.
Colts faithful hoping Bill Polian would get in on the action for another prospect who can upgrade the return game are going to wind up disappointed.
While it seems like a focus on getting
Peyton Manning
and the offense better field position could add a dimension, Polian said after Friday's third round that he sees no dual threat remaining.
"I'm not so sure that there is one left that would be any more dynamic than what we have on the squad right now," he told Indianapolis reporters. "I'm not sure, off the top of my head, I don't think there is a dual return guy left. Obviously, that is an important skill set. There are some return guys down there, just none that I can turn to Coach (Jim Caldwell) and say, 'This guy's got the job.'"
If the Colts played next week, Polian said he envisioned Sam Giguere and
Jerraud Powers
handling the jobs. I'm presuming he meant Giguere for kickoffs -- he was second on the team in returns with five last year -- and Powers for punts. He indicated he didn't see
Austin Collie
as a possibility.
"Again, we're not focused on the return game," he said. "When you go to the Super Bowl, you're not hurting in that area. If you can get a dual return guy who can do both, one guy who can do both, it's helpful because it takes the stress off other positions. But if you can't, you can't. The world is not going to end because we don't have that."
The return game was one of three areas where some speculated the Colts might change a long-standing philosophy.
I expected a return man, and I expected some added size on the offensive line. Two veteran additions,
Adam Terry
and
Andy Alleman
, do bring more size to the pool of linemen. While a lineman or two could arrive Saturday, I'm no longer convinced they'll be much bigger than the guys already on the roster.
I didn't envision a fullback for short-yardage run situations to be added, and I feel safe sticking with that.
April, 23, 2010
4/23/10
9:01
PM ET
The Colts tend to cycle through linebackers, though they locked up
Gary Brackett
long-term and found a gem in
Clint Session
.
Second-round choice
Pat Angerer
could be a candidate to play on the strong side, where
Philip Wheeler
finished the year after
Tyjuan Hagler
had beat him out in camp but got hurt.
At Iowa, Angerer played his final three seasons in the middle. Jon Gruden just compared him to
Zach Thomas
. But Matt Williamson of Scouts is a little surprised about his 4.73 speed: "Angerer makes a lot of plays, but his lack of speed doesn't fit the Colts LB mold."
He does, however, fit their size mold. He's just over 6 feet and weighs in around 235 -- numbers right in line with Brackett and Session. Write-ups make him sound like a playmaker who might not have all the measurables, which are just the sort of things Bill Polian isn't generally concerned with.
The Colts have five picks remaining -- 94th in the third, 129th in the fourth, 162nd in the fifth, 238th and 240th in the seventh -- and the lingering question is about the offensive line.
It's perceived as a need after Bill Polian complained about the group's play in the Super Bowl and told
Ryan Lilja
's agent upon the guard's release that they were looking to get better.
Adam Terry
and
Andy Alleman
have been added, but many expected they'd address the offensive line high in the draft too.
Comments
at his pre-draft press conference should have signaled for us to ease up on those expectations.
Instead they've gone with edge rusher
Jerry Hughes
in the first and Angerer in the second.
March, 18, 2010
3/18/10
1:00
PM ET
»
NFC Stock Watch
:
East
|
West
|
North
|
South
»
AFC
:
East
|
West
|
North
|
South
Falling

Small offensive linemen in Indianapolis:
The Colts have added guard
Andy Alleman
and tackle
Adam Terry
, two players who weren't tendered as restricted free agents by their teams. The bulking up on the line is probably not complete, and that means shuffling and potential benching of guys who don't run-block as well as the Colts would like. Things look particularly grim for
Mike Pollak
and
Tony Ugoh
, second-round picks who weren't starting and now see newcomers with more size arriving.
Rising

Jason Babin, DE, Titans/Eagles:
No, he's never been consistently productive. But here he is with a one-year, $1 million offer sheet from the Titans, awaiting word on whether Philadelphia will match. If it doesn't, he gets to work with one of the league's better defensive line coaches, and Jim Washburn helped turn
Kyle Vanden Bosch
,
Tony Brown
and
Dave Ball
from reclamation projects into productive players. This is likely the last chance for the journeyman, and it's got to feel good to be wanted.
March, 17, 2010
3/17/10
12:04
PM ET
»
NFC Needs Revisited
:
East
|
West
|
North
|
South
»
AFC
:
East
|
West
|
North
|
South
»
Draft Watch
:
Biggest needs
(2/17) |
Busts/gems
(2/24) |
Schemes, themes
(3/3) |
Recent history
(3/10) |
Needs revisited
(3/17) |
Under-the-radar needs
(3/26) |
History in that spot
(3/31) |
Draft approach
(4/7) |
Decision-makers
(4/14) |
Dream scenario/Plan B
(4/21)
Each Wednesday leading up to the NFL draft (April 22-24), the ESPN.com blog network will take a division-by-division look at key aspects of the draft. Today's topic: Biggest needs revisited.

Houston Texans
Scratch interior offensive line as any sort of priority after the free-agent addition of
Wade Smith
. That still leaves the Texans with a lengthy list of holes to fill: Running back, cornerback, free safety and defensive tackle are the big four, and it's hard to put the first three in any order; they are all big needs of roughly equal size. Without addressing the corner hole created by the departure of
Dunta Robinson
and finding a clear cut choice at free safety, it's going to be awfully difficult to beat
Peyton Manning
and Indianapolis' offense.

Indianapolis Colts
Do
Adam Terry
and
Andy Alleman
help alleviate concerns on the offensive line? Does
J.D. Skolnitsky
have a chance to be the third defensive end? We have no idea about the answers there, but I am not sure the Colts will alter their need list based on the addition of three players kicked to the curb by their old team. Not that they don't make players out of such guys regularly. Offensive line, defensive end and depth at linebacker and corner are the areas I expect will be addressed.

Jacksonville Jaguars
Aaron Kampman
takes the pressure off the Jaguars having to get a pass-rusher early. They are without a second round pick and if they don't take an end with No. 10, there will not be a panic about waiting to the third round.
Kassim Osgood
strengthens special teams and gives the Jags another potential option at receiver, where they lack a playmaker beyond
Mike Sims-Walker
. End still is on the need list, along with linebacker, safety and an interior offensive lineman.

Tennessee Titans
Will Witherspoon
greatly reduces the pressure on the Titans to find another linebacker. I expect if they take one it'll be a late, developmental pick. A quality first-round option would be tempting still, but not with the holes at cornerback and defensive end. Those two spots are the primary needs, along with a reliable return man. Beyond that, they'll need an interior lineman if
Kevin Mawae
isn't back and some safety depth would be a help.
March, 15, 2010
3/15/10
9:25
AM ET
At 6-foot-8 and 335 pounds,
Adam Terry
is a giant.
The Colts'
new tackle
is two inches taller and 15 pounds heavier than any Colts offensive lineman from 2009.
At 6-4 and, 310,
Andy Alleman
qualifies as a big guard.
Clearly Indy's push to get bigger on the offensive line is underway. And adding two low-cost players when they cannot bring in any true unrestricted free agents because of the
final eight rule
is a good start.
But while they may be altering their philosophy on size, we don't yet know if they are changing their philosophy on value. These two acquisitions are underachieving players who were set to be restricted free agents and weren't rated as tender worthy by Baltimore or Kansas City, respectively.
Pete Metzelaars is expected to be promoted to take the place of the retired Howard Mudd, with Ron Prince added to the staff to also work with the offensive line.
Terry and Alleman have to rate as projects for them -- and this is a team with a good history of plugging in players like this and getting a lot more out of them than other teams could or would.
The Colts need a return man, though there is no assurance based on his history that Bill Polian will draft one. They need to replenish their depth at cornerback. But offensive line is their biggest need, as they look to replace the released left guard
Ryan Lilja
and upgrade from left tackle
Charlie Johnson
and right guard
Kyle DeVan
.
Terry and Alleman give the Colts some bigger options in the mix.
If they are going in that direction, I'd expect they'll be joined by a bigger draft pick or two.
March, 8, 2010
3/08/10
7:19
PM ET
Heading toward 2010, the Colts figured they only needed minor tinkering to solidify their chances to make it back to the Super Bowl.
[+] Enlarge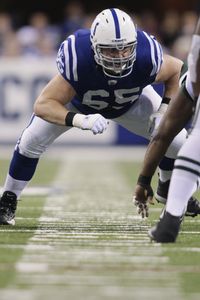 AP Photo/AJ MastThe Colts reportedly will save $1.83 million by cutting Ryan Lilja.
We knew some of that would be tied to changes on the offensive line.
Alex Marvez of FoxSports.com reports
the Colts are releasing
Ryan Lilja
, their starting left guard. They will avoid what I understand to be $1.83 million in bonus money by doing so. His total salary for 2010 was scheduled to be in the $3 million range.
That's three veterans --
Raheem Brock
,
Jim Sorgi
and Lilja -- cut by the Colts at a savings of $2.605 million in bonuses.
Maybe those guys saw it coming, but my guess is in a salary-cap-free year they weren't heading toward spring fearful about their job security.
The message from Bill Polian: We're not paying for guys we feel have dropped off or aren't going to be contributors commensurate with their money.
[UPDATE: 8:26 p.m.:
Mike Chappell's report
says that the Colts actually paid Lilja his bonus, which is quite a classy move. It certainly also softens my financial interpretation above.]
Kelvin Hayden
's going to get a $2.25 million bonus and
Robert Mathis
$1 million. It appears
Ryan Diem
will collect $1 million he's due as well.
As for guard -- let's put it right at the top of the team's need list, where a better balanced left tackle is also a need.
With Lilja, a complete class act by the way, gone, Indianapolis' guard roster reads like this:
Kyle DeVan
,
Mike Pollak
,
Andy Alleman
and
Jamey Richard
.
DeVan, who finished the season as the starter on the right, and the just-signed Alleman were picked up off the street. Pollak is on the verge of busting as a second-rounder from 2008. Richard is a seventh-rounder from 2008.
We're expecting Pete Metzelaars to take over for the retired Howard Mudd as offensive line coach. It's clear as ever he'll be working with some new young blood.
Lilja's agent, Craig Domann, gave Chappell this explanation, which is a flashing signal indicating the team's biggest pending change:
"They said they want to go bigger and apparently are going to get people who fit that philosophy."
March, 3, 2010
3/03/10
6:19
PM ET
Denver

Potential unrestricted free agents:
P
Mitch Berger
, S
Vernon Fox
, T
Brandon Gorin
,
Nick Greisen
, G
Ben Hamilton
, G
Russ Hochstein
, DE
Vonnie Holliday
, CB
Ty Law
, WR
Brandon Lloyd
Potential restricted free agents:
LB
Elvis Dumervil
, OL
Chris Kuper
, WR
Brandon Marshall
, QB
Kyle Orton
, TE
Tony Scheffler
, DT
Le Kevin Smith
Franchise player:
None.
What to expect:
The Broncos' restricted class is talented. That will be the focus. It has been reported that Marshall, Orton, Dumervil, Scheffler and Kuper will all get one-year tenders. Marshall very well could be traded. It wouldn't be a shock if Dumervil gets some action on the restricted market. Miami could be interested.
Kansas City

Potential unrestricted free agents:
OL
Andy Alleman
, S
Mike Brown
, WR
Chris Chambers
, WR
Terrance Copper
, TE
Sean Ryan
, C
Wade Smith
, LB
Mike Vrabel
, WR
Bobby Wade
Potential restricted free agents:
RB
Jackie Battle
, QB
Brodie Croyle
, LB
Derrick Johnson
, LB
Corey Mays
, OL
Ikechuku Ndukwe
, OL
Rudy Niswanger
, OL
Ryan O'Callaghan
, S
Jarrad Page
Franchise player:
None.
What to expect:
The Chiefs are interested in keeping some of their unrestricted free agents. General manager Scott Pioli said at the combine the team has been in contact with several of their free agents. Chambers is the focus. The team is trying to keep him. Brown and Vrabel could also return with new deals.
Oakland

Potential unrestricted free agents:
S
Hiram Eugene
, G
Cornell Green
, T
Langston Walker
, LB
Sam Williams
Potential restricted free agents:
LB
Jon Alston
, OL
Khalif Barnes
, LB
Ricky Brown
, LB
Jon Condo
, QB
Charlie Frye
, QB
Bruce Gradkowski
, LB
Thomas Howard
, RB
Luke Lawton
, OL
Chris Morris
, LB
Kirk Morrison
, CB
Stanford Routt
, RB
Gary Russell
Franchise player:
DE
Richard Seymour
.
What to expect:
The Raiders franchised Seymour and signed kicker
Sebastian Janikowski
to a record deal, so they've already been busy. It will be interesting to see how they tender Howard and Morrison. The Raiders could use some new life at linebacker and this could be the start of it.
San Diego

Potential unrestricted free agents:
DT
Alfonso Boone
, TE
Brandon Manumaleuna
, C
Dennis Norman
, WR
Kassim Osgood
. T
Jon Runyan
, DT
Ian Scott
, TE
Kris Wilson
Potential restricted free agents:
OL
Jeromey Clary
, LB
Tim Dobbins
, WR
Malcom Floyd
, DT
Antonio Garay
, OL
Eric Ghiaciuc
, LB
Marques Harris
, WR
Vincent Jackson
, DT
Travis Johnson
, OL
Marcus McNeill
, LB
Shawne Merriman
, RB
Darren Sproles
, QB
Charlie Whitehurst
Franchise player:
None
What to expect:
The Chargers have their hands full. It's been reported they will give high tenders to Jackson, Merriman, McNeill and Floyd. Jackson and McNeill could still attract some interest on the restricted market. Sproles is not expected to be tendered, making him a free agent. The Chargers want him back. But if Sproles hits the open market, the multifaceted weapon could be scooped up quickly.

NFL SCOREBOARD
Sunday, 12/22
Monday, 12/23