August, 31, 2013
8/31/13
6:14
PM ET

Most significant move:
The fact the Saints didn't release or put
Jonathan Vilma
on injured reserve or the physically unable to perform list is a very strong sign that the veteran linebacker is expected to be healthy early in the season. That's very significant. Vilma may be nearing the end of his career, but he still is the emotional leader of this defense and his mere presence makes this unit stronger.
Going in a different direction:
Courtney Roby
had been a fixture on special teams since his arrival in 2008. But the Saints have some younger, more athletic guys, like
Rafael Bush
, they want to get involved on special teams. Roby's value also was hurt by the fact he brought little as a wide receiver. The team elected to keep
Andy Tanner
over Roby because Tanner has some upside as a receiver.
What's next:
After losing outside linebackers
Will Smith
and
Victor Butler
to injuries, the Saints could look at the waiver wire to add some more help for the pass rush.
Saints moves:
Released WR Courtney Roby, DE
Jay Richardson
, CB
Chris Carr
, S
Jim Leonhard
. Waived QB
Ryan Griffin
, WR
Preston Parker
, FB
Austin Johnson
, WR,
Saalim Hakim
, G
Elliott Mealer
, TE
Keavon Milton
, TE
Michael Higgins
, G
Andrew Tiller
, C
Jeremiah Warren
, LB
Ray Shipman
, LB
Rufus Johnson
, DT
Isaako Aaitui
, S
Jerico Nelson
, LB
Baraka Atkins
, T
Marcel Jones
, CB
Korey Lindsey
and CB
Jumal Rolle
. Placed C
Eric Olsen
on injured reserve.
August, 25, 2013
8/25/13
7:23
PM ET
There is reason for concern for the
New Orleans Saints
' defense. There also is reason for hope.
Evidence of both was on display in Sunday's
31-23 preseason victory
.

Let's start with the concern. New Orleans fans know all too well that the Saints had the league's worst defense last season. The Saints have changed coordinators and schemes, but it looked as if nothing had changed early on.
The Texans gained 164 yards of total offense in the first quarter and the New Orleans defense struggled in all areas. But, even with Houston's offensive starters remaining in through the end of the first half, some signs of hope emerged.
Cameron Jordan
, who I think will excel as a 3-4 defensive end, came up with a sack and a quarterback pressure. Undrafted rookie
Glenn Foster
came up with his fourth sack of the preseason. Linebacker
David Hawthorne
, playing in place of the injured
Jonathan Vilma
, showed signs he can hold up in pass coverage. Cornerback
Patrick Robinson
, who struggled all of last season, had great coverage on a deep pass in the second quarter.
Oh, and one other thing besides all that -- you can bet that defensive coordinator Rob Ryan was holding back on a lot of things that the
Atlanta Falcons
will see in the season opener.
Some other quick observations on the Saints:
August, 17, 2012
8/17/12
11:35
PM ET
Some quick observations on the New Orleans Saints'
27-24 loss
to the
Jacksonville Jaguars
on Friday night at the Mercedes-Benz Superdome:
After looking very good in the first two preseason games, the first-team defense didn't have a good outing against the Jaguars. It is only the preseason and, ordinarily, you could say the Saints still are getting into Steve Spagnuolo's scheme. But this one deserves at least a little concern. Jacksonville quarterback Blaine Gabbert looked better than he did at any point in his rookie season. Gabbert completed 13 of 16 passes for 112 yards. Plus, it wasn't like Gabbert had Maurice Jones-Drew in the backfield. Instead, Rashad Jennings was the main ball carrier and he had 62 yards on 11 carries in the first half. The Jaguars had 101 rushing yards in the first half.
There were a couple of Saints' injuries that didn't look good. Linebacker Chris Chamberlain appeared to injure his knee and receiver Andy Tanner was carted off with an apparent injury to his left leg. No details on the injuries were available immediately, but losing either player for an extended period could hurt. Tanner, who had a nice training camp and start to the preseason, is competing for a roster spot as the fourth or fifth receiver. Chamberlain, who played for Spagnuolo in St. Louis, has a shot at being a starter or key backup.
Drew Brees didn't get a lot of help from his offensive line early on. Brees was sacked and lost a fumble with 9:00 left in the second quarter. But Brees bounced back and the Saints had a nice drive late in the first half to cut Jacksonville's lead to 17-10. Brees finished the night completing 10 of 13 passes for 133 yards and a touchdown.
Backup quarterback Chase Daniel had a very efficient outing. He completed 16 of 21 passes for 185 yards and two touchdown. Daniel led what should have been the game-winning drive, connecting with running back Travaris Cadet on a 24-yard touchdown pass late in the fourth quarter. But Jacksonville rallied for a touchdown with 13 seconds left to keep Daniel and Cadet from being the heroes.
Defensive end Junior Galette continued his strong preseason, putting pressure on Gabbert several times. I think Galette could end up starting as Will Smith serves a suspension for the first four games. After that, Galette could be a regular in the rotation because he has some explosiveness as a pass-rusher.
Giving 110 percent, as Raheem Morris said he always did, cornerback Elbert Mack tipped a third-quarter pass that turned into an interception for Isa Abdul-Quddus. Mack, who came over from Tampa Bay, has a chance at a roster spot as a backup cornerback and special-teams player.
July, 30, 2012
7/30/12
12:00
PM ET
METAIRIE, La. -- As he prepares for his third NFL season, it sounds as if New Orleans tight end
Jimmy Graham
has figured out the secret to NFL success.
"I was told to never tug on Superman's cape," Graham said.
He was talking about quarterback
Drew Brees
. Graham noted how the quarterback challenged him to a sprint race at the start of training camp and said he let Brees win. Graham was partly joking, but there was some deep wisdom in his words.
More than ever, the Saints are Brees' team. They've been through an offseason unlike one any other team has faced. They've been through the painful drama of the bounty scandal and they'll move forward without coach Sean Payton, who is suspended for the season, and general manager Mickey Loomis, who is suspended for the first eight games.

Brees, the league's highest-paid player, is coming off a season in which he set a NFL single-season record for most passing yards. No, let other teams try to tug on Brees' cape. If the Saints really are going to endure all this adversity successfully, they need Brees' skill and leadership more than ever. They need to ride the coattails of the most positive thing they have at the moment.
Brees knows this high-flying offense as well as anyone, including Payton. The Saints remain loaded at offensive skill positions. There's little doubt this team still is going to score a lot, and that alone will keep it competitive.
But Brees can't do everything by himself. Even before the word "bounty" started flying in March, the Saints knew they had to overhaul their defense. That became clear in last season's playoff loss to San Francisco. That's why defensive coordinator Steve Spagnuolo was hired. Predecessor Gregg Williams had a gambling philosophy, going all-out to produce turnovers. The negative side effect was that the Saints gave up too many big plays.
Spagnuolo brings a more balanced philosophy. Sure, he wants turnovers, but he also wants to be able to shut down offenses from time to time. A big theme of this camp is the installation of Spagnuolo's defense. Even though that's not his side of the ball, Brees shows a lot of interest in the defense. Even in camp, the Saints are implementing game plans.
"[Spagnuolo] is going to try to find every flaw, just like we are going to do to them,'' Brees said. "Along the way, I am certainly going to be picking his brain as to what he is seeing with our offense, how we can improve. That is how you help one another. That is a habit that we got into, me talking to the defensive guys, even if it is just the secondary guys, saying, 'You give away that blitz whenever you do this.' We are competing against each other, but in the end we are on the same team. I want them to be able to go out and have as much success as possible, just like they want us, on game day, to have as much success as possible."
Maybe that's the best way to improve the New Orleans defense. Practice against Superman every day. After you've been through that, everything else should be easy.
[+] Enlarge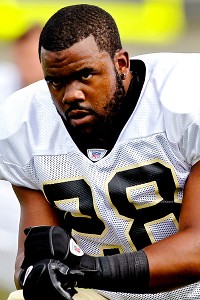 Derick E. Hingle/US PRESSWIREMark Ingram rushed for 474 yards and five touchdowns during his rookie season with the Saints.
THREE HOT ISSUES
1. Mark Ingram's playing time
. Fan expectations for Ingram might be significantly higher than the team's. That's somewhat understandable, because the Saints traded back into the first round in 2011 to draft Ingram. He played at a college powerhouse (Alabama) and won a Heisman Trophy. Instant stardom was expected by fans, but it didn't turn out that way in Ingram's rookie season.
He finished with 122 carries for 474 yards and five touchdowns. Injuries were part of the reason his numbers weren't bigger. But even before the injuries, Ingram shared playing time with
Darren Sproles
and
Pierre Thomas
, and
Chris Ivory
did a nice job joining the rotation after Ingram's injury problems started. Ingram had a couple of offseason surgeries and said he's completely healthy.
But that doesn't mean Ingram suddenly is going to become a 300-carry guy. New Orleans' offense is based on diversity, and that's not going to change. The Saints aren't going to take playing time away from Sproles, who set an NFL record for all-purpose yards last season, and Thomas is going to play because he has earned it with his performance.
Assuming Ingram stays healthy, I expect him to get more carries than last season, but a 200-carry season for about 800 yards is a reasonable expectation.
2. Will the linebackers be better than last season?
I think they'll be markedly better. Many believe the season-long suspension of
Jonathan Vilma
is going to hurt the Saints. If this were two or three years ago, I'd agree. But Vilma was bothered by knee problems last season, and his age seemed to be catching up to him. I think free-agent addition
Curtis Lofton
is an upgrade over Vilma in the middle. In fact, I think Lofton is pretty similar to what Vilma was two or three years ago. The Saints will be just fine in the middle.
Plus, the Saints didn't sit still at outside linebacker. They signed free agents
David Hawthorne
and
Chris Chamberlain
. It looks as if Hawthorne is well on his way to winning a starting job. That leaves Chamberlain competing with
Scott Shanle
,
Will Herring
and
Jonathan Casillas
for the other starting job. There's no true favorite here, and Shanle is the fallback option as the safe choice because he's smart and dependable. But Chamberlain, Herring and Casillas are more athletic and at least come with the possibility of producing big plays. The hope is that one of those three can step forward to win the starting job.
3. Can the offensive line, minus Carl Nicks, be as good as last season?
Nicks took the big money and left for Tampa Bay in free agency. Losing a player many scouts consider the best guard in the NFL must take a toll. But the Saints already had
Jahri Evans
, who might be the closest thing to Nicks. Loomis did a nice job getting
Ben Grubbs
to replace Nicks. Grubbs isn't quite on the Nicks/Evans level, but he's an above-average player and came at a much lower salary than Nicks. The Saints build their offensive line around the interior, and Evans and Grubbs will form a very strong guard tandem.
Brian de la Puente
did a nice job taking over at center last year and should be fine with Grubbs and Evans surrounding him. The tackles are more of a question. The Saints are sticking with
Jermon Bushrod
on the left side and
Zach Strief
on the right. They're serviceable, but Bushrod and Strief aren't all-pros, and the presence of Evans and Grubbs should be enough to keep this offensive line among the better ones in the league.
REASON FOR OPTIMISM
Spagnuolo's history.
There is legitimate concern about the pass rush, because Spagnuolo likes it to come mostly from his front four. Aside from defensive end
Will Smith
, who will serve a four-game suspension at the start of the season, the Saints don't have a proven pass-rusher. Many fans are worked up about the potential of
Junior Galette
and converted linebacker
Martez Wilson
. Those guys could turn into something, but maybe fans aren't looking in the right direction.
Second-year pro
Cameron Jordan
might be a big factor. Yeah, I know that sounds like a stretch because Jordan had one sack as a rookie, but he was a first-round pick and still has plenty of untapped potential. There's more than that, though. Look at Spagnuolo's past. When he became defensive coordinator for the
New York Giants
in 2007,
Justin Tuck
had gone through two NFL seasons with one sack. In Spagnuolo's first season, Tuck had 10. In 2008, Tuck recorded 12.
If Spagnuolo can get anything close to double-digit sacks from Jordan, he may have short- and long-term answers for his pass rush.
REASON FOR PESSIMISM
How much adversity can one team take?
The Saints will use all that happened to them in the offseason as a rallying cry, providing strong motivation. But it's tough for any team to ride one emotion (anger, in this case) for an entire season. This franchise has been through a lot, and you have to worry about that taking a toll at some point.
[+] Enlarge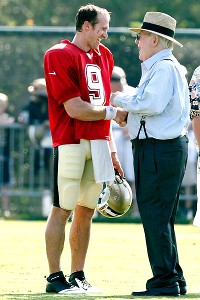 Derick E. Hingle/US PRESSWIREWith a new contract and instability in the coaching staff, Drew Brees will be asked to be even more of a leader for Tom Benson's Saints.
You also have to worry about the Saints being a target for opponents, especially those who spent the past few months hearing that the bounty program had targeted some of their own players. Then throw in the fact that assistant head coach Joe Vitt, who has run the team in Payton's absence, must serve a six-game suspension at the start of the season. At that point, the Saints are expected to make another of their assistants the acting head coach. Yes, this is a veteran team with outstanding leadership, but it sure looks like a lot of things are stacked against the Saints.
OBSERVATION DECK
NFL SCOREBOARD
Sunday, 2/2
WEEKLY LEADERS