NFL Nation:

Anthony Gaitor
August, 30, 2014
Aug 30
7:26
PM ET
Most significant move:
The
Tampa Bay Buccaneers
took a leap of faith when they released kicker
Connor Barth
and decided to go with
Patrick Murray
. Barth was a proven veteran. Murray is an unknown. But Murray had an excellent preseason to win the job. Barth didn't look quite as sharp and didn't seem to have as much distance as he did before missing all of the past season with a torn Achilles tendon. Barth also was scheduled to make more than $3 million this season. Murray will only cost the team $420,000.
Not so fast:
A lot of people assumed running back
Jeff Demps
would make the roster because the Bucs were so infatuated with his speed. But Demps was released Saturday. The former Olympic sprinter was given every opportunity as a running back and a return man, but he never was able to make things happen in space. Still, Demps has rare speed, and the Bucs likely will try to get him signed to the practice squad, where he might be able to develop into something.
What's next:
The Bucs likely aren't done with roster moves. They're likely to bring in some players who were released elsewhere. Depth at linebacker, safety and on the offensive line still could be priorities.
Bucs' cuts:
Released WR
Solomon Patton
, RB Jeff Demps, QB
Mike Kafka
, DT
Matthew Masifilo
, DT
Ronald Talley
, K Connor Barth, TE
Cameron Brate
, DE
Larry English
, G
Jamon Meredith
, DB
Marc Anthony
, LB
Nate Askew
, T
Edawn Coughman
, CB
Kip Edwards
, DE
T.J. Fatinikun
, CB
Anthony Gaitor
, LB
Ka'Lial Glaud
, CB
Keith Lewis
, LB
Brandon Magee
, OL
Andrew Miller
, FB
Lonnie Pryor
, DL
Ronald Talley
, S
Major Wright
and OL
Jeremiah Warren
.
July, 31, 2014
Jul 31
8:00
PM ET
TAMPA, Fla. -- If you're looking for an under-the-radar player with a chance to make Tampa Bay's roster, you might want to consider wide receiver
Tommy Streeter
. But look quickly because Streeter might not be an unknown for much longer.
Streeter already is catching the eyes of his teammates and coaches.
"We kind of have a running joke, 'Man, that dude is catching the ball right and left, over and over,'" quarterback
Josh McCown
said after Thursday's practice. "It's like one of the better camps I've been around for a receiver. He's just got so many dang catches. And he's just doing his job. He's just a humble, hard-working guy that comes out here every day and gets after it. He catches the ball when it's thrown to him and that's all you can ask for as a player."
[+] Enlarge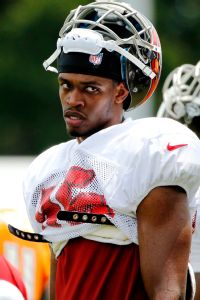 Kim Klement/USA TODAY SportsTampa Bay quarterback Josh McCown said Tommy Streeter's performance this summer is "one of the better camps I've been around for a receiver."
Streeter's talent flashed again in Thursday's practice when he made a nice catch when matched up against veteran safety
Major Wright
.
"He's another guy with good size, good height, good speed and he's been catching the football," coach Lovie Smith said. "You talk to him and he doesn't want a whole lot of complements, he's just 'Hey, I'm just trying to do my job, trying to get better very day,' saying all the right things, just making plays. That's all you have to do as a player. You don't have to worry about, am I going to make the roster, am I going to get enough plays. If you get one play, you do something, you'll continue to get more. We've noticed him. When we initially came to camp he's wasn't one of the guys we were talking a lot about. But he's been pretty steady every day."
Streeter seems to be putting himself in line for a roster spot in a receiving corps in which the only sure things are starters
Vincent Jackson
and
Mike Evans
.
A sixth-round draft pick by Baltimore in 2012, Streeter has been unable to make an impact in the NFL so far. But he's not a stranger to the big stage. Streeter played at the University of Miami.
"No, I'm not afraid," Streeter said. "I've been doing this since age 7. I don't see any difference at any level. It all comes down to, at this level, how much goes into the preparation before the dance."
Streeter has been preparing for the dance by paying close attention to Jackson. That's a wise choice because Streeter is the same size (6-foot-5) as Jackson.
"I talk to him every day," Streeter said. "I ask him different questions on how do you run this route based on different leverages and techniques. Basically, what little tricks and crafty moves he has that he uses to get open. I try to incorporate that in my game as well."
Streeter said he already has learned a lot from Jackson.
"His ability to drop his weight and get in and out of his cuts," Streeter said. "He comes downhill and he's aggressive to the ball. That's something I always continuously try to improve on. At the University of Miami, I was always the deep ball guy. When you come here in this offense there's a lot of route running involved. That's something I continuously work on and something I always try to get better at."
Streeter may not have the NFL pedigree, but he came out of one of the nation's top high school programs. That's Miami Northwestern.
"They used to call us the University of Northwestern," Streeter said.
Streeter's high school team also featured two other Buccaneers, linebacker
Lavonte David
and cornerback
Anthony Gaitor
. Streeter wore the same jersey (No. 5) as previously worn by
Kenbrell Thompkins
, who now is with the
New England Patriots
, and later worn by
Minnesota Vikings
quarterback
Teddy Bridgewater
.
"My coach, when he gave it to me, he was like 'Son, I'm going to give you No. 5. You might have to do a little history to understand the importance of this number and the guys who wore it before you and what they did,'" Streeter said. "I was kind of nervous, like 'Does the No. 5 jersey glow or something? Is everybody watching me?' But nonetheless, I thrived in that environment."
If Streeter can continue doing what he has been doing in practice, he might be able to thrive with the Buccaneers.
July, 19, 2013
7/19/13
4:32
PM ET
When
Eric Wright
agreed to
restructure his contract
and take a massive pay cut back in April, it appeared as if he'd be staying with the
Tampa Bay Buccaneers
.
It turns out that's not the case. The Bucs announced Friday afternoon that they have
traded Wright to
the
San Francisco 49ers
for a late-round conditional draft pick in 2014.
That brings an abrupt ending to a union the Bucs thought would be a good one when they signed Wright to a five-year, $35.2 million contract in 2012. But Wright never really caught on in Tampa Bay.
He missed part of last year's offseason program while dealing with an undisclosed medical issue. He later was suspended for four games for violating the league's policy on performance-enhancing substances.
The Bucs traded for cornerback
Darrelle Revis
and used their top draft pick on cornerback
Johnthan Banks
. At first, it appeared as if Revis, Wright and Banks would be the team's top three cornerbacks.
But it now is obvious the Bucs weren't sold on Wright even at a reduced price. A source said Wright's attitude in recent months didn't conform with what the team likes and the Bucs would have released him if they were unable to trade him. According to Los Angeles County Sheriff's Office records, Wright was arrested in California on an unspecified misdemeanor charge July 12.
With Wright gone, Banks becomes the leading candidate to start opposite Revis.
Michael Adams
,
Leonard Johnson
,
Myron Lewis
,
Anthony Gaitor
and some other young cornerbacks now will compete for the job as nickel back.
Also, the Bucs will not take any cap hit for unloading Wright. Instead, they freed up his $1.5 million base salary, which becomes San Francisco's burden.
November, 21, 2012
11/21/12
5:15
PM ET
Let's get an update on the most significant injuries from around the NFC South.
TAMPA BAY BUCCANEERS
Coach Greg Schiano said it's
too early to tell
if cornerback Eric Wright, who did not practice Wednesday, will be able to play Sunday. Wright has been dealing with an Achilles tendon issue for several weeks. The Bucs have been giving cornerbacks E.J. Biggers and Leonard Johnson extended playing time recently, and Anthony Gaitor began practicing Wednesday, after opening the season on injured reserve with the designation as eligible to return.
NEW ORLEANS SAINTS
There was a bit of an encouraging sign as right tackle Zach Strief (groin)
returned to practice
Wednesday, although it was on a limited basis. Charles Brown, who had been starting in Strief's place, missed practice with a knee injury. If Strief and Brown aren't ready to go Sunday against San Francisco, it's likely the Saints would have to start, recently signed William Robinson.
CAROLINA PANTHERS
The Panthers don't have to provide an injury report until Thursday because they don't play until Monday night at Philadelphia.
ATLANTA FALCONS
As we
previously reported
, coach Mike Smith said he's very optimistic linebacker Sean Weatherspoon (ankle) and receiver Julio Jones (ankle) will be able to practice this week. Updating that, it turns out Weatherspoon
did practice
Wednesday. Jones did not, but I wouldn't be surprised if the Falcons test out his ankle Thursday or Friday.
September, 28, 2012
9/28/12
5:14
PM ET
The final injury reports are in for Sunday's game, so let's take a look at the most significant injuries around the division.
The news isn't good for a New Orleans defense that already was struggling. Linebackers
David Hawthorne
and
Jonathan Casillas
and defensive end
Turk McBride
have been declared out for Sunday's game at Green Bay. Casillas had been backing up Hawthorne. With both of them out,
Will Herring
appears likely to get the start.
Carolina middle linebacker
Jon Beason
(knee and shoulder) practiced Friday. Coach Ron Rivera said the team will see how sore Beason is Sunday before making a decision on his status. If Beason can't play against Atlanta,
Jason Phillips
is expected to start in the middle. Running back
Jonathan Stewart
is listed as probable and expected to play for just the second time this season.
The Falcons have declared tight end
Michael Palmer
, cornerback
Christopher Owens
, running back
Antone Smith
and fullback
Lousaka Polite
out for Sunday. That means
Dominique Franks
likely will be used as the nickel back and running back
Jason Snelling
probably will get some time at fullback.
Tommy Gallarda
is expected to take Palmer's place as the backup tight end.
The Buccaneers are relatively healthy compared to the other three teams. Reserve cornerback
Anthony Gaitor
is out for Sunday, but everyone else (including guard
Carl Nicks
and cornerback
E.J. Biggers
) is no worse than probable.
January, 1, 2012
1/01/12
3:11
PM ET
September, 25, 2011
9/25/11
3:02
PM ET
July, 28, 2011
7/28/11
9:18
PM ET

NFL SCOREBOARD
Sunday, 12/28
WEEKLY LEADERS