NFL Nation:

Anthony Madison
February, 23, 2011
2/23/11
7:50
AM ET
With the offseason in full swing, let's take a look at one major question facing each AFC North team as it begins preparations for the 2011 season:
CINCINNATI BENGALS
Should the Cincinnati Bengals give into Carson Palmer's trade demands?

After eight underachieving seasons in Cincinnati,
Palmer wants out
and everyone from his agent
to teammates
to his realtor believe Palmer is absolutely serious. So how should the Bengals handle this situation?
Cincinnati is consistently one of the NFL's more downtrodden franchises and has been through this before. In the past, players such as
Takeo Spikes
,
Corey Dillon
and
Chad Ochocinco
have expressed the desire to get out of Cincinnati and couldn't leave on their terms.
But Palmer's situation is different for two reasons. First, he's the franchise quarterback, the most important player on the team. Second, he's threatened to retire if he's not traded, which is something Spikes, Dillon and Ochocinco never did. These two factors up the ante tremendously in terms of putting pressure on the Bengals.
If Palmer, 31, holds firm on his demands, that leaves
Dan LeFevour
and
Jordan Palmer
as the other quarterbacks on Cincinnati's roster. The Bengals cannot start the 2011 season with either of those players under center. As more time goes by with uncertainty, it becomes more likely the Bengals must
do something to get quarterback help
in the draft or free agency.
In my opinion
, the Bengals should trade Palmer while they can still get decent value for him. Cincinnati will be rebuilding for the next two years anyway -- with or without Palmer -- and there are plenty of teams in need of a good quarterback.
But the
Bengals are standing their ground
, hoping Palmer will have a change of heart. That's a dangerous assumption with free agency potentially starting next month and the NFL draft coming in April.
BALTIMORE RAVENS

Are concerns about Baltimore Ravens quarterback Joe Flacco legit?
As we continue the subject of quarterbacks, we move over to Baltimore. Flacco is getting drilled this offseason by media and fans for not leading the Ravens past the divisional round. Baltimore entered last season as a Super Bowl favorite and by those standards the team -- and particularly the offense -- underachieved.
Now people are starting to doubt Flacco. He has struggled in the playoffs, recording just one passer rating above 90.0 in seven career postseason games. It's no secret an organization is tied into the success and development of its quarterback. But are the expectations of Flacco, in his third season, too high too soon? The answer is, yes.
Flacco has become a victim of his own early success. He advanced to the AFC title game as a rookie and has had expectations of getting to the Super Bowl thrust upon him since.
Last season, Flacco set career-highs in passing yards (3,622), touchdowns (25) and passer rating (93.6) for the Ravens (12-4). But it's the second-round loss to the
Pittsburgh Steelers
that stands out in most people's mind.
Flacco likely must
get past rival
quarterback
Ben Roethlisberger
of Pittsburgh for the Ravens to take that next step. But there is no shame in losing to the eventual AFC champions in the postseason.
Young quarterbacks such as
Matt Ryan
,
Mark Sanchez
and
Josh Freeman
are viewed in a much more favorable light in their cities. Flacco has had as much career success and put up equal or better numbers than all of them. He deserves a break.
PITTSBURGH STEELERS
What will the Steelers do at cornerback?

As their Super Bowl XLV loss to the
Green Bay Packers
proved, the Steelers must add quality depth in the secondary. The Packers,
New England Patriots
and
New Orleans Saints
provide the blueprint of how to beat Pittsburgh's vaunted defense: spread the Steelers out with multiple receivers.
The Steelers simply don't have enough good cornerbacks to defend three- and four-receiver sets. This also takes Pittsburgh's strongest players-- its linebackers -- off the field in favor of players such as
William Gay
and
Anthony Madison
.
Now that linebacker
LaMarr Woodley
received
the franchise tag
, veteran cornerback and pending free agent
Ike Taylor
is Pittsburgh's No. 1 priority. Taylor is Pittsburgh's best corner, but he's also 31 and the Steelers must gauge how much money and how many years to give to him.
The draft will also be important. Previous draft picks at corner such as
Keenan Lewis
,
Joe Burnett
and
Crezdon Butler
have not panned out for the Steelers, who typically address this position in the middle rounds. It's time Pittsburgh invests a high draft pick at this position to increase the probability of finding a future starter.
Do not be surprised if Pittsburgh retains Taylor in free agency and spends its first- or second-round pick on a cornerback in April to fix this issue.
CLEVELAND BROWNS
Are the Cleveland Browns fine without an offensive coordinator?

Pat Shurmur of the Browns has a lot on his plate this year. Not only is he a first-time head coach, but Shurmur is also taking over the role as offensive coordinator in his first season with Cleveland.
Is this a good idea?
After a brief search, the Browns decided to leave the position vacant. Shurmur is a former offensive coordinator for the
St. Louis Rams
and didn't want to give up those responsibilities after becoming a head coach.
A head coach's first responsibility is to manage all 53 players. But Shurmur clearly will give more special attention to his players on offense. That's a major reason the Browns hired experienced defensive coaches such as Dick Jauron and Ray Rhodes to manage the other side of the football.
President Mike Holmgren and general manager Tom Heckert have both done a good job so far in Cleveland. But I have reservations about creating this type of setup with a rookie head coach on a rebuilding team.
February, 12, 2011
2/12/11
11:43
AM ET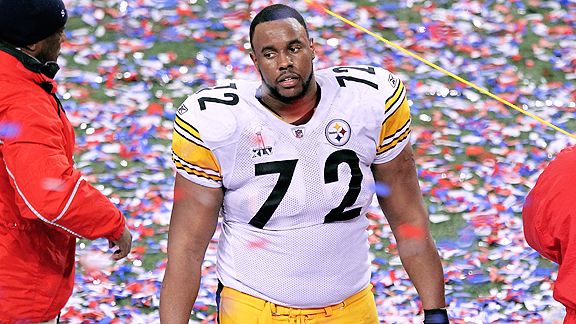 Nelson Chenault/US PresswirePittsburgh will need to improve its secondary and offensive line if it wants another shot at the title.
As the confetti fell at the conclusion of Super Bowl XLV at Cowboys Stadium, a look of despair and disappointment immediately came over the faces of the
Pittsburgh Steelers
.
The newly crowned
Green Bay Packers
were in full celebration mode, while Pittsburgh felt the sting of falling short of its seventh championship.
History weighs
heavily against the Steelers
-- seven of the past 10 Super Bowl runners-up have failed to make the playoffs the next year.
How do the Steelers avoid becoming another statistic? It will take some smart moves and solid upgrades in the offseason.
"Our goal is to try to get into [the Super Bowl] again, and just don't be on this side again," Steelers receiver
Mike Wallace
said. "Just get back in the lab and work harder. That's all."
Here is a preview of what's next for the Steelers:
Where are Pittsburgh's biggest needs?
[+] Enlarge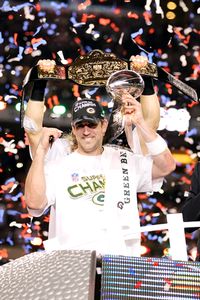 Al Bello/Getty ImagesAaron Rodgers took advantage of Pittsburgh's secondary -- completing 24-of-39 for 304 yards and a 111.5 passer rating.
Coming off a Super Bowl appearance, the Steelers are in better shape than most teams. But they are by no means perfect.
Three losses this season -- to the Packers,
New England Patriots
and
New Orleans Saints
-- have provided a blueprint of how to beat the Steelers. It takes a top-flight quarterback and a precise, short and intermediate passing game to put enough points on the board against Pittsburgh's vaunted No. 2 ranked defense.
Forcing the Steelers' offense to play from behind makes the team one-dimensional and susceptible to the pass rush. Pittsburgh's offensive line is one of the weakest areas of the team. Those three losses to Green Bay, New England and New Orleans all played out in similar fashion.
To counter these tough matchups, the Steelers need to improve their roster in several areas.
Pittsburgh's two biggest needs are at cornerback and offensive line. Upgrades to both positions would help the Steelers combat opponents like New England and Green Bay. The Packers and quarterback
Aaron Rodgers
(304 yards, three touchdowns) beat Pittsburgh's defense by running a lot of three- and four-receiver sets, which exposed the Steelers' lack of depth in the secondary.
Pittsburgh starting cornerback
Ike Taylor
is solid, but he will be an unrestricted free agent (we will get to that later). After Taylor there is a dropoff to
Bryant McFadden
and backups
William Gay
and
Anthony Madison
. High-powered passing offenses will continue to give Pittsburgh fits unless it addresses this issue. I wouldn't be surprised if the Steelers draft a cornerback in the first two rounds.
The Steelers need to improve at guard and tackle on the offensive line. Starting left tackle
Max Starks
is solid and returning from a season-ending neck injury. He will replace the inconsistent
Jonathan Scott
. Right tackle
Flozell Adams
, 35, is under contract for one more year with Pittsburgh and is uncertain about his future. Guard
Chris Kemoeatu
and center
Maurkice Pouncey
are set, but the Steelers could use another starting-caliber guard.
The Steelers traditionally are not big players in free agency, so don't expect a lot of turnover. Most of their needs will be addressed in April's NFL draft.
"I think we still have a core group of players that we can build around and hopefully make another run at it," Steelers president Art Rooney II said after the Super Bowl loss. "I don't think we'll be sitting there saying we're going to make a lot of changes. We'll prepare for the draft and add some players here and there, and be ready to go."
Who are the Steelers' key free agents
?
[+] Enlarge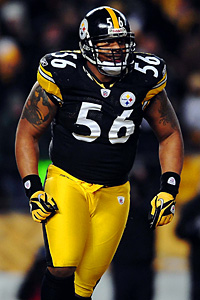 Andrew Weber/US PresswireRetaining LaMarr Woodley is one of Pittsburgh's top priorities.
Where Pittsburgh does spend its money is retaining its key free agents. The Steelers have two big ones this year in Taylor and outside linebacker
LaMarr Woodley
.
Pittsburgh has every intention of retaining Woodley, who was one of
the NFL's best bargains
after making just $550,000 in the final year of his rookie contract. Including playoffs, Woodley recorded 60 tackles, 13 sacks, two interceptions and got stronger as the season went on.
The Steelers are expected
to use their franchise tag
on Woodley, 26, while trying to negotiate a long-term deal. The deadline to tag Woodley is Feb. 24. But it will be challenging for Pittsburgh to work out a large extension until a new collective bargaining agreement is reached. Under the current CBA, the 30-percent rule is a major holdup in working out an extension with Woodley, who is a former second-round pick.
Taylor's situation is more fluid. The unrestricted free agent will be 31 in May and has spent his entire career with Pittsburgh. Returning will be Taylor's first preference, but he will certainly garner interest from other teams. Pittsburgh has to determine what is the right price to try to keep its No. 1 cornerback.
Other free agents of note for Pittsburgh include backup quarterback
Dennis Dixon
, tailback
Mewelde Moore
, kicker
Shaun Suisham
and offensive linemen
Willie Colon
and
Trai Essex
.
Can Pittsburgh remain a contender?
As we mentioned earlier, history is not kind to Super Bowl runners-up. Pittsburgh also will have to overcome its own negative history The last two times the current Steelers made the Super Bowl -- both victories -- they missed the playoffs in the following seasons, 2006 and 2009.
The Steelers are usually at their best as underdogs. That was the case this season; most experts wrote off Pittsburgh because of franchise quarterback
Ben Roethlisberger
's four-game suspension at the beginning of the season. But the Steelers showed they could overcome setbacks and made it to Super Bowl XLV.
Expectations will be high for Pittsburgh next season, because a lot of talent and veteran leadership remain. But is it enough to get to Super Bowl XVLI in Indianapolis?
"I love this group; I think it is a heck of a group," said Steelers linebacker and captain
James Farrior
. "There is a lot more football left in us. We just have to stay together. Hopefully, everything works out in the offseason and we get back here next season."
August, 14, 2009
8/14/09
9:02
AM ET
Posted by ESPN.com's Mike Sando
Thoughts and observations from the Cardinals' first exhibition game of the 2009 season, against the Steelers on Thursday night:
February, 26, 2009
2/26/09
4:41
PM ET
Posted by ESPN.com's James Walker
With free agency set to start on Friday, the Pittsburgh Steelers and Cincinnati Bengals made decisions on tendering a select amount of restricted free agents.
Pittsburgh made qualifying offers to offensive tackle Willie Colon, cornerback Anthony Madison and tight end Sean McHugh. The team also tendered exclusive rights free agents Carey Davis, a fullback, and offensive tackle Jeremy Parquet.
Davis and Parquet cannot negotiate with other teams. Colon, Madison and McHugh can negotiate deals but the Steelers could match any offer or accept draft picks as compensation.
The Bengals tendered a pair of linebackers in Rashad Jeanty and Brandon Johnson. Other teams interested would have to offer a long-term deal and give Cincinnati a second-round pick for either player.
January, 18, 2009
1/18/09
10:03
PM ET
Posted by ESPN.com's Tim Graham
PITTSBURGH -- The Baltimore Ravens had momentum. They had scored a touchdown on their previous drive to cut the Pittsburgh Steelers' lead to 16-14 in the AFC Championship Game. The Ravens' defense then held the Steelers to a three-and-out.
Ravens returner Jim Leonhard took Mitch Berger's punt to the Baltimore 39-yard line, a nice starting point with seven minutes left.
But Ravens safety Daren Stone was flagged 15 yards for mugging Steelers gunner Anthony Madison out of bounds when the ball was in the air. The penalty was assessed from the spot Leonhard fielded the punt, pushing the Ravens back to their own 14.
The Terrible Towels responded accordingly.
Instead of having comfy field position and plenty of time to remain conservative, Steelers safety Troy Polamalu eventually intercepted a desperation third-down pass by Joe Flacco and returned it for a touchdown.

NFL SCOREBOARD
Sunday, 2/2
WEEKLY LEADERS