NFL Nation:

Anthony McFarland
May, 19, 2011
5/19/11
1:00
PM ET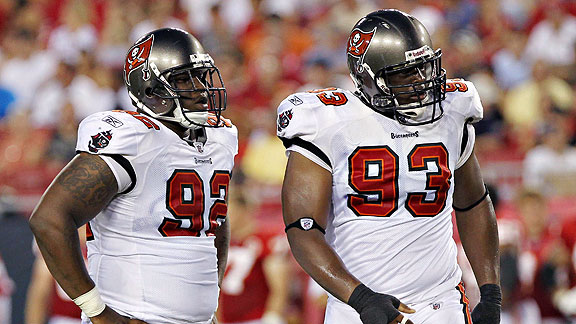 Kim Klement/US PresswireTampa Bay is hoping it has found an interior tandem in Brian Price (92) and Gerald McCoy (93).
There was a time in the early years of the NFC South when top-notch defensive tackles roamed and controlled the division.
Tampa Bay's
Warren Sapp
and Carolina's
Kris Jenkins
were making Pro Bowl rosters and All-Pro teams and publicly arguing that each was the best defensive tackle in the game. They were rare talents, but there were other members of the species in the division in those days. Guys like
Brentson Buckner
and
Anthony McFarland
weren't bad, and Carolina's defensive line once refused to pose for a four-person picture unless the frame was expanded to five to include super-sub
Shane Burton
.
But then, sometime in recent years, the last of the space-eating dinosaurs disappeared. Defensive tackles became a non-factor, even an embarrassment around the NFC South.
Take the game in Charlotte near the end of the 2008 season when Tampa Bay, featuring journeymen
Chris Hovan
and
Ryan Sims
in the middle, looked like it was giving Carolina's running backs a 7-yard head start. Or think back to 2007 and 2008 when New Orleans was scoring all those points and
Drew Brees
was throwing for all those yards. At the same time, the Saints were turning in mediocre records. That was because of the defense's poor play all around, particularly in the middle of the defensive line.
Things have started to change in recent years with NFC South teams realizing they need to get back to their roots. They've been investing early-round draft picks and big money in defensive linemen and it's about to pay off.
Let's go ahead and make a prediction now. If there is a 2011 season, it will be the year of the defensive tackle in the NFC South. Everywhere you look there's a defensive tackle -- in some places, two defensive tackles -- poised to emerge as a force. It could be the year when the NFC South gets back to having Pro Bowlers or All-Pros at defensive tackle.
Let's survey the landscape of who's on the verge of emerging.
Buccaneers.
After Hovan and Sims contributed to Jon Gruden losing his job, the Bucs weren't able to do much right away at defensive tackle because they were too busy landing franchise quarterback
Josh Freeman
. But in 2010, they used their first two draft picks on
Gerald McCoy
and
Brian Price
and they also discovered
Roy Miller
, a valuable role player.
This is still a project because McCoy and Price suffered season-ending injuries in their rookie years. But these are two extremely talented players and the Tampa Bay coaching staff is convinced they'll emerge.
Price, a second-round pick, looked like he was going to be an instant star when he showed up for his first minicamp and training camp. There was a buzz that he might be better than McCoy, a first-round pick. But Price got banged up in camp, never got completely healthy and appeared in only five games before the Bucs sat him down and he had surgery that included the insertion of four screws into his pelvis.
When the lockout ended very briefly in late April, Price showed up at One Buccaneer Place and indications were that he's well on the way to being ready for this season. Same for McCoy, who had arm surgery. After a slow start, McCoy had come on with several strong games in a row right before the injury.
[+] Enlarge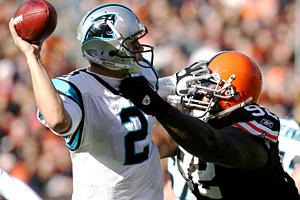 Matt Sullivan/Getty ImagesThe Saints are hoping Shaun Rogers can be a disruptive force in the NFC South this season.
McCoy is completely healthy and has spent much of the offseason in San Diego working to add upper-body strength. Throw a healthy McCoy and Price out there with newly drafted defensive ends
Adrian Clayborn
and
Da'Quan Bowers
and the Bucs suddenly could have a star -- or two -- in the middle.
Saints.
Sedrick Ellis
was drafted in the first round in 2008 and his first two seasons were interrupted by injuries. He played a full season in 2010 and responded with a career-high six sacks while playing the run well.
At the end of last season, the only thing between Ellis and greatness was having another strong defensive tackle next to him. That's why the Saints signed
Shaun Rogers
just before the lockout started. Rogers is coming off three mediocre seasons in Cleveland, but he had some big years before that in Detroit.
New Orleans is a place where there's a track record of veterans getting their careers going again. If Rogers can bring anything to the table, Ellis has a chance to emerge as the division's best defensive tackle.
Falcons.
For the past two years,
Jonathan Babineaux
has been the division's best defensive tackle. But that's sort of like putting a kid on a Little League baseball all-star team even though he came from the league's worst team because every team has to be represented. Babineaux is solid, but he has been the best by default.
Babineaux probably is going to stay solid for the next few years, but the player the Falcons think really has a chance to become a force this year is
Peria Jerry
. He was their top draft pick in 2009 and his career has been kind of a sad story. He got hurt early as a rookie, suffering a major knee injury that the Falcons have never fully described.
Jerry returned last season, but ended up playing behind rookie
Corey Peters
, a third-round draft pick. Just when it looked like you could go ahead and declare Jerry a bust, coach Mike Smith and general manager Thomas Dimitroff stepped up and shed a little more light on his situation.
They still wouldn't go into exactly what his surgery entailed, but at the NFL owners meeting in March, Smith and Dimitroff independently admitted last year was something of a "recovery'' season for Jerry. They said their plan was to play him sparingly because his knee was not 100 percent.
They went on to say people with Jerry's type of injury usually take two full years to recover and said they have high hopes for him. If Jerry can somehow get back to being the kind of player the Falcons thought he was when they drafted him, they could plug him in next to Babineaux and Atlanta suddenly could have a new face as its best defensive tackle.
Panthers.
You can make a case that this position has been the weakest unit for any NFC South team since the moment Jenkins finally was granted his two-year request for a trade after the 2008 season. Yeah,
Maake Kemoeatu
could fill as much space as Jenkins, but he couldn't move.
With Kemoeatu gone last year, the Panthers used a collection of journeymen, got pushed all over the field and went 2-14. Carolina has a major rebuilding program and they started it by using the first pick in this year's draft on quarterback
Cam Newton
. But right after that, it instantly became obvious where new coach Ron Rivera was turning his attention.
The Panthers didn't have a second-round pick, but had two in the third round. They used them to take defensive tackles
Sione Fua
and
Terrell McClain
. Both could start right away. After they were drafted, Rivera kept talking about how Fua and McClain would allow the linebackers to play "downhill." That's a start.
It's hard to say right now that a third-round draft pick is going to be a star. But if either or both of those players can allow linebacker
Jon Beason
to run free or make plays, Carolina's defense instantly will be better than it has been in several seasons.
April, 21, 2011
4/21/11
12:00
PM ET
»
NFC Draft Watch
:
East
|
West
|
North
|
South
»
AFC
:
East
|
West
|
North
|
South
Each Thursday leading up to the NFL draft (April 28-30), the ESPN.com NFL blog network will take a division-by-division look at key aspects of the draft. Today's topic: Dream scenario/Plan B.

Houston Texans
Dream scenario:
A run on quarterbacks means the team has more to choose from on defense, and while Texas A&M linebacker
Von Miller
is too much to hope for, North Carolina's
Robert Quinn
is there for them to snatch up at No. 11. Quinn would be inserted as a starting outside linebacker in the new 3-4 scheme run by defensive coordinator Wade Phillips.
Plan B:
A trade down with someone looking to come up for a quarterback would be nice, as the Texans could use extra picks to replenish the defense. In such a scenario, a spot in the middle or high 20s could be used on an outside linebacker like Georgia's
Justin Houston
, UCLA's
Akeem Ayers
or Arizona's
Brooks Reed
. But if they remain at No. 11, Missouri's
Aldon Smith
is a guy who could help them.

Indianapolis Colts
Dream scenario:
They may not value an offensive tackle with the 22nd pick, but it seems like it's time that they should. Ideally, they'd have their choice between Wisconsin's
Gabe Carimi
, Boston College's
Anthony Castonzo
and Colorado's
Nate Solder
. Carimi, who got great experience at Wisconsin, gets the nod from a team that is in the middle of Big Ten country.
Plan B:
Who's the value guy who's slipped? That's the man the Colts are most likely to pounce on, but I can't predict who it'll be. A quality defensive tackle can do a lot for the defense, and if Illinois'
Corey Liuget
is still available, he could be a guy the Colts like. He's drawn comparisons to Anthony McFarland, and while McFarland didn't work out well, the qualities he had that were appealing are still appealing.

Jacksonville Jaguars
Dream scenario:
Even for a dream, the idea of a safety worthy of the 16th overall pick is far-fetched. So we'll move past that. If they love a quarterback, they could have some appealing options. Otherwise, I see GM Gene Smith sticking with his foundation-building plan, and that would mean a defensive end. If they want bigger, it's Wisconsin's
J.J. Watt
. If they want faster, it's Purdue's
Ryan Kerrigan
. Aldon Smith would also be an option. Picking among all three would be a great spot.
Plan B:
We'll stick with the foundation plan and turn to the interior offensive line. Florida's
Mike Pouncey
could be a rock at guard or center (if he can learn to snap) for a long time and looks to be the sort of fixture the Jaguars would love to stock the roster with.

Tennessee Titans
Dream scenario:
Missouri quarterback
Blaine Gabbert
slips to No. 8 while a team or two jump up to grab non-quarterbacks in the top seven. The Titans would have their quarterback of the future, with offensive coordinator Chris Palmer set to tutor Gabbert as soon as the lockout ends, while the pressure to get a veteran who can hold down the fort eases a bit since the Titans get one of the top rookies.
Plan B:
With the top two quarterbacks gone, the Titans address defense and hope Auburn tackle
Nick Fairley
can be an impact guy whose interior play can have a positive bearing on the other 10 defenders on the field with him.
August, 17, 2008
8/17/08
12:11
PM ET
Posted by ESPN.com's Pat Yasinskas.
Here's a quick look (and some translation) at the coverage in the local papers this morning.
FALCONS
In limited action, Michael Turner rushed for more yards last night than any Atlanta runner did in any of the 16 games last season. Get ready to see a lot of Turner and consider drafting him on your fantasy football teams because he may be the only highlight of the Atlanta offense. Rookie quarterback Matt Ryan didn't look as good in his second preseason game as he did in his first. That may prompt the Falcons to proceed cautiously with Ryan and open the season with Chris Redman as the starter.
PANTHERS
Steve Smith and Ken Lucas were back on the practice field together for the first time since the receiver punched the cornerback on the sideline Aug. 1. Smith, who will serve a two game suspension for the incident, was on his best behavior. There's been talk about how all this could divide the locker room, but I don't see that happening. Lucas and Smith are both respected because of their abilities, but neither has a huge presence in the locker room because they're both loners. As long as Smith and Lucas can move forward, the rest of the team will have no problem leaving the incident behind.
SAINTS
Defensive tackle Anthony "Booger'' McFarland will be in for a visit today. This is more exploratory than anything. The Saints want to see how McFarland is recovering from a torn patellar tendon. The loss of Hollis Thomas for at least two months has the Saints considering options, but they're still pretty deep at defensive tackle. If McFarland's anywhere close to healthy, though, this is a possibility. It probably would go over well with the fans because McFarland played at LSU and is a native of Winnsboro, La.
The Saints got running back Deuce McAllister back on the field against the Texans and the offense looked great. Problem was the defense looked just like it did last year.
BUCCANEERS
Here's a statement we haven't heard in years. The Bucs think their receiving corps could be a strength.
It still is not known if former Tampa Bay safety John Lynch will get a chance to play against his old team tonight. But Lynch, who just signed with the Patriots, said he'd love that opportunity. Lynch remains a fan favorite in Tampa, even though he publicly ripped general manager Bruce Allen after leaving the Bucs.

NFL SCOREBOARD
Thursday, 12/18
Saturday, 12/20
Sunday, 12/21
Monday, 12/22
WEEKLY LEADERS