NFL Nation:

Anthony Munoz
September, 18, 2013
Sep 18
7:00
AM ET
ENGLEWOOD, Colo. – Given the NFL's combustible combination of a restrictive salary cap, constantly churning coaching and front-office staffs to go with a shrinking supply of patience at ownership level, many personnel executives would say the position caught the most in the squeeze is the offensive line.
We're talking about the guys charged with the well-being of the $100 million, face-on-a-cereal-box franchise quarterbacks. And now, pinched by the salary cap or caught in the whirlwind of change from one regime to the next, offensive lines that once flourished after spending season upon season together are now often pieced-together units with second- and third-chance players sprinkled around a highly paid left tackle.
And time is not on their side -- certainly not for linemen on their second or third NFL stop. Over the past week alone, the
Denver Broncos
have given contract extensions to two -- guard
Manny Ramirez
and tackle
Chris Clark
-- who were other teams' castoffs. Yes, two of five starters in front of future Hall of Famer
Peyton Manning
on Monday night against the
Oakland Raiders
will be guys who were simply cut loose, sent on their way by teams that didn't make the playoffs before each landed on the Front Range.
"Maybe so, maybe there is less patience out there,'' said Ramirez, who signed his two-year extension last week, with base salaries of $1.25 millon in 2014 and $1.5 million in 2015. "I know for me, for whatever reason, it just didn't work out where I was drafted. That's why Denver is such a blessing. I didn't know for a while where I was going to end up, or if I was going to end up anywhere.''
Ramirez played for
Detroit Lions
teams that finished 0-16 and 2-14 before being released, then spent most of the 2010 season out of football before landing with Broncos on what amounts to a "we'll see'' opportunity when he signed a futures contract in 2011. He's now in his third season with a Super Bowl hopeful, having played on back-to-back division winners while starting at right guard last season and center in this one.
[+] Enlarge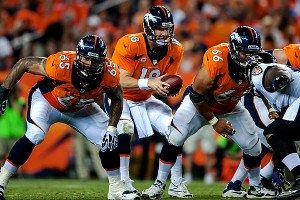 Dustin Bradford/Getty ImagesManny Ramirez (66) is one of many castoff offensive linemen around the NFL tasked with protecting franchise QBs like Peyton Manning.
Monday, Denver gave a two-year extension to Clark, thrust into the starting lineup because of
Ryan Clady
's left-foot injury. Clark's deal includes $1.4 million base salaries in both '14 and '15, plus some significant playing-time incentives he's likely to hit in the wake of Clady's injury. And Clark is a player the Broncos simply claimed off waivers from Minnesota in 2010, after he had spent two years on the Vikings' practice squad and been waived by the
Tampa Bay Buccaneers
as a rookie. He has been with the Broncos ever since, having survived the roster purge between the end of the Josh McDaniels era and the start of John Elway's tenure as the team's top football executive.
"I really have tried to just take things one step at a time,'' Clark said. "You know, prepare like you're going to play and be the guy, that if you work, handle your business, things can work out. Sometimes you just need the right situation.''
In the heyday of the Broncos' zone-run attack under Mike Shanahan, when Denver churned out 1,000-yard rusher after 1,000-yard rusher, offensive linemen essentially went through apprenticeships before seeing the light of the starting lineup. Players would often spend a season or two simply being gameday inactives before being worked into the lineup.
It was what former Broncos guard Ben Hamilton once called "big-guy grad school'' -- after he had gone thought it. Now, however, a position whose success is based on communication and understanding how the person next to you reacts to various situations is one filled with turnover across the league. And the quality of play shows it much of the time, personnel execs say -- even as more teams move to up-tempo approaches that further burden offensive lines' communication networks.
"I think you really have to know how a guy plays, how he thinks -- and they have to know how you play, how you think -- before it all really works,'' said Broncos guard
Louis Vasquez
. "Maybe it has to happen faster.''
"I think it is probably a lot harder now to have that feel,'' said Hall of Fame tackle Anthony Munoz. "I know in my case, I played next to Max Montoya for 10 years, I knew what he was going to do before he did it. You can't just create that out of nowhere, that takes time. I don't think you see that kind of time any more, so it's probably harder for guys to do all of those unspoken things. Who knows if quarterbacks get hit more now because of it? But I think it is probably more difficult to build that now.''
February, 2, 2012
2/02/12
3:00
PM ET
INDIANAPOLIS -- Hall of Fame offensive tackle Anthony Munoz said you can't make "an intellectual recommendation" on what the Colts should do with quarterback
Peyton Manning
because no one outside the organization knows the injury status of the four-time Most Valuable Player. Thanks to NFC West blogger Mike Sando for delivering the video.
December, 1, 2011
12/01/11
1:03
PM ET
Hall of Fame offensive tackle Anthony Munoz considers the Bengals "a long shot" to make a serious run this year, but believes there is a bright future for the team.

Munoz, who played for the Bengals from 1980 to 1992, said the team has a chance to contend because of the defense and the veterans on offense.
"I don't know how far [they can go] ... but I think there is a long shot," Munoz said on ESPN Radio's
Mike and Mike in the Morning
. "I don't think their chances are as great this year as maybe next year, but I think they still have a shot this year."
Munoz has been impressed with rookie quarterback
Andy Dalton
. "This kid has come in and it's his offense," Munoz said. "He's taken control. You see his leadership characteristics. You see his poise. You see his understanding of the game. He can be a factor in this league for a long time."
The Bengals (7-4) have a one game lead for the sixth and final playoff spot in the AFC with five games remaining. Cincinnati plays at Pittsburgh on Sunday.
"It's finally come together," Munoz said. "They're playing as a team. You can see the continuity and the chemistry, which to me, hasn't been there."
August, 25, 2011
8/25/11
11:50
PM ET
I'm not sure if Cincinnati rookies
Andy Dalton
and
A.J. Green
are going to be the NFL's next great quarterback and receiver or if Carolina cornerback
Chris Gamble
is totally washed up.
Gamble
I'm leaning toward the latter after watching Gamble get beat badly twice by Green in Carolina's
24-13 loss
in Thursday night's exhibition game. It got so bad that Cincinnati broadcaster Anthony Munoz joked that Gamble was seen being escorted to the locker room to have aloe applied to his burns.
I'm starting to think the Panthers have a big problem on their hands. It actually might have first surfaced last season, when former coach John Fox took Gamble's starting job away. Fox may have been going through a catastrophic season, but the man always has known what he's doing when it comes to defense. The Panthers shrugged it off as a conflict with Fox and decided to keep Gamble while not really addressing cornerback early in the draft or free agency.
Green first beat Gamble on a deep ball in the first quarter. Gamble caught a break when officials reviewed the play and decided that Green didn't make the catch in bounds, but it was still worrisome because the receiver got open with ease.
Gamble wasn't nearly as lucky the next time around. Dalton threw deep for Green in the second quarter and the rookie caught the pass easily in the end zone. It doesn't get much worse than that, and I'm wondering what the Panthers are going to do.
For a lot of years, Gamble was a pretty good cornerback, but he was never great. Last season and this preseason have shown that he might be in sharp decline.
Gamble is 28 and scheduled to make $6.24 million in base salary and count $9.24 million against the salary cap. Those are the kind of numbers you associate with a No. 1 cornerback. Gamble doesn't look like a No. 1 cornerback anymore.
Captain Munnerlyn
is the other starting cornerback and he's never going to be a No. 1 guy. In fact, he'd be a No. 3 or 4 on a lot of other teams. Beyond Munnerlyn, the Panthers don't have much else at cornerback.
The Panthers may have to make a move to get some help at cornerback before the regular season starts. Maybe that comes off the waiver wire or maybe via trade. The Panthers have $8 million in salary-cap room and they also might want to add some help at defensive tackle (yeah, I know they got
Kentwan Balmer
off waivers, but is he really the answer?) and receiver. But cornerback seems to have moved to the top of the shopping list.
If the Panthers go into the regular season with Gamble as their top cornerback and he continues to play like he did Thursday night, they're going to have major problems.
May, 18, 2011
5/18/11
1:00
PM ET
Examining the most crucial event in the history of every team in the division.
Fly into the city of Pittsburgh, and there is no doubt what is the most memorable moment in Steelers' history.
Inside Pittsburgh International Airport there is a life-sized statue of Hall of Fame running back Franco Harris' "Immaculate Reception." Harris caught a deflection off teammate Frenchy Fuqua late in a 1972 AFC divisional playoff game to score the winning touchdown in a 13-7 victory over the
Oakland Raiders
.
Msdmr writes:
"[Pittsburgh] had only been to playoffs twice at that point. It got them out of the doormat category, gave them tangible proof that they could win."
Krankor
watched the "Immaculate Reception" live on television nearly four decades ago: "I was a kid at the time, about 10 years old. What I remember most clearly was that, after the play, the delay while the officials decided what to call was unprecedented. I'd never seen anything like it, before or since."
Not everyone is impressed by the memorable play, especially those outside of Steeler Nation.
Washed_up_ball_player writes:
"Funny how the No. 1 selection, the 'Immaculate Reception,' is just a lucky play where the football gods smiled down on the Steelers. That sounds like the definition of the Steelers to me."
The "Immaculate Reception" led the way with 34 percent of the 40,000-plus votes as of 3 p.m. ET Tuesday, edging Pittsburgh's 1974 draft (31 percent) that included four Hall of Famers in linebacker Jack Lambert, center Mike Webster and receivers Lynn Swann and John Stallworth. The Steelers' 1974 draft is often considered the greatest in NFL history. We may never see four Hall of Famers drafted by one team in the same year again.
Former Steelers Hall of Fame coach Chuck Noll also had his share of supporters. Noll's hiring in 1969 received a solid 26 percent of the vote. Noll coached Pittsburgh to four Super Bowl wins in the 1970s before retiring in 1991. He started an impressive run of only three head coaches -- Noll, Bill Cowher and Mike Tomlin -- running the Steelers since 1969.
Jebei_espn also writes:
"The Steelers were always bad before they hired Chuck Noll and have been consistently good since then. Noll turned the franchise around and with great support from the Rooney family they started a great tradition that continues to this day."
RAVENS: First draft was huge
Speaking of impressive draft classes, the
Baltimore Ravens
had one of their own during their inaugural season in 1996.
The Ravens landed two future Hall of Famers in the first round. Baltimore selected left tackle
Jonathan Ogden
with the No. 4 overall pick and middle linebacker
Ray Lewis
at No. 26 overall, which received an impressive 54 percent of the vote as of Tuesday afternoon. Both players were longtime stalwarts on offense and defense, and Lewis, 36, still leads the Ravens entering his 16th season.
DaReel2008
summed it up best by writing: "Drafting Lewis and Ogden was our defining moment, and the others mentioned -- even the Super Bowl -- aren't even close. Ray Lewis and Jonathan Ogden are two of the best players to ever play their positions. They not only helped carry the Ravens to a Super Bowl, but made us a perennial contender for most of the last 12 years. Our team prides itself on its character and its toughness, both of which are embodied by these two players, who will be in the HOF upon their first year of eligibility."
The Ravens also got a nice sleeper in the fifth round of the 1996 draft by getting receiver and return specialist
Jermaine Lewis
. He was the first of many gems Baltimore's front office was able to discover in the middle and late rounds.
Baltimore's Super Bowl XXV victory over the
New York Giants
following the 2000 season came in second place with 40 percent of the vote. It remains the Ravens' only Super Bowl victory.
Clifford from Baltimore
makes a good case for Super Bowl XXV when he writes: "It solidified the identity of the franchise. The Ravens were a good defensive football team for two years or so before their Super Bowl run, but winning a championship with defense effectively defined the entire culture of the team as a whole."
BROWNS: Hard luck adds to Cleveland curse
Now we get to the downtrodden segment of our "Flash Points" series. After more than 50,000 votes -- the highest total in the AFC North -- "The Fumble" and "The Drive" led the way among Browns fans with 37 percent.
Cleveland's championship drought in pro sports is at 47 years and counting. The Browns' teams of the late 1980s were solid and had a chance to break that streak. But Hall of Fame quarterback
John Elway
and the
Denver Broncos
broke Cleveland's heart in back-to-back years with a pair of late-minute victories.
Denver and Cleveland met in the AFC title game one year later, and
Earnest Byner
's late fumble on the 3-yard line thwarted a chance for the Browns to tie the score in regulation. Following a late safety, Denver held on to win 38-33.
Daffy87 writes:
"I would lean towards 'The Fumble' and 'The Drive' since that's the first thing that comes to people's minds when they bring up the Browns. Anytime anything bad or strange happens in a game, announcers roll the film."
I interviewed Byner
a few years ago to discuss his fumble. The play serves as a cruel reality, because Byner had a solid career, rushing for 8,261 yards, but he will be most remembered for one bad play.
"To be honest, it helped me be a better man and a better person," said Byner, who now is an assistant coach with the
Jacksonville Jaguars
. "Going through something like that really gives you perspective that life is not over when you have something tragic happen or something that definitely challenges you."
Both Denver teams lost in the Super Bowl. Cleveland fans can always wonder if those Browns teams would have been a better representative for the AFC and perhaps won at least one championship following the 1986 or 1987 season.
BENGALS: Downhill since Montana
The
Cincinnati Bengals
have had some highs and lows in their history. But an overwhelming 49 percent of Bengals fans chose
Joe Montana
's late, game-winning drive to lead the
San Francisco 49ers
over the Bengals in Super Bowl XXIII as Cincinnati's biggest turning point.
GreatestBengalsFanOfAllTime writes:
"The last-minute loss to the 49ers defines the Bengals, forever and always. Many fans like to say it was the
Mike Brown
era, but the truth is, the Bengals weren't exactly legends under Paul Brown, either. The last-minute loss to the 49ers accurately sums up the entire history of Bengaldom in one simple phrase: 'So close, yet so far.'"
Trailing 16-13, the 49ers needed to drive 92 yards in the final three minutes to win the Super Bowl. Montana got in rhythm and connected with receiver
John Taylor
with 34 seconds left to win the game, 20-16. It was the last Super Bowl appearance for the Bengals, who in turn have struggled mightily for the past two decades.
Bengals owner Mike Brown taking over the franchise was a distant second with 27 percent. Brown's father, Hall of Famer Paul Brown, starting the franchise in 1968 was third with 13 percent, and drafting left tackle Anthony Munoz in 1980 was fourth with eight percent.
May, 11, 2011
5/11/11
1:02
PM ET
What key event significantly changed the fortunes of the Bengals -- for better or worse? Give us your take and we'll give you our definitive moment May 18.
Despite their struggles the past two decades, the
Cincinnati Bengals
also have a collection of good moments in their history. Using our SportsNation poll, we ask Bengals fans to sift through the good and bad to select the most defining moment in franchise history.
Was it in 1968, when Hall of Fame coach Paul Brown started the franchise? Brown was a great football mind who brought his knowledge and successful track record to Cincinnati.
Twelve years later, the Bengals made their best draft pick by selecting left tackle Anthony Munoz, another Hall of Famer. Munoz protected quarterbacks Ken Anderson and
Boomer Esiason
and helped lead Cincinnati to two Super Bowl appearances.
Speaking of Super Bowls, was the last-minute loss to the
San Francisco 49ers
in Super Bowl XXIII Cincinnati's defining moment? The Bengals nearly won it all for the first time before 49ers quarterback
Joe Montana
worked his magic. Cincinnati hasn't come close to winning a Super Bowl since.
Or was Mike Brown taking over as owner the team's biggest defining moment? Brown has been criticized heavily in Cincinnati, which hasn't won a playoff game in 20 years under his leadership.
Let us know the Bengals' most defining moment. If you vote Other, give us your suggestion in the comments area below.
March, 15, 2011
3/15/11
12:21
PM ET
By
Matt Millen
| ESPN.com
Matt Millen, a former NFL linebacker, executive and current ESPN football analyst, is joined by ESPN NFL analyst Merril Hoge and Hall of Fame offensive lineman Anthony Munoz on an NFL-USO Tour. The group traveled to meet and greet service members for several days. Millen sent an update from the tour:
[+] Enlarge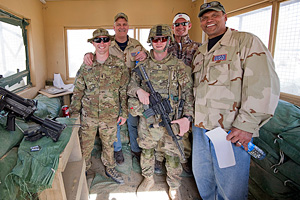 Dave Gatley/USO Photo Matt Millen, back left, Merril Hoge, back right, and Anthony Munoz, front right, spent Day 4 of their tour in Afghanistan flying from one Foreward Operating Base to another, meeting with troops.
DUBAI -- We spent our last few days on tour traveling between forward operating bases (FOBs) in remote parts of northern Afghanistan. Their names seem like a blur to me now. Some of them seemed like proper military bases, with advanced facilities and buildings, while others were tiny and almost insignificant -- we could barely see them as we approached. New soldiers will get their feet wet in the smaller FOBs, where they can learn the ropes in Afghanistan and see how to be part of a team.
What struck me most about Afghanistan was the disparity between the technology on display in even the smaller FOBs and the reality of life in the country for its people. We would fly over the Hindu Kush mountains and spot a lone house in a clearing with nothing around it for miles. Other times, we'd see a small collection of houses -- a village without electricity or running water. It was almost like going back in time.
I made an unexpected connection when visiting one of the FOBs. We were talking with a group of soldiers, and it turned out that one of them had grown up in Fair Lawn, N.J. My father-in-law, Dick Spifak, was a health and physical education teacher at Fair Lawn High School. It turned out that this soldier had been one of Dick's students. He was one of seven brothers who passed through my father-in-law's class. It's strange how you can be confronted with an unexpected familiarity on the far side of the globe.
Our last night in Afghanistan, we sat down with Brig. Gen. Sean P. Mulholland, who talked with us about his troops and their mission. We were incredibly grateful to him for taking time out of his schedule to chat with us. As with all the service members we talked to, I feel like I learned so much more from him and his soldiers than they could have ever learned from me.
My son, Marcus, and his friend, Staff Sgt. Aaron Welch, accompanied us throughout the rest of our trip. It was bittersweet to say goodbye to my son as we finally geared up to leave, but I was so happy to see him during our trip, and grateful to the NFL and USO for arranging it. My birthday was March 12th, and I couldn't ask for a better present than to spend it with Marcus. Afghanistan was an amazing experience, and I encourage everyone to make the effort to learn more about our soldiers and their mission.
February, 1, 2011
2/01/11
3:13
PM ET
He was an offensive lineman, which means statistical numbers can't tell the whole story. So how do we know
Willie Roaf
should be elected to the Pro Football Hall of Fame?
[+] Enlarge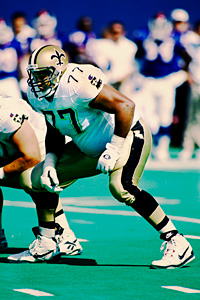 US PRESSWIREWillie Roaf was named All-Pro seven times and was an 11-time Pro Bowl pick in 13 seasons.
It's simple really. You compare him to the best offensive linemen ever. If he stacks up, he gets in. If he doesn't have the résumé, he doesn't get in.
I'll make the case right now that Roaf's résumé is sparkling and he should be elected Saturday when voters in Texas see his name as a finalist in the first year he's eligible. I've been in that election room before and I know there will be some critics that will say Roaf, who spent most of his career with the
New Orleans Saints
and finished it with the
Kansas City Chiefs
, doesn't have any Super Bowl rings and that he didn't play on a lot of great teams.
So what? The thing that really matters is that Roaf was among the best ever at what he did. Off the top of your head, who's the best offensive tackle ever? I'm guessing a lot of people will say Anthony Munoz, who was inducted into the shrine in Canton, Ohio in 1998. Some younger people might argue for Baltimore's
Jonathan Ogden
, who won't be eligible for election until 2013.
The reality is Roaf is right there with them in every way you can measure an offensive tackle. In his 13-year career, Roaf made the Pro Bowl 11 times. That's the same number of Pro Bowl berths Munoz and Odgen had. No offensive tackle has made the Pro Bowl as many times as Roaf, Munoz and Ogden.
Another good measuring stick is to see if a guy has made an all-decade team because that means he was the best at his position for at least most of a decade. Well, Roaf did that -- twice. He was selected to the all-decade team for the 1990s and the 2000s.
Roaf was durable and dominant and that means he's deserving of a spot in the Hall of Fame. Last year,
Rickey Jackson
became the first New Orleans player elected to the Hall of Fame on the day before the Saints won the first Super Bowl in franchise history.
There will be no repeat on Sunday since the Saints were knocked out in the first round of the playoffs. But there should be a repeat Saturday and the Saints should have their second Hall of Famer.
"William Roaf was one of the greatest players in our franchise's history,'' Saints owner Tom Benson said. "He's one of the greatest players to ever play his position and someone that myself and our fans have a great appreciation for. Hopefully, William will have the opportunity to join Rickey Jackson in Canton this summer."
January, 20, 2011
1/20/11
5:12
PM ET
The Saints just sent out an announcement that quarterback
Drew Brees
has been selected as the 2011 winner of the Bart Starr Award.
Voted on by players around the league, the award is designed to honor a player who exhibits outstanding character and leadership in the home, on the field and in the community.
We all know that Brees has made a huge impact on the New Orleans area since arriving as a free agent in 2006, and his accomplishments on the field speak for themselves. Some past winners of this award are
Warrick Dunn
,
Reggie White
, Anthony Munoz and
Kurt Warner
.
Brees will be given the award Feb. 5 at an event leading up to the Super Bowl.
September, 29, 2010
9/29/10
4:47
PM ET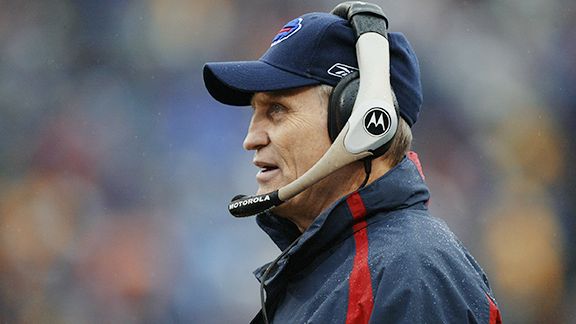 George Gojkovich/Getty ImagesJim McNally coached offensive lines for 28 years -- including four years with the Bills -- but now he's a consultant for the Jets, and he's helping them prepare for Sunday's game against Buffalo.
From his home in Orchard Park, N.Y., not far from Ralph Wilson Stadium, home of the
Buffalo Bills
, the Mouse quietly has been working for the
New York Jets
.
Jim "Mouse" McNally, one of the NFL's most respected assistant coaches, did not completely retire when he left the Bills in 2008. McNally surreptitiously has been helping to coach the Jets' offensive line from 300 miles away.
"Cat's out of the bag now, huh?" Jets offensive line coach Bill Callahan said with a chuckle. "God dang it."
Callahan mixed his metaphor, but there's no mistaking his respect for McNally, who coached NFL offensive lines for 28 years.
Callahan, a respected O-line coach himself, described McNally as being "like a golf pro" in his ability to scrutinize technique subtleties, labeled him "an encyclopedia of line play" and said McNally is "certainly one of the best coaches in modern football."
McNally, 66, technically is considered a Jets consultant. But the players call him "Coach." He breaks down Jets game and practice footage on his computer with
Hudl software, which allows him to download video
and playbook information through a secure Internet connection.
He's helping the Jets prepare for Sunday afternoon against the Bills in his backyard. The game will give McNally rare personal contact with the team he has been monitoring from afar since last summer.
"I look at practice every day," McNally said. "I look at the games. Then I talk to Coach Callahan about what I saw and the game plan and stuff like that."
McNally is in the Greater Buffalo Sports Hall of Fame. He grew up in suburban Kenmore, where he first was tagged "Mouse" in neighborhood pickup games. The nickname stuck when he stopped growing at 5-foot-8.
McNally's tenacity was evident by his compulsion to walk on as an offensive lineman for the University at Buffalo. He eventually played both offense and defense. On the coaching staff was a young Buddy Ryan, father of Jets head coach Rex Ryan. That link and a long relationship with Callahan are why McNally is helping a hometown rival.
McNally attended training camp at SUNY-Cortland last year as a guest. Callahan asked McNally to speak to his linemen. Eventually, McNally was breaking down film.
"I didn't purposely try to work for the Jets," McNally said. "Just my relationship with Callahan -- he's such a great friend of mine. It's something that keeps me busy. I don't do it full time.
"I'm kind of under the radar here in Buffalo. It was a convenient way to stay involved in pro football."
McNally rose to coaching prominence for his innovative methods. He spent 15 seasons with the
Cincinnati Bengals
, mentoring future Hall of Fame left tackle Anthony Munoz and four-time Pro Bowl guard
Max Montoya
. McNally also established his annual coaching clinic there, turning Cincinnati into what Callahan called "the Mecca" for O-line instruction.
McNally worked with the
Carolina Panthers
for four years, the
New York Giants
for five years and the Bills for four years.
"Technique was his greatest strength," said
Ross Tucker
, who started at left guard for McNally with the Bills in 2006. Tucker spent six seasons in the NFL and now is an ESPN analyst. "He had some technique things I never heard of that were effective and helpful."
One of McNally's inventive concepts was the "lazy forearm," an effective way to fend off a double team while keeping separation. Tucker explained it as a violent upward motion that pries a defender's shoulder back.
[+] Enlarge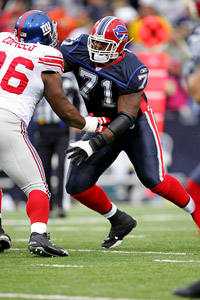 Paul Jasienski/Getty ImagesJason Peters, who came into the league as an undrafted tight end, became a Pro Bowl tackle under McNally's tutelage.
"He was innovative," Tucker said, "and he was creative from an X's and O's standpoint."
McNally's prized pupil in Buffalo was undrafted tight end
Jason Peters
. The Bills converted him to tackle, and McNally turned the raw specimen into a star. Although Peters became a contractual headache and forced the Bills to trade him, he has been selected to the past three Pro Bowls.
McNally was supposed to be on scene for "Hard Knocks" training camp this summer at SUNY-Cortland, but health issues prevented it. He underwent an emergency appendectomy and a serious follow-up surgery and myriad tests that sent him in and out of the hospital in June and July.
He has been getting out a little more now. He has been working with local high school teams such as St. Francis, Canisius and Kenmore West. He works as a fundraiser for his alma mater. He also has a website, where you can locate one of his upcoming clinics, learn about his annual camp and find instructional DVDs at
CoachMcNally.com
.
"I went from doing things all day long to sitting around the house and maybe taking a walk around the neighborhood," McNally said. "I've learned how to calm down a little bit. I don't have to leave the house at 6:30 in the morning. It's given me a perspective of that football life I had of 43 years of 'Go! Go! Go! Go! Go! Go!' "
The Jets are thrilled he hasn't stopped completely. He doesn't need to zoom around the practice field like he did when he wore a whistle around his neck.
A steady bit rate from his telecomm provider will do just fine.
"He's been tremendous for me," Callahan said. "He's a wealth of information and knowledge and experience. That's invaluable in so many ways. You're talking about one of the greatest line coaches of all-time.
"He easily could have faded away, but it's great he's still a part of the game. He has so much to give. He's unselfish that way in terms of sharing information and trying to get players better and coaches better, whether it's working with his youth leagues or the New York Jets."
June, 23, 2010
6/23/10
12:00
PM ET
Notable players:
OT Anthony Munoz, QB
Boomer Esiason
, RB James Brooks, RB Ickey Woods, DL
Tim Krumrie
, WR Eddie Brown, S
David Fulcher
[+] Enlarge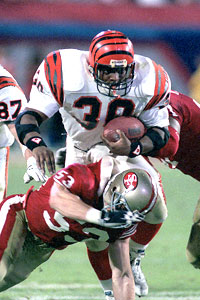 Manny Rubio/US PresswireIckey Woods led the Bengals with 1,066 yards rushing and 15 TDs.
Analysis:
If not for the late-game heroics from
San Francisco 49ers
Hall of Fame quarterback
Joe Montana
, the 1988
Cincinnati Bengals
would have earned the franchise's first and only Super Bowl title. Instead, they join a long list of great teams that are often forgotten after losing in the big game.
With the Bengals leading by three points, Montana drove San Francisco 92 yards for a touchdown late in the fourth quarter to seal a 20-16 victory in Super Bowl XXIII. Montana's game-winning touchdown throw to receiver
John Taylor
with 34 seconds remaining has been replayed constantly and is a reminder of how close the Bengals were to winning the Super Bowl.
But being that close to a title is what makes the '88 Bengals the best team in franchise history.
Cincinnati's explosive offense led the NFL in scoring with 448 points and in total yards in '88. Esiason threw for 3,572 yards and 28 touchdowns, and the Bengals nearly had two 1,000-yard rushers in Ickey Woods (1,066 yards) and James Brooks (931 yards).
The '81 Bengals also won the AFC and are a close second. Coincidentally, Cincinnati lost to San Francisco in the Super Bowl that year as well.
Most impressive win:
Despite Cincinnati lighting up the scoreboard all season, the AFC Championship Game was a defensive battle against the
Buffalo Bills
.
The Bengals had to win with toughness, holding the
Jim Kelly
-led Bills to 181 total yards in a 21-10 victory. Cincinnati held Buffalo to 45 yards rushing and forced three turnovers. The Bengals also ran the ball 50 times for 175 yards in the win to set up their Super Bowl showdown with San Francisco.
Research room:
The Bengals had seven Pro Bowlers in '88. Esiason, Munoz, Brooks, Brown and tight end
Rodney Holman
represented the AFC on offense. On Cincinnati's defense, Fulcher and Krumrie also earned Pro Bowl nods.
The Ickey Shuffle:
To the casual football fan, probably the most memorable aspect of the run made by the '88 Bengals was the invention of the "The Ickey Shuffle."
Woods came up with a famous (infamous?) touchdown dance that consisted of a stutter-step to each side, then a spike of the football. Artistically, "The Ickey Shuffle" wasn't all that great. But it became one of the most well-known touchdown celebrations in NFL history.
Honorable mentions:
1981:
This remains the only other Bengals team to play in a Super Bowl. Quarterback Ken Anderson had a career year, throwing for 3,754 yards, 29 touchdowns and a 98.4 passer rating.
2005:
The best team of the Marvin Lewis era, Cincinnati went 11-5 and won the AFC North. But a first-quarter knee injury to quarterback
Carson Palmer
led to a quick playoff exit against the
Pittsburgh Steelers
.
1975:
Another first-round playoff exit makes this a quality but forgotten team. The Bengals were very well-balanced in '75 and ranked in the top seven in total offense (No. 2) and total defense (No. 7).
August, 12, 2009
8/12/09
10:00
AM ET
Posted by ESPN.com's Matt Mosley
Before leaving Eagles camp Tuesday, I had a chance to visit with new left tackle Jason Peters. We talked about some of the differences between the Bills and Eagles organizations. Here's a portion of the interview to read while I'm out watching the Giants practice:
Mosley: What's the biggest difference from Buffalo in terms of your blocking assignments?

Peters: The pass sets are different. I was used to setting up at an angle in Buffalo. In [the West Coast offense], I have to sit back and wait a little bit more. I'm not going to lie to you, it's been pretty tough at times.

Mosley: I know you played against the NFC East teams when you were in Buffalo. How would you rank the pass-rushers in the division?

Peters: [DeMarcus] Ware's the best and then Osi [Umenyiora]. Then I'd probably say [Andre] Carter. But I know Justin Tuck has come on pretty strong lately, too. When I went against Ware a couple years ago, I don't think he had any sacks.

Mosley: How difficult is it to develop continuity when guys are banged up on the offensive line?

Peters: It's not as hard as everyone makes it out to be. You just have the next guy in line ready to go. You take care of yourself as an individual and then eventually everything will come together.

NFL SCOREBOARD
Thursday, 12/12
Sunday, 12/15
Monday, 12/16