NFL Nation:

Antrell Rolle
December, 16, 2010
12/16/10
2:30
PM ET
By
Matt Mosley
| ESPN.com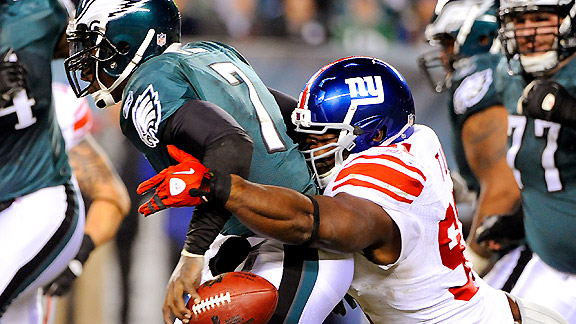 Howard Smith/US PresswireJustin Tuck and the Giants' defense gained confidence after their first game against the Eagles' Michael Vick.
The last time the
New York Giants
prepared to face
Michael Vick
he was coming off one of the greatest performances in league history. The Giants were attempting to bounce back from an embarrassing home loss to the 1-7
Dallas Cowboys
that revealed some flaws in Perry Fewell's defense.
The Eagles punched the Giants in the gut early -- as they almost always do -- and then had to survive a second-half scare in a 27-17 win in Week 11. The Giants fell to 6-4 with that loss, but I still think it was the impetus for their current three-game winning streak. Fewell, the team's new defensive coordinator, didn't treat Vick with the same reverence the Redskins had shown the previous week. He brought safety
Antrel Rolle
on the blitz several times and Vick looked human for nearly three quarters. The Giants caused a couple of Vick fumbles, and it was really the first time I'd seen him rattled during the season. (Yes, I realize the Redskins injured his ribs early in the season, but you get the picture).
[+] Enlarge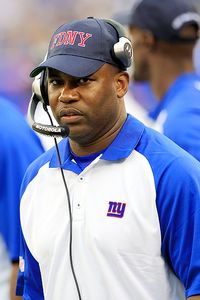 AP Photo/Paul SpinelliDefensive coordinator Perry Fewell has the New York Giants defense feeling good heading into Sunday's game against Philadelphia.
The
Chicago Bears
provided a blueprint for beating Vick the following week when they played their safeties at a suitable distance for a Hail Mary and relied on their front four to create pressure. The mighty Vick lost for the first time this season in a game in which he started and completed. Giants defensive end
Justin Tuck
told me via text Wedneday that he's spent a lot of time with that Bears film this week. Fewell will certainly blitz more than the Bears, but he'll borrow a few elements from that game.
I think the Giants' defense found its identity against the Eagles. New York's known for knocking out quarterbacks (
Tony Romo
comes to mind) and in the first matchup, they seemed to feed off the fact that Vick was having a hard time getting up after some of the hits. Soon, Eagles coach Andy Reid would cry out to the heavens (and the league office) for help in protecting his brilliant quarterback. I believe the Giants' defense planted the seeds of Reid's discontent.
"I think the Eagles game in general gave us a lot of confidence," Giants defensive tackle
Barry Cofield
told me Thursday morning before practice. "We had already done some good things, but that game validated the work we had put in."
Cofield has quietly put together a Pro Bowl-caliber season for the Giants. He's part of a defensive line rotation that has started to flourish about a year later than general manager Jerry Reese had hoped. We knew that Cofield,
Chris Canty
and
Rocky Bernard
were talented defensive tackles, but they encountered too many injuries in '09. With the help of Fewell, the Giants are creating a lot of mismatches along the line of scrimmage.
"Fewell is like a mad scientist," said Cofield. "He uses guys all over the field and dials up creative blitzes. The success we've had lately has helped make the trust level grow."
Like pretty much any other defense that faces Vick, the Giants will try to make him roll to his right. The Giants are the No. 1 third-down defense in the league, and the Eagles were 3-of-14 against them in those situations in the teams' last meeting. Of course, none of that mattered when Eagles running back
LeSean McCoy
took a dangerous toss from Vick on fourth-and-1 in the fourth quarter and raced 50 yards for the winning touchdown. Reid and offensive coordinator Marty Mornhinweg have so many weapons at their disposal that it's almost overwhelming for opposing coaches. But Reid has tremendous respect for Fewell.
"You know, they have a great defensive coordinator now," said Reid on Wednesday. "This guy, he has a great feel for things. ... he puts together some good stuff for each team. He's able to decipher your weakness, what he considers your weakness, and then go after it. So he comes in with a well-thought out plan, and I think his players believe in it and they do a good job with executing it."
Fewell knows the Eagles' offensive linemen have issues protecting against stunts. Fewell might have Tuck line up at defensive tackle and then have him run a twist with rookie
Jason Pierre-Paul
, who has come on strong in recent weeks. The Giants will let Vick dink and dunk his way down the field, but they will do everything in their power to keep
DeSean Jackson
from using one of his double moves to break open the game. Tuck's pretty pragmatic about what happened in that first game against the Eagles.
"Against Vick, you have to stick to your guns, and we did that," said Tuck. "In the first half, they really had great field position and that results in points. In the second half, we made them earn everything they got."
Now the stakes have been raised. A division title's on the line at New Meadowlands Stadium on Sunday. And the Giants feel like they're in position to end this five-game losing streak to the Eagles.
August, 3, 2010
8/03/10
1:00
PM ET
By
Matt Mosley
| ESPN.com
ESPN.com NFL Power Ranking
(pre-camp): 16
ALBANY, N.Y. -- The
New York Giants
are going through an identity crisis. Just when we had them pegged as a perennial playoff team, they went out and lost eight games in one season.
There are plenty of players on the roster who own Super Bowl rings from the '07 season, but some of them also took the field in disgraceful losses to the Panthers and Vikings to close out '09. Coach Tom Coughlin seemed invincible two years ago, but it's not a stretch to say that his job's on the line heading into this season. Co-owner John Mara has suggested that's not the case, but it's hard to envision Coughlin surviving another .500 season.
The good news for Giants fans is that Coughlin's been here before, and he's come out on the other side. He told me Monday that two books he read over the summer -- a biography of Harry Truman and a remarkable story involving four Navy SEALs -- have had a profound effect on him. He'll spend the next three weeks in training camp attempting to inspire his players to be "uncommonly good."
"I don't remember anyone saying I was on the hot seat when we were 5-0," he said Monday. "But believe me, the most intense pressure comes from within. The outside stuff doesn't affect me."
Coughlin has personally challenged veteran players such as defensive end
Justin Tuck
to get out of their comfort zones and take larger leadership roles. He also brought in fiery defensive coordinator Perry Fewell to create more energy on the practice field. The former Bills assistant can be heard from across the University at Albany campus shouting at his players and he even tried to throw a block for cornerback
Corey Webster
during an interception return Monday.
"With our group of players, a coach has to do something phenomenal for us to wholeheartedly follow you," Tuck told me Monday. "[Fewell] had to win our trust. But every day, he shows us how much he loves the game with his actions. And when you see a guy with that much energy, it's hard not to get behind him."
Shortly after Fewell was hired, Tuck stopped by his office to say hello. When he walked into the room, he said Fewell grabbed a marker and started drawing plays on the board.
"He went through a bunch of different scenarios and then asked me how I thought they might work this season," said Tuck. "I got more and more excited as he talked about all the possibilities."
Tuck didn't want to give too much away, but he did disclose that one of the scenarios involved him and
Osi Umenyiora
both playing linebacker at the same time. But keep that confidential if you would.
THREE HOT ISSUES
[+] Enlarge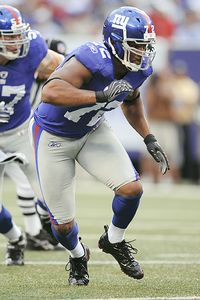 Rich Kane/Icon SMIOsi Umenyiora is in a battle to regain his job as a starter.
1.
What happens if Osi Umenyiora doesn't win back his starting job?
For the first two days of camp, Umenyiora was all smiles. He's only practicing once a day in order to manage his hip injury, but he doesn't think the injury will keep him out of any games. Umenyiora's a prideful player who felt humiliated by losing his job to
Mathias Kiwanuka
last season.
The good thing is that Fewell's going to be up front with all of his players and let them know where they stand. Coughlin remembers how the Giants came at teams with waves of pass-rushers in '07 and '08. Tuck, Umenyiora, Kiwanuka and first-round rookie
Jason Pierre-Paul
have the talent to be a special group. But last year players along the defensive line started trying to do too much individually and didn't play as a unit. I don't see any circumstance where Umenyiora embraces a reserve role, so that will put the coaching staff in an interesting situation. My guess is that Umenyiora meets the challenge and wins back his job.
"Osi's in for a fight because Kiwi's not going to back down," said Tuck. "Those two are going to push each other and I think that's a good thing."
2. Is former second-round pick Will Beatty ready to take over at left tackle?
Coughlin and general manager Jerry Reese love creating competition and it's going to be interesting to see if
David Diehl
can hold onto his left tackle spot. The good news for Diehl is that he's going to end up starting on the offensive line no matter what happens in that competition. Coughlin's going to do whatever's best for the team, and I think that will ultimately be Beatty at left tackle and Diehl at left guard. Beatty, a second-year player, has shown a lot of quickness in the first three practices of training camp.
It won't be a completely smooth transition, but I believe he has the athletic ability and size to succeed at left tackle. The Giants have had a lot of continuity along the offensive line, but that won't keep Coughlin from pulling the trigger on a move. In talking to Reese, I get the feeling he's enjoying this competition quite a bit.
3. Can the Giants re-establish the running game?
[+] Enlarge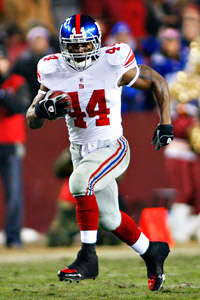 Geoff Burke/US PresswireA healthy Ahmad Bradshaw could see more carries in 2010.
Of all the things that went wrong last season, the lack of a consistent running game might have been the thing that disappointed Coughlin the most.
The Giants went from the No. 1 rushing team in the league in '08 to a No. 17 ranking in '09. They averaged almost a full yard less per carry in '09, which put too much pressure on
Eli Manning
and the passing game.
Tiki Barber told me early last season that he'd advised
Brandon Jacobs
to learn how to protect his body more on runs. It may have been solid advice, but Jacobs appeared tentative in '09 and began to doubt himself as the season unfolded. If he looks tentative early in this season, I believe a healthy
Ahmad Bradshaw
will be prepared to take over as the featured back.
I've been impressed with how quick and decisive he's looked in camp. And
Andre Brown
appears to have regained his speed after missing last season with a ruptured Achilles tendon. Brown should be a good change-of-pace back and he has soft hands that could make him a decent option on third down.
BIGGEST SURPRISE
I think the most pleasant surprise so far is the Giants appear to have a ton of competition at cornerback.
Aaron Ross
missed so much time last year because of hamstring issues that he sort of faded out of the picture. Now, he's getting his hands on lots of footballs and he's regained that quickness that we saw a couple seasons ago. The problem for him is that
Terrell Thomas
and Webster have both been excellent in this camp. Webster was a disappointment last season, but he's been one of the best players in camp through three practices.
BIGGEST DISAPPOINTMENT
It's hard to give up on someone after three practices, so I'll go with an injured player in safety
Kenny Phillips
. He has an excellent attitude, but the fact that he's on the physically unable to perform list isn't a great sign. He was on the verge of stardom before a serious knee condition required microfracture surgery. The Giants brought in plenty of insurance for Phillips this season, but it would be really disappointing if he's not able to make a full recovery.
OBSERVATION DECK
[+] Enlarge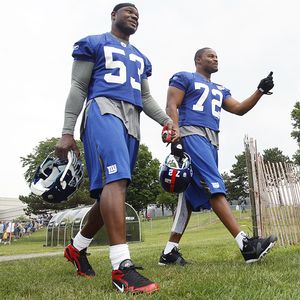 AP Photo/Mike GrollLinebacker Keith Bulluck (53) has looked comfortable in the early stages of camp.
NFL SCOREBOARD
Thursday, 11/27
Sunday, 11/30
Monday, 12/1
WEEKLY LEADERS