March, 24, 2015
Mar 24
3:15
PM ET
PHOENIX -- Pittsburgh Steelers coach Mike Tomlin didn't borrow from Green Bay Packers quarterback Aaron Rodgers Tuesday and tell fans to R-E-L-A-X over the situation at cornerback.
The eighth-year coach is confident the Steelers will be more than capable at cornerback in 2015 despite the inexperience they have at the position and finishing 27th in the NFL against the pass last season.
"I expect the guys that we have to continue to grow and get better," Tomlin said at the NFL owners meetings. "I expect to add credible, competent men to add to that mix to provide competition and put them in a competitive environment and see who comes out on top. I'm completely comfortable that at the end of that we're going to have above the line corner play."
The Steelers have just three cornerbacks with NFL experience on their roster, though Antwon Blake is expected to sign the one-year, $1.554 million contract the team offered him as a restricted free agent.
Tomlin cited Blake as a young cornerback who made some big plays last season and is on the rise.
The Steelers expect him to at least replace Brice McCain, who signed a two-year, $5.5 million contract with the Miami Dolphins earlier this month. Tomlin said he is also confident Cortez Allen will rebound from a season in which he battled injuries and twice lost jobs because of ineffectiveness.
The Steelers hosted free-agent cornerbacks Patrick Robinson and Sterling Moore last week but each signed one-year deals with other teams.
Both Tomlin and general manager Kevin Colbert said this week the Steelers are most likely to add to the position through the draft. The team could draft several cornerbacks early and use a first-round pick on one -- which would be the first time since 1997 when the Steelers selected Chad Scott.
The Steelers have largely shrugged off questions and concerns about the cornerback position after allowing 253 passing yards per game last season, and so far losing instead of adding players at the position.
Tomlin explained why Tuesday at the media breakfast for AFC coaches.
"We believe in the process that we go through and we also believe in the men that we have," Tomlin said. "I know some of the guys that we have on our roster at the position right now don't have extended resumes. That's always the case. How do you gain experience without going through the process of gaining experience? These guys are driven and they want to be positive contributors to our efforts and reasons why we're successful and some of those guys played key roles down the stretch last year."
January, 2, 2015
Jan 2
3:30
PM ET
PITTSBURGH -- All of the injured
Pittsburgh Steelers
players, with the exception of running back
Le'Veon Bell
, are listed as probable for the AFC wild-card game against the visiting
Baltimore Ravens
.
That includes strong safety
Troy Polamalu
and cornerback
Ike Taylor
, each of whom practiced every day this week.
Taylor
The two veterans have missed five combined games a the stretch in which the Steelers defensive backs have played their best ball of the season.
Taylor has acknowledged that, which is why it sounded like he will play behind starters
William Gay
and
Brice McCain
and nickel back
Antwon Blake
-- if he suits up at all against the Ravens.
"I'm feeling fresh but just watching my young guys go from third, fourth and fifth guys on the depth chart to first, second and third guys on the depth chart, that's exciting," Taylor said, "just seeing these young guys grow and make plays in game."
Taylor has not played since coming out of the Steelers' Dec. 7 win at Cincinnati after giving up an 81-yard touchdown catch to Bengals wide receiver
A.J. Green
. The Steelers have held the 12
th
-year veteran out of the last three games because of forearm and shoulder injuries.
Taylor, who appears to be healthy enough to return, said he is fine with whatever the Steelers need him to do to win -- even if that means accepting a reduced role.
"I'm the coach, dad, player role. I'm the big-brother role," Taylor said. "I'm whatever you need off the field role. If you need anything on the field before the game hey I'm going to Wal-Mart. That's just the kind of bond we have."
December, 30, 2014
12/30/14
5:00
PM ET
PITTSBURGH -- Strong safety
Troy Polamalu
and cornerback
Ike Taylor
were stalwarts on the
Pittsburgh Steelers
teams that played in three Super Bowls from 2005-10 and won two of them.
The two may be spectators Saturday night when the Steelers ratchet up their pursuit of another Super Bowl title.
Taylor has missed the last three games because of forearm and shoulder injuries while Polamalu has not played the last two weeks because of a knee injury, and there is no indication that either will return Saturday night for the Steelers' AFC wild-card playoff game against the visiting
Baltimore Ravens
.
[+] Enlarge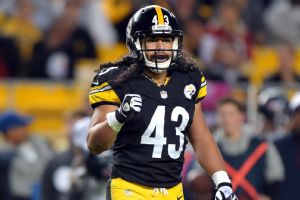 Kirby Lee/USA TODAY SportsTroy Polamalu has missed the last two weeks because of a knee injury, and may also miss Saturday's wild-card playoff game against the Baltimore Ravens.
Coach Mike Tomlin said the two will be monitored this week but he has generally been vague about the status of Polamalu and Taylor for the last couple of weeks.
Asked on Tuesday whether Polamalu will play if he is medically cleared, Tomlin said, "The decisions are complex and they're not going to boil down to just simply medical clearance. We're too far on the journey for that to be the case. There are complexities to these things and we're going to deal with them on a case-by-case basis at the appropriate time. The number one element of discussion is the overall health of the individual."
The Steelers' secondary is coming off one of its best games of the season. It accounted for all three of Pittsburgh's turnovers last Sunday night. Cornerback
Antwon Blake
and safety
Will Allen
would probably be relegated to special-teams duty if Polamalu and Taylor return to the starting lineup.
Blake has emerged in the absence of Taylor -- the former undrafted free agent has played nickel back with
Brice McCain
starting for Taylor -- and his forced fumble and fumble recovery last Sunday night proved to be crucial in the Steelers' 27-17 victory against the
Cincinnati Bengals
.
The Steelers have not allowed big passing plays in the last three weeks, something that had plagued them earlier.
The Bengals' longest pass play was a 19-yard catch by H-back
Ryan Hewitt
. The previous week Chiefs wide receiver
Albert Wilson
registered a 33-yard reception but most of those yards came on the run after the catch.
"These guys have been on the [cusp] for a number of months and really they're just getting solid," Tomlin said of the Steelers' defensive backs. "They're minimizing big plays and they're making plays of their own. I just think big picture wise they've had an upper trajectory over the larger part of the season. From time to time an incident or two happens that doesn't allow you to see it or makes it convenient not to see it."
November, 5, 2014
11/05/14
11:00
AM ET
»
AFC Report
:
East
|
West
|
North
|
South
»
NFC
:
East
|
West
|
North
|
South
|
HOME
PITTSBURGH -- Frustrated
Pittsburgh Steelers
fans were fitting offensive coordinator Todd Haley for a dunce cap and planning for defensive coordinator Dick LeBeau's imminent retirement after an embarrassing 31-10 loss at Cleveland on Oct. 12 dropped them to 3-3 and into last place in the AFC North. Boos rained down on the Steelers the following week at Heinz Field after they fell behind the
Houston Texans
13-0.
A flurry of touchdowns at the end of the first half vaulted the Steelers into the lead against the mistake-prone Texans, and they haven't looked back since. The Steelers have won their past three games by an average of 14.7 points and they are only .021 behind the first-place
Cincinnati Bengals
in the AFC North.
MVP:
Wide receiver
Antonio Brown
. For those wondering what the two-time Pro Bowler could do for an encore after setting a Steelers record with 1,499 yards in 2013, Brown has been even better this season. The fifth-year veteran is on pace to catch 126 passes for 1,771 yards and 14 touchdowns. Coach Mike Tomlin compared Brown's impact on games to that of Houston Texans defensive end
J.J. Watt
, and consistent double-teams have done anything but slow down Brown. He gets the nod over quarterback
Ben Roethlisberger
, who has thrown an NFL-record 12 touchdown passes in his past two games.
Biggest disappointment:
Cornerback
Cortez Allen
. The player whom the Steelers signed to a five-year, $25 million contract in early September has been demoted twice this season. Allen leads the Steelers with two interceptions, but he played only one snap in a 43-23 win over
Baltimore Ravens
on Sunday night after losing his job at nickel back to
Antwon Blake
. It is way too early for the Steelers to give up on Allen, who turned 27 last week. But they have to hope he weathers this tough stretch because the Steelers are lacking in developmental cornerbacks right now.
Best moment:
Trailing the Texans 13-3 in a Monday Night Football game, the Steelers exploded for 21 points late in the second quarter. The defense, offense and special teams all fed off another as a Steelers team that had managed three touchdowns in the previous two games scored three in a span of 1 minute, 36 seconds. A season obituary was ready to be written after the Texans controlled most of the first half at Heinz Field. But the Steelers scored 24 unanswered points, propelling them to a 30-23 win that saved their season.
Worst moment:
The
Cleveland Browns
, already missing several key players on defense, lost Pro Bowl center
Alex Mack
to a season-ending knee injury during their Oct. 12 game against the Steelers. That still didn't stop them from drilling their archrivals at the Dawg Pound. It got worse for the Steelers after their 31-10 loss when Browns left tackle
Joe Thomas
said, "We had so many injuries across the board it's hard to believe we could have beaten a college team." Ouch. The loss was only the Steelers' third to the Browns in their past 23 meetings and marked the low point of the season.
Key to the second half:
The Steelers will go as far as their offense takes them. It has finally played up to its potential during a three-game winning streak in which the Steelers have averaged 41.3 points. The defense has shown marked improvement while the Steelers have gone from 3-3 to 6-3, and Pittsburgh is starting to get after opposing quarterbacks. The Steelers can score with any team if the offense continues to play at a high level. The emergence of rookie wide receiver
Martavis Bryant
only adds to the riches that the Steelers have at the skill positions.
October, 28, 2014
10/28/14
11:00
AM ET
A weekly look at what the
Pittsburgh Steelers
must fix.
Cornerback
Cortez Allen
's regression continued against the
Indianapolis Colts
, and the fourth-year veteran got yanked from the Steelers' 51-34 win after giving up a pair of touchdown passes.
The Steelers replaced Allen at nickelback with
Antwon Blake
, who could remain in that role for the foreseeable future, including Sunday night's prime-time matchup against the Ravens.
Blake intercepted
Andrew Luck
in the fourth quarter to help preserve the Steelers' most impressive win of the season. Allen, meanwhile, looks completely lost.
T.Y. Hilton
turned him around with a double move late in the second quarter, and the Colts wide receiver caught a 28-yard touchdown pass even though Allen had given him a healthy cushion.
Allen leads the Steelers with two interceptions but inconsistency led to the Steelers replacing the 6-foot-1, 196-pounder as a starter with
Brice McCain
. Now Allen may have to fight to win back the nickelback job from Blake, who has primarily played special teams since signing with the Steelers last season.
What is most problematic about Allen's play is he has either not adjusted to the NFL's emphasis on enforcing the illegal contact rule on defensive backs or the former fourth-round draft pick is too often grabbing receivers because he doesn't trust his technique.
September, 22, 2014
9/22/14
11:40
AM ET
PITTSBURGH -- The
Pittsburgh Steelers
took control of an eventual
37-19 win
over the
Carolina Panthers
after halftime Sunday night.
But the third quarter also exacted a heavy price from a defense that played its best game of the season.
And the question for the Steelers is where do they go from here
after losing three starters
, including at least two to major injuries.
Jones
Either cornerback
Ike Taylor
or outside linebacker
Jarvis Jones
' season is probably over.
One of those two is likely headed to injured reserve, while the other one will probably land on the short-term injured reserve list.
Teams are only allowed to use the short-term injured reserve exemption once per season, and even that only gives a player the opportunity to return to game action after sitting out a minimum of eight weeks.
The Steelers were thin at outside linebacker before Jones left the game with a wrist injury that likely requires surgery, per ESPN NFL Insider Adam Schefter. They will need to add depth at the position, with
Arthur Moats
moving into the starting lineup for the foreseeable future.
James Harrison is naturally the player many Steelers fans first think of when it comes to fortifying outside linebacker. But Harrison officially retired right before the start of the regular season.
Bill Parise, Harrison's agent, told ESPN.com that he has not heard from the Steelers. And Parise said he has "absolutely no idea" if the Steelers would have any interest in trying to talk Harrison out of retirement or whether Harrison would seriously consider it.
The Steelers almost have to go outside the organization to add an outside linebacker. Howard Jones is a candidate to get promoted from the practice squad, but the rookie is raw -- albeit talented -- and there is no way he is ready to move into the role of No. 3 outside linebacker.
Taylor
The Steelers have considerably more depth at cornerback, which will better help them weather the loss of Taylor to a broken forearm.
William Gay
will move into Taylor's spot at right cornerback and probably slide to the nickel when the Steelers go with five defensive backs, with
Antwon Blake
replacing him at right cornerback.
Taylor's playing career with the Steelers could be over if the 12th-year veteran is placed on injured reserve, as he is in the final year of his contract.
Rookie inside linebacker
Ryan Shazier
appears to be the least seriously hurt of the three defensive starters who went down with injures against the Panthers. The first-round pick has a sprained MCL and the Steelers have to hope an MRI doesn't reveal an even more significant injury.
Even if Shazier only sprained his knee against the Panthers -- and it is the same knee he hurt in training camp, causing him to miss significant practice time and the Steelers' first preseason game -- he is likely sidelined for at least a couple of weeks.
The Steelers do have depth at inside linebacker.
Sean Spence
will step in for Shazier at weakside inside linebacker, with
Vince Williams
and
Terence Garvin
backing him up while Shazier is out.
August, 28, 2014
8/28/14
10:35
PM ET
PITTSBURGH -- It certainly looked like a fourth preseason game, from the swaths of empty seats at Heinz Field to the uneven play with many starters from each side playing sparingly, if at all.
Carolina parlayed a big pass play into the game's only touchdown ,and the Panthers beat the Steelers 10-0 Thursday night with the specter of final cuts looming for fringe players on each side.
Landry Jones
started at quarterback and completed 14 of 18 passes for 97 yards before giving way to
Brendon Kay
midway through the third quarter. Jones, a fourth-round pick in 2013, didn't lead any scoring drives but probably did enough to make the 53-man roster as the Steelers' No. 3 quarterback.
No Steelers player battling for a roster spot made a particularly compelling argument to stay with the team beyond 4 p.m. ET Saturday, the NFL deadline for finalizing 53-man rosters.
Brad Wing
looked like he was on his way to nailing down a roster spot after pinning the Panthers deep in their own territory several times. Then the Aussie unleashed a 25-yard clunker, something that will make the coaches ponder whether Wing is consistent enough to be trusted.
Players such as Wing have made their final argument as far as making the team.
The Steelers' coaches and front office personnel will meet on Friday to start paring down the roster and could make some cuts then, with the rest coming on Saturday. The Steelers have to cut 22 players to get to the 53-man limit by late Saturday afternoon.
Some other thoughts from the Steelers' fourth preseason game:
May, 12, 2014
5/12/14
4:30
PM ET
PITTSBURGH -- Would the Steelers have taken a cornerback in the first round of the NFL draft had either
Justin Gilbert
or
Kyle Fuller
-- or both -- been available at No. 15?
Steelers general manager Kevin Colbert isn't saying.
"Sure, there were guys that went ahead of Ryan that were really good players," Colbert said Monday on TribLive radio. "We were extremely excited [Shazier] was there but there were other players that we would have entertained and maybe didn't have an opportunity to pick them. But that doesn't diminish our excitement for Shazier."
The Steelers really liked tight end
Eric Ebron
, and the North Carolina product certainly would have been prominent in the discussion that preceded the Steelers' first-round pick had he still been available.
But the Steelers were more than happy to select Shazier, who provides speed, athleticism and versatility to their defense.
The Steelers only took one cornerback in the draft but Colbert echoed comments made by defensive coordinator Dick LeBeau that the position is not as lacking as has been widely perceived.
"
Cortez Allen
we think has a real bright future and he should only get better," Colbert said. "When you've got a guy like
William Gay
and
Brice McCain
and
Antwon Blake
and we feel nice about what they're going to be able to contribute. Blake did a great job coming in [last season] and playing mainly on special teams because he was a late addition for us but he's going to have a whole offseason to grow as a corner."
Despite taking only one cornerback -- and waiting until the fifth round to select Arizona's
Shaquille Richardson
-- the Steelers have generally gotten good reviews for their draft.
ESPN analyst Mel Kiper Jr. gave the Steelers an A-minus for their draft. ESPN analyst Todd McShay also liked what the Steelers accomplished during the three-day draft.
"I was really impressed. I thought they had one of the better drafts of all the teams in the league," McShay said Monday during a post-draft conference call. "I really thought beginning to end that Pittsburgh did a really good job of finding players that fit their system and do multiple things."
May, 10, 2014
5/10/14
8:15
PM ET
»
NFC wrap-ups
:
East
|
West
|
North
|
South
»
AFC
:
East
|
West
|
North
|
South
PITTSBURGH -- A wrap-up of the
Pittsburgh Steelers
' draft.
Click here
for a full list of Steelers draftees.
[+] Enlarge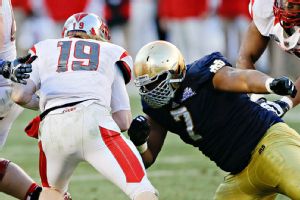 AP Photo/Frank Franklin IIThe Steelers expect big things from Notre Dame defensive lineman Stephon Tuitt.
Best move:
Taking Notre Dame defensive lineman
Stephon Tuitt
in the second round. The Steelers had no bigger need than at defensive end, and they were smart to pounce on Tuitt, who had been widely projected to go late in the first round. The 6-foot-5, 303-pounder has the ideal build for a five-technique defensive end, and he also has the pass-rushing skills to move inside when the Steelers go to their nickel package. Tuitt had 21 career sacks at Notre Dame, and the Steelers are convinced his play slipped last season because recovery from double-hernia surgery compromised his training and caused him to put on too much weight. Steelers general manager Kevin Colbert said Tuitt is back to his 2012 playing weight when he dominated for the Fighting Irish, and they expect him to play significantly as a rookie if not start at some point in 2014.
Riskiest move:
The Steelers took just one defensive back in the draft and they didn't select cornerback
Shaquille Richardson
of Arizona until the fifth round. That won't do anything to allay the anxiety of Steelers' fans about the state of the secondary and specifically cornerback where
Ike Taylor
isn't getting younger and where there isn't much depth. Steelers defensive backs coach Carnell Lake said he is confident free-agent signee
Brice McCain
and
Antwon Blake
, who played almost exclusively on special teams last season, can be key contributors this season. They better be since the draft didn't deliver the reinforcements at cornerback that most thought it would.
Most surprising move:
The Steelers bypassed a cornerback and wide receiver in the third round to take speedy but diminutive running back
Dri Archer
. This looks like a luxury pick since the Steelers had more pressing needs when they selected the 5-8, 173-pounder. Archer ran the fastest 40-yard dash time (4.26 seconds) at the NFL combine, and the Steelers plan to carve out a role for him in the offense. ESPN analyst Mel Kiper Jr. has compared Archer to
Darren Sproles
because of his explosiveness and versatility. Steelers wide receivers coach Richard Mann said Archer reminds him of former Browns scatback/receiver Gerald "Ice Cube" McNeil. "He's not small," Steelers coach Mike Tomlin said. "He's short."
File it away:
First-round pick
Ryan Shazier
will be an immediate difference-maker as a rookie -- and will make multiple Pro Bowls if he stays healthy. His speed is such that defensive coordinator Dick LeBeau has said he envisions playing Shazier all over the field. Lake said he will gladly take Shazier as a safety if linebackers coach Keith Butler doesn't want him. Butler, when told that, smiled and said "I'm not in favor of doing that. Shazier can make mistakes and has make-up speed to get back into position and make plays." Butler scoffs at the notion that the 6-1, 237-pound Shazier is undersized for an inside linebacker at this level. Butler said former Steelers inside linebacker James Farrior played between 225 and 230 pounds in the latter part of his carer, including 2010 when he made the Pro Bowl. "A lot of times young linebackers get in their head, 'I have to weigh 250 or I have to weigh 260 [pounds] but can they move? Can they get where they need to be when they need to be there? This guy can do that."
October, 27, 2013
10/27/13
11:00
PM ET
OAKLAND --
Shaun Suisham
hit the mark on at least one thing before embarking on what had to be the longest plane ride of his life: his culpability in the
Pittsburgh Steelers
' third consecutive loss in Oakland.
"Look it's no secret, the impact my missed field goals had on the game," Suisham said after the Steelers'
21-18 loss
. "I should have been better today and we lost because of it."
The cruel irony for Suisham: the native Canadian is a huge hockey fans and his uncharacteristic misses gave the Steelers a dubious hat trick as they lurch toward the halfway point of the season,
The offense and defense had each lost games earlier this season. Special teams joined those units Sunday in a game that the Raiders seized control of early and then tried to give back to the Steelers in every way imaginable.
Oakland ultimately did not cough up the game because the Steelers' special teams provided the Raiders with just enough cushion to move to 3-4 this season in spite of themselves.
Both of Suisham's missed came inside of 35 yards.
Zoltan Mesko
bobbled a snap that resulted in a partially blocked punt and led to the second of Oakland's three touchdowns. Suisham's onside kick at the end of the game bounced right to
Rashad Jennings
, who earlier had partially blocked the Mesko punt.
The sequence that best summed up the Steelers' dismal special-teams play came near the end of the first half.
Mesko boomed a 30-yard punt that put Oakland in position to add to its 18-point lead. A
Cortez Allen
interception gave the ball right back to the Steelers, and
Ben Roethlisberger
drove to the Raiders' 16-yard line.
But Suisham pushed a 34-yard field goal attempt just right when the Steelers needed points in the worst way.
The Steelers couldn't even claim to be lucky rather than good Sunday on special teams.
Far from it, in fact.
A Mesko punt appeared to bounce off
Jacoby Ford
in the second quarter as the the Raiders wide receiver was falling backward while trying to avoid fielding the ball.
Shamarko Thomas
came up with the loose ball, and his fumble recovery would have given the Steelers the ball at the Raiders' 28-yard line.
Officials, however, ruled that the ball glanced off
Antwon Blake
's finger before it touched Ford and whistled the play dead.
Coach Mike Tomlin challenged the call but it was upheld.
The call, right or not, would have been a moot point had Suisham played anywhere close to the kicker who entered the game 14 of 14 on field goal attempts and made a 47-yarder before his two misses.
"I told him to keep his head up," Steelers wide receiver
Antonio Brown
said. "He's been leading us all year and don't hang his head now. We've got to continue to stand by his back because we know in this league everything is not always going to be perfect."
The Steelers didn't need their special teams to be perfect on Sunday. An average showing by those units probably would have led to the Steelers returning to Pittsburgh with a 3-4 record.
Instead the Steelers are 2-5 with a trip to New England next on the schedule. And the one thing we've learned about this team two months into the season is that it sure can find ways to lose a game.
September, 1, 2013
9/01/13
5:00
PM ET
JACKSONVILLE, Fla. -- Jaguars general manager Dave Caldwell had promised that the team would be aggressive when it came to working the waiver wire and trying to improve the bottom part of the roster.

He wasn't kidding.
The Jaguars were awarded seven players off waivers on Sunday, adding receiver Stephen Burton (Minnesota), defensive back Winston Guy (Seattle), tight end Clay Harbor (Philadelphia), guard Jacques McClendon (Atlanta), linebacker Chris McCoy (Philadelphia), linebacker J.T. Thomas (Chicago) and tight end D.J. Williams (Green Bay).
They aren't done yet, either. Caldwell said the team will look at the players other teams released on Sunday and there could be some additional signings on Monday.
"We'll evaluate that pool and from that pool we'll see if we can upgrade somewhere," Caldwell said. "We will always look for an edge and an advantage of where we can try to get better."
Speed and the ability to play on special teams are the two traits for which Caldwell is looking in available players. Six of the seven players signed have special-teams value.
"It's something we've looked at the whole time," Caldwell said. "We're always going to look to get better in every phase, not just special teams. It's offense, defense, [and] it's personnel. Whatever we're doing we're going to work to get better. We felt like when we came here in the offseason we wanted to upgrade our team speed. We feel like we didn't completely do that in the offseason but we feel like we did that today."
To make room for the seven additions, the Jaguars cut defensive back
Antwon Blake
, tight end
Brett Brackett
, center
Dan Gerberry
, defensive tackle
Kyle Love
, fullback
Lonnie Pryor
, receiver
Jordan Shipley
and linebacker
Andy Studebaker
.
The Jaguars also signed the following players to the practice squad: cornerback Marcus Burley, defensive end
Ryan Davis
, receiver Jeremy Ebert, guard Drew Nowak, receiver Tobais Palmer, quarterback Matt Scott, and safety Steven Terrell. The Jaguars have one remaining spot to fill on the practice squad.
Here's a quick look at the seven new players:
Burton:
The former 2011 seventh-round draft pick played in 15 games for Minnesota last season and caught seven passes for 73 yards and one touchdown.
Guy:
He was a sixth-round pick by Seattle last year and played in three games, including the NFC divisional playoff game against Atlanta.
Harbor:
He spent the past three seasons in Philadelphia after the Eagles took him in the fourth round in 2010. He has played in 39 games (18 starts) and has 47 catches for 421 yards and four touchdowns. Also has lined up at receiver.
McClendon:
The former 2010 fourth-round pick by Indianapolis has played in only four games.
McCoy:
Miami selected him in the fourth round in 2010 and he spent that season on the practice squad with three teams (Miami, Houston and Seattle). He spent the past two seasons with Calgary in the Canadian Football League.
Thomas:
Chicago selected him in the sixth round in 2011. After spending his rookie season on injured reserve he played in every game last season for the Bears.
Williams:
He spent the past two seasons with Green Bay after the Packers selected him in the fifth round in 2011. He has nine career catches for 70 yards. He also can line up at fullback.
September, 1, 2012
9/01/12
12:47
AM ET
Click
here
for the complete list of
Jacksonville Jaguars
' roster moves.

Most significant move:
The team kept six wide receivers as it looks to make dramatic strides in the passing game with quarterback
Blaine Gabbert
.
Laurent Robinson
was the big free-agent acquisition and
Justin Blackmon
was the high draft pick.
Brian Robiskie
is a reclamation guy and
Mike Thomas
is a survivor who needs to regain form from early in his career.
Cecil Shorts
seemed to have stage fright a year ago when he got chances.
Kevin Elliott
is an undrafted rookie free agent who often shined and is deserving of a spot and some playing time. Only Thomas and Shorts are holdovers from a year ago.
Onward and upward:
Several underdogs fill in some roster cracks, including three who caught my eye early in training camp -- Elliott, undrafted rookie linebacker
Julian Stanford
and running back
Jalen Parmele
. Parmele is one of four running backs the team kept with
Maurice Jones-Drew
holding out, along with
Rashad Jennings
,
Montell Owens
and
Keith Toston
. They've also got fullback
Greg Jones
. Other underdogs still standing are undrafted rookie safety
Antwon Blake
and defensive end
George Selvie
, who's already spent time with three different teams, including the Jags once before.
What's next:
Guard
Will Rackley
was placed on injured reserve. He suffered a high ankle sprain early in camp and, according to AP's Mark Long, reinjured the ankle.
Eben Britton
, who the team projected as the right tackle all offseason and at the start of the preseason, is now the left guard.
Cameron Bradfield
, undrafted a year ago, is now the right tackle and the backup left tackle. Middling veteran
Guy Whimper
is the backup right tackle, while undrafted rookie
Mike Brewster
and
Josh Beekman
, formerly of the Bears, are the interior backups. It sure looks like the team would benefit from adding someone with more of a resume.
August, 10, 2012
8/10/12
11:27
PM ET
Some quick thoughts on the Jaguars
32-31 preseason win
over the
New York Giants
at EverBank Field Friday night:
Quarterback Blaine Gabbert showed good command and made good throws on the Jaguars' first series, converting several third downs and leading a touchdown drive. He got time, stepped up and found Laurent Robinson, Mike Thomas and Cecil Shorts, hitting Shorts for a short TD that produced a 7-0 lead. It was an encouraging showing from the second-year quarterback. Gabbert did lose a fumble later when he got swarmed. He simply needs to go down and be sure to hold on.
Shorts offset his TD catch with a fumble of an end around that started a long stretch of super starting field position for the Giants. The receiver was holding the ball with his inside hand and was too easily stripped. It's the sort of mistake the receivers have been making in camp.
Other errors the Jaguars probably won't be able to withstand against premium competition in meaningful games: a dropped interception by safety Dwight Lowery right at the start; a big kickoff return allowed following the touchdown pass that put the Giants near midfield; William Middleton holding down an arm of receiver Jerrel Jernigan in the end zone (that went uncalled); end Jason Pierre-Paul's too-easy rush inside left tackle Eugene Monroe en route to a tackle for a loss; punt fielding issues by undrafted rookie Mike Brown.
Rashad Jennings ran just fine: 12 carries for 56 yards including a 17-yarder around the right corner. Jaguars' brass will not wake up Saturday morning feeling any differently with regard to Maurice Jones-Drew as a result of anything that happened here.
Tyson Alualu didn't play, and the Jaguars started D'Anthony Smith and C.J. Mosley at defensive tackle. Terrance Knighton was in with the twos, and on several snaps he looked like a player a notch above the guys he was on the field with and against.
Rookie defensive end Andre Branch's speed off the edge was apparent a couple times. Once his presence prompted David Carr to step up into a sack by Knighton. Encouraging.
Bryan Anger's big, second-quarter punt tied up Jayron Hosley, who fumbled it. The big hang time meant Antwon Blake had time to get in position to pounce and recover the loose ball, setting up a quick Chad Henne-to-Brian Robiskie TD that cut the Giants lead to 24-14. Anger prompted Jernigan to botch a punt as well, and Blake recovered that one too.
Thomas and Robiskie made plays for third-string QB Jordan Palmer in the third quarter. More baby steps -- the Jaguars have receivers who can have success against second- and third-team guys in coverage.
Good consistency by the replacement officials. They consistently failed to give signals to declare what happened on plays that begged for such authority. It's not that they failed to convey the message. It's that they didn't know what to convey.