September, 13, 2013
Sep 13
4:11
PM ET
ORCHARD PARK, N.Y. --
Buffalo Bills
linebacker
Arthur Moats
was fined $7,875 for a facemask penalty in Sunday's loss to the
New England Patriots
, the NFL announced.
Moats was flagged 15 yards for the penalty, which came on a Patriots punt return in the first quarter. It was one of 13 penalties (10 accepted) for the Bills in the game.
Now in his fourth season with the Bills, Moats started on defense Sunday and also played 19 snaps on special teams, tied for third most on the team.
March, 11, 2011
3/11/11
6:46
PM ET
»
NFC labor impact
:
East
|
West
|
North
|
South
»
AFC
:
East
|
West
|
North
|
South
A team-by-team look at how a continued labor impasse and extended NFL freeze on transactions would affect the division:

Buffalo Bills:
The Bills are a young team that built momentum toward the end of last season. They went 4-4 in the second half. Over a six-game stretch in October and November they went 2-4, and each loss was by three points to an eventual playoff team. Three of them were in overtime.
A prolonged work stoppage would stunt Buffalo's development. Head coach Chan Gailey is entering his second year, but his first offseason with
Ryan Fitzpatrick
as starting quarterback. The Bills also could draft a quarterback next month, but they wouldn't be able to sign him or work with him until there's a new collective bargaining agreement.
Inexperienced players with one or two years dot the roster: running back
C.J. Spiller
, guards
Eric Wood
and
Andy Levitre
, nose tackle
Torell Troup
, outside linebackers
Aaron Maybin
and
Arthur Moats
, safety
Jairus Byrd
. They would benefit from as much prep time as they can get.

Miami Dolphins:
The Dolphins' offense will have serious difficulty taking shape if there's a long work stoppage. Incumbent quarterback
Chad Henne
wouldn't be on the securest footing if we were heading into a normal offseason. The Dolphins were frustrated enough to remove him as their starter twice last year. Now he's working with a new offensive coordinator (Brian Daboll) and new quarterbacks coach (Karl Dorrell) who never has been a quarterbacks coach before.
Henne got a head start on his offseason by meeting with Daboll and Dorrell and trying to absorb as much of the playbook as he could. Henne intends to communicate Daboll's philosophies to his teammates with informal workouts in South Florida.
That's where the Dolphins can have an advantage if they remain diligent. A large percentage of their players maintain homes in South Florida, making it easy for them to assemble for group sessions.
All of Henne's work could be rendered moot if the Dolphins want to acquire another quarterback, but then they'll have another problem. Until there's a new CBA, teams cannot sign free agents or make player trades. That means the Dolphins are in limbo if they want to make a play for an intriguing group of candidates that includes
Kevin Kolb
,
Kyle Orton
,
Carson Palmer
,
Donovan McNabb
and
Vince Young
.

New England Patriots:
If any team can withstand a protracted work stoppage, it's the reigning AFC East champions. The Patriots have a solid roster filled with veterans, particularly on offense. Their coaching staff remained mostly intact. They're flush with draft picks.
The biggest impact probably would be felt on defense, where the Patriots sometimes started four rookies: end
Brandon Deaderick
, outside linebacker
Jermaine Cunningham
, inside linebacker
Brandon Spikes
and cornerback
Devin McCourty
.
Although a couple of veteran defenders returning from injuries -- defensive end
Ty Warren
and cornerback
Leigh Bodden
-- should help stabilize them, the Patriots will have difficulty coaching up their youngsters and improving their terrible third-down defense in a compacted offseason.
Another issue could be the way the Patriots flip through interchangeable parts. The Patriots are adept at discovering undrafted free agents and reclaiming other teams' castoffs while constantly overturning the bottom of their roster. With no CBA, these roster moves cannot happen.

New York Jets:
Free agency will be the Jets' biggest issue if a work stoppage drags out. They have the most free agents in the AFC East and declined to re-sign any of them aside from placing the franchise tag on inside linebacker
David Harris
. The Jets didn't want to make any decisions until they knew what the next CBA looked like. That created several questions up and down the roster.
Receiver is the biggest question mark.
Santonio Holmes
and
Braylon Edwards
are without contracts, and quarterback
Mark Sanchez
needs a strong supporting cast. On defense, safety is a concern with
Brodney Pool
,
Eric Smith
and
James Ihedigbo
all about to be free agents, too.
No CBA means the Jets won't be able to sign incoming free agents either. Polls have shown players around the league would love to play for Rex Ryan more than any other coach. But the Jets can't use that to their advantage until there's a new deal.
February, 4, 2011
2/04/11
1:40
PM ET
Winners for the Associated Press 2010 Rookies of the Year will be announced Friday. Both appear to be foregone conclusions.
What a shock it would be if
St. Louis Rams
quarterback
Sam Bradford
and
Detroit Lions
defensive tackle
Ndamukong Suh
didn't represent his side of the ball.
Still, it's an appropriate time to recognize a few remarkable rookie campaigns in the AFC East.
New England Patriots
cornerback
Devin McCourty
and tight ends
Rob Gronkowski
and
Aaron Hernandez
should get a few votes.
McCourty was forced to grow up fast when
Leigh Bodden
suffered a season-ending shoulder injury in training camp. McCourty lined up against the opposition's top receivers and finished second in the league with seven interceptions. He was voted to the Pro Bowl.
Gronkowski had 10 touchdown receptions, a Patriots record for tight ends of any age and for rookies of any position. He came two touchdowns short of Mike Ditka's NFL record for rookie tight ends. Gronkowski broke another Patriots rookie record with three touchdowns in one game.
Hernandez broke the Patriots record for receptions from a rookie tight end. He had 45 catches for 563 yards and six touchdowns.
None of the three other teams had particularly stellar rookies, but let's take a look at each team.
C.J. Spiller
generated a lot of praise in the preseason. He was the ninth overall pick at a position favorable to rookie awards. But Spiller rushed for 283 yards and no touchdowns and added 157 receiving yards with a touchdown.
Some Bills fans might argue linebacker
Arthur Moats
was their best rookie. The sixth-round pick gained fame for the hit that essentially ended
Brett Favre
's career. Moats had 2.5 sacks and a forced fumble. He added 10 special-teams tackles.
But I submit the Bills' best rookie wasn't drafted.
David Nelson
caught 31 passes for 353 yards and three touchdowns. He didn't get on the field regularly until late in the season. Fourteen catches and all of his TDs came in a three-game stretch in December before an injury wiped out his last two games.
The
Miami Dolphins
caught a bad break when first-round pick
Jared Odrick
suffered a hairline leg fracture in the season opener. Second-round outside linebacker
Koa Misi
had a strong campaign with 4.5 sacks.
Defensive back
Nolan Carroll
, a fifth-round choice, had a wonderful year. Aside from being known as
the guy Sal Alosi tripped at the Meadowlands
, Carroll was a regular contributor in the secondary and was the Dolphins' top kickoff returner. His mother also was elected Florida's lieutenant governor.
For all the impressive things the
New York Jets
did in 2010, rookie production didn't rate. They drafted only four players, and all were disappointments to varying degrees.
First-round pick
Kyle Wilson
played every game but didn't become the nickelback Rex Ryan said he'd be. Second-round offensive lineman
Vladimir Ducasse
was healthy all season but played in three games. Fourth-round running back
Joe McKnight
became a punch line for his lack of conditioning and will be known as the player who led the Jets to cut
Danny Woodhead
. Fifth-round fullback
John Conner
didn't live up to his "Hard Knocks" hype and was deactivated at the end of the year.
January, 26, 2011
1/26/11
2:08
PM ET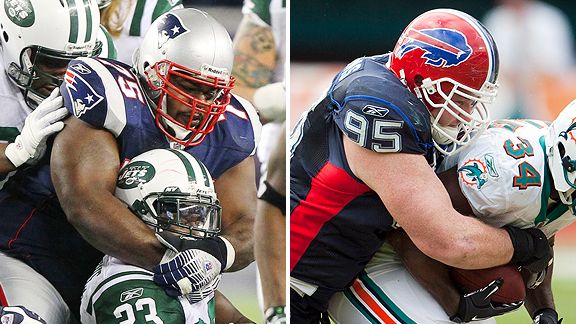 Getty Images, US PresswireThere was enough room on the All-AFC East team for nose tackles Vince Wilfork and Kyle Williams.
Reader input didn't make compiling the 2010 All-AFC East team a simple process.
Despite your tremendous response to help me assemble the quintessential roster, I had to make an executive decision, break a deadlock, defend one of my no-brainer selections and throw out some ballots because of shenanigans.
In the end, we have an All-AFC East squad everybody should be satisfied with.
We began the process a week ago, when
I chose 10 players I believed were automatic
. The other 17 positions were for you to vote upon. You didn't disappoint.
There were some great races, most notably at left tackle and nose tackle.
As with any voting process on the AFC East blog, I always can be convinced to move from a stance. My instructions were to vote for one nose tackle for a 3-4 scheme with emphasis that
New England Patriots
keystone
Vince Wilfork
and
Buffalo Bills
standout
Kyle Williams
must be considered nose tackles because that's how each team identifies him.
But enough readers made the case that Wilfork and Williams played elsewhere along the line so frequently that they should be eligible for some quasi position. I do appreciate the point.
The Patriots' official game-by-game player participation record says Wilfork started eight games at defensive end. Williams started every game at nose tackle (12) or defensive tackle (four).
I decided to add Wilfork and Williams as "defensive tackles" on a defensive front with
New York Jets
defensive end
Shaun Ellis
, who received an avalanche of votes. But I didn't want to slight the No. 2 defensive end,
Kendall Langford
of the
Miami Dolphins
. Langford received a healthy number of votes. Too many to dismiss.
That left me with a dilemma: How can I honor four defensive linemen and still maintain a 3-4 alignment? I took the easy way out. I added a 12th defender. I'm not thrilled with my final decision, but it's an appropriate way to give proper credit where it's due.
On the other side of scrimmage, Dolphins left tackle
Jake Long
and Jets left tackle
D'Brickashaw Ferguson
finished in a tie, forcing me to make the call. Each was selected to be a Pro Bowl starter. Long was voted All-Pro.
I chose Long. He played hurt for much of the season. He slipped on plays here or there, but he mostly remained dominant.
A few readers took me to task for my coronation of Dolphins punter
Brandon Fields
without allowing a vote because Jets punter
Steve Weatherford
had a great season. Weatherford tied an NFL record with 42 punts inside the 20-yard line. He was impressive.
But I found Fields more remarkable this year. He ranked fourth with a 46.2-yard average (3.6 yards longer than Weatherford). Fields' net average of 37.8 yards was only 0.3 yards shorter than Weatherford's, but the Dolphins were atrocious on special-teams protection and coverage. They fired their special-teams coordinator after Week 4. Fields had two punts blocked and one returned for a touchdown.
The Jets have venerable special-teams coach Mike Westhoff and sensational coverage men, as illustrated by four Jets receiving at least two votes for the special-teams position on the All-AFC East team.
And it's
not often a punter is MVP of a game, but Fields certainly was
against the Jets in Week 14.
There were some surprises in the balloting.
Bills receiver
Steve Johnson
ran away with one of the two available spots, but I didn't expect
Santonio Holmes
to take the other one so handily over teammate
Braylon Edwards
or Patriots star
Wes Welker
.
I assumed Patriots tight end
Rob Gronkowski
would win, but in a close race, especially with the possibility of splitting votes with teammate
Aaron Hernandez
. Gronkowski crushed everyone else. He had four times as many votes as his closest competition,
Dustin Keller
of the Jets.
Bills linebacker
Arthur Moats
finished a distant second to
Calvin Pace
. But I found it amusing that almost every time a vote came in for him, the reader stipulated it was because Moats injured
Brett Favre
.
Patriots rookie
Devin McCourty
had six times as many votes as Dolphins cornerback
Vontae Davis
for the position opposite Jets star
Darrelle Revis
.
Antonio Cromartie
wasn't remotely in the race.
The most balanced voting happened at the safety positions. Patriots strong safety
Brandon Meriweather
edged out
Jim Leonhard
of the Jets, with
Donte Whitner
of the Bills closely behind in third.
Bills free safety
Jairus Byrd
, a Pro Bowler as a rookie in 2009, accumulated just 14 more votes than
Patrick Chung
of the Patriots.
The special-teams race was fun to track. Thirteen players received at least one vote, with Jets hitter
Eric Smith
barely beating teammate
James Ihedigbo
and Bills fullback
Corey McIntyre
.
December, 13, 2010
12/13/10
4:19
PM ET
With the way
Arthur Moats
has been playing lately, the
Buffalo Bills
rookie linebacker should have a lot more football memories to make.
That's why he claimed his interest level in Monday night's game between the
New York Giants
and
Minnesota Vikings
was just like any other fan's.
[+] Enlarge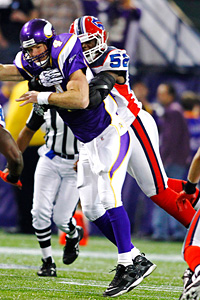 Bruce Kluckhohn/US PresswireBuffalo linebacker Arthur Moats knocked Minnesota quarterback Brett Favre out of the game when they faced off in Week 13.
While he might think of it that way, it's not entirely accurate. In a few hours, Moats might go down in history as the player who ended Minnesota quarterback
Brett Favre
's incredible streak of 297 starts.
"Everyone's checking to see if he's playing or not," Moats told me by phone from the Bills' facility in Orchard Park, N.Y. "We all know it's a big deal. It's hard to play that many games in a row, and I don't know if there will be anyone to touch that record."
Moats could become the answer to a trivia question.
Moats drilled Favre in the first quarter of their Week 13 game at the Metrodome. Favre left his feet and came crashing down on the turf. His right shoulder hit first. Favre left the game and didn't return.
Favre told ESPN's Ed Werder he would not have played Sunday in the Giants game against the Vikings. The game has been delayed because of the frightening Metrodome roof collapse and the extra time might help Favre play Monday night, although head coach Leslie Frazier says the future Hall of Famer remains doubtful.
"If it happens, people will know my name," Moats said. "That's not the way I want to get my name out there, for hurting somebody. "
Moats has been a significant contributor for the Bills. The sixth-round draft choice from James Madison made his first NFL start Sunday against the
Cleveland Browns
. He ran past Pro Bowl left tackle
Joe Thomas
to record a strip sack of
Jake Delhomme
in the 13-6 victory.
Moats said the coaches haven't specifically told him how much they admire the progress he has made as a late-round pick from the Colonial Athletic Association, but he can tell what the Bills think of him.
"Their actions are showing that," Moats said. "I'm out there in critical situations. It feels good as a player because it means I've showed the coaches they can trust me to be in the right place and to make plays. When the game is on the line, that's when you want to be on the field."
Moats could be a part of the Bills' future. They have struggled on defense for much of the season in their transition from a Tampa 2 to a 3-4 alignment, but they have shown signs of growth in the past couple months. Four of their past seven opponents have scored 16 points or fewer in regulation.
"I definitely feel like we're jelling on defense," Moats said. "Everyone knows we put in a new defense, and all of us had to get used to that. We're starting to come together and know it's important that we finish up strong so we can take it into the offseason and next year."
December, 13, 2010
12/13/10
12:57
PM ET
DETROIT -- The magic number could be 297. The trivia answers would include Dec. 13, Ford Field,
Arthur Moats
and
Tarvaris Jackson
.
Barring what would be a genuine sports miracle Monday night, it appears that quarterback
Brett Favre
will miss his first start since taking over the
Green Bay Packers
on Sept. 27, 1992 -- a 297-game span that brought him a Super Bowl title and almost every NFL career passing record.
Cause of work stoppage: A sprained SC joint near his right shoulder.
The
Minnesota Vikings
haven't ruled out Favre for Monday night's game at Ford Field against the
New York Giants
, but that's only because they don't have to. NFL teams aren't required to submit game-day deactivations and lineup changes until 90 minutes before kickoff. For Monday night's 7:20 p.m. ET start, that would be 5:50 p.m. ET.
Although Favre is still scheduled to throw in pregame warm-ups, Vikings coach Leslie Frazier said Monday in a text message to
ESPN's Adam Schefter
that it is "doubtful" Favre will play. Favre himself said the same thing over the weekend and told ESPN's Ed Werder that he would not have played if the game had kicked off as scheduled Sunday.
So can 30 hours heal an SC joint? Our only reason for pause is knowing that Favre has found a way to play through any number of other injuries over the past 19 seasons. But this one, suffered Dec. 5 on a sack by Moats, a
Buffalo Bills
linebacker, has rendered him unable to throw with anywhere close to his normal velocity ever since.
Favre, 41, last missed a game in its entirety in Week 1 of the 1992 season -- coincidentally, a Packers loss to the Vikings on Sept. 6, 1992. He appeared in a reserve role in Week 2, replaced injured starter
Don Majkowski
in Week 3 before making his first start.
We will of course keep you updated on the situation, and I plan to be at Ford Field in time for whatever pregame workout Favre attempts. Stranger things have happened, but in boxing terms, we're approaching "8" on the standing count.
December, 12, 2010
12/12/10
4:13
PM ET
Wrapping up the
Buffalo Bills
'
victory against
the
Cleveland Browns
.


What it means:
The Bills rebounded from a ghastly loss at the Metrodome to win their third game in five tries. The Bills continue to piece together an admirable second half of the season, creating momentum that will help their rebuilding process.
Play of the game:
Tough-luck cornerback
Leodis McKelvin
intercepted Browns quarterback
Jake Delhomme
at the Bills' 32-yard line with about four minutes to play.
Streak continues:
Bills quarterback
Ryan Fitzpatrick
connected with
David Nelson
for an 11-yard touchdown in the second quarter. Fitzpatrick has thrown a TD pass in 14 straight games, the team's longest streak since
Jim Kelly
had 18 in row in 1986-87.
Bills defense steps up:
Browns running back
Peyton Hillis
plowed forth for 49 yards on their first possession, but the Bills stuffed him for 1 and zero yards at their 1-yard line to force a field goal. Hillis rushed for 57 yards the rest of the game and fumbled three times, losing one. Delhomme threw for just 86 yards.
Tight ends make an appearance:
Bills tight ends have been invisible this year, but
Jonathan Stupar
had three catches for a game-high 45 yards.
David Martin
added a reception for 13 yards.
Don't cross Moats:
A week after perhaps ending
Brett Favre
's Iron Man streak, Bills rookie outside linebacker
Arthur Moats
had a strip sack of Delhomme to set up a
Rian Lindell
field goal early in the fourth quarter.
What's next:
The Bills will resume their AFC East schedule after two and half months of non-divisional games. The Bills will visit the
Miami Dolphins
at Sun Life Stadium.
December, 5, 2010
12/05/10
4:08
PM ET
The
Buffalo Bills
scored the first touchdown and then got swatted in a
38-14
loss to the
Minnesota Vikings
in the Metrodome.


What it means:
After a string of highly competitive games, the Bills suffered one of the their worst losses. The Vikings rolled even with quarterback
Brett Favre
, receivers
Percy Harvin
and
Greg Lewis
and right guard
Steve Hutchinson
sidelined. The Bills are 2-10.
Hero:
Adrian Peterson
thrived against the NFL's worst defense. Bills rookie linebacker
Arthur Moats
knocked Favre out of the game on the third play, but the Vikings didn't need him. Peterson rushed 16 times for 107 yards and three touchdowns.
Goat:
Bills cornerback and kick returner
Leodis McKelvin
had a rough afternoon. Vikings receiver
Sidney Rice
made a scintillating play to outjockey McKelvin and come down with a 31-yard touchdown catch in the first quarter. McKelvin fumbled the ensuing kickoff, helping the Vikings score 28 points in a 5:45 stretch.
Streak extended:
Bills quarterback
Ryan Fitzpatrick
needed almost 56 minutes to lengthen his streak to 13 games with a touchdown pass, finding
David Nelson
for a 12-yarder with the game out of hand. Fitzpatrick also fumbled twice, losing one.
Defensive highlights:
Buffalo's defense had its moments despite the lopsided score. Cornerback
Drayton Florence
had his first multi-interception game and his first interception return for a touchdown.
Donte Whitner
and McKelvin picked one apiece.
What's next:
The Bills and
Cleveland Browns
have played some awful games in recent years. Remember that 6-3 gem last year? Next week's meeting should be livelier, with
Trent Edwards
and
Derek Anderson
long gone. The Browns defeated the
Miami Dolphins
13-10 in Sun Life Stadium.
November, 28, 2010
11/28/10
8:19
PM ET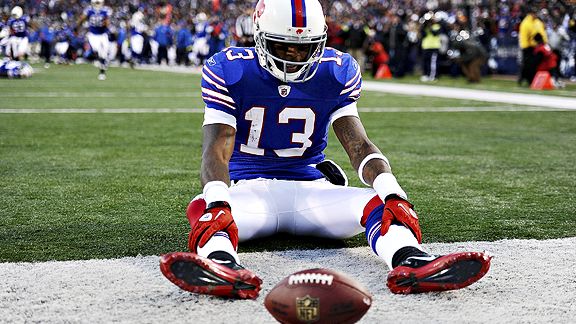 Karl Walter/Getty ImagesSteve Johnson had five dropped passes Sunday, including what would have been the game-winning touchdown during overtime.
ORCHARD PARK, N.Y. -- Tears still were welled in
Steve Johnson
's bloodshot eyes when he stepped down from the podium, walked out of the postgame interview room and exited Ralph Wilson Stadium up the tunnel ramp.
Based on how he was dressed, he should have headed back to the locker room. But Johnson clearly was in another world as he dejectedly trudged toward the parking lot in a sleeveless shirt, basketball shorts, his red
Buffalo Bills
leggings and untied sneakers.
The wind made it feel like 31 degrees and there was snow on the ground. On this day, though, Johnson couldn't catch a cold.
Johnson has been Buffalo's breakout star, a 2008 seventh-round draft pick on pace to break the club's season record for touchdown receptions.
He should have caught his 10th touchdown Sunday. He should have beaten the
Pittsburgh Steelers
in overtime Sunday. He was wide open for an arcing 40-yard bomb. He dropped it in the end zone.
The Steelers kicked a field goal on the next possession to win
19-16
.
A third straight Bills victory caromed off Johnson's fingers. They lost for the third time in sudden death, becoming the fifth team to do so since overtime was instituted in 1974 and just the second over the past 20 seasons.
Johnson was so despondent after the game, he took to Twitter where he questioned a higher power for
allowing him to drop the would-be touchdown
.
"I PRAISE YOU 24/7!!!!!! AND THIS HOW YOU DO ME!!!!! YOU EXPECT ME TO LEARN FROM THIS??? HOW???!!! ILL NEVER FORGET THIS!! EVER!!! THX THO..."
In his postgame news conference before he left the stadium, Johnson's emotions were raw.
"It comes down to one play and you drop the ball," Johnson said. "We'll bounce back, of course. The season's not over yet. We're going to have to bounce back, and we will.
"I'll never get over it. Ever. The Buffalo Bills will get over it, but I won't. You're a receiver. You don't drop the ball. I won't get over it."
The Bills (2-9) are playing terrifically lately and have grown significantly since the season began. They have lost three games by an overtime field goal to teams that are at least tied for first place in their divisions. They are clearly not the NFL's worst team, a distinction that was in question a few weeks ago.
The loss should not be blamed solely on Johnson. His end zone flub came on first down, giving the Bills two more chances to move the chains or get into field goal range for
Rian Lindell
, who had kicked a 49-yarder with two seconds left in regulation time.
After Johnson's end zone drop, the Bills' defense could have made a stop on the next possession. Instead, the Steelers ended the game with a 13-play drive, converting a third-and-8 along the way.
Leodis McKelvin
would have returned the overtime kickoff for a touchdown had he not tripped over teammate
Arthur Moats
in the open field.
But Johnson's failure to latch on will take the spotlight because it could have ended the game right then and there.
"We're playing the Pittsburgh Steelers, and the Buffalo Bills come to play football, and it just so happened today that I had 75 drops in the game," said Johnson, who has become a bit of a media sensation the past couple weeks.
Johnson made a statement a week earlier with three touchdowns in the Bills' amazing comeback victory over the
Cincinnati Bengals
. He had more catches, yards and points than
Terrell Owens
and
Chad Ochocinco
combined. Johnson wore an undershirt that read "Why So Serious" in reference to The Joker, a message to the receiving tandem who call themselves Batman and Robin.
Johnson could not laugh Sunday. His magical season was interrupted.
"You talk about a guy who has been extremely hot, making a ton of plays for them," Steelers safety
Ryan Clark
said.
[+] Enlarge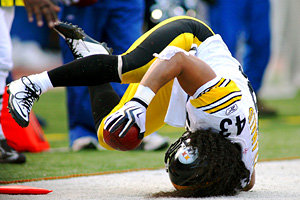 Rick Stewart/Getty ImagesTroy Polamalu intercepted one of Johnson's five dropped passes.
Drops are not an official NFL statistic and are open to interpretation, but CBS Sports had Johnson down for five. Another drop resulted in a
Troy Polamalu
interception near the goal line in the fourth quarter.
Clark explained there was not a blown coverage on the play in overtime. Johnson was wide open because he ran a fabulous route.
Johnson scorched Steelers cornerback
Ike Taylor
so badly up the left sideline that even after Johnson dropped
Ryan Fitzpatrick
's perfect pass, the Bills' sideline celebrated what they thought was their third straight victory.
"Game over," Steelers linebacker
James Farrior
said. "That's what everybody else was thinking. The Buffalo fans, the Buffalo sideline, our sideline. I think everybody thought it was a catch."
Johnson sat stunned in the end zone for several seconds until receiver
David Nelson
pulled him up. Johnson took the end zone gaffe hard in the locker room, too.
"If you're not emotional and hard on yourself, then I would question his passion for the game," Bills safety
George Wilson
said. "But, man, that guy is over there crying his eyes out. He knows how precious those moments are.
"If we want to be one of the elite teams in this league, we have to make the big plays in the big moments. Steve has been making big plays for us all year. That play doesn't make me believe any less in him. He's been beasting out on the field all year."
Johnson did have seven receptions for 68 yards. He leads the Bills with 59 catches for 796 yards and nine touchdowns.
Bill Brooks
holds Buffalo's record with 11 touchdown receptions.
"No matter what, I want him on my team for the rest of my career," said Bills running back
Fred Jackson
, who gained 163 yards from scrimmage and scored the lone Bills touchdown.
"It's uncharacteristic of him, and I know that. I know he's going to make plays for us. I'm not going to define his whole season off of that one play."
October, 10, 2010
10/10/10
12:05
PM ET
ORCHARD PARK, N.Y. -- Here are the scratches from Sunday afternoon's game between the
Jacksonville Jaguars
and
Buffalo Bills
in Ralph Wilson Stadium:
Jacksonville Jaguars
Buffalo Bills
October, 3, 2010
10/03/10
6:58
PM ET
ORCHARD PARK, N.Y. -- In my halftime observations post from the
New York Jets
'
38-14 walkthrough
against the
Buffalo Bills
, I gave a rundown of how nonexistent the Bills' past seven first-round draft picks had been through the first two quarters.
The update I'm about to deliver isn't much better.
August, 28, 2010
8/28/10
10:13
PM ET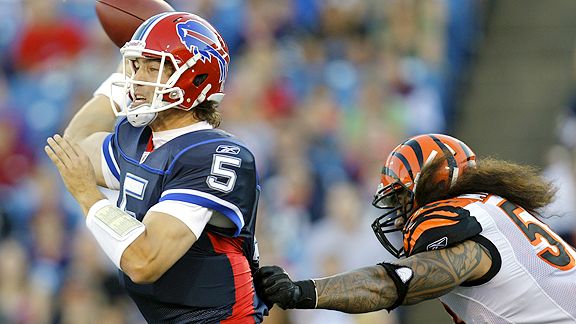 AP Photo/ David DupreyTrent Edwards has the starting quarterback job locked up after another solid preseason performance.
ORCHARD PARK, N.Y. -- Thoughts from the press box at Ralph Wilson Stadium, where the
Buffalo Bills
beat the
Cincinnati Bengals
on Saturday night
35-20
:
If there was any doubt before -- or if Bills fans were in denial and still clinging to hope Brian Brohm would win the gig -- Trent Edwards is Buffalo's quarterback.

On the first possession, Buffalo had minus-12 yards aside from a pass interference penalty. The Bengals sacked Edwards the only time he tried to pass. But Edwards rebounded on the second drive, methodically taking the Bills down the field. He completed all five of his passes for 48 yards and connected with Roscoe Parrish for a 12-yard touchdown.

Edwards' stat line: 13-of-17 for 153 yards and one touchdown with no interceptions. He had a 122.9 quarterback rating.

C.J. Spiller had another brilliant game. He ran 12 times for 52 yards and two touchdowns and two receptions for 33 yards in a half of work. He had a 20-yard run and a 26-yard reception.

As mentioned in my notes column following the Bills' victory over the Indianapolis Colts last week, Spiller is going to have a lot of negative-yardage runs because of his style and the Bills' offensive line. He had runs of minus-7 and minus-11 yards. But he's a threat to break away every single time.

The Bills showed off a little Wildcat. Spiller took a direct snap and ran 6 yards for a first down. In case you were wondering, Edwards remained on the field, split wide right. In the fourth quarter, rookie running back Joique Bell also took a direct snap and ran for 4 yards.

Parrish is one of those players fans always want to see more of, but size always seemed to be an impediment to increased involvement. Think Leon Washington with the New York Jets. Maybe new Bills head coach Chan Gailey has been able to figure something out. Parrish caught all four balls thrown to him for 56 yards and a touchdown.

Maybe the Bills were showcasing Ryan Fitzpatrick for a potential trade (hello, Arizona?). Otherwise, Brohm can't like the fact he quarterbacked only two series late in the fourth quarter. Brohm threw one pass, an incompletion.

Buffalo's secondary didn't have the same success against Carson Palmer that it did against Peyton Manning. Palmer completed all but two of his 11 passes for 95 yards and two touchdowns for a 142.2 rating.

Second-year outside linebacker Aaron Maybin, the 11th overall draft choice last year, may have gotten some traction. He didn't start even though Reggie Torbor was out with an undisclosed injury. Chris Ellis started instead. But Maybin did force J.T. O'Sullivan into an intentional grounding call with some heavy pressure in the third quarter and sacked Jordan Palmer twice in the fourth quarter.

James Hardy, a second-round draft pick in 2008, didn't make much of an impression in his bid to stay on the roster. He had one catch for 30 yards (great pass from Fitzpatrick) and a drop. That was all.

Undrafted rookie receiver David Nelson had another strong game: two receptions for 34 yards, including a 20-yard touchdown.

Third-year cornerback Reggie Corner looked like he might be on the roster bubble in a deep defensive backfield. He helped himself in the fourth quarter by intercepting Jordan Palmer and dashing 20 yards for a touchdown.

Reserve cornerback Ellis Lankster, meanwhile, had another rough night. Quan Crosby beat him for a 44 yard pass play one series after Corner's touchdown. Lankster broke up a pass on fourth-and-goal from the 6, but he got away with pulling on Dezmon Briscoe's collar. Lankster was called for illegal hands to the face to wipe out an Arthur Moats 9-yard sack.

The Bills strength in recent years has been their special-teams play. Special teams coordinator Bobby April bolted for Philadelphia, and the transition to Bruce DeHaven has not been smooth. Their kickoff coverage unit has been awful. The Bengals averaged 32.7 yards per return and rarely started a drive insider their own 30-yard line.
NFL SCOREBOARD
Thursday, 12/5
Sunday, 12/8
Monday, 12/9
WEEKLY LEADERS