October, 14, 2014
10/14/14
11:00
AM ET
A weekly look at what the
Baltimore Ravens
must fix:
When it comes to passing situations, the Ravens know where
Atlanta Falcons
quarterback
Matt Ryan
will be attacking this Sunday -- their No. 3 cornerback.

Dominique Franks
looked like a cornerback playing his first game of the season on Sunday at Tampa Bay. Replacing the injured
Asa Jackson
, Franks gave up 93 yards receiving on five catches (average of 15.5 yards). Buccaneers quarterback
Mike Glennon
's passer rating was 118.8 when throwing at Franks.
Franks' biggest problems came on defending the deep pass. He gave up completions of 25 and 33 yards. Franks also struggled matching up with the size of Buccaneers 6-foot-5 receiver
Vincent Jackson
. Expect the Falcons to go to 6-3 receiver
Julio Jones
whenever Franks (6 feet) is lined up across from him.
Franks is only on the team because the Ravens placed Asa Jackson on short-term injured reserve after he severely sprained his toe. That means Jackson won't be back until December.
The Ravens have few other options because
Chykie Brown
has struggled mightily this season. The only way they can try to hide this soft spot is by getting to Ryan.
The Ravens' pass-rushers are coming off their best game of the season. They hit Glennon 15 times and sacked him five times.
September, 21, 2014
9/21/14
5:30
PM ET
Observed and heard in the locker room after the
Baltimore Ravens
' 23-21
victory
over the
Cleveland Browns
:
Smith
Give him the ball
: Wide receiver
Steve Smith
was asked whether he knew he was going to get the pass just before he made the clutch 32-yard catch that put the Ravens in range for the winning field goal in the final minute of the fourth quarter. "When I line up, I think there is no better option than myself," Smith said. "That's how I practice. That's how I play."
Key adjustment
:
Asa Jackson
provided a major momentum swing when he came off the edge and blocked
Billy Cundiff
's 36-yard field goal attempt in the middle of the fourth quarter. He gave a nod to special-teams coordinator Jerry Rosburg, who told Jackson during the middle of the week to switch pushing off from his right foot to his left foot. It gave him a better angle to the ball. "It ended up working out," Jackson said. "I saw the ball go. I just ran and jumped, and luckily it looked like Billy kicked it low and I was able to get a piece of it."
Half speed
: Cornerback
Lardarius Webb
still looked like his lower-back injury was bothering him in his first game of the season. Even though he didn't start and he played limited snaps, Webb looked like he could barely move. "You can never really push something because he hasn't played much," coach John Harbaugh said. "He is coming off injury in the lower back, and he's going to have to play full speed and get his wheels back. I saw the same thing. He's going to have to get his wheels back. Hopefully, we can play him back."
September, 2, 2014
9/02/14
1:12
PM ET
OWINGS MILLS, Md. -- There shouldn't be many health questions for the
Baltimore Ravens
heading into Sunday's season opener against the
Cincinnati Bengals
.
Pierce
All 53 players were suited up at Tuesday's practice, including running back
Bernard Pierce
and the Ravens' once-banged-up cornerbacks.
The Ravens' top three cornerbacks --
Lardarius Webb
(back),
Jimmy Smith
(chest) and
Asa Jackson
(ankle) -- all participated in position drills and looked fine backpedaling as well as changing directions. All three had missed at least half the preseason, but they had returned for the Ravens' last practice on Saturday.
Pierce, who missed the preseason finale with a concussion, also practiced for the entire media-viewing portion of practice. He is expected to replace suspended
Ray Rice
as the starting running back for the first two regular-season games.
August, 30, 2014
8/30/14
12:50
PM ET
The
Baltimore Ravens
looked like a healthier team when they took the field for Saturday's practice.
With eight days before the regular-season opener against the
Cincinnati Bengals
, running back
Bernard Pierce
(concussion), cornerbacks
Jimmy Smith
(chest),
Lardarius Webb
(back) and
Asa Jackson
(ankle) and offensive tackle
Jah Reid
(concussion) all dressed for their non-contact workout.
It should be noted that Smith and Webb participated in some position drills but were limited in others during the media viewing portion. Jackson did the most among the injured cornerbacks.
Webb has missed the entire preseason, and Smith had sat out the past two games. Pierce, who was injured in the third preseason game, didn't practice last week and didn't make the trip to New Orleans for the preseason finale.
August, 26, 2014
8/26/14
11:05
AM ET
As Saturday's final cutdown approaches, the news with the
Baltimore Ravens
might not be who's getting released. It's who might get added.
In his
Monday Morning Quarterback column
, Peter King mentions he would be "surprised" if the Ravens don't deal for a cornerback this week.
[+] Enlarge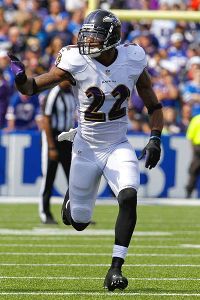 Timothy T. Ludwig/USA TODAY SportsRavens CB Jimmy Smith has been limited since suffering a bruised chest in a preseason game against Dallas on Aug. 16.
This isn't a groundbreaking development. Cornerback is the Ravens' most vulnerable spot because of injuries and depth issues.
Even though
Jimmy Smith
and
Lardarius Webb
are expected to return from injuries to start in the Sept. 7 regular season opener, there is a major question mark at the No. 3 cornerback spot.
The Ravens can't be comfortable with what they currently have, right?
Asa Jackson
has never taken a defensive snap in a regular season game and hasn't practiced since injuring his ankle on Aug. 10.
Chykie Brown
isn't much more experienced than Jackson and has been a liability on deep throws. Veteran free agent
Dominique Franks
has played better recently but he didn't take snaps with the first-team defense until two weeks ago. And
Terrence Brooks
is currently the nickelback, but he's a third-round rookie who started at safety in college.
Trading is the best option to get someone who can make an immediate impact as the No. 3 cornerback. The alternative is waiting for someone to get cut Saturday, and that means that defender wasn't good enough to be a fifth corner for another team.
The Ravens currently have six picks in the 2015 draft (one in the first, second, third and fourth rounds and two in the seventh). But they are expected to receive three compensatory picks, one of which could end up being a fourth-rounder (for losing either defensive end
Arthur Jones
or offensive tackle
Michael Oher
in free agency).
So, the Ravens could be wiling to give up a fourth-round pick because they could recoup it later in the form of a compensatory pick. It's the same rationale the Ravens used last season, when they traded two picks (a fourth- and fifth-rounder) to the
Jacksonville Jaguars
for offensive tackle
Eugene Monroe
.
The Ravens have the means to upgrade at cornerback. The problem is finding a team that will part with a quality defender. Teams such as the
New York Giants
,
Green Bay Packers
and
New Orleans Saints
have depth at cornerback, but none of ESPN.com's reporters for those teams believes a trade is likely.
When it comes to needs, cornerback is clearly at the top of the list for the Ravens. Whether they can properly address this position -- and how much it will cost -- is the big question.
August, 17, 2014
8/17/14
1:20
PM ET
Teams can't play scared and rest every starter for the entire preseason. But there are instances when you have to play it safe.
For the
Baltimore Ravens
, it's time to be safe and smart with their starting cornerbacks.
Jimmy Smith
and
Lardarius Webb
shouldn't suit up for another game until the Sept. 7 season opener against the
Cincinnati Bengals
. Put a red jersey on them so no one hits them in practice. Heck, put them in bubble wrap if it ensures they'll be able to line up when games matter in three weeks.
Webb
Even if Smith (bruised chest) and Webb (back) can return in the preseason, the Ravens can't take the risk of getting either one banged up. The situation would be different if the Ravens had depth at that position. But they don't.
The Ravens are looking at 0-2 if they have to line up
Chykie Brown
and
Dominique Franks
as their starting cornerbacks against the likes of
A.J. Green
and
Antonio Brown
. This makes you yearn for the days of Frank Walker. Well, almost.
The Ravens' cornerback position has been as snakebitten as the drummers for Spinal Tap.
Aaron Ross
, who may have ended up as the Ravens' No. 3 cornerback, tore his Achilles in a conditioning test before training camp started. Webb hurt his back July 25 and hasn't practiced since.
Asa Jackson
, who had been the team's top backup, hurt his right ankle Aug. 10 and wore a protective boot at Saturday's preseason game.
The last injury the Ravens needed was one to Smith. Five plays into Saturday's preseason game, there was Smith landing on his back, hitting the back of his head against the turf and spitting up blood.
While Ravens coach John Harbaugh believes Smith "should be fine," the 2011 first-round pick was more concerned about his health status.
Smith
"I don't know what is wrong with me," Smith told
The Baltimore Sun
. "On the field, I was throwing up blood. The X-rays came back negative, but I still don't know what is the problem. I don't want to say I'm OK, or it is one thing, and then it is something else. I really don't know."
It only took one series for Cowboys quarterback
Tony Romo
to take advantage of Smith's absence. Wide receiver
Dez Bryant
elevated over Franks to pull in a Romo pass for a 31-yard touchdown.
The Ravens don't have many other options on the team. Tremain Jacobs is raw, and fellow undrafted rookie
Deji Olatoye
got beat on consecutive passes, including a 5-yard touchdown throw.
There are really no easy fixes here. If free agents like
Asante Samuel
and
Dunta Robinson
could help, each would be in some team's training camp by now. The best bet is looking at the cornerbacks who get cut when teams trim their rosters to 53 before the regular season. Teams don't release good cornerbacks, but there could be a player who is better than what's on the Ravens roster right now.
Come the season opener, the Ravens may be in decent shape at cornerback if Smith, Webb and Jackson are all healthy enough to play. Harbaugh has never described any of those injuries as major.
But if either Smith or Webb can't start, there's going to be a vulnerable spot in the Ravens secondary that
Andy Dalton
and
Ben Roethlisberger
will look to exploit.
June, 2, 2014
6/02/14
9:30
AM ET
When the calendar hits June 1, it usually means the
Baltimore Ravens
are preparing to making one additional move.
This is a significant date because any free-agent signing past it doesn't count against a team's compensatory picks. The Ravens love their extra picks, and they're officially
in line for three
in the 2015 draft after losing four unrestricted free agents and signing one.
Baltimore has had some moderate success with its June signings. The Ravens landed inside linebacker
Daryl Smith
, who became one of their best defensive players last season, on June 5 of last year. They signed guard Bobbie Williams, who started six games during their Super Bowl season, in 2012, and added kicker
Shayne Graham
in 2010.
Will this June trend continue for the Ravens?
"We're aware of the guys that are still out there, free agents that would be more favorable to sign after June 1 and all that," coach John Harbaugh said. "We're going to be watching the waiver wire real close. We're going to try and get better. We had a conversation, Ozzie [Newsome] and I, and I like to think on principle that we really believe this: We want to build as strong of a 53-man roster as we possibly can, and as we do that, try to get stronger every chance we can get. We'll be looking."
The two biggest positions of need for the Ravens are offensive tackle and cornerback.
There has been a lot of speculation about the Ravens signing offensive tackle
Eric Winston
. It makes sense because Winston played six seasons under Gary Kubiak, who is now the Ravens' offensive coordinator, and fits in the zone-blocking scheme. But, based on what the Ravens are saying, the team wants to see what Rick Wagner can do at right tackle before adding a veteran like Winston. There is also no guarantee that Winston, at the age of 30, is that much of an upgrade over what the Ravens already have.
The same argument could be made at cornerback, where the Ravens have two unproven defenders (
Chykie Brown
and
Asa Jackson
) battling for the No. 3 spot. The Ravens didn't sign or draft a cornerback after losing
Corey Graham
in free agency.
"Ozzie knows he has two great, young guys that are coming up," cornerback
Lardarius Webb
said. "You've got Asa Jackson who can play the nickel and outside, but mostly better inside. And Chykie Brown has been playing good. He's had his chance to get out on the field, but now he gets thrown in, and it's his. He's going to get to show you all what he's capable of
."
Considering these options, the Ravens may wait to add a veteran cornerback at the end of the preseason, when the final major cutdown is made and a more viable defender hits the market. With only four corners with NFL experience, the Ravens will have to either sign a veteran corner or keep an undrafted rookie.
May, 4, 2014
5/04/14
9:00
AM ET
There was a time when the
Baltimore Ravens
built their teams by almost exclusively taking players from big programs like Miami, Arizona State and Alabama. These days, their starting quarterback is from Delaware and the second-highest paid player on the team is from Nicholls State.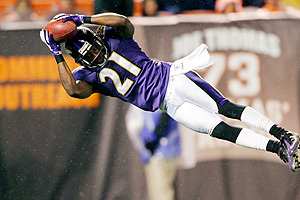 AP Photo/Paul SpinelliLardarius Webb is one example of the Ravens finding success within the ranks of the smaller schools.
The Ravens take pride in finding big-time players from small schools. In this week's draft, no one should be surprised if the Ravens select players from Towson, North Dakota State or Lindenwood. For the record, the Division II Lions of Lindenwood play in Saint Charles, Mo.
In the last two drafts, seven of the 18 players taken by the Ravens have come from programs below the Division I FBS (formerly I-A) level. Defensive tackle
Brandon Williams
, a 2013 third-round pick from Missouri Southern, could join quarterback
Joe Flacco
and cornerback
Lardarius Webb
as another small-school starter for the Ravens.
Asa Jackson
, a 2012 fifth-round pick out of Cal Poly, has a chance to be the team's third cornerback.
"We believe in it," said Eric DeCosta, the Ravens' assistant general manager. "We look at all players across the board, regardless of level of competition, division or conference, and pick the best players."
The Ravens have been linked to small-school prospects this year. They had a pre-draft visits with Eastern Illinois quarterback Jimmy Garoppolo and Towson running back Terrance West. There's a chance that the Ravens, who need help on the offensive line and secondary, could take North Dakota State offensive tackle Billy Turner or Lindenwood cornerback Pierre Desir somewhere around the third round.
Ravens officials believe their success with small-school players comes from the fact that they put in the same amount of work as they do with big schools. Their scouts go to the schools and get to know the coaches.
"Obviously, the biggest challenge would be level of competition," DeCosta said. "How does that player play? How is he going to play against better players? Is he going to be able to adjust? All-Star games are a nice way of seeing that play out, so we get the chance to see a d-school guy at the Senior Bowl, you get a chance to see him at the combine to compare against the big-school guys. That's always a big challenge."
The Ravens have missed on small-school prospects, too.
David Pittman
, a 2006 third-round cornerback out of Northwestern State, started one game, and
Christian Thompson
, a 2012 fourth-round safety from South Carolina State, didn't last two full seasons.
But the Ravens' success rate with small-school prospects is similar to what they have with players from major programs. In some instances, the Ravens see a faster rate of growth with players from smaller schools.
"At small schools, sometimes they don't have the luxury of having a nice weight room, nutritional programs or support staff," DeCosta said. "We feel like sometimes these guys come into our facility, our building, with our coaches and our doctors and trainers, and get better quickly because they have the advantage of all these new things."
November, 8, 2013
11/08/13
2:50
PM ET
OWINGS MILLS -- Three starters on defense for the
Baltimore Ravens
-- linebacker
Daryl Smith
, cornerback
Jimmy Smith
and safety
James Ihedigbo
-- are listed as questionable for Sunday's game against the
Cincinnati Bengals
. All were limited in Friday's practice.
Smith
Daryl Smith (thigh) and Jimmy Smith (groin) returned to practice after missing the past two days. Daryl Smith, the team's leading tackler, walked off the practice field gingerly. The Ravens would likely start
Josh Bynes
, who had been a starter until
Jameel McClain
was activated off the Physically Unable to Perform (PUP) list.
Another concern is the Ravens' secondary. Jimmy Smith, who injured his groin last Sunday, declined comment in the locker room. Ihedigbo was added to the injury report Friday after he was limited with a toe injury. A third defensive back, backup cornerback
Corey Graham
(calf), is also questionable.
To add more depth, the Ravens activated
Asa Jackson
, who had been suspended for the first eight games, and placed guard
Kelechi Osemele
on injured reserve.
Outside linebacker
Terrell Suggs
(foot) is listed as probable after having a full practice Friday. He sat out Thursday.
Here is the complete injury report for the Ravens:
QUESTIONABLE
: CB Corey Graham (calf), S James Ihedigbo (toe), CB Jimmy Smith (groin), LB Daryl Smith (thigh) and WR
Brandon Stokley
(groin).
PROBABLE
: WR
Marlon Brown
(finger) and LB Terrell Suggs (foot).
November, 4, 2013
11/04/13
5:50
PM ET
OWINGS MILLS, Md. -- Recent NFL history says the Ravens can still reach the playoffs despite a 3-5 record. The Ravens' track record suggests they can rebound from this three-game losing streak.
But, to steal a line from Browns cornerback
Joe Haden
, it's becoming clear that these aren't the same Ravens of old. The old Ravens were perfect coming off the bye. The old Ravens were undefeated against the Browns over a stretch of 11 meetings heading into Sunday. In Sunday's 24-18 loss at Cleveland, the Ravens fell to the Browns for the first time since 2007 and dropped their first game following a bye under coach John Harbaugh. History hasn't become reality for the Ravens this season.
This is why it's difficult to think the Ravens can get everything back on track simply because they've done so in the past. There are too many recurring problems throughout the first half of the season -- slow starts, struggling running game and poor finishes on defense -- to believe everything is going to get rectified in the second half.
[+] Enlarge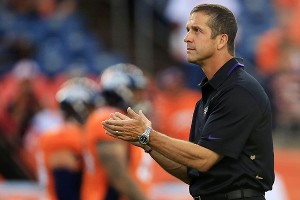 Doug Pensinger/Getty ImagesJohn Harbaugh's Ravens are tied with Houston and Jacksonville for the most losses (four) in games decided by three points or fewer.
Harbaugh, though, would argue otherwise.
"As it stands, we're in a tough spot. But I believe in our guys, coaches and players," Harbaugh said Monday. "I know we have what it takes to be a very good football team in the second half of the season. What we do in the first half does not determine what we do in the second half. We have opportunities to accomplish everything we want to accomplish. We understand that. Now, our focus becomes one game. What we need to do is win one game. Momentum is a crazy thing. You have to stop theirs and build yours. Once you do that, you have a chance to build on that."
If you're searching for hope for the reeling Ravens, 32 teams since 2000 have reached the halfway point of a season with a .500 or below win percentage and still gone on to reach the playoffs, according to ESPN Stats & Information. It has happened in each of the 13 seasons over that time, including three times last season: Redskins (3-5), Bengals (3-5) and the Seahawks (4-4).
The Ravens also have a history of recovering from losing three games in a row. This is the fourth time in Harbaugh's six seasons that his team has had such a losing streak. In 2008, the Ravens won four straight following a three-game losing streak. In 2009, the Ravens recovered from a three-game skid to make the playoffs with a 9-7 record. And, last season, the Ravens lost three consecutive times in December and won the Super Bowl in February.
How do the Ravens respond to this losing streak? Harbaugh wants the Ravens to concentrate on themselves, not the other teams on the schedule.
"To me, the biggest thing is to focus on our job," Harbaugh said. "The best players are the best players because they play the best. They do that by dominating their job. If you want to be a really good player, just dominate your job. Just focus on that. If we all do that, you get a little bit better all way across the board and then we have a chance to get over the hump."
Right now, only four teams in the AFC have a worse record than the Ravens: Buffalo (3-6), Houston (2-6), Pittsburgh (2-6) and Jacksonville (0-8). But the Ravens haven't conceded the division yet.
The Ravens are in third place but they trail the Bengals (6-3) by two games. Baltimore plays Cincinnati twice in the final eight games of the season, including Sunday at M&T Bank Stadium.
"There's half a season left to play," Harbaugh said. "There's a lot of games out there for us to win. We need to go stack some wins. It's all about the next game. Cincinnati is leading the division, so this is an opportunity for us."
Here are some other notes from Harbaugh's press conference:
Left guard Kelechi Osemele will be placed on injured reserve. He is expected to have a three-to-four month recovery from back surgery, which would allow him to be ready for the team's offseason workout program.
Cornerback Asa Jackson is eligible to play after serving an eight-game suspension for violating the league's performance-enhancing drug policy. The Ravens may need extra depth at cornerback with Jimmy Smith nursing a groin injury. "Hopefully, he's in that kind of shape where he can slide right in there and help us," Harbaugh said. "We'll see if he can help us this week. If he can, with our situation at corner, that could be a plus for us."
August, 15, 2013
8/15/13
10:58
PM ET
The struggles of the
Baltimore Ravens
' starting offense this preseason has led to interceptions, three-and-outs and even a shouting outburst by running back
Ray Rice
.
Before the Ravens' backups rallied for a
27-23 preseason win
over the
Atlanta Falcons
,
Joe Flacco
and the offense provided another instance in which Baltimore misses its top two tight ends (
Dennis Pitta
and
Ed Dickson
are injured) and has yet to find a No. 2 wide receiver.
In five drives in the first half, the Ravens managed 131 yards of total offense and three first downs. Take away
Torrey Smith
's 77-yard touchdown -- the only highlight for the first-team offense in three quarters of play this preseason -- and Baltimore had 54 yards in the first half.

Flacco finished 7-of-9 for 118 yards, but the Ravens were 1-of-5 on third downs in the first half. Flacco's second interception of the preseason came when he forced a pass to
Jacoby Jones
, who was double covered on that play.
Rice didn't have much running room and was held to 10 yards on eight carries. When he was dropped 4 yards in the backfield late in the second quarter, a visibly upset Rice shouted as he headed to the sideline.
"That's about as bad as we can play," coach John Harbaugh told WBAL Radio while coming off the field at halftime, when the Ravens trailed 20-7.
In three quarters this preseason (eight total drives), the Ravens' starting offense has produced one touchdown, two turnovers (both interceptions) and three three-and-outs.
"We were just sloppy," Flacco said. "We never got into a rhythm."
Here are some other thoughts on the Ravens:
Jimmy Smith, who is trying to win a starting cornerback job, had a rough night against wide receiver Julio Jones. Smith gave up three completions to Jones on a first-quarter drive that resulted in gains of 32, 15 and 8 yards. On the 8-yard touchdown to Jones, it looked like Smith was expecting inside help from a safety.
Torrey Smith looked like a No. 1 receiver for the Ravens and accounted for two of the team's three third downs in the first half. On his touchdown, he caught a quick pass from Flacco and outran the Falcons defense for the score. Smith then converted a third-and-6 when he picked up 8 yards on a crossing route.
The Ravens were penalized seven times for 68 yards. A.Q. Shipley, who got the start at center, drew two flags. He was called for a 15-yard personal foul and was flagged for a false start when the Ravens were backed up to their own end zone. LaQuan Williams also ran into the punter in the third quarter, which allowed the Falcons to convert and fourth-and-3.
The Ravens defense is expected to be much stronger against the run this season. But the Falcons' Steven Jackson picked up yards in between the tackles, gaining 42 yards on eight carries, a 5.3-yard average.
David Reed had a solid showing as the kickoff returner. He averaged 31.3 yards on three returns, including a 38-yarder. Reed is trying to win one of the final roster spots.
Asa Jackson helped his cause for sticking around when he returned a punt 78 yards for a touchdown, putting the Ravens ahead 27-23 with 6:18 left in the fourth quarter. Jackson has been suspended for the first eight games this season for violating the NFL's policy on performance-enhancing drugs.
April, 28, 2012
4/28/12
4:44
PM ET
Let's take a quick look at what the division teams did in the fourth and fifth rounds:
BENGALS
: Cincinnati should play a lot more two tight end formations with the addition of Georgia's
Orson Charles
(fourth round). He can get open in the passing game and help out the running game with aggressive blocking. ... Iowa CB
Shaun Prater
(fifth round) is a strong worker who lacks ideal height (5 feet 10). He projects to be a nickel back down the road. ...California's
Marvin Jones
(fifth round) is the second wide receiver taken by Cincinnati (Rutger's
Mohamed Sanu
was the other). He isn't technically sound but he was impressive at the Senior Bowl. ... Boise State FS
George Iloka
(fifth round) has a lot of range in pass coverage but he is an inconsistent tackler.
BROWNS
: Cleveland addressed the need for speed at receiver with Miami's
Travis Benjamin
(fourth round). His other contribution could come as a returner. ... Nevada's
James-Michael Johnson
(fourth round) is listed as an inside linebacker but he could be the eventual replacement for outside linebacker
Scott Fujita
. ... Colorado's
Ryan Miller
(fifth round) is a mauling lineman who is extremely tall (6 feet 7) for a guard. He projects to be a right guard.
RAVENS
: The Ravens found their potential center of the future in Delaware's
Gino Gradkowski
(fourth round). He could also compete for the job at left guard, where
Jah Reid
is currently penciled in as the starter. ... South Carolina State FS
Christian Thompson
(fourth round) adds depth at safety, where the Ravens lost
Tom Zbikowski
and
Haruki Nakamura
in free agency. ... Cal Poly CB
Asa Jackson
(fifth round) shows great burst as a punt returner but he is a raw cornerback prospect.
STEELERS
: Pittsburgh's strong draft continued when the team selected nose tackle
Alameda Ta'amu
from Washington (fourth round). He could be pressed to start right away with
Casey Hampton
(ACL surgery in January) isn't ready at the start of the season. ... Florida RB
Chris Rainey
(fifth round) is an undersized explosive playmaker. He lasted this long because of character concerns.