NFL Nation:

Ashton Kutcher
September, 24, 2011
9/24/11
4:43
PM ET
In March, we noted
Adrian Peterson
's ill-advised analogy that suggested NFL players are the victims of
"modern-day slavery."
Modern-day slavery, after all, is
known as human trafficking
.
Peterson
In May, Peterson
released a collaborative video
with the DNA Foundation, a non-profit group headed by actors Demi Moore and Ashton Kutcher that raises awareness of human trafficking.
Peterson said in August
that he was making plans for more projects with the DNA Foundation, and on Saturday those plans were announced.
Peterson and the DNA Foundation have created a "Football For Good" campaign and, according to a press release, will work to "create widespread awareness and raise funds for community programs for at-risk youth and to fight human trafficking of minors."
Peterson will donate $5,000 for every touchdown he scores this season. Kutcher and Moore will match that donation. Six other athletes, including
Chicago Bears
receiver
Roy Williams
, have also joined the cause.
We don't necessarily highlight every instance of community work NFC North players take part in. But as we discussed in August, Peterson deserves credit for righting a wrong.
August, 5, 2011
8/05/11
2:26
PM ET
MANKATO, Minn. -- If some good came of
Adrian Peterson
's unfortunate use of analogies this offseason, it's this: It forced one of the NFL's highest-profile players into a bond with two of the world's most prominent advocates for ending human trafficking.
[+] Enlarge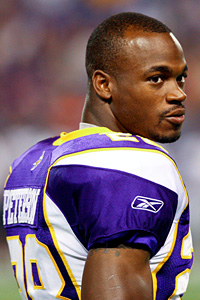 Brace Hemmelgarn/US PresswireVikings running back Adrian Peterson is working with the DNA Foundation, founded by actors Demi Moore and Ashton Kutcher.
As you probably tried to forget, Peterson described the league's labor relationship with players
as "modern-day slavery"
in a March interview with Yahoo! Sports. The comment drew national rebuke for its gross exaggeration. Around here, it grew especially worrisome when
Pittsburgh Steelers
running back
Rashard Mendenhall
, among others, began supporting Peterson's "position." (I posted
my thoughts on the matter here.
)
In May, Peterson
shot a video
for
the DNA Foundation
, founded by actors Demi Moore and Ashton Kutcher. He spoke publicly about the matter for the first time Friday, taking full accountability for his word choice and saying he has committed to further cooperation with the DNA Foundation.
"I regret using those words," Peterson said. "Because obviously there is nothing, absolutely nothing, that you can compare to slavery. It stands alone. ... I should have used better wording to put out there. But it's spoiled milk. It's old. Hopefully we can move on."
I'm all for that, especially now that Peterson has made clear what I think he knew all along: That modern-day slavery actually exists under a different name: human trafficking. I've always believed that Peterson wasn't making any sort of political statement. He has always presented himself as a professional and respectful public figure, and there was no reason to think he harbored some previously unexpressed level of insensitivity. Like many of us, he probably just didn't know that in 2010, 12.3 million people world-wide were in forced or bonded labor.
To that end, Peterson jumped at the chance to work with Moore and Kutcher.
"They approached me," Peterson said. "It was a great deal. I had fun with Demi Moore and Ashton. They are some great people and we're actually getting together to do some things for my foundation and his foundation this year with human trafficking. And it's going to be exciting."
I give Peterson all the credit in the world for working to make an inadvertent wrong into an intentional right.
Which, in some strange way, brings us to his return to the
Minnesota Vikings
' training camp Friday. After missing three days to witness the birth of his son, named Adrian Jr., Peterson said he is excited about the Vikings' new offense and in no way concerned that the team has yet to extend his contract, due to expire after this season.
"I'm comfortable where I'm at," he said. "I'm committed to my deal. It's obviously the last year of my deal. I have guys that take care of that, my agents Ben Dogra and Tom Condon. I'll let those guys handle that. For now I'm focused on football. I'm not worried about contract at all."
Peterson said he never considered holding out, and the truth is he has every reason to feel comfortable at this moment. Thanks to a number of contract accelerators, he will earn a princely $10.72 million this season. He could earn an additional $2.5 million in bonuses, a situation that makes him much different than
Tennessee Titans
tailback
Chris Johnson
, who is holding out, and even
Matt Forte
of the
Chicago Bears
, who admitted he thought about holding out until the Bears assured him an offer was on the way.
Vikings owner Zygi Wilf has said the team values Peterson's presence in the long-term, but Peterson's current contract effectively eliminates the pressure many teams come under to offer early extensions for players who might have overperformed their rookie contracts. While Peterson would assuredly like an extension, he couldn't possibly argue he is underpaid with a $10.72 million salary.
As we
discussed last month
, the Vikings face a complicated decision on Peterson's future. But at this moment, everyone can relax. Peterson will happily collect an eight-figure salary, and the Vikings have the opportunity to get another workhorse season from the game's best running back without having to make a future commitment.
May, 4, 2011
5/04/11
1:27
PM ET
To my knowledge, Minnesota Vikings tailback Adrian Peterson hasn't said anything publicly about that the reaction to comments he made in March to Yahoo! Sports. In the interview, Peterson called the relationship between the NFL and its players "
modern-day slavery
."

Peterson
As we discussed in a subsequent post
, it was a callous comment from an otherwise charitable NFL player. It minimized the existence of actual modern-day slavery, known now as human trafficking. Although Peterson has yet to acknowledge that publicly, he has clearly taken some appropriate steps that deserve genuine kudos.
Here is a video Peterson shot
for the
DNA Foundation
, a non-profit group headed by actors Demi Moore and Ashton Kutcher focused on raising awareness to the child sex slavery subset. Peterson doesn't speak in the video, and he hasn't publicized the exact nature of the work he's doing. (
Via Twitter
, he has encouraged followers to "[t]ake a stand against human trafficking.") But I think we can agree it's not an accident he hooked up with the DNA Foundation.
If Peterson's original comments ultimately spark more awareness for an issue that neither he (nor Pittsburgh Steelers running back Rashard Mendenhall, for that matter) were aware of, then it's a net positive for everyone.
September, 29, 2008
9/29/08
8:15
AM ET
| | |
| --- | --- |
| | |
| | Jerry Lai/US Pressswire |
| | Kyle Orton threw three touchdown passes Sunday night. |
Posted by ESPN.com's Kevin Seifert
CHICAGO -- Walking to the Bears' locker room late Sunday night, I passed a tall, goofy and vaguely familiar guy heading the other way. He turned to the striking middle-aged woman on his arm and exclaimed: "Man, I can't believe that goal-line stand! Awesome!"
To which Demi Moore smiled with polite indifference, sagely humoring Ashton Kutcher and no doubt thinking about the flight back to Hollywood.
(Shameless name-dropping, I know. But Ashton and Demi really were at the Bears' 24-20 victory Sunday over Philadelphia, and -- yes -- their interaction illustrates my point).
(Which is...)
I'm with Demi on this one. Yes, the Bears stopped the Eagles on four consecutive running plays inside the 5-yard line, preventing another late collapse as the Bears evened their record at 2-2. But it didn't blow me away -- not when the Eagles were one Donovan McNabb rollout from taking the lead.
(Don't believe me? Here's what Philadelphia coach Andy Reid said: "I have to make sure I get the right plays called so we can punch that in.")
No, I was more intrigued with the way the Bears took early control of the game, an advantage which ended up carrying them through the game.
To the surprise of just about everyone at Soldier Field, the Bears opened in a no-huddle offense and threw on 13 of their first 19 plays. The strategy was aimed at neutralizing the notoriously exotic blitz packages the Eagles use under defensive coordinator Jim Johnson.
NFL SCOREBOARD
Thursday, 10/30
Sunday, 11/2
Monday, 11/3
WEEKLY LEADERS