NFL Nation:

Austin Seferian-Jenkins
February, 22, 2014
Feb 22
11:30
PM ET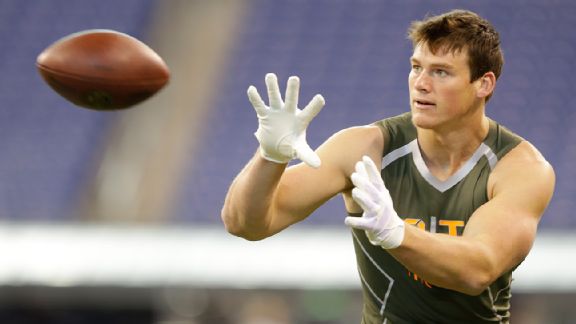 AP Photo/Michael ConroyTroy Niklas, who worked out at the combine on Saturday, says he's a "prototypical tight end."
INDIANAPOLIS --
Troy Niklas
walked off Podium C in Indianapolis on Thursday afternoon, answered one more question and laughed at the proposition of it.
Unlike a lot of tight ends in this NFL draft, the former Notre Dame tight end is a rarity at the NFL combine as opposed to a decade ago, when more players at his position were like him.
Or, as he put it, "last of a dying breed."
The breed being the tight ends who can both block and catch passes, whose skills aren't limited to one or the other as an obvious strength/weakness comparison but rather a dual-threat tight end who can do a little bit of everything.
Niklas understands this, too.
"I guess in some senses, I think I'm more of a prototypical tight end," Niklas said. "One that can really block and one that you can also use in the pass game and be pretty effective."
Teams want guys who can do both of those things, and the value of players who can do that is high, in part, because of the way tight ends are being coached now versus a decade ago.
"You don't see many guys who are good at doing both," Detroit general manager Martin Mayhew said. "But there are guys who can block coming out of college this year and there will be guys in free agency that can block."
And in many offenses, those players become premium options. In the draft, Niklas is one, as are
Austin Seferian-Jenkins
from Washington and
C.J. Fiedorowicz
from Iowa and is a position of potential need for Detroit.
But the position has evolved dramatically over the past 10 years, turning from a definitive spot on the line next to a tackle to potentially lining up anywhere from out wide to the slot, backfield and in the traditional spot next to a tackle on the line.
And a lot of it has to do with the transition of college offense from drop-back passing run-first pro-style and west coast offenses to shotgun, spread, zone-read ones.
The proliferation of spread offenses has often eliminated the use for a traditional tight end, instead turning the position into a mismatched bigger receiver against a linebacker or safety and becoming a headache for more than opponents but those looking to evaluate them as well.
"You don't see a lot of in-the-line tight ends, true blocking tight ends very often anymore, and when you do, it's different,"
Washington Redskins
coach Jay Gruden said. "But there are still some guys that utilize the tight end position in college and those are the guys that you get a good chance to look at.
"But the ones (who don't), you would have to see how he would fit because he hasn't been asked to do it. No fault of theirs, but it's a tough position to evaluate right now because of all the spread offenses."
That is one of the tougher things for coaches, general managers and scouts to decipher over the next few months. Depending on a team's offensive system, finding a tight end who can both block and pass could be an issue.
Blocking on the line of scrimmage is becoming more of a lost ability for tight ends, who see players like
Jimmy Graham
and how he is used and end up being utilized in similar ways.
"I think right now people are looking for tight ends to catch more balls," Texas Tech tight end
Jace Amaro
said. "Than they are to make more blocks."
So if a team wants a tight end who can line up on the line of scrimmage to be able to run block as well as run routes, it has become somewhat more of a guessing game as to when and if some of the spread offense tight ends will adapt.
"A couple of years ago we were looking at a prospect and we and it took us two years (of film) to see five snaps where he lined up in a two point stance," said
Atlanta Falcons
coach Mike Smith. "You have to do some projecting when you're looking at the tight ends. But I do think it's an evolving position. It's changing.
"Offensive coordinators are being very creative in how they align the tight end. He can line up in that fullback position. He can line up as an H back. He can line up in the No. 1 wide receiver position as well."
How a team views the tight end in their system will often define what type of tight end they are looking for -- more of a specialist or a guy who can do a little bit of everything, just like the modern tight end has turned out to be.
February, 21, 2014
Feb 21
8:00
AM ET
INDIANAPOLIS -- One by one, the top tight ends in this year's NFL draft rolled through Lucas Oil Stadium as part of Thursday's interview session at the scouting combine.
There was
Eric Ebron
of North Carolina,
Jace Amaro
of Texas Tech,
Austin Seferian-Jenkins
of Washington,
Troy Niklas
of Notre Dame,
C.J. Fiedorowicz
of Iowa and on and on.
Most, if not all, were asked which NFL tight end they admired, emulated or resembled.
For some, like Ebron, it was
San Francisco 49ers
tight end
Vernon Davis
.
[+] Enlarge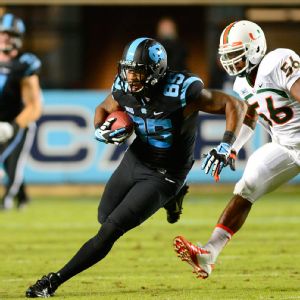 Bob Donnan/USA TODAY SportsCarolina likely would have to trade up in the first round of the NFL draft to have a shot at selecting Eric Ebron.
For others, like Amaro and Fiedorowicz, it was the New England Patriots'
Rob Gronkowski
.
For Seferian-Jenkins, it was the New Orleans Saints'
Jimmy Graham
and the Denver Broncos'
Julius Thomas
, who like him had a background in basketball.
Not one of them, however, mentioned
Jermichael Finley
.
Yet if the
Green Bay Packers
don't bring back their starting tight end, which is a likely course of action given his neck injury and his expiring contract, one of those players could become the next Finley.
Most of the top tight end prospects said Thursday that they had either visited with the Packers or planned to talk with team representatives this week at the combine.
So too will Blake Baratz, the agent who represents Finley, but the Packers may have already decided that Finley's neck fusion surgery was too much of a risk to bring him back. If that's their plan, then there are plenty of viable options in this draft, which features playmaking tight ends of all sizes.
It starts with the 6-foot-4, 250-pound Ebron, who likely will be the first tight end taken in the draft and could be gone before the Packers pick at No. 21.
"I'm very fast; I'm very different," said Ebron, who along with the other tight ends will do their on-field testing this weekend. "I play the tight end role like no one else."
In some ways, he plays it like Finley, whose physical presence is similar to Ebron's.
Amaro (6-5, 255) is as much receiver as he is tight end. Most of last season, when he caught 106 passes for 1,352 yards (the NCAA record for a tight end), he played standing up away from the line of scrimmage.
"That's why I'm so unique," Amaro said. "It's kind of a revolution into the game and how the tight ends are coming in across the board. I like to see myself as both a tight end and a receiver."
But can he block?
That's not an issue with Fiedorowicz (6-5½, 265), who was more of a blocking tight end in Iowa's run-heavy offense.
"A lot of tight ends in the NFL are either blocking tight ends or receiving tight ends," Fiedorowicz said. "I like watching Rob Gronkowski. He can dominate both the line of scrimmage and down the field."
Seferian-Jenkins (6-5, 262) said he was asked to do both last season at Washington, where he played basketball as a freshman.
"At the tight end position, you've got a lot of great players [in this draft]," he said. "But what I think I do is if you watched me play, I split out and played receiver. I've done fullback. I've played in line. I think I've showed I'm very capable of being a playmaker down the seam and run regular routes as a receiver, and I've shown the capability of being a blocker."
Niklas (6-6½ , 270) might be the biggest bruiser of this bunch. He began his college career as an outside linebacker.
"I can block, and I enjoy blocking," Niklas said. "I think it's something I can use to my advantage."
Further down the tight end pecking order is Jacob Pedersen of Wisconsin. He grew up just north of Green Bay in Michigan's Upper Peninsula. He's a late-round prospect who would love the chance to be the Packers' next tight end.
"Growing up 45 minutes away from Green Bay, obviously it'd be a childhood dream to play for your home team," said Pedersen, one of six Badgers invited to the combine. "But I'm just hoping to get drafted by a team. Whoever takes me, they're going to get my best effort."
NFL SCOREBOARD
Sunday, 2/2
WEEKLY LEADERS