NFL Nation:

Baraka Atkins
August, 31, 2013
8/31/13
6:14
PM ET

Most significant move:
The fact the Saints didn't release or put
Jonathan Vilma
on injured reserve or the physically unable to perform list is a very strong sign that the veteran linebacker is expected to be healthy early in the season. That's very significant. Vilma may be nearing the end of his career, but he still is the emotional leader of this defense and his mere presence makes this unit stronger.
Going in a different direction:
Courtney Roby
had been a fixture on special teams since his arrival in 2008. But the Saints have some younger, more athletic guys, like
Rafael Bush
, they want to get involved on special teams. Roby's value also was hurt by the fact he brought little as a wide receiver. The team elected to keep
Andy Tanner
over Roby because Tanner has some upside as a receiver.
What's next:
After losing outside linebackers
Will Smith
and
Victor Butler
to injuries, the Saints could look at the waiver wire to add some more help for the pass rush.
Saints moves:
Released WR Courtney Roby, DE
Jay Richardson
, CB
Chris Carr
, S
Jim Leonhard
. Waived QB
Ryan Griffin
, WR
Preston Parker
, FB
Austin Johnson
, WR,
Saalim Hakim
, G
Elliott Mealer
, TE
Keavon Milton
, TE
Michael Higgins
, G
Andrew Tiller
, C
Jeremiah Warren
, LB
Ray Shipman
, LB
Rufus Johnson
, DT
Isaako Aaitui
, S
Jerico Nelson
, LB
Baraka Atkins
, T
Marcel Jones
, CB
Korey Lindsey
and CB
Jumal Rolle
. Placed C
Eric Olsen
on injured reserve.
April, 25, 2011
4/25/11
11:45
AM ET
NFC West teams have drafted 22 defensive ends since 2002, a number smaller than I would have anticipated.
An even smaller number -- two! -- start for the teams that drafted them.
One,
Antonio Smith
, starts for another team.
A few notes relating to this latest item in
a series examining various positions
:
Kentwan Balmer appears as a defensive end because the San Francisco 49ers drafted him to play that position. Balmer played defensive tackle in college.
Darnell Dockett does not appear as a defensive end because the Arizona Cardinals drafted him to play defensive tackle. Yes, Dockett plays defensive end in the Cardinals' current scheme, but the NFL lists him as a tackle for Pro Bowl voting and he is not a typical defensive end even by 3-4 standards.
Of the 22, only Chris Long and Calais Campbell are starting for their original teams. Smith is starting for the Houston Texans.
Six of the eight most highly drafted ends since 2002 came from teams most recently affiliated with the ACC.
Long was the only player on the list drafted before the 28th overall choice.
Will Davis and Parys Haralson were listed as defensive ends coming out of college, but both projected as outside linebackers. That is why they do not appear below. Cody Brown also projects at linebacker.
I've used the term "not active" loosely in the charts to describe players who weren't on active rosters during the regular season recently.
Now, on to the charts. I've broken them up with italicized comments representing what NFL teams might have been thinking at corresponding stages of these drafts.
Playing it safe and hoping those NFL bloodlines pay off ...
Defensive linemen are at a premium, and we might find out why ...
The pure pass-rushers are gone by now ...
If these guys don't pan out, it'll be a while before we take another third-round end ...
It's an upset if we find a starter at this point ...
Time to fill out the practice squad, but you never know ...
April, 15, 2011
4/15/11
11:49
AM ET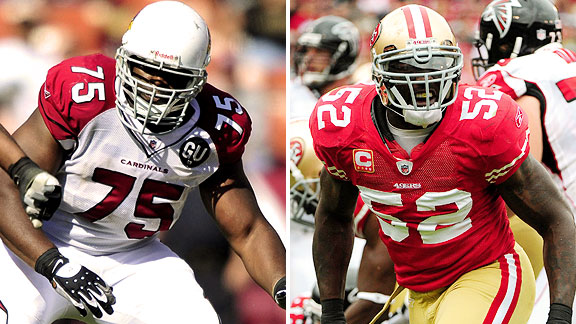 US PresswireOf all the 2007 NFC West draft picks, the Cardinals' Levi Brown and the 49ers' Patrick Willis have started the most games.
JaMarcus Russell
's demise as an NFL player is
back in the news
, shining light upon the perils of investing millions in unproven prospects.
The 2007 NFL draft was about more than Russell, of course.
That draft also produced
Calvin Johnson
,
Joe Thomas
,
Adrian Peterson
,
Patrick Willis
,
Darrelle Revis
and
Lawrence Timmons
among the top 15 choices.
For as much criticism as the
Arizona Cardinals
have taken for selecting tackle
Levi Brown
fifth overall, Brown has started 59 regular-season games, second only to Willis (63) among NFC West draft choices that year. He has also started six playoff games, including a Super Bowl, and coach Ken Whisenhunt
expects good things from him
.
I've put together a couple charts showing what NFC West teams have gotten from their draft choices that year. More on those in a bit.
First, I've taken a team-by-team look at the players selected, whether they remain with their original teams and how many games each has started for his drafted team.
The 49ers had the best draft among NFC West teams. They also had the most draft capital to work with, selecting twice in the first round. The
Seattle Seahawks
had no first-rounder that year thanks to the
Deion Branch
trade, so expectations were lower.
Arizona Cardinals

Total picks:
five
Still with team (4):
Brown (59),
Steve Breaston
(26),
Ben Patrick
(20),
Alan Branch
(3)
No longer with team (1):
Buster Davis
(0)
Comment:
The Cardinals had fewer total selections than any team in the division. Hitting on Breaston in the fifth round was outstanding, but the Cardinals haven't gotten enough from their top three selections that year. Branch never panned out as a second-rounder. Davis, the third-rounder, didn't make it out of camp. Whisenhunt takes pride in making roster decisions with less regard for draft status. He wasn't going to give Davis or anyone a free pass. That's admirable, but in the bigger picture, Arizona still came up short in this draft.
San Francisco 49ers

Total picks:
nine
Still with team (5):
Willis (63),
Joe Staley
(50),
Ray McDonald
(9),
Dashon Goldson
(34),
Tarell Brown
(5)
No longer with team (4):
Jason Hill
(2), Jay Moore (0),
Joe Cohen
(0),
Thomas Clayton
(0)
Comment:
Former general manager Scot McCloughan gets credit for selling former coach Mike Singletary on Willis as an elite prospect. That seems odd given Singletary's background as a Hall of Fame linebacker, but the 49ers got the right guy, so the "how" part matters less. That one selection makes this draft the best in the division for 2007. Staley is the starting left tackle. McDonald has been a solid rotation player. Goldson became a starter. All in all, this was a strong draft.
Seattle Seahawks

Total picks:
eight
Still with team (2):
Brandon Mebane
(53),
Will Herring
(7)
No longer with team (6):
Josh Wilson
(24),
Steve Vallos
(8),
Mansfield Wrotto
(5),
Courtney Taylor
(4),
Jordan Kent
(1),
Baraka Atkins
(0)
Comment:
Not having a first-round selection severely hurt this class' overall potential. Wilson seemed like a solid selection in the second round given the playmaking value he offered, but multiple changes in organizational leadership left him on the outside in terms of fit. Mebane was a solid choice in the third round. Vallos and Wrotto remain in the league elsewhere.
St. Louis Rams

Total picks:
eight
Still with team (1):
Clifton Ryan
(27)
No longer with team (7):
Adam Carriker
(25),
Brian Leonard
(7),
Jonathan Wade
(6),
Dustin Fry
(0), Ken Shackleford (0),
Keith Jackson
(0),
Derek Stanley
(0)
Comment:
This draft was a disaster for the Rams and made worse by massive organizational changes. On the bright side, the Rams might not have been in position to select
Sam Bradford
first overall in 2010 without selecting so many non-contributors in 2007.
Now, on to the charts. The first one takes a round-by-round look at the number of starts each team has gotten from its 2007 selections. I have used dashes instead of zeroes to show when teams did not have a selection in a specific round.
The second chart divides the number of starts by the values of the selections each team held, using the
draft-value chart
.
For example, the value chart said the Seahawks' picks that year were worth 669.2 points, far less than the picks for other NFC West teams were worth. Using this measure, Seattle got more bang for its buck if we valued all starts equally (and we should not value them all equally, but we can still use this as a general guide).
Some of the choices were compensatory and could not be traded, so the chart would not have valued them for trading purposes. I assigned values to them for this exercise, however, because we were not considering the picks for trading purposes.
December, 14, 2009
12/14/09
7:29
PM ET
August, 23, 2009
8/23/09
1:30
PM ET
Posted by ESPN.com's Mike Sando
Seahawks seventh-round Nick Reed made another strong case for a roster spot Saturday night. He deflected a punt, had 1.5 sacks and forced a fumble. He nearly blocked another punt in the final 30 seconds of the Seahawks' 27-13 victory at Qwest Field.
Reed also drew a personal-foul penalty for hitting Broncos quarterback Chris Simms in the legs, injuring Simms. This is one penalty that will not count against Reed when the Seahawks evaluate which players to keep on their initial 53-man roster. The fact that Reed was around the quarterback and punishing him is what matters.
Reed's strong showings this summer prove he's better than the backups he has faced against the Chargers and Broncos. That doesn't necessarily mean he'll earn a roster spot, but I do think Reed's status as a draft choice works in his favor. No team wants to watch one of its impressive late-round draft choices catch on with another team.
The Seahawks held a roster spot last season for 2008 seventh-rounder Brandon Coutu even though Coutu never played in a regular-season game. They also kept 2008 seventh-rounder Justin Forsett on the initial reduction to 53 players, releasing him one week into the season only after injuries created a severe need at receiver.
Reed is competing with Michael Bennett and possibly Baraka Atkins for a roster spot. Bennett leveled Broncos quarterback Tom Brandstater for a sack. Atkins shared a sack with Reed.
June, 10, 2009
6/10/09
5:00
PM ET
Posted by ESPN.com's Mike Sando
RENTON, Wash. -- Emptying the notebook after watching the Seahawks practice on a bright, sunny day at their lakefront facility:
Tight end John Carlson stands out right away. Defensive backs are bouncing off him after he catches the ball and turns upfield. Carlson makes overhead catches appear routine even with a defender trailing him closely. Quarterback Matt Hasselbeck said the staff is using Carlson extensively across multiple packages, including on third down. There were times last season when Carlson inexplicably -- to me, anyway -- came off the field in those situations.

Aaron Curry covers Carlson better than anyone, but coach Jim Mora singled out the rookie linebacker's pass-rush skills as a pleasant surprise so far this offseason. Mora issued the usual disclaimer about how it's tough to fully evaluate when players aren't wearing pads. But he said the pass-rush aspect was something they did not see from him in college because Wake Forest didn't ask him to do it much.
T.J. Houshmandzadeh doesn't dazzle in practice. I suspect he's a master of maximizing situations during games to get open and make contested catches.
Oregon basketball coach Ernie Kent watched practice. His son, Jordan, faces increased competition for a roster spot at receiver. Jordan appears stronger than in past seasons, but he'll need to produce in exhibition games to earn a roster spot if Seattle remains reasonably healthy at the position.
Receiver Deion Branch and defensive lineman Cory Redding returned to practice after rehabbing injuries. Branch said he has no pain in his surgically repaired knee.
Seneca Wallace still throws a better deep ball than anyone on the team. He found Mike Hass for a long touchdown up the left sideline against Marquis Floyd. Wallace also found Deon Butler for a long gain despite tight coverage from Josh Wilson.
Logan Payne is practicing at full speed and without a knee brace. The receiver suffered a serious knee injury early last season.
Who is the backup tight end again? Carlson looks terrific, but I'm not sure the Seahawks can run their passing game as intended if something happens to him.
Lawrence Jackson, Darryl Tapp and Baraka Atkins have impressed coaches this offseason. Mora said he has seen "flashes" from each player and it's time for them to step up their games. I mentioned Jackson and Tapp when asking the question. Mora answered quickly and added Atkins' name to his answer.
Kevin Hobbs makes aggressive plays on the ball. He broke up a high pass to Houshmandzadeh early in practice, leaving the veteran receiver with obvious discomfort in his left hand. Houshmandzadeh kept practicing. Later, Hobbs picked off a pass from Wallace over the middle. Wallace took responsibility for the turnover.
Hasselbeck explained one big difference in practices since Mora replaced Mike Holmgren. The change to a defensive coach has led to much more emphasis on playing hard to the whistle and trying to force turnovers. Holmgren put more emphasis on the offense playing with precision and never letting the football hit the ground.
The Seahawks are back on the field Thursday and Friday. Their first training camp practice is expected to be held Aug. 1, although the team has not announced a schedule.
April, 7, 2009
4/07/09
9:58
AM ET
Posted by ESPN.com's Mike Sando

Jim Thomas of the St. Louis Post-Dispatch says the Rams would consider trading down from No. 2 if other teams were interested in the pick. Also: "Two more offensive tackles, Michael Oher of Mississippi and William Beatty of Connecticut, are making pre-draft visits next week to Rams Park, the Post-Dispatch confirmed Monday. Add North Carolina wide receiver Brandon Tate to the list as well."
Also from Thomas: He checks in with Billy Devaney following the Rams' trade for Laurent Robinson. Devaney: "He showed a lot of potential his rookie year. Good ball skills, smooth route runner. He's got some size, too."
VanRam of Turf Show Times says getting Robinson healthy should be a top priority for the Rams, who have too much experience dealing with hamstring injuries.

Kevin Lynch of Niner Insider says the 49ers' approach to the draft has changed since the Bill Walsh days. Assistant coaches have less input.
Matt Maiocco of the Santa Rosa Press-Democrat quotes draft prospect B.J. Raji as saying he's been assured he did not fail a drug test. Raji is visiting the 49ers.
Also from Maiocco: Tennessee running back Arian Foster and USC linebacker Rey Maualuga were the first college prospects to visit the 49ers this offseason. Raji and Texas Tech receiver Michael Crabtree also arrived for visits. Also, the 49ers have remodeled their headquarters.
David Fucillo of Niners Nation says the 49ers are a team with needs but not necessarily one with holes heading into the draft. How should that affect draft strategy?

Kent Somers of the Arizona Republic says the NFLPA has not yet received paperwork regarding Karlos Dansby's decision to fire agent Kirk Wood. Somers: "Dansby is close to Cardinals strong safety Adrian Wilson, who is represented by Eugene Parker. Sources close to the situation expect Dansby to hire Parker."
Darren Urban of azcardinals.com says Cardinals nose tackle Alan Branch has lost weight. Does that mean Branch is serious about realizing his potential?
Also from Urban: He isn't sure what to make of Dansby's decision. Urban: "I don't know if the Cards and Dansby were necessarily about to consummate a deal, but you would think, at least in the short term, this would represent a step back if talks were progressing."
Revenge of the Birds' Andrew602 sizes up which players mock drafts are sending to Arizona. Running backs Knowshon Moreno and Donald Brown appear as first-round candidates, as does outside linebacker Larry English.
Danny O'Neil of the Seattle Times quotes former Seahawks linebacker Julian Peterson on the trade that sent Peterson to Detroit. Peterson, via KJR radio: "It's business and I'm fine with it."

Eric Williams of the Tacoma News Tribune summarizes Matt Hasselbeck's comments to KIRO radio regarding the Seahawks' draft plans. Hasselbeck advises against drafting a quarterback with the fourth overall choice. "I'm a little biased here, right?" Hasselbeck said.
Also from Williams: Seahawks coach Jim Mora expects Hasselbeck to be healthy this season. Hasselbeck, slowed by a back injury last season, will be on the field for minicamp practices beginning Tuesday.
John Morgan of Field Gulls explains why he thinks Brian Orakpo wouldn't be a good fit for Seattle in the first round. Morgan: "Seattle doesn't need a defensive end, he marginalizes or forces out Baraka Atkins, he marginalizes Darryl Tapp and maybe Lawrence Jackson, and he has an extensive and worrisome injury history."
William Tomisser of Seahawk Addicts uses our draft-firepower Excel file to conclude that teams are unlikely to trade into the top two spots. The likelihood improves if teams use a modified draft-value chart in determining values for the top few picks, which the standard chart seems to overvalue. But rarely do we see teams trade into those spots.
March, 1, 2009
3/01/09
4:06
PM ET
| | | | |
| --- | --- | --- | --- |
| Seahawks DL | Pos. | Age | Signed Through |
| Patrick Kerney | DE | 32 | 2012 |
| Howard Green | DT | 30 | UFA |
| Colin Cole | DT | 28 | 2013 |
| Craig Terrill | DT | 28 | 2010 |
| Red Bryant | DT | 24 | 2011 |
| Baraka Atkins | DE | 24 | 2010 |
| Darryl Tapp | DE | 24 | 2009 |
| Brandon Mebane | DT | 24 | 2010 |
| Kevin Brown | DT | 23 | 2010 |
| Lawrence Jackson | DE | 23 | 2012 |
| Brandon Miller | DE | 23 | 2010 |
Posted by ESPN.com's Mike Sando
The Seahawks' signing of 330-pound defensive tackle Colin Cole gives them needed bulk up front and additional flexibility heading into the draft.
Signing receiver T.J. Houshmandzadeh, who left Seattle to visit with the Vikings, would put the Seahawks in an even better position.
Every significant move the Seahawks make affects how the team might use the fourth overall pick in the draft.
Signing Cole means the Seahawks will not be pursuing Cowboys free-agent defensive lineman Chris Canty. The move might also make Seattle less likely to reach in the draft for defensive tackle B.J. Raji, if you consider such a move as a reach. Signing Houshmandzadeh might alleviate pressure to select Michael Crabtree or another receiver early in the draft.
Cole stands only 6-foot-1, same as Brandon Mebane. Seattle now has a couple of short and stout defensive tackles. Cole has seven starts since entering the league in 2003.
September, 7, 2008
9/07/08
12:59
PM ET
Posted by ESPN.com's Mike Sando
The Seahawks listed rookie running back Justin Forsett among their inactive players today, ruling him out as a potential return specialist against the Bills. The move was expected because Seattle is carrying six running backs, a high number.
The other inactive players for Seattle today: rookie kicker Brandon Coutu, offensive lineman Mansfield Wrotto, offensive lineman Sean Locklear, receiver Deion Branch, receiver Bobby Engram and defensive end Baraka Atkins.
None of these was a surprise. Jason Babin stays active as one of the defensive linemen, an indication Atkins might be the odd man out when the team welcomes back Rocky Bernard from suspension. Babin, a former first-round choice in Houston, got some work on special teams during the preseason. He also showed good pass-rush ability.
NFL SCOREBOARD
Thursday, 11/20
Sunday, 11/23
Monday, 11/24
WEEKLY LEADERS