NFL Nation:

Bashaud Breeland
July, 18, 2014
Jul 18
11:00
AM ET
Examining the
Washington Redskins
' roster:
Quarterbacks (3)
Jay Gruden only had two quarterbacks in each of his three seasons with Cincinnati, but Griffin still needs to prove his durability. If something happened to him, they woulld still be in good shape with Cousins and McCoy. If they go with two then McCoy gets left off.
Running backs (4)
The Redskins could also stash
Chris Thompson
on the practice squad as further insurance. Thompson can easily bump himself onto the roster with a good summer; he's a good fit in Gruden's offense and the new coach liked Thompson coming out of college. But durability is an issue. By keeping four here, the Redskins can go with an extra player at another spot. This means
Evan Royster
is on the outs, but he doesn't give the Redskins anything they don't have in better players. He is insurance only.
Receivers (6)
I am not cutting
Leonard Hankerson
, rather I'm just not sold that he will be on the active roster at the start of the season. If he shows this summer that he can play, then, yes, I would have him on the 53-man roster. But the Redskins were not sure what to expect from him and when he might be healthy. Therefore, I can see him taking a little longer to return. Gruden likes Moss and they drafted Grant. Robinson needs to take a step.
Tight ends (3)
Rookie tight end
Ted Bolser
would head to the practice squad, where he can develop. He didn't look close to a roster spot just based on how he looked this spring. Reed is firmly entrenched as the starter with Paulsen their top blocker and Paul a special teams ace.
Offensive line (10)
In reality, I could see them keeping only nine offensive linemen. It all depends on how Long and/or LeRibeus looks at guard. They love Long -- Gruden has said he could compete immediately -- so if he shows he can play, then they could cut Chester. Compton is a little surprise, but they like him as well. This position will be fluid and I'm not sold on the 10 I have listed.
Defensive line (6)
This one is fluid as well because it depends in part on Bowen's health. I like
Chris Neild
and so do they, but can they keep him? Golston is more versatile and a key player on special teams, but he's also 30 and they must get younger.
Linebackers (9)
As of now I'd have
Rob Jackson
out, especially if Jenkins develops as a pass-rusher. But this will be a close race. And I have them keeping an extra guy inside in Hayward because of his special teams ability.
Cornerbacks (5)
Chase Minnifield
remains eligible for the practice squad.
Richard Crawford
is coming off a knee injury and it's hard to place him on here without seeing him play. The one benefit for Crawford is that he can play in the slot; they need depth at that spot.
Safeties (4)
I really don't feel good about this position and am not confident that I have this one right, at least for that final spot. Robinson's special teams ability gives him the edge over
Bacarri Rambo
, who must have a strong camp.
Akeem Davis
can help on special teams, but with no NFL experience he will be stashed on the practice squad.
Specialists (3)
The Forbath selection is based on never having seen rookie
Zach Hocker
kick in an NFL game. If Hocker is consistent this summer and shows a strong leg, then he can win the job.
June, 17, 2014
Jun 17
8:30
AM ET
The
Washington Redskins
enter their final week of offseason work with a three-day minicamp. It'll look a lot like their OTA practices, but the difference is that this week is mandatory. With temperatures expected in the 90s, or near them, over the next three days, it'll be good preparation for Richmond later this summer.
Here are some things -- but certainly not all -- that I'll be looking for over the next three days:
Griffin
Robert Griffin III's finish:
It's tough when you watch someone just once a week to accurately gauge their progress. Griffin has had some good moments and not-so-good ones, but watching over three days will reveal more about where he's at in terms of his passing. Has he remained consistent with his fundamentals? Is the accuracy more consistent? What we still won't see until games begin is the ability to extend plays, which is a huge part of his game. But a good week for Griffin would propel him into the final month before camp with a lot of momentum, capping what has been a productive offseason for him. Don't know what that will mean for the season, but he'll exit this offseason feeling much, much different than he did a year ago at this time for a variety of reasons.
Offensive design:
During the OTAs, we saw a lot of situational football – red zone, third downs, two minutes, etc. Hoping we get to see even more, to get a better sense of who the Redskins might be this season. Thus far, Griffin has operated a lot under center and in shotgun during certain situations. Coach Jay Gruden sounds intent on developing him, so this helps. (Not that the other staff didn't want to develop him; it had Griffin as a rookie and then with no offseason. Tough to develop a player who can't practice. How it would have handled it I don't know.)
Rookie improvement:
Rookie tackle
Morgan Moses
knows the issue he has with staying low and has worked on it since the OTAs started. Over three days, how much improvement will he show? How about
Trent Murphy
? His spin move has been terrific (mostly against young players); how much else will he show?
Bashaud Breeland
seems to have improved and, with Tracy Porter's durability an issue, he could be a plus for the Redskins. But is he still grabbing too much? It's hard with the running backs to tell a whole lot, so Lache Seastrunk's true impact won't be known until the games start. Thus far he hasn't stood out. Is guard
Spencer Long
looking more comfortable?
Hatcher
Defensive looks:
How are they using their personnel? Will they really be doing a lot of different things this season? Or is it just offseason chatter? Won't know for a while on that, but we'll get to see more of what they plan to do. In some cases it's not about having different looks, it's about – they hope – having better rushers with the addition of Murphy and Jason Hatcher.
Offensive line:
There will be an interesting battle along the line this summer, even if it's just for one of the backup positions (especially at guard). If the Redskins keep nine offensive linemen, that means two players from this group might not make it:
Mike McGlynn
,
Adam Gettis
,
Josh LeRibeus
,
Maurice Hurt
and
Tom Compton
. This assumes
Chris Chester
keeps his job (not a lock). And they're not going to cut Long or Moses. Remember, they signed McGlynn in free agency and his ability to play center helps. The others have some work to do.
David Amerson's progression:
He's had a quiet camp and I mean that in a good way. It's not like he's messing up or getting beat and looks lost. Does that continue this week? Amerson's continued improvement (plus a lack of cap room) is among the reasons the Redskins are not one of the teams who have inquired about recently released corner
Brandon Flowers
, according to a source.
DeSean Jackson:
Needs to make sure he exits these three days with a good hamstring. If he's fully recovered, it's always impressive to watch his speed. He's not the fastest player I've ever covered (Darrell Green), but he is explosive.
Coordinator chatter:
We should get our first chance to interview special teams coach Ben Kotwica this week, as well as defensive coordinator Jim Haslett. Will be nice to finally hear more of what they think about their groups after the spring workouts end.
May, 29, 2014
May 29
6:00
PM ET
Thoughts and observations from the Redskins OTA session Thursday (taking a look at big picture things here rather than practice plays made in the spring):
Robert Griffin III worked on being more consistent with his mechanics in the offseason and there was a difference. The past two years his base was wider as the Redskins wanted to shorten the stride. He also got into a habit of holding the ball lower, leading to a longer windup when he threw.

But in practice Thursday, Griffin held the ball higher – at the top of the numbers. He also threw with a more narrow base. He likes doing this because he feels more free, giving him the ability to bounce the pocket a little better. Not every quarterback throws with the same base, much like not every hitter uses the same stance at the plate.

[+] Enlarge

AP Photo/Richard LipskiRobert Griffin III showed off his new throwing mechanics during practice on Thursday.

Griffin also was throwing more over the top; less windup. So the ball came out a little quicker. He was not always accurate, but he was not off as much as he was, say, last summer when coming back in training camp. And keep in mind that even as a rookie in practice Griffin would have off days throwing the ball.

Regardless, Griffin's fundamentals were more consistent than they were during the season. The key will be transferring it to the season when it gets chaotic in the pocket.

His weight transfer was different as well; much more quiet but a definite transfer. Saw it on a deep ball to receiver DeSean Jackson.

Griffin escaped the pocket on one play and looked like he was going to tuck and run. But he pulled up before he crossed the line and hit Pierre Garcon along the sidelines.

Keenan Robinson lined up next to Perry Riley with the No. 1 defense. It's only May, but it's still telling when considering that he missed all of last season and part of his rookie year. They also signed Darryl Sharpton and Akeem Jordan, who worked with the second team. Adam Hayward also worked some with the second team at inside linebacker.

The linebackers' versatility will be a huge part of the defense this season, as you would expect. The key is that they now have three outside linebackers – Brian Orakpo, Ryan Kerrigan and Trent Murphy -- who are comfortable with their hands in the dirt, rushing from a two-point stance or dropping into coverage.

Murphy beat Tom Compton during 11-on-11 work with a quick spin move to the inside. For a tall guy, Murphy does a nice job staying low on his spin.

Second-year linebacker Brandon Jenkins was mostly limited to rushing the passer last season, but saw him in coverage some Thursday.

Here are the players I saw returning kicks Thursday: Lache Seastrunk, Chris Thompson, Nick Williams, Andre Roberts and Rashad Ross.

Chris Baker lined up at left end with the starting defense (keep in mind Stephen Bowen can't work). Chris Neild was in the middle with Barry Cofield sidelined (hernia surgery) and Jason Hatcher was on the right side.

Rookie corner Bashaud Breeland still needs to be less grabby. Saw him tugging Santana Moss' jersey downfield before the veteran caught the ball. Saw Breeland tugging other jerseys as they broke on a route (after the allotted five yards of contact). Not sure all the receivers quite appreciated his hands.

Breeland was beaten on a double move by receiver Pierre Garcon. One thing Breeland said he needed to do was to keep his eyes on his man. He lost him this time, peeking too long into the backfield and awaiting a throw that wasn't coming. Instead, it turned into an easy deep completion.

Maurice Hurt worked at right tackle with the third unit. Josh LeRibeus worked at left guard with the second unit.

Jackson's speed was evident, especially on an end around. He was in traffic as he ran around the end, on the side opposite the media so it was hard to tell who it was at first. But he was moving at a different speed, which was the first clue as to who it was.

Corner Chase Minnifield will get into a lot of tussles this camp – a safe prediction. He nearly got into one with tight end Niles Paul Thursday. Minnifield is physical and feisty and that will never please those running routes in practice. This time, Minnifield was grabbing Paul on the entire route and at the end Paul shoved him. Minnifield bounced up and shoved him back. It didn't escalate.

Minnifield did pick off a Kirk Cousins pass in zone coverage. Minnifield sank deep on the route and grabbed a pass that was intended for Williams.

It was tough to see running back Chris Thompson's speed last season, whether in spring, summer or before he was shut down during the season. He was coming off a knee injury. But he's a year removed from that injury and the speed was more evident. Still worry about his durability, but he looked fast after running with a pass in the open field (during a spring practice).

Safety Tanard Jackson ran with the third defense.

Corner David Amerson looks more comfortable in press coverage and is using his long arms to his advantage when jamming receivers. Saw him do this a couple times, showing good technique and not getting beat in this look. It's something he needed to work on as a rookie and I'm sure the learning curve will continue. But with his length and speed it's a necessary tactic for him to learn.
May, 22, 2014
May 22
10:00
AM ET
»
NFC Wrap:
East
|
West
|
North
|
South
»
AFC:
East
|
West
|
North
|
South
»
Grades

With free agency and the draft in the rearview mirror and training camp just a couple months away, we assess the
Washington Redskins
' offseason moves.
[+] Enlarge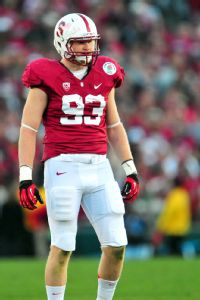 Gary A. Vasquez/USA TODAY SportsThe Redskins hope Trent Murphy, who had 15 sacks in 2013, can breathe life into the pass rush.
Best move:
Improving the pass rush. Washington's rush the past two seasons was too inconsistent and lacked variety. Signing
Jason Hatcher
to provide an interior push and drafting
Trent Murphy
to add to the creativity part -- it gives the Redskins potentially three outside linebackers who can rush -- should make a difference. Murphy, obviously, has to prove his worth but the fact that they continued to address the rush is pivotal and telling. They also helped here by adding linebackers coach Brian Baker, a pass-rush specialist.
Riskiest move:
Signing receiver
DeSean Jackson
. His reputation took a big hit after his release in Philadelphia, but the Redskins knew he was risky before certain stories were written. Jackson has major playmaking potential, but he also must prove the stories about his work ethic and approach aren't true. If so, he'll provide a big boost. The Redskins did mitigate the risk by giving him a contract that would provide cap savings after only two years if they cut him.
Most surprising move:
Not doing more at safety. The Redskins signed veteran
Ryan Clark
to start at free and mentor young players, re-signed
Brandon Meriweather
and returned once-suspended
Tanard Jackson
. They did not draft a safety. They need the young players to develop or they'll be trying to stock this position again.
Under the radar move:
Bolstering special teams. The Redskins signed a handful of quality special-teamers and found players in the draft who could provide immediate help in this area. They brought in linebackers
Darryl Sharpton
,
Akeem Jordan
and
Adam Hayward
, who can provide help. They drafted Murphy and
Bashaud Breeland
, who should provide more. It wasn't talked about enough, but it's an important development.
May, 19, 2014
May 19
8:20
AM ET
ASHBURN, Va. -- After watching the rookies Saturday, here are some first impressions -- and the word
first
must be stressed. The key will be seeing how they develop from now through minicamp and again this summer. A lot of the flaws, or positives, they showed in college were evident Saturday.
Here's a look at the draft picks from this past weekend:
LB Trent Murphy
: Definitely has a variety of moves; did a good job getting to the inside on occasion. Knows how to use his hands – knocked tight end
Ted Bolser
back on one rush with a good thrust to his chest. Can definitely see why the Redskins feel he can add weight and still be effective. Though strong, he does not appear to be fully filled out.
Murphy needs to work on cutting angles even more and knowing how to finish moves at an NFL level, as coaches discussed with him, like not rounding off too much at the top of his rush. He was not blowing past blockers in camp, but you could see aspects of his game to develop, with his hands and multiple moves -- that, combined with his versatility, is vital and why the Redskins liked him.
RT Morgan Moses
: Felt after the draft it would take him a little while and still feel that way after watching him this past weekend. But that's why he lasted to the third round; it's tough for a player at his position to start immediately as a rookie. His long arms bailed him out of situations in college and did so again Saturday. But his feet need to catch up quicker.
You could tell he was working on trying to stay low, but at times did not look comfortable because he was bent a little too much at the waist and not the knees. Like Murphy, comes across as smart. (Moses graduated this past weekend.)
OG Spencer Long
: Looks comfortable pulling and takes proper angles. Appeared to change directions just fine while pulling, based on a linebacker's movement. In the one-on-one pass drills Saturday, saw him get beat with speed to his outside, but also later saw him anchor well. Saw similar moments -- good and bad -- in his game tape. It's really tough to get a good feel for a guard in 11-on-11 on some plays because of all the congestion. But he'll be one to watch in camp.
CB Bashaud Breeland
: Physical but will have to learn how to make sure he's not always getting called for holding or pass interference. He could have been called for holding a few times and pass interference at least once. (He'd work best with a good pass rush; then again, who wouldn't?) It's definitely something to watch because he wasn't going against starting NFL receivers. Knows how to play press coverage. Breeland is patient and mirrored receivers well. After talking to him, he has a good understanding of his own game and what he must do.
WR Ryan Grant
: He's smooth in and out of breaks and a mature route-runner; patient. But Grant dropped a few passes (one when he turned his head too soon). He did have one nice grab over the middle with outstretched arms. He made a nice adjustment on another catch. Curious to see if he can get separation against starting corners, especially in man coverage. That's his challenge moving forward.
RB Lache Seastrunk
: First, you
absolutely must read this piece on Seastrunk
. It's hard to measure running backs until the games begin. He has terrific moves, but will he always be content to get what's there and then some or will he look to bounce a lot? We'll see. His hands were OK when we saw him, but heard there were a few issues in a practice we did not see. One thing that jumped out when talking to Seastrunk: his confidence. He has a lot.
TE Ted Bolser
: Did not look like a guy who'd threaten any of the three tight ends ahead of him for a roster spot. When he blocked in college, he too often kept his head down and that got him in trouble at least once Saturday. He'll need to add strength. Bolser also dropped too many passes Saturday – I think ESPN980's Chris Russell had him with four at one point. Bolser is a developmental guy, as seventh-round picks should be. But, again, it's about planning.
Niles Paul
is in the last year of his contract. They'll want Bolser eventually to be a move tight end a la Paul -- lining up in different areas; a better blocker on the go than on the line. If Paul leaves and Bolser develops, they have a replacement. That's how it should work. Plus, special teams will be key.
Place-kicker Zach Hocker
: He was accurate, but I can't say I paid close attention to him. Kickers win their job in games, not practices (unless you're
Shayne Graham
and lose it in practice; he was horrendous). It will be an interesting competition with
Kai Forbath
this summer.
May, 18, 2014
May 18
8:00
AM ET
Some thoughts from Redskins coach Jay Gruden on the rookies following Saturday's second minicamp practice:
He likes linebacker Trent Murphy -- a lot. The Redskins' second-round pick lined up at left outside linebacker in the two practices open to the media. Gruden loves Murphy's variety of moves. And he likes the ability to use him as a third linebacker and play him in different spots – in college he rushed from a standup position on both sides, through the middle, and also from a four-point stance."He's another element of the pass rush we drastically need," Gruden said. "The ability to move him around and do things with him defensively is exciting."
Gruden also really likes guard Spencer Long and receiver Ryan Grant. Gruden said after four practices watching Long, including two on Friday, "you could see how effective he's going to be, how smart he is and how physical he can be. He's athletic enough to do whatever we want in the zone game and smart enough to pick up the blitzes and line stunts. He's going to be competitive right away."
As for Grant, Gruden said, "he plays like a 10-year veteran already." I'll have more on Grant in a couple days, but he understands how to run routes. That matters.
Two rookies who need a little seasoning? Left tackle Morgan Moses and running back Lache Seastrunk. Moses switched back to the right side after playing left tackle at Virginia last season (but he was on the right side the previous three years). He'll also have to learn how to block in the outside zone."It will take him some time," Gruden said of Moses. "We're happy with his progress and he has some major, major upside with his size."

Seastrunk must adjust to being a pass-catcher in the NFL. That doesn't just mean showing he can catch the ball, it means knowing how to run routes out of the backfield at an NFL level. It also means being able to pass protect.

"It will take time," Gruden said. "It's not going to happen overnight. He has a long way to go, but he'll get there."
Bashaud Breeland's aggressiveness jumped out (I'll have more on this in a couple days as well). Gruden said he'll have to watch the holding, but they like Breeland's long arms and physical style.
Gruden did not single out undrafted free-agent receiver Cody Hoffman, but Gruden was asked about him. It's way too early to project how an undrafted player will do, but Gruden did say he likes Hoffman's size (he's 6-foot-4). Gruden also said, "He's a very smooth route runner with natural hands. He doesn't have the great vertical speed." Special teams will be huge for a player like Hoffman.
Gruden said of place-kicker Zach Hocker: "Rookie kickers in the NFL, not many of them have had a lot of success but we have high hopes for him. He's going to compete. He has a strong leg and the added dimension for kickoffs and touchbacks is important. We'll see how things transpire and how he handles the pressure."
May, 17, 2014
May 17
1:30
PM ET
A few observations from the Redskins rookie minicamp Saturday morning. Keep in mind: This was our first chance to see the rookies. Their heads are swimming with new knowledge. That serves as a warning: Take these for what they're worth. Now, having said that...
Tackle Morgan Moses is a big man and stands out in the crowd -- even among his peers. But Moses will always need to work on staying low in his stance. The first time I saw him try to block, he was moving to his left and lunged -- too bent at the waist on other times, too. He'll have to work on staying balanced. That's what this weekend is for; to start correcting some of these issues.
But he used his long arms a couple of times to stop Trent Murphy -- also long -- on the pass rush. I'll be curious to see how he progresses coming off the ball and being able to attack defenders.
Could tell when he was, or wasn't, driving off the ball by how he set. A light set did not always mean pass protection, though. But it did mean he wasn't going to drive off the ball.
One thing Murphy will have to learn: how to lessen the gap between he and the tackle. Otherwise, it'll be hard to use his hands. In a one-on-one rush, Murphy dipped and should have had the advantage, but failed to get it.
After the rush, outside linebackers coach Brian Baker – do not underestimate this guy's presence – worked with him on dipping his shoulder to complete the move. That's what this weekend is all about: learning a lesson, then applying it as they move forward. They spoke for another 5-10 minutes after the practice while the other players exited.
Murphy lined up at left outside linebacker all of practice. Eventually I can see him being moved around; it's what he did in college and it worked.
Guard Spencer Long was beaten in a one-on-one the first time I saw him by tryout linebacker Aaron Davis; speed to Long's outside. But the next time he went, Long anchored well. Saw him do that in college, too; strong base. For what it's worth, Long said he feels normal coming off his MCL tear this past season.
Did not see all of tight end Ted Bolser's drops, but others saw them. Did see him get bumped off his route by Murphy -- one thing that was evident on tape is that the ex-Stanford linebacker is comfortable moving in space.
Corner Bashaud Breeland likes to get his hands on receivers, even after the five yards that are allowed. He's physical and with long arms. He'll try to get a subtle grab at the top of a route. Just something to watch this summer.
But Breeland, playing right corner, is experienced in press. Used good technique on one jam, getting his left hand on the inside of the receiver and bumping him off stride. Did not see a lot of separation from receivers against him.
Didn't watch a lot of receiver Ryan Grant, but the one time I did he dropped a pass. Turned his head too soon. I'll pay more attention Saturday afternoon.
Need to see more of running back Lache Seastrunk catching the ball. In one drill where players weave through cones and then catch a pass, saw a drop. But to measure his hands, need to see a lot more and in game situations. He's convinced his hands aren't an issue.
In a one-on-one drill designed to help special teams, Seastrunk did one of his classic plant and cut moves. He made a hard jab to the left, let the defender bite and then cut back the other way.
For what it's worth, Seastrunk told the Redskins he would like a shot at returning kicks. Not sure if that will happen or not.
The first-year guys in camp: linebacker Will Compton, punter Blake Clingan, defensive back Peyton Thompson, safety Akeem Davis and lineman Tevita Stevens.
May, 10, 2014
May 10
6:35
PM ET
»
NFC wrap-ups
:
East
|
West
|
North
|
South
»
AFC
:
East
|
West
|
North
|
South
ASHBURN, Va. -- A wrap-up of the
Washington Redskins
' draft.
Click here
for a full list of Redskins draftees.
Best move:
Trading out of the 34
th
pick overall and picking up another third-round choice. The Redskins did not have a first-round pick, so being able to pick up another choice among the top three rounds was a strong move. The Redskins might have stayed at 34 had linebacker
Marcus Smith
still been available. The Redskins saw a couple other players they liked get picked as well, so trading back was a no-brainer. Plus, they liked a handful of pass-rushers, so they knew someone they liked would still be around at 47.
[+] Enlarge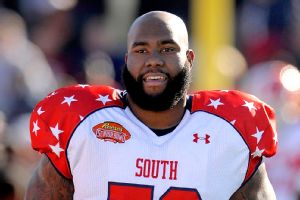 Stacy Revere/Getty ImagesOffensive lineman Morgan Moses, taken in the third round, has a chance to develop into a starter.
The Redskins were able to get a player who might help their pass rush in linebacker
Trent Murphy
and then two players who could be future starters on the offensive line in tackle
Morgan Moses
-- whom many experts said could go in the first round -- and guard
Spencer Long
. Though you can debate if the Redskins reached on Murphy -- they liked his all-around game better than
Jeremiah Attaochu
's -- the bottom line is they found three players who can possibly help instead of two. Murphy could be insurance if
Brian Orakpo
leaves after this season via free agency. Or Murphy, Orakpo and
Ryan Kerrigan
could form a strong pass-rush group.
Riskiest move:
Long from Nebraska in the third round. There is a chance that Long becomes a solid player for the Redskins. One scout called Long a potential longtime starter at center (though the Redskins, for now, view him as a guard). The scout considers him a smart, tough player with good size, so perhaps he works out well -- and might ultimately end up being a steal. However, Long is coming off an ACL tear. It's always hard to say a team could have waited and still gotten their man with the next pick, but in this case, that could be true. This is more of a pick for 2015 and beyond than anything else, so there is a definite benefit to selecting him. But if he doesn't pan out, the perception will be that they reached in the third round for a guy who had been hurt.
Most surprising move:
Drafting kicker
Zach Hocker
in the seventh round. The Redskins have
Kai Forbath
, who has made 35 of 40 field goals in two seasons with Washington. The Redskins don't like to draft players they feel have no shot at making the roster, so they clearly expect Hocker to do more than compete with Forbath. Hocker could be better than Forbath on kickoffs, too, which would please the Redskins. Still, it's a bit surprising they ended up drafting more kickers than safeties. But the coaches entered the draft feeling like they had enough competition there already. The same is true at inside linebacker.
File it away:
Bashaud Breeland
could develop into a solid player and help the Redskins in a variety of ways, perhaps even at safety at some point. The Redskins did not need a cornerback to come in and play immediately; they did not view anyone after the second round as being better than their top three. But Breeland can help right away on special teams -- another area of need. In college, he blitzed well from corner and was never afraid to mix it up against the run. He also plays a physical style the coaches love. The knock on Breeland is speed, so he'll need some work, but he has a chance.
May, 9, 2014
May 9
12:30
PM ET
There is frustration out there now, confusion amongst at least part of the
Detroit Lions
' fan base as to what the team did Thursday night.

Ebron
The Lions avoided defense and drafted a tight end (
Eric Ebron
) who is essentially a receiver. Though it might work out, the Lions play in the NFC North, so they still have to find enough good players to defend the best running back (
Adrian Peterson
), one of the top quarterbacks (
Aaron Rodgers
) and one of the best receiving tandems (
Brandon Marshall
and
Alshon Jeffery
) in the NFL.
If there was a question about whether defense was a priority in the division, Green Bay, Chicago and Minnesota all chose defensive players.
This, though, is something the Lions can begin to remedy on Day 2 of the NFL draft, which begins at 7 p.m. on Friday with the second and third rounds. Here are 10 players to pay attention to as we assemble a second-day board.
1.CB Stanley Jean-Baptiste, Nebraska:
He is the best cornerback left on the ESPN.com board and the No. 40 player overall. He has the size the Lions covet in their secondary -- listed at 6-foot-2 5/8 -- and has major potential. Not as polished as some of the first-round cornerbacks, but his size and speed could end up making him one of the top cornerbacks in this class after converting from wide receiver midway through his college career. Had 50 career tackles and seven career interceptions.
2.LB Kyle Van Noy, BYU:
He's the third-highest outside linebacker left on the ESPN.com board, behind Georgia Tech's
Jeremiah Attaochu
and Boise State's
Demarcus Lawrence
. He can play against the run or the pass and should be able to stay on the field for three downs. He played in 52 games, had 226 tackles, 62 tackles for loss, 26 sacks and seven interceptions.
3.LB Jeremiah Attaochu, Georgia Tech:
He is the highest-rated outside linebacker left on the ESPN.com board and the No. 30 player overall. Has good size at 6-foot-3 1/4. Doesn't have fantastic instincts -- Van Noy is probably better there -- but is a good player who could make a difference immediately. Georgia Tech's career sack leader with 31.5. Had 134 career tackles.

Jernigan
4.DT Timmy Jernigan, Florida State:
Doesn't have ideal size but is very, very good against the run. Wouldn't be pressured to start right away, but could become a rotational player with
Nick Fairley
immediately and eventually take over there. Had 63 tackles, 11 tackles for loss and 4.5 sacks last season for the Seminoles.
5.DL Stephon Tuitt, Notre Dame:
Personally love his game. Has the size where he could play left defensive end for the Lions in a 4-3 or get rolled inside to project as a tackle at some point. Had 19 career sacks and 127 career tackles. Really good pass-rusher who can also defend the run.
6.CB Pierre Desir, Lindenwood:
Did not face elite talent but has the size Lions defensive coordinator Teryl Austin wants at 6-foot-1. Could end up as somewhat of a project at cornerback, but was named the country's top "small school" defensive back last season.

McGill
7.CB Keith McGill, Utah:
We've talked a lot about size with cornerbacks and McGill is the tallest cornerback in the draft. The No. 9 cornerback on the ESPN.com board, he grades out with above average cover skills and run support. Does not have great hands, though.
8.WR Cody Latimer, Indiana/Jordan Matthews, Vanderbilt:
I'm cheating here with two players, but these would be the two wide receivers I'd covet in the second round if the Lions just decide to go all-in on offense and roll with the defense they have. Both have extremely good size and could give the Lions a front line of every pass catcher other than
Golden Tate
being at least 6-foot-2. That said, if the Lions went offense in the second round, too, there would be some issues.

Ealy
9.DT Kony Ealy, Missouri:
Is good against the run and the pass, and easily could have been a first-round target. Can theoretically play both inside and outside, much like Tuitt. Had 53 career tackles, 27.5 of them for loss and 14 of them sacks.
10.CB Bashaud Breeland, Clemson:
A little bit under the preferred 6-foot mark, but is a physical player who can become a starter. Physical. Had 159 tackles and six interceptions in his career.
Other players to watch:
S
Terrence Brooks
, Florida State; S
Brock Vereen
, Minnesota; DT
Ra'Shede Hageman
, Minnesota; DT
Louis Nix III
, Notre Dame; CB
Phillip Gaines
, Rice; DB
Jaylen Watkins
, Florida; LB
Chris Borland
, Wisconsin; LB
Trent Murphy
, Stanford; C
Marcus Martin
, USC; C
Weston Richburg
, Colorado State; QB
Aaron Murray
, Georgia; QB
Zach Mettenberger
, LSU.
May, 2, 2014
May 2
9:30
AM ET
PITTSBURGH -- Mel Kiper Jr. and Todd McShay will critique draft picks that are made in less than a week. The ESPN analysts took their own respective turns in the hot seat Thursday night on ESPN2.

Ebron
The two engaged in a head-to-head,
three-round mock draft

with Kiper picking for teams with even-numbered draft picks and McShay picking for those with odd-numbered picks. Their selections were followed by analysis from former NFL general manager Bill Polian and former NFL director of pro personnel Louis Riddick.
And Polian didn't opt for subtlety after McShay picked North Carolina tight end
Eric Ebron
for the Steelers at No. 15 overall.
"He's a Pittsburgh Steeler and he doesn't block. That doesn't compute," Polian, a six-time NFL Executive of the Year, said of Ebron. "I don't think he's ready to play in the NFL right now. I think he's too immature. I don't think his feet are firmly planted on the ground. Yeah, he has ability but that only gets you so far."
Ebron may be one of the more polarizing players in the draft.
The 6-foot-4, 250-pounder is the best tight end in the draft and an undeniable talent. Ebron, who caught 62 passes for 973 yards in his final season at North Carolina, has the size and athleticism to create mismatches.
And he is part of the new wave of tight ends who have become such a commodity because of their ability to put stress on opposing defenses.
Ebron would give quarterback Ben Roethlisberger a tall target, and he would add a pass-catcher to a group that doesn't have a reliable one after veteran Heath Miller.
But as a blocker he can most diplomatically be described as a work in progress.
Or, as McShay said recently, "He's a buffet blocker if you will. He kind of picks and chooses when he wants to get interested. But what he does well it's just hard to find guys that can do it at the level that he does as far as stretching the field vertically and creating after the catch."
Ebron may be too much of a gamble for the Steelers to pick at No. 15, especially since they have more pressing needs. McShay picked him for the Steelers with Michigan State's
Darqueze Dennard
off the board though with every other cornerback still available.
Riddick said he would have taken a cornerback for the Steelers, and he is especially high on Virginia Tech's
Kyle Fuller
. Polian added of Ebron, "I would not risk this guy in a Pittsburgh offense that requires you to block."
As for the Steelers' other two picks, Kiper took LSU wide receiver
Jarvis Landry
for them in the second round (No. 46 overall). McShay picked Clemson cornerback
Bashaud Breeland
for the Steelers in the third round (No. 97 overall).

NFL SCOREBOARD
Thursday, 9/4
Sunday, 9/7
Monday, 9/8