NFL Nation:

Bears and Hawks
January, 14, 2011
1/14/11
6:42
PM ET
Getting inside a very brief Friday injury report for Sunday's Seahawks-Bears game:
Seattle Seahawks:
Linebacker
Lofa Tatupu
(concussion) was listed as questionable, but the odds appear in his favor of starting Sunday's game. All other players will be available.
Chicago Bears:
Nada. That's right. As has been the case for much of the second half of the season, everyone practiced Friday and no one is listed on the final injury report of the week.
January, 14, 2011
1/14/11
1:00
PM ET
We're winding down our divisional round playoff coverage, and later Friday I'll post a "Final Word" on each of our NFC North games scheduled this weekend. First, however, I want to take a look at a topic that deserves a bit more of an extended discussion.
[+] Enlarge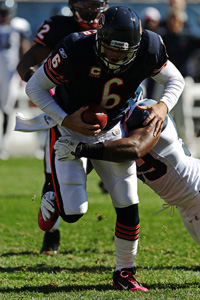 Jonathan Daniel/Getty ImagesThe Seahawks applied plenty of pressure to Jay Cutler in Seattle's first meeting with Chicago this season.
I'm fascinated to see how the
Seattle Seahawks
will defend the
Chicago Bears
on Sunday. Will they take dramatic steps to pressure quarterback
Jay Cutler
, as they did in a Week 6 victory at Soldier Field? Or will they play back in coverage, as they have in their last two games, both of which have carried win-or-else implications?
There is no obvious answer here. In the teams' first meeting, according to ESPN Stats & Information, the Seahawks sent at least five pass-rushers more often than they did against all but one other opponent this season (55.3 percent). They sacked Cutler six times, including five times when a defensive back was part of the blitz package.
But in consecutive victories over the
St. Louis Rams
and
New Orleans Saints
, the Seahawks pulled way back, sending four or fewer rushers on about 90 percent of dropbacks. Obviously, that strategy contributed to a pair of victories.
The circumstances will be a bit different on Sunday. First, the Seahawks won't be playing at Qwest Field -- which provides its own unique contribution to rattling opposing quarterbacks. Second, the Seahawks assuredly know that Cutler has been known to force the ball -- often on plays where he has plenty of time to throw.
In fact, according to ESPN Stats & Information, 15.5 percent of Cutler's passes this season were either intercepted or defensed this season. That figure was the highest among quarterbacks with at least 200 attempts, and it tells us one of two things. Either Cutler's receivers weren't getting much separation from defenders, or he threw it into traffic at a relatively high rate.
Perhaps both explanations fit. Regardless, the Seahawks face an interesting inner-football decision. What would you do?
January, 13, 2011
1/13/11
10:30
AM ET
We know the
Chicago Bears
' defense created the third-most turnovers in the NFL (35) and held opponents to the sixth-lowest third-down conversion percentage (35) this season.
[+] Enlarge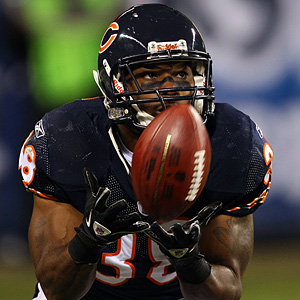 Jonathan Daniel/Getty ImagesDanieal Manning has been instrumental in giving the Bears good starting field position.
We've heard plenty about
Devin Hester
's three touchdowns as a punt returner.
Yes, the Bears' defense and special teams were largely responsible for their NFC North title this season. But those components contributed to a third part of their winning formula: field position.
According to STATS Inc., the Bears' offense benefited from the best average drive start of any team this season. Those takeaways, combined with returns from Hester and primary kickoff man
Danieal Manning
, on average put the Bears' offense at the 33.7-yard line before they ran a play.
The NFL average was the 29.9-yard line in the regular season. Nearly 4 yards might not sound like much, but consider that over the course of their 198 possessions, the Bears' offense got almost an 800-yard head start over the average team. That's largely how an offense that ranked No. 30 in the NFL (based on total yards) still scored nearly 21 points per game.
The takeaways have played an incremental role, but the Bears' field position is mostly a product of Hester, Manning and the blocking schemes under coordinator Dave Toub. Consider:
Hester averaged an NFL-record 17.1 yards on 33 punt returns this season, prompting some teams to take extensive measures to keep the ball out of his hands. Punts directed out of bounds, as well as squib kickoffs, almost always guarantee exceptional field position -- even if they prevent a potential touchdown return.

The Bears also had 10 kickoff returns this season of at least 40 yards, including five from Hester, four from Manning and one from Johnny Knox. That figure led the NFL.
We should note that the
Seattle Seahawks
' return game has not been far behind the Bears' this season; their kickoff returners combined for seven returns of at least 40 yards. The Seahawks ranked No. 11 in the NFL in average drive start this season (30.8), a testament to the fact that field position is a product of multiple factors.
As we noted Wednesday
, the Bears' quickest path to getting upset Sunday would be a meltdown by quarterback
Jay Cutler
. Don't underestimate the value of good field position in minimizing Cutler's opportunities for mistakes.
January, 12, 2011
1/12/11
4:30
PM ET
More than three weeks have passed since the
Chicago Bears
clinched a playoff berth. I would be shocked if, at some point since then, you haven't shared in some version of this thought:
The defense played winning football in nearly every game this season. The special teams ranked among the league's best. Matt Forte was one of the NFL's most productive running backs over the final two months of the season. Only one man can trip up the Bears: Quarterback Jay Cutler.
[+] Enlarge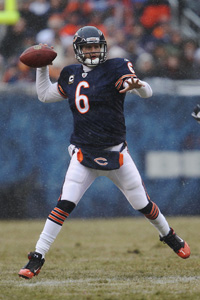 Jonathan Daniel/Getty ImagesWhat the Bears really need from Jay Cutler is a mistake-free game against the Seahawks.
That sentiment probably intensified this week when you learned the Bears would open their postseason against the
Seattle Seahawks
, who finished the regular season 7-9 and have won only one playoff game on the road in their history. Cutler sticks out as an obvious wild card, partly because he plays quarterback but also because of his polar performances during the course of this season.
On the whole, I think we can agree Cutler produced a much better second season with the Bears. He dropped his interception total from 26 to 16 while increasing his average yards per attempt from 6.6 to 7.6, a generally accepted measure of quarterback production.
But within that big picture, Cutler mixed some clunkers with some beauties. Consider:
In five games this season, he threw at least three touchdown passes.

In three other games, he took at least six sacks.

In another game, a Week 7 loss to the Washington Redskins, he threw four interceptions.
There is enough variety there to lend a "who-knows-what-you'll-get" quality to this game. And we haven't yet mentioned that Sunday will be Cutler's first postseason start of any kind since he was a senior at Heritage [Ind.] high school. You want to say that Cutler will react favorably, but who is to say for sure?
"I'm probably not the first quarterback that hasn't been to the playoffs in the first five years," Cutler said Wednesday, "and I probably won't be the last. We're in a good situation now. We've just got to take advantage of it."
In his weekly news conference at Halas Hall, Cutler fielded a number of questions about his personality, his relationship with the media and the public's perception of him. To me, those issues are relevant only to the extent that they can be used to project his performance on the field, and I'm dubious at best about the connection.
The bottom line is how Cutler will respond to what football people call "adversity downs." (And I wouldn't say that facing any group of reporters would provide an adequate gauge.) No matter how Sunday's game flows, there is bound to be a third-and-long at some point. A primary receiver will slip coming out of his break. A blitzer will at some point come free. (The Seahawks sacked him six times in their Week 5 victory at Soldier Field, blitzing at least one defensive back on a third of their dropbacks.)
Will Cutler avoid a game-changing play at those fulcrum points? The Bears have to hope so. They would love to have a three-touchdown game Sunday, but as bad as it sounds, the only thing they really
need
from Cutler is a (big) mistake-free game.