NFL Nation:

Bears-Packers I
September, 13, 2012
9/13/12
7:19
PM ET


GREEN BAY, Wis. -- We could see this one coming: The
Green Bay Packers
won't have receiver
Greg Jennings
in Thursday night's game against the
Chicago Bears
. Jennings suffered a groin injury four days ago and won't have to worry about playing another game until Sept. 24, when the Packers play at the
Seattle Seahawks
on "Monday Night Football."
The Packers announced
James Jones
will start for Jennings.
Donald Driver
will serve as the No. 4 receiver, presumably, and the Packers will have only four receivers active for this game. Rookie
Jarrett Boykin
is also inactive.
Meanwhile, defensive end
C.J. Wilson
(groin) is inactive. He'll be replaced in the starting lineup by rookie
Jerel Worthy
.
As expected, the Bears have made
Charles Tillman
(shin) active. He'll start.
September, 13, 2012
9/13/12
4:00
PM ET
GREEN BAY, Wis. -- Here are 10 random pregame morsels for you to chew on during, uh, the pregame:
Here is a handy string of everything we've written about this matchup between the Chicago Bears and Green Bay Packers. It'll change your life if you haven't seen it yet. And remember, I'll spend most of Thursday night's game in our live "Countdown Live" chat. The module will appear on the blog this evening.
The Packers have won the past four games of this series, but the Bears have a 92-86-6 lead in the all-time rivalry.
Only twice in their history have the Packers opened the season with consecutive losses at home. The others came in 1988 and 2006, and they missed the playoffs both seasons. Under the current playoff format, the Packers haven't made the playoffs after starting 0-2 no matter where those games were played.
Our friends at ESPN Stats & Information note that Bears quarterback Jay Cutler is a good opponent for a defense that has struggled to force turnovers and sacks in recent games: "Since the start of 2008, Cutler has thrown two touchdowns and nine interceptions on throws at least 15 yards downfield against the Packers. In fact, Cutler has thrown at least one interception on such throws in each of his last six games against the Packers, and hasn't thrown a touchdown against Green Bay since 2009."
The Packers haven't always succeeded in getting downfield against the Bears' defense, as we discussed this week. But we should point out that tight end Jermichael Finley has often been a beneficiary of the Bears' focus elsewhere. In his past three games against the Bears, Finley has caught 19 passes for 220 yards and four touchdowns.
Gary Horton of Scouts Inc.: "The Packers can still be productive in their passing game if the deep ball is taken away, but that requires patience to put long drives together."
Former Packers executive and current ESPN analyst Andrew Brandt offered some thoughts on the Bears-Packers rivalry.
Sarah Spain of espnW has a pregame read on the road Bears tight end Kyle Adams took to this game.
As of this afternoon, the Packers were five-point favorites in this game. ESPN's 14-member panel of experts split 7-7 on picking a winner.
Rain in Green Bay is expected to end by mid-afternoon, and temperatures will hover around 59 degrees.
September, 13, 2012
9/13/12
2:37
PM ET
GREEN BAY, Wis. -- As we count down the hours until the
Chicago Bears
and
Green Bay Packers
kick off at Lambeau Field, it's worth revisiting Bears quarterback
Jay Cutler
's challenge (and alleged diss) of the Packers' defense.
Responding to a question about the Packers' history of aggressive press coverage, Cutler said: "We've got some dudes that, if you're going to get up in their face, even our speed guys are going to get around them, and our big guys are going to throw and go. So we invite press coverage. We invite man [coverage]. If we get that type of game, our guys outside have to make some plays for us."
Cutler, in fact, wished the Packers "good luck" if they try to press them.
Oh no. Oh my gosh. Not that. Anything but that.
[+] Enlarge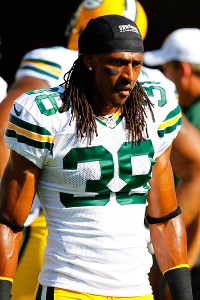 AP Photo/Kevin TerrellTramon Williams said being too aggressive with big wideouts like Chicago's Brandon Marshall plays right into their hands.
OK, it's true. In the entire 185-game history of this rivalry, the Bears have probably never brought an offense to Green Bay with the size and skill level of their current pass-catchers. Receivers
Brandon Marshall
(6-foot-4) and
Alshon Jeffery
(6-foot-3) combined for 12 receptions, 199 yards and two touchdowns in the Bears' season-opening victory over the
Indianapolis Colts
, and 6-foot-7 tight end
Kellen Davis
didn't even get in on the act.
But here is something that is equally true: The Packers aren't a press team anymore, not by a long shot, and they really haven't been since the 2009 transition to defensive coordinator Dom Capers. Their reputation for press coverage dates back to the days when
Charles Woodson
(6-foot) and
Al Harris
(6-foot-1) were their starting cornerbacks in a now-scrapped defensive scheme.
These days, Woodson plays as a safety in the Packers' base scheme and in the slot when they are in the nickel. He might occasionally get physical with a receiver, but the Packers' top cover man is now cornerback
Tramon Williams
. And let me remind you what Williams said this summer for our post on
how smaller cornerbacks should defend big receivers
like Marshall:
"A guy that big, you don't want to be too aggressive with him," Williams said. "You want to feel him, but you don't want him to feel you. As a big receiver, he wants you to be aggressive. That's his thing. He can push you off and do things like that. He can get separation and get you off your stride. So you don't want to be too aggressive with guys like that."
Williams said he prefers to "stalk" bigger receivers and then use his leaping ability to make a play on the ball. I assume he was being truthful; his approach was echoed by other NFC North cornerbacks, including the
Detroit Lions
'
Chris Houston
and the
Minnesota Vikings
'
Antoine Winfield
.
The Packers' next two cornerbacks, after Williams and Woodson, are likely to be
Sam Shields
and
Jarrett Bush
. I'm not sure who will play ahead of the other Thursday night, but if it's Shields, you can assume he will emulate Williams' approach. Shields has speed and ball skills but will never be mistaken for a physical enforcer. Bush is a bit bigger and might be more inclined to mix it up.
In the end, Cutler's challenge was built on a hopeful but likely false presence. Of course the Bears would have an advantage if the Packers try to muscle up. That's why they almost certainly won't try it.
September, 12, 2012
9/12/12
4:45
PM ET
If it's Wednesday, it's really Friday for half of our division. Henceforth, let's get inside our first Wednesday/Friday injury report of Week 2:

Chicago Bears:
Cornerback
Charles Tillman
(shin) returned to practice and, as we've discussed over the past few days, appears on track to play Thursday night at Lambeau Field even though he is listed as questionable. Linebacker
Brian Urlacher
(knee) also practiced and is officially listed as probable. Tight end
Kyle Adams
(shoulder) participated in a limited portion of practice Wednesday and is also questionable.

Green Bay Packers:
We already noted
the Packers have listed receiver
Greg Jennings
as doubtful because of a groin injury. Also doubtful are cornerback
Davon House
(shoulder) and running back
James Starks
(toe). Starks practiced Wednesday for the first time since suffering a turf toe injury in the preseason opener, but that means he is in the conversation for the Packers' Week 3 game at the
Seattle Seahawks
. Linebacker
Terrell Manning
(concussion) won't play. Defensive end
C.J. Wilson
(groin) and linebacker
Jamari Lattimore
(ankle) are questionable.
September, 11, 2012
9/11/12
6:09
PM ET
Checking out the Tuesday-Thursday practice report with kickoff at Lambeau Field now about 48 hours away:
Chicago Bears:
Cornerback
Charles Tillman
(shin) and linebacker
Brian Urlacher
(knee) did not practice. Coach Lovie Smith said that Urlacher will start Thursday night. It appears that Tillman has a decent chance of playing as well. Tight end
Kyle Adams
(shoulder) was a limited participant in practice.
Green Bay Packers:
Receiver
Greg Jennings
(groin) sat out practice and it's not clear if he'll be ready to play with the short turnaround. It sounds as if coach Mike McCarthy
needs to see him practice
in some way Wednesday before making a determination about his availability. "We're dealing with the groin," McCarthy told reporters. "How he responds to it will be an endurance issue." Running back
James Starks
(toe) and linebacker
Terrell Manning
(concussion) also sat out practice. Cornerback
Davon House
(shoulder) continues to practice with limited participation.
September, 11, 2012
9/11/12
12:40
PM ET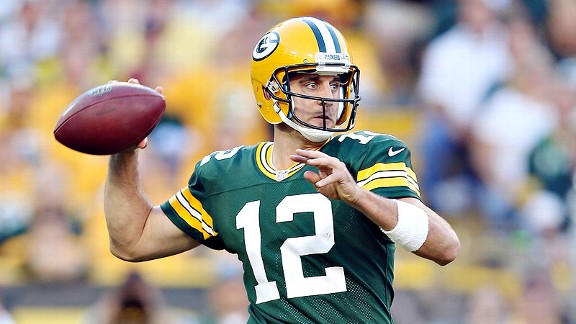 Andy Lyons/Getty ImagesAaron Rodgers' downfield passing attack has been held in check over the Packers' last four games.
You might not believe this even if I tell you and back it up with facts and remind you that I have nothing to gain by pulling your chain.
OK, here goes.
As you probably know, the Packers are 1-3 in quarterback
Aaron Rodgers
' past four starts, including January's playoff loss to the
New York Giants
. Here is what you might not realize: Over that stretch, the Packers' downfield passing offense has plummeted to the absolute bottom of the NFL's rankings.
That's right. At this moment, no team is having a harder time being explosive than the Packers. The Packers!
Anecdotally, I think we would all agree their offensive production has slowed since the
Kansas City Chiefs
ended a 19-game winning streak last December. But the drop in efficiency and production of their best attribute has been acute, and it continued into
Sunday's season-opening loss
to the
San Francisco 49ers
.
ESPN Stats & Information defines downfield throws as those that travel at least 15 yards in the air past the line of scrimmage. As the first chart shows, Rodgers' completion percentage has fallen by more than half in those situations to 25.8, and his Total Quarterback Rating (QBR) has dropped to 17.4 (on a scale of 0-100). Both figures are league lows for starters with at least 25 plays/attempts over that stretch.
In short, Rodgers and the Packers hit a wall at full speed and haven't recovered. They were
setting NFL records for downfield efficiency
during their winning streak, but most recently they were reduced to dumping off 20 of their 30 completions to receiver
Randall Cobb
and tight end
Jermichael Finley
(for a total of 124 yards) against the 49ers.
To be clear, a reduced ability to hit big plays shouldn't be a death knell for any team, even in a passing league. For the Packers, however, it has been their team-wide identity during one of the most successful periods in team history, and it has helped cover for deficiencies in other areas of the team. In response, the Packers must find an antidote or make substantive adjustments to their approach.
I don't expect that to be an easy job during a short week of preparation for an opponent, the
Chicago Bears
, that has stood up well against the Packers' downfield passing throughout Rodgers' career. As the second chart shows, Rodgers has a 65.7 passer rating on throws of 15-plus air yards against the Bears and a 102.7 passer rating against everyone else.
(Thanks to ESPN's Keith Hawkins, Jason Starrett and John McTigue for their research.)
Those are the facts. Naturally, the far more difficult task is understanding what has happened and how it can be fixed. There isn't likely to be one "magic bullet" answer other than to say defenses are prioritizing the deep pass and taking their chances with other aspects of the Packers' offense.
The 49ers, for one, used a secondary with exceptional man-to-man coverage skills, combined with deep safeties, to limit the Packers' downfield chances. They displayed little regard for the Packers' running game, and the Packers complied by calling only nine running plays (all to tailback
Cedric Benson
) and going
without a running back on the field
for more than half (31 of 61) of their plays.
"Their key thing was to keep us up front," said receiver
Jordy Nelson
, who caught five passes for 64 yards. "They don't want to give up any big plays. They did a good job of making us go the long way. That's tough against a defense like that. Going 10 yards at a time, three downs to get a first down. It makes it real tough on us. But it's going to be no different on Thursday. Chicago is going to do the same thing. They'll keep us in front."
Said Rodgers: "We didn't have the opportunity to take a lot of shots downfield, but when we did, they made some plays on it."
Indeed, Rodgers directed three deep sideline passes in the first half of Sunday's game. None of them were ideal matchups. All were to receiver
James Jones
, who is talented but must be considered the Packers' third-best downfield threat after Nelson and
Greg Jennings
. Two of the passes fell incomplete, largely because Rodgers couldn't drop the ball into the tiniest of windows available because of coverage from cornerbacks
Tarell Brown
and
Chris Culliver
. On the third, Jones committed offensive pass interference to create space to make the catch.
(Jones did haul in a 49-yard pass in the fourth quarter to set up the Packers' final score.)
For the most part, the 49ers played their safeties deep and kept Nelson and Jennings in front of them. Case in point: Safety
Dashon Goldson
stymied one of the Packers' most successful downfield routes by diagnosing a play-action post to Nelson early in the third quarter.
To be clear, the 49ers might have the NFL's best defense. But even a moderate defense can take steps to take away a single weapon. If you were the Bears or anyone else, why wouldn't you play as deep as possible and challenge the Packers to beat you with short passes and a running game they sometimes ignore?
These are some of the questions the Packers must face in this short week. Do they still want to be a downfield team? Or did their extensive game plan for Cobb on Sunday indicate their planned response to defenses that sit back to take away the big play? And would that mean for a defense? Its margin for error is lower when not protected by an explosive offense.
Four games isn't a huge sample size. When it carries over from one season to the next, however, it's fair to call it a trend. But like all trends, it can be stopped, redirected or reversed. Let's see what the Packers come up with.

NFL SCOREBOARD
Thursday, 8/21
Friday, 8/22
Saturday, 8/23
Sunday, 8/24
WEEKLY LEADERS