NFL Nation:

Belmont University
June, 10, 2010
6/10/10
2:45
PM ET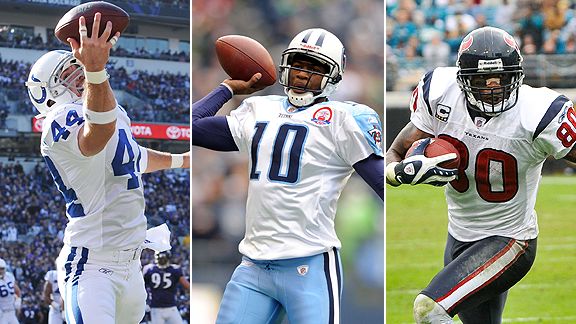 US PresswireWhich of these AFC South stars -- Dallas Clark, Vince Young or Andre Johnson -- would make the best soccer goalie?
A while ago on Facebook, regular reader and contributor
Nathan Cherolis
posed an interesting question for downtime in the NFL with the World Cup approaching.
It went something like this: If you could take one guy from each AFC South roster to train intensively for one year to be a World Cup goalkeeper, who would it be?
I called on soccer coaches who are familiar with the four NFL teams we're working with for some input. And while they didn't choose any shockers, I thought some of the rationale and conversation was interesting.
I also had a chance to speak with two of the chosen ones about how they feel they'd do.
So if you're anticipating the opening matches Friday and the US-England game Saturday as I am, here's a little football/futbol post for entertainment purposes only.
Dominic Kinnear of the Houston Dynamo of Major League Soccer is the lone top-level professional coach at work in our territories.
He's familiar with the Texans and the Colts, and said he'd pick Houston receiver
Andre Johnson
("He's got incredible hands, and plucking balls out of the air is a necessity") and Indianapolis tight end
Dallas Clark
("Same thing, incredible hands, brave, not afraid to get hit going through traffic").
"I don't think it would be that far off because these are great athletes," he said. "A lot of goalkeepers now are great athletes first. You look at the guy who plays for the United States, Tim Howard, the one thing that people marvel about with him -- especially in England [where he plays for Everton] -- is how good of an athlete he is.
"On the athletic side as far as shot stopping, timing of coming out to collect crosses, I don't think it would take too long for those guys, because it's kind of the same thing they do. They are big guys, they are going through traffic. Having a bit of contact in the air when they are catching the ball, it happens all the time. So I don't think the timing of that would be that difficult for them."