May, 7, 2014
May 7
3:20
PM ET
IRVING, Texas -- With only $80,362 to spend on rookie free-agent signing bonuses, the
Dallas Cowboys
have a little advantage over other teams with three compensatory picks in the seventh round.
Instead of having to guarantee portions of a base salary to get around the bonus limit, the Cowboys can target their priority free agents with picks Nos. 248, 251 and 254 in the seventh round on Saturday.
Last year the Cowboys guaranteed linebacker
Brandon Magee
$70,000, and he was among their final cuts, eventually joining the Cleveland Browns. Safety
Jakar Hamilton
received a $10,000 signing bonus. Safety
Jeff Heath
received $2,000 and became a starter.
Historically the Cowboys have done well in college free agency with Hamilton, Heath and Cam Lawrence earning spots on the 53-man roster at some point in 2013. In 2012, the Cowboys added
Ronald Leary
,
Cole Beasley
,
Lance Dunbar
and
Ben Bass
as undrafted free agents. Leary is a starter, while Beasley and Dunbar have legitimate offensive roles.
Kicker
Dan Bailey
was the best undrafted free-agent signing in 2011 and signed a seven-year deal this offseason.
The Cowboys have six seventh-round selections.
"The seventh-round picks historically are throw-ins [in trades]," executive vice president Stephen Jones said. "I don't know if the league has caught up to what value a seventh-round pick is, in terms of the quote-unquote 'charts' that are out there. If you look at what a seventh-round pick can bring you, you start to say the player [in the seventh round] is more valuable than boosting the bottom of the six [round] to five picks, 10 picks up to the middle of the sixth when a lot of times that player will fall to you anyway. A lot of times you see it as thrown-ins. I see it as a great opportunity for us to take six players that can help our football team."
May, 2, 2014
May 2
3:00
PM ET
IRVING, Texas -- In many ways a successful draft is measured by how well a team does in the later rounds.
Ben Volin of The Boston Globe put together a story about teams that
draft well and poorly
with an interesting graphic.
The
Dallas Cowboys
are one of six teams not to have a current starter they selected in Rounds 5-7, according to the chart, which means Volin did not count
Orlando Scandrick
(fifth round, 2008) as a starter even though he started most of the 2013 season. If
Morris Claiborne
performed up to capabilities and was not hurt, he would have been the starter. If you count Scandrick, then the Cowboys would be one of 12 teams to have one starter from Rounds 5-7.
The other five without a starter were the
Detroit Lions
,
Arizona Cardinals
,
Jacksonville Jaguars
,
Tampa Bay Buccaneers
and
Chicago Bears
.
Since 2010, the Cowboys have had 12 picks in Rounds 5-7 and only
Dwayne Harris
,
James Hanna
,
Joseph Randle
and
DeVonte Holloman
remain.
Hitting on late-round picks is guesswork in a lot of ways. In 2004, the Cowboys hit on three seventh-rounders in Nate Jones, Patrick Crayton and Jacques Reeves. They all had productive NFL careers and earned second contracts.
That's the goal: find players who can fill roles. The Cowboys kept Crayton for a second contract, but Jones and Reeves left after their rookie deals expired.
Teams build their depth through late-round picks and the Cowboys have not hit enough in the late rounds to fortify their depth. The
Seattle Seahawks
had an NFL-best five starters from Rounds 5-7 in 2013. The
Philadelphia Eagles
were next with four.
Also in Volin's chart is a look at undrafted starters. The Cowboys had a league-high five in 2013 with
Tony Romo
,
Miles Austin
,
Barry Church
,
Ronald Leary
and
Jeff Heath
. The
Denver Broncos
and
Miami Dolphins
had four apiece to tie for second.
For years the Cowboys have excelled in finding undrafted free agents. In the last three years they have landed
Dan Bailey
,
Phillip Tanner
,
Chris Jones
,
Ben Bass
,
Cole Beasley
, Leary, Heath and
Cam Lawrence
.
They make up for the misses in Rounds 5-7 with hits in undrafted free agency. With three compensatory picks in the seventh round this year, the Cowboys will have the chance to draft what would have been their priority undrafted free agents.
They only hope they're not just making up for misses in Rounds 5-7.
February, 28, 2014
Feb 28
1:00
PM ET
Jarius Wynn
Position:
Defensive end
Type:
Unrestricted
2013 salary:
$715,000
Summary:
He was signed on Oct. 15 and played Oct. 20 against the
Philadelphia Eagles
. He started one game – at defensive tackle – and finished the season with 12 tackles, a sack, three tackles for loss and six pressures. He started the year with the
San Diego Chargers
, making three tackles and a sack in five games.
Why keep him:
Depth, depth and more depth. Wynn wasn't bad as a rotation player and he offered some position flexibility by being able to move inside if needed. While that is not his strong suit, he can get a defense through a game. His six pressures tied for sixth on the defense.
Why let him go:
Not to be cavalier about a position that held the Cowboys back in 2013, but they can do better. Perhaps
Ben Bass
, who missed last season with a shoulder injury, can provide the depth they want from their defensive linemen and have more pass-rush ability. Plus, the Cowboys figure to address the position in the draft as well.
Best guess:
He will be allowed to look around and if the Cowboys find themselves in a pinch later in free agency, they can give him a call.
February, 22, 2014
Feb 22
11:45
AM ET
INDIANAPOLIS -- Rod Marinelli has been through a defensive rebuilding job before. Maybe not as severe as he has to do with the
Dallas Cowboys
, but a rebuild nonetheless.
In 2009, Marinelli joined the
Chicago Bears
as defensive line coach. The Bears finished 17th in total defense, 13th against the pass, 23rd against the rush and 21st in points allowed.
In 2010 Marinelli became the defensive coordinator and the Bears finished ninth in total defense, 20th against the pass, second against the rush and fourth in points allowed.
[+] Enlarge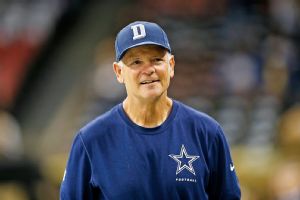 AP Photo/James D. SmithDefensive coordinator Rod Marinelli hopes Dallas adds pieces to its front seven this offseason.
The Cowboys were 32nd in yards, 30th against the pass, 27th against the rush and 26th in points allowed.
Monte Kiffin was moved to assistant head coach/defense and Marinelli was promoted to defensive coordinator last month.
"We've kind of got things in place for the most part," Marinelli said from the NFL scouting combine "Now you've just got to make some corrections, add some people and go from there."
The Bears started four different defensive linemen from 2009 to 2010, and added
Julius Peppers
as a free agent. Middle linebacker Brian Urlacher returned to the lineup from a wrist injury after playing in just one game in 2009. Free-agent pickups
Tim Jennings
and Chris Harris solidified the secondary.
Chicago went from a 7-9 record to an 11-5 finish.
Despite their defensive woes in 2013, the Cowboys finished 8-8, losing their third straight winner-take-all NFC East championship game in Week 17 to miss the playoffs.
To Marinelli, there is no mystery to his success.
"With me, I think it's just going back to being really fundamentally sound," he said. "That's kind of always been my base. Just getting guys to do things right and coach these guys extremely hard ... Being really detailed in what you're doing, being exact. Again just being with these guys is going to help, and I think adding some pieces is going to help."
The Cowboys will be hard-pressed to add significant pieces in free agency with their salary-cap situation. The futures of
Jason Hatcher
,
Anthony Spencer
and
DeMarcus Ware
are in question. A healthy
Sean Lee
will help. So would a healthy
Morris Claiborne
. Improvement from
Bruce Carter
and
Brandon Carr
is a must. They also must find players in the early rounds of the draft that can contribute.
Where does Marinelli want to see the most help?
"Your front seven," he said. "You always look at it. You've always got to look at the front seven. That kind of drives the whole thing for us. So hopefully we'll be adding pieces, and I like some of the guys that were injured last year, (Tyrone) Crawford,
Ben Bass
. Some of these other guys I'm looking forward to seeing."
Marinelli will continue to coach the defensive line, but he said Leon Lett and Ben Bloom will alleviate some of the workload. It's how he operated in Chicago as well.
"The key is the foundation," Marinelli said. "If you can get that going, you get yourself a foundation and you build off that. Get the right pieces, the right couple of guys and things will jump quick."
That's the Cowboys' hope.
December, 28, 2013
12/28/13
11:00
AM ET
IRVING, Texas -- When quarterback
Tony Romo
underwent season-ending back surgery Friday morning, he became the ninth Cowboys player lost for the season due to injury.
You could say it's 10 players lost if you want to throw in defensive tackle
Jeremiah Ratliff
, who said he hadn't recovered from a groin injury which prompted the Cowboys to release him. He subsequently signed with the Bears.
Of the other nine, Romo's departure is the biggest. A review of the injured:
Ben Bass:
The defensive end was a projected backup to a unit beset by injuries. His shoulder is nearly healed and he should be ready in time for the 2014 season.
Ryan Cook:
He was a longshot to make the roster, and when his back didn't heal enough for him to make the roster it was time to move on. It's doubtful that the veteran offensive lineman returns.
Tyrone Crawford:
A torn Achilles in the first week of training camp ended the defensive end's season quickly and put the Cowboys in a bind at defensive line. Crawford is now doing on-the-field rehab work, so he should be good for offseason workouts.
Lance Dunbar:
Injuries hampered his season. He was just starting to make an impact when he injured his knee in the fourth quarter of the Thanksgiving Day win over Oakland. The Cowboys like the running back's change-of-pace ability, and he should be given a chance to regain that role in 2014.
Justin Durant:
The veteran just couldn't recover in enough time from a hamstring injury to help the linebacker corps. Durant was signed to play the strong side and he had good moments, but his health got in the way of making more of an impact.
Matt Johnson:
Johnson hasn't played a down in his first two seasons. A hamstring issue his rookie season and an ankle injury late in training camp put him on the shelf. The Cowboys have to make a decision on whether it's worth keeping the safety around.
Tony Romo:
The starting quarterback was knocked around at times this season but he showed an amazing level of toughness to finish the game at Washington last week while his back was throbbing. Romo is projected to return in time for the OTAs.
Anthony Spencer:
Spencer's knee bothered him during training camp and the projected starter at defensive end underwent microfracture surgery after playing in just one game. He becomes a free agent after the season, so it will be interesting if the Cowboys offer him a deal.
Brian Waters:
The veteran guard was a solid contributor in the five games he started before a torn triceps ended his season. Waters is unsure about whether he wants to play again. He turns 37 on Feb. 18, and the Cowboys might pass on giving him another contract.
September, 6, 2013
9/06/13
3:21
PM ET
IRVING, Texas -- Needing as many able bodies along the defensive line as possible for Sunday's game against the
New York Giants
because of injuries, the
Dallas Cowboys
will re-sign Jerome Long, who was among the team's final cuts last week.

To make room for Long,
Ben Bass
, who dislocated his left shoulder in Thursday's practice, is expected to be placed on injured reserve. A source indicated Bass would miss at least a month with the injury. It's the second time in two seasons Bass has ended up on injured reserve.
Teams can only use the returnable injured reserve designation on one player, so the Cowboys wanted to protect themselves some by not using it on Bass. Long signed with the Cowboys on June 25 and played in five preseason games before being released Aug. 31.
With Long's knowledge of the scheme, ability to play end and tackle and non-guaranteed salary, he was the best fit.
"He understands the scheme better than anybody," defensive tackle
Jason Hatcher
said. "He's one of those guys who got caught up in a numbers game. I thought he did a good job at the three-technique and he can play end. He can spare me a lot and you've got [
Landon] Cohen
. He can play the three-technique and nose. We're not worried about the game at all."
Maybe, but Hatcher knows his snap count will be high Sunday. High for
DeMarcus Ware
, too.
"It's just really going to test our character," Hatcher said. "The guys who are here, me and D-Ware, we've got to do a little more. Our workload's going to be a little more. We can handle it."
September, 6, 2013
9/06/13
12:06
PM ET
IRVING, Texas -- All available defensive linemen will be active for the
Dallas Cowboys
for Sunday's game against the
New York Giants
, regardless of position.
Spencer
With
Ben Bass
looking at a monthlong absence because of a dislocated left shoulder suffered in Thursday's practice,
Landon Cohen
is the Cowboys' only true backup defensive tackle behind
Jason Hatcher
and
Nick Hayden
.
Caesar Rayford
was playing outside linebacker for the
Indianapolis Colts
last week but was at defensive end on Wednesday, a day after the Cowboys got him in a trade.
"He's got to be viable for us at some point in this ballgame," coach Jason Garrett said. "Guys are going to have to play more, and some guys might have to play in a position they haven't played as much as you'd like to have them play, but that's just part of the deal."
Anthony Spencer
has not practiced since having knee surgery on July 25, but on Friday morning Garrett would not rule him out.
"We'll just see what he does out here today and over the next couple of days to see what his availability is," Garrett said.
Garrett did not rule out the possibility of adding a defensive tackle, like
Jeris Pendleton
, who was with the Cowboys in training camp, but acknowledged it is late in the week to make a move. Garrett said that depending on the damage Bass suffered, he could miss three days to "a couple [or] three weeks or at least that, so we'll see."
The defensive line has been beset by injuries from the first day of camp when
Tyrone Crawford
was lost for the season with a torn Achilles.
Jay Ratliff
(sports hernia) is on the physically unable to perform (PUP) list and will miss at least the first six weeks.
"The really good teams are able to absorb injuries," Garrett said.
September, 5, 2013
9/05/13
5:20
PM ET
IRVING, Texas --
Dallas Cowboys
defensive tackle
Ben Bass
will have an MRI on his left shoulder after getting hurt in Thursday's practice.
Bass was limited in the session, and a potential absence would further hamper a defensive line that has taken more than its share of injuries.
Defensive end
Anthony Spencer
has not practiced since July 25 because of left knee surgery and suffered a minor setback over the weekend when his knee swelled after running. Defensive tackle
Jay Ratliff
is on the physically unable to perform list because of a sports hernia and will miss at least the first six games. Defensive end
Tyrone Crawford
was hurt in the first training camp practice, tearing his Achilles.
On Sept. 1 the Cowboys traded
Sean Lissemore
to San Diego.
If Bass's injury is severe, the Cowboys would have only one backup defensive tackle in
Landon Cohen
behind
Jason Hatcher
and
Nick Hayden
.
August, 28, 2013
8/28/13
10:00
AM ET
IRVNG, Texas -- The earliest
Jay Ratliff
will reach the field is Oct. 20 against Philadelphia now that he is on the reserve/physically unable to perform list.
Anthony Spencer
will be ready for the Sept. 8 regular-season opener against the
New York Giants
, but he will have less than a week of practice after undergoing knee surgery July 25. It is not possible to expect Spencer to be able to play a full game at a high level after such a long absence.
Tyrone Crawford
is on crutches, wearing a cast because of a torn Achilles' tendon suffered in the first training-camp practice and is out for the year.
All offseason the Cowboys talked about the defensive line being a strength, as if saying it actually made it so.
Nick Hayden
, who was out of football last year, will replace Ratliff in the starting lineup.
George Selvie
, who was out of football for two months this summer after his release from Jacksonville, could start or at least see significant action with Spencer working his way back. He has three sacks in 36 games for three teams.
Ben Bass
, who made the Cowboys' roster last year after gaining a tryout to the rookie camp, is projected to be Crawford's replacement based on his ability to play end and tackle.
Landon Cohen
came in the same day as Selvie and could find his way into the defensive line rotation.
Kyle Wilber
, who barely played as a rookie outside linebacker in 2012, is another rotation player.
Sean Lissemore
is another rotation guy, but seems to be a better fit for a 3-4 defense than a 4-3 scheme.
The Cowboys chose not to select a defensive lineman in last April's draft. They didn't like
Sharrif Floyd
in the first round because, as Jerry Jones said, he did not possess the "fast twitch," they want out of defensive linemen. They passed on defensive linemen in every other round, too.

Remember, the Cowboys believed the defensive line was a position of strength.
Rod Marinelli has earned rave reviews from the front office, fellow coaches and players during his short time with the club. He is a mix of pass-rush whisperer and task-master.
He will have to be at his best with Ratliff out for six games at least, Spencer attempting to return to form and Crawford out for the year.
In April, they viewed the defensive line as a strength. Now it's a question mark.

NFL SCOREBOARD
Thursday, 8/21
Friday, 8/22
Saturday, 8/23
Sunday, 8/24
WEEKLY LEADERS