March, 11, 2010
3/11/10
4:47
PM ET
Everyone wants their team to trade down.
[+] Enlarge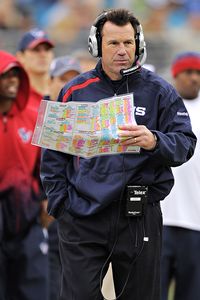 Scott A. Miller/US PresswireTexans coach Gary Kubiak said that trading down in the draft is "a hell of a lot easier said than done."
I get more
e-mails
at this time of year asking me about the possibility of the Jaguars trading out of the No. 10 spot in the NFL draft in hopes of getting more. The same kinds of questions come from Titans fans hoping their team will opt out of selecting 16th overall. Texans fans (No. 20) and Colts followers (No. 31) aren't averse to the idea of trading down, either.
So I am here to tell you, while trading up is often too expensive, trading down is often overrated.
For starters, to get down, you need a team that wants to move up.
"Sitting in the draft room for many years, I think those are conversations that always come up: 'Well, wouldn't it be nice to move back and pick up a couple other picks?'" Texans coach Gary Kubiak said. "Well in that 10 minutes or whatever you have before that pick, if you're not a hot commodity at that time and nobody wants to talk to you, you better be ready to do business.
"I think it's probably a hell of a lot easier said than done."
Said Jacksonville GM Gene Smith in a recent conference call with season-ticket holders: "My mindset is to acquire picks. If we're able to do that, I'll have a smile on my face."
But even if you have a lot of needs, like Smith, is that the right route?
Let's look at the recent trade-down history of our four teams and then assess. We're considering just picks-for-picks trades, not moves that include veteran players.
In the last six years, with the help of Jason Vida of ESPN Stats & Information and
prosportstransactions.com
, here are first-round trade-downs in the division.
Houston
2008
-- Traded with Baltimore
Gave: No. 18 in first round (quarterback Joe Flacco)



[+] Enlarge

Aaron M. Sprecher/Getty ImagesThe Texans drafted Duane Brown after trading down in the first round of the 2008 draft.

Got: No. 26 pick in first round (offensive tackle Duane Brown), a third-round pick (86th overall, running back Steve Slaton) and a sixth-round pick (173rd overall, defensive back Dominique Barber)

Value chart says: Ravens, 900-883.2 points

Assessment: Baltimore got its quarterback and Flacco is clearly the most valuable player of all of these. The Texans got their left tackle (Brown), a skill player who's had one great year and one terrible season (Slaton) and some shaky secondary depth (Barber).
2005
-- Traded with New Orleans
Gave: No. 13 in first round (offensive tackle Jammal Brown)

Got: No. 16 in first round (defensive tackle Travis Johnson) and a third-round pick in 2006 (66th overall, offensive tackle Eric Winston)

Value chart: Texans, 1,260-1,150. (That link is to an NFL-style draft value chart like the ones teams use to measure trade values.)

Assessment: Brown has been a Pro Bowler twice and an All-Pro once. Johnson underachieved and was traded. Winston is a very solid starter, but the Saints got more bang here, I think.
Indianapolis
Sidenote: The Colts gave up their 2008 first-rounder and their 2007 fourth-rounder to get the 2007 second-rounder from San Francisco they used to draft offensive tackle
Tony Ugoh
. That can be classified in different ways. I see it more as the Colts going up to get Ugoh, so I don't use it as a trade-down scenario here.
2004
--Traded with Atlanta
Gave: No. 29 in the first round (wide receiver Michael Jenkins) and a third-round pick (90th overall, quarterback Matt Schaub)

Got: No. 38 in the second round (traded to Steelers for a second-round pick, 44th overall, Bob Sanders and fourth-round pick, 107th overall, linebacker Kendyll Pope), a third-round pick (69th overall, linebacker Gilbert Gardner), and a fourth-round pick (125th overall, cornerback Jason David)

Value chart says: Colts, 845-780

Assessment: A double-trade down netted the Colts Sanders. He may miss way too many games due to injuries, but he won a defensive player of the year award and keyed a Super Bowl team. But Schaub sure proved to have value for Atlanta when Houston came calling a couple years later.
Jacksonville
2007 -- Traded with Denver

Gave: No. 17 in first round (defensive end Jarvis Moss)



[+] Enlarge

Scott A. Miller/US PresswireThe Jaguars' Reggie Nelson had a disappointing sophomore season.

Got: No. 21 in first round (safety Reggie Nelson); a third-round pick (86th overall, traded to Baltimore for a fourth-round pick, 101st overall , a fifth-round pick, 166th overall, and a sixth-round pick 203rd overall); and a sixth-round pick (198th overall, traded to Atlanta as part of package for a fifth-rounder, 149th overall, guard Uche Nwaneri). Punter Adam Podlesh and defensive tackle Derek Landri came out of that trade with Baltimore, with the 203rd pick also going to Atlanta in the trade that got Jacksonville Nwaneri

Value chart says: Jaguars 973.2-950 (not factoring in trades of other picks involved)

Assessment: They did OK, but if Nelson continues on his current course, we'll remember them failing with another first-rounder.
Titans
2004
-- Traded with Houston
Gave: No. 27 in the first round (defensive end/outside linebacker Jason Babin) and a fifth-round pick (159th overall, traded to Jacksonville)

Got: No. 40 in the second round (tight end Ben Troupe), a third-round pick (71st overall, defensive tackle Randy Starks), a fourth-round pick (103rd overall, defensive end Bo Schobel), and a fifth-round pick (138th overall, guard Jacob Bell)

Value chart says: Titans, 860-708.8

Assessment: On draft day, it looked like a monster win for Tennessee and in time, because Babin busted, it still leaned their way. But for the Titans, only Bell was a consistent performer. It's easy to look back on drafts and play what if, I know, but what if the Titans or the Texans had used No. 27 on Sanders or Karlos Dansby or Chris Snee?
Conclusions
:
Let's emphasize this is not scientific and it's not a very big sample size.
Still, these five deals produced just one player we'd rate as stellar, and Sanders has major injury issues. They also yielded AFC South teams a left tackle who still has to prove himself (Brown), a defensive tackle who busted (Johnson), a free safety whose second year was very poor (Nelson) and a tight end who's out of the league (Troupe).
Trading down doesn't always produce the yield everyone imagines. One very good player is better than a couple who rank a notch below. The chance at that player is typically better where you are, not lower than that.
So if the Jaguars see someone they like a lot at 10 or if the Titans see someone they like a lot at 16, they should jump, not dump.
February, 24, 2010
2/24/10
2:07
PM ET
»
NFC Busts/Gems
:
East
|
West
|
North
|
South
»
AFC
:
East
|
West
|
North
|
South
»
Draft Watch
:
Biggest needs
(2/17) |
Busts/gems
(2/24) |
Schemes, themes
(3/3) |
Recent history
(3/10) |
Needs revisited
(3/17) |
Under-the-radar needs
(3/26) |
History in that spot
(3/31) |
Draft approach
(4/7) |
Decision-makers
(4/14) |
Dream scenario/Plan B
(4/21)
Each Wednesday leading up to the NFL draft (April 22-24), the ESPN.com blog network will take a division-by-division look at key aspects of the draft. Today's topic: Busts and late-round gems.
Houston Texans

The previous regime traded with division rival Tennessee to get Western Michigan linebacker
Jason Babin
with a second first-round pick in 2004 and he never became what they envisioned. The first-rounder from the next year, Florida State defensive tackle
Travis Johnson
, wasn't good either. Johnson flashed some but wasn't long-term help. Wide receiver
David Anderson
(seventh round from Colorado State in 2006) is a quality slot receiver, and probably the team's best late-round pick.
Indianapolis Colts

The Colts traded up in 2007 to take Arkansas offensive tackle
Tony Ugoh
42nd overall. He was the man to replace
Tarik Glenn
when he surprised the team by retiring the same year. But Ugoh lost his starting job in 2009 and was often inactive. Two third-rounders from the same draft also faded: cornerback
Dante Hughes
from Cal didn't make it out of camp in 2009 and Ohio State defensive tackle
Quinn Pitcock
quit football in 2008. Late-round finds abound: Howard safety
Antoine Bethea
(sixth round) is a Pro Bowl talent; Mount Union receiver
Pierre Garcon
(sixth round, 2008) just had a breakout season; punter/kickoff man
Pat McAfee
from West Virginia (seventh round, 2009) is a consistent performer. And Indianapolis does consistently well with undrafted rookies, such as safety
Melvin Bullitt
and cornerback
Jacob Lacey
.
Jacksonville Jaguars

First-round busts have been a major reason the Jaguars haven't broken through as a consistent contender: receivers R. Jay Soward of USC in 2000,
Reggie Williams
from Washington in 2004 and
Matt Jones
from Arkansas in 2005 are gone and safety
Reggie Nelson
(Florida, 2007) and defensive end
Derrick Harvey
(Florida, 2008) rank as major underachievers. Late-round gems? Purdue guard
Uche Nwaneri
was a 2007 fifth-rounder and has started a lot of games and Florida's
Bobby McCray
was a good defensive end for a seventh-rounder in 2004.
James Harris
was ousted as the personnel chief and the team seems on a better track under Gene Smith, who was named GM about a year ago.
Tennessee Titans

Any list of recent high-ranking failures has to start with first-round cornerback Pacman Jones, sixth overall from West Virginia in 2005. He was probably the best defensive football player there, but the Titans failed miserably in researching his personality. Other busts who hurt them:
Ben Troupe
(second-round tight end from Florida in 2004),
Andre Woolfolk
(first-round cornerback from Oklahoma in 2003) and
Tyrone Calico
(second-round receiver in 2003). Cornerback
Cortland Finnegan
was an All-Pro in 2008 and heads any list of recent late-round gems. He was a seventh-rounder from Samford in 2006. Tight end
Bo Scaife
was a sixth-rounder from Texas in 2005 and promising defensive end
Jacob Ford
from Central Arkansas was a sixth-rounder in 2007.
Posted by ESPN.com's Paul Kuharsky
NASHVILLE -- The Titans just made a move up in the third round and drafted South Carolina tight end Jared Cook.
The position makes sense at it seems like a value in the third round at the 89th overall pick, as Cook is widely regarded as the draft's second-best tight end.
But the Titans gave up a lot -- New England got Tennessee's second rounder.
Tennessee has Alge Crumpler, Bo Scaife and a Craig Stevens, a third-round pick from last year on the roster. But Crumpler didn't have the on-the-field impact many expected when he came in last year, he's quite slow and his contract is up after this season. And Scaife is unhappy about wearing the franchise tag and could easily disappear next year too.
Cook looks the part at 6-5, 246 and with a 4.49 40 time, and Mel Kiper raves about his ability to make the acrobatic catch. But Cook's got some question marks.
In the Titans press room, Jim Wyatt of The Tennessean remembered watching Cook play great against Vanderbilt, and quickly compared Cook to Ben Troupe. That is flattering in a discussion of athleticism, but not if it turns out to also address smarts or production.
Troupe was a second-rounder in 2004 who was a physical specimen and looked great but never caught on and was incredibly unreliable.
With their original third rounder, 94th overall, the Titans took Hawaii corner Ryan Mouton. Mel Kiper likes his toughness, spunk and leaping ability, which he will have to put to good use as he's 5-9.
September, 18, 2008
9/18/08
8:07
AM ET
Posted by ESPN.com's Paul Kuharsky
Let's take a stroll around the division, shall we?
Houston Texans
Indianapolis Colts
Jacksonville Jaguars
Tennessee Titans
September, 15, 2008
9/15/08
1:38
PM ET
Posted by ESPN.com's Pat Yasinskas
A quick mid-day trip around the NFC South:
BUCS
Receiver Joey Galloway has a sprained foot. The extent of his condition isn't known yet, but it's possible he'll miss Sunday's game at Chicago. Tight end Jerramy Stevens is back from his two-game suspension and the Bucs have to clear a roster spot. Reserve tight end Ben Troupe is a possibility.
PANTHERS
Steve Smith is back from his two-game suspension. The Panthers will have to release a player to clear Smith's roster spot before Wednesday's practice.
FALCONS
Veteran safety Lawyer Milloy was charged with driving under the influence. Milloy is one of the leaders in the Atlanta locker room. With the Falcons concentrating hard on cleaning up their image after the Michael Vick fiasco, it will be interesting to see how owner Arthur Blank handles this situation.
SAINTS
Second-year receiver Robert Meachem finally got his first NFL touchdown catch. Coach Sean Payton hasn't done his day-after press conference yet. We'll update you on what comes out of that later today.

NFL SCOREBOARD
Sunday, 12/22
Monday, 12/23