April, 26, 2013
4/26/13
1:04
AM ET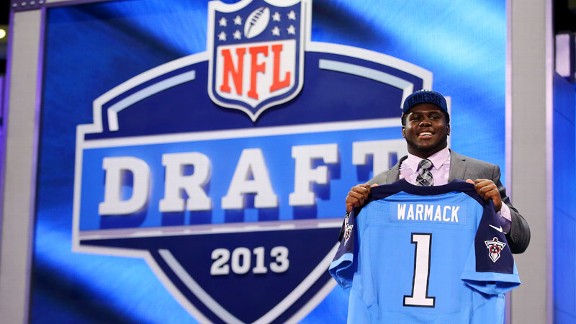 Al Bello/Getty ImagesIt's been 30 years since the Titans franchise drafted a guard in the first round.
NASHVILLE, Tenn. -- The last two guards drafted by the
Tennessee Titans
franchise, Hall of Famers Mike Munchak and Bruce Matthews, just oversaw the selection of another.
Alabama's
Chance Warmack
is so football-focused, he only got his license last year. He's so strong, the Titans said he moved SEC defensive linemen like no one else. He's so in love with the idea of playing for these two coaches, he didn't hold a private workout for anyone else.
I've known Munchak and Matthews since 1996. I can't recall ever seeing the two low-key, business-like football men beam quite so brightly. The glow they gave off at the news conference at Titans headquarters after making the 10th pick made me believe it when they said there was no question he was their man early on -- something virtually every coach stated Thursday night.
A few days after Alabama's pro day, Munchak and Matthews got Warmack on the field with Alabama tackle
D.J. Fluker
in Tuscaloosa. The coaches put the prospects through a difficult 90-minute workout that helped transform Matthews into a believer.
"Really for me, I go in very skeptical on linemen that I've heard about," Matthews said. "Because typically they're a product of the team they play on. Alabama having such a great tradition and on such a hit streak, you kind of think they've got a bunch of other guys on the team pumping him up.
"I went in very skeptical, wanting to shoot him down at every turn. And really I think what sold me on him was every time I was with him, I got excited about the opportunity to watch him play and coach him. He has the demeanor and the mindset and he plays the style that we are looking for."
Warmack spoke in advance of the draft about Tennessee being a dream destination. He's from Atlanta and went to Alabama. In addition to playing in the Southeast, he craved the coaching the Titans could offer, considering he'd never played for a coach who'd actually played offensive line before.
"They put me through the wringer," he said, recounting the private workout. "I felt like I put everything into what I did and throughout my visit we had a great time going over plays and I felt like we hit it off pretty well."
The franchise hasn't drafted a first-round guard since Matthews in 1983, ninth overall, and Munchak in 1982, eighth overall. Years later, they presented each other into the Pro Football Hall of Fame.
As a long-time offensive line coach, Munchak frequently develops mid-round picks into capable players. He was promoted to head coach in 2011 and hired Matthews, his closest friend, to take over his old job.
Fifth-rounder
Benji Olson
and third-rounder
Zach Piller
were the starting guards on the Titans Super Bowl team in 1999. Free agents like
Kevin Mawae
,
Fred Miller
,
Jake Scott
have been splashed in, but homegrown and developed guys were far more frequent pieces.
None came in the first round since
Brad Hopkins
in 1993, and only 1996 bust
Jason Layman
and current left tackle
Michael Roos
were drafted as high as the second round.
Investing through the draft has proven insufficient recently.
Leroy Harris
and
Eugene Amano
were counted on to develop into reliable pieces and didn't do enough.
The Titans thought they could make it through last season. They added
Steve Hutchinson
, the well-credentialed veteran guard. He didn't bring much and then got hurt, like virtually every other lineman on the team.
General manager Ruston Webster and Munchak huddled after the season and decided it was time. When free agency opened, they landed top available guard, Buffalo's
Andy Levitre
, with a six-year, $46.8 million contract.
Now they drafted Warmack. He will shift from his college position on the left to the right and be a fixture on the more powerful side of the line.
"To me, he is the complete package," Munchak said. "He loves the game; he has a passion for it. Spending time with Bruce and I, he loved hearing the stories of linemen of the past, talking about the history of the game. For a young guy, that's rare, that he's interested in those types of things. Obviously, we all hit it off pretty well …
"I think he wanted to be a Titan the whole time and he didn't hide his feelings on that."
Warmack said he weighs 325 pounds and anticipates playing at 325 or 330.
Tim Ruskell scouts the Southeast for the Titans and said the sort of power he saw from Warmack is rare in the NFL. He saw Hutchinson up close in Seattle where he was dominant at the start of his career. The way Warmack plays will mean the Titans can do anything they want behind him.
"He can explode with his hips and he can get in and get movement versus bigger people," Ruskell said. "He played against so many good defensive linemen that were strong and stout. We didn't see a lot of guys moving those guys. But when you watch Chance, he was able to get movement, he was able to seal run lanes -- that kind of power. It's the power to anchor, it's the power to explode and get movement versus bigger people.
"… It just sets him apart from the normal offensive linemen that you tend to look at. That is what got our attention and then it is aggression, the aggression and the want-to and to sustain and finish the block. Coaches always talk finish. This guy has finish. It is a big thing that seems simple, but it is a big deal. When you see it and the combination of what he has, I think it is a rare trait."
July, 9, 2009
7/09/09
11:13
PM ET
Posted by ESPN.com's Paul Kuharsky
| | |
| --- | --- |
| | |
| | AP Photo/George Walker IV, Pool |
| | Former Titans players, including Brad Hopkins, top left, and Benji Olson, top right, served as pallbearers at the memorial service. |
WHITES CREEK, Tenn. -- For all who watched Steve McNair assisted off the field during his 13 seasons as an NFL quarterback, the conclusion of his memorial service was especially tough to digest.
Pallbearers who played with him surrounded his casket, lifted it and carried it out of Mount Zion Baptist Church, surely hoping they were also transporting at least a degree of the pain shared by the family, the franchise, the city and the league.
"That was tough, to carry his casket out," Eddie George said. "Right after they said those kind words, they said the eulogy, reality set back in again, that he has to go to his final resting place. Knowing that's Steve's remains, that's his shell in that casket, that's not Steve, and I'm not going to remember him in that capacity. This is a part of the process, this is closure for us, for me. Now the healing can begin, and I don't know how long it will take."
| | |
| --- | --- |
| | |
| | AP Photo/George Walker IV, Pool |
| | Ravens wide receiver Derrick Mason takes part in a memorial service for Steve McNair. |
In his eulogy at the conclusion of a service that included impressive versions of "Press On" and "God is Able," Bishop Joseph W. Walker III called McNair "a humanitarian, a philanthropist, a supreme athlete, a motivator, an entrepreneur." In citing the biblical instruction that one without sin cast the first stone, Walker said it was "time to have a stone-dropping service."
During the memorial, Jeff Fisher told a story of McNair considering giving up the game in 2000 after suffering a sternum injury and conveyed the condolences of a high-ranking military official he met just last week while visiting troops in the Persian Gulf.
Later, the Titans coach said he was sure even more of McNair's old teammates wanted to attend but could not. Fisher said that he might soon take McNair's sons fishing.
Asked about watching George, Samari Rolle, Zach Piller, Kevin Long, Frank Wycheck, Brad Hopkins, Benji Olson, Kevin Carter and Vince Young lift McNair's coffin and walk it out the door, Fisher said he couldn't put words to his thoughts.
"I can't describe that, no," he said.
Plenty of others leaving the church felt the same way.
Count me among them.
***
An add to the previous entry, which included a list of many of the most notable players in attendance. I later spotted several others, including Keith Bulluck, Bo Scaife, Young, Fred Miller, Drew Bennett and Kenny Holmes.
July, 9, 2009
7/09/09
9:12
PM ET
Posted by ESPN.com's Paul Kuharsky
| | |
| --- | --- |
| | |
| | AP Photo/Mark Humphrey |
| | Eddie George, right, and Craig Hentrich were among the former teammates to attend Steve McNair's memorial. |
WHITES CREEK, Tenn. -- Lance Schulters arrived at Steve McNair's memorial with another former teammate of the fallen Titans quarterback, Robaire Smith.
The two also saw Samari Rolle and Eddie George.
Those four friends always thought they'd be reunited with McNair for happier times.
"That's our seats right there, playing cards all day on the plane," Schulters said, gesturing the circle they'd comprise. "Steve always won the big hands. All the big pots he won. We just joked about that, like 'Man, this is crazy.'"
Instead, they gathered in this suburb north of Nashville, not to shuffle and deal, but to join more than 5,000 others to mourn McNair, who was shot and killed Saturday in a murder-suicide.
"We might feel indestructible and indispensable on the field, but the reality of it is we're all human, and we all have an end," said Kevin Mawae, Titans center and president of the NFL Players Association. "We just don't know when that end is going to come.
"It's a difficult thing to be here. But we're all NFL players and there are not very many of us and when one of us passes under these circumstances or any circumstances, you mourn the loss of that guy. He was a brother in the locker room to many of us."
More than 30 teammates -- Titans past and present -- attended the memorial, as did the franchise's owner, Bud Adams, Tennessee Governor Phil Bredesen and Nashville Mayor Karl Dean.
The list of current and former players also includes Derrick Mason, Samari Rolle, Jevon Kearse, Kevin Carter, Frank Wycheck, Yancey Thigpen, Benji Olson, Blaine Bishop, Kyle Vanden Bosch, Jon Runyan, Josh Evans, Justin Hartwig, Al Del Greco, Erron Kinney, Zach Piller, Craig Hentrich, Gary Walker, Joe Nedney, Chris Sanders, Al Smith, Chris Hope and Vincent Fuller.
Current Titans assistant coaches Dave McGinnis, Mike Munchak and Marcus Robertson (who was also a teammate) are also here, as is the team's starting quarterback, Kerry Collins. McNair was drafted third by the Oilers in 1995; Collins fifth by Carolina.
Jeff Fisher will speak during the memorial and is set to talk with the media after it's over.
George said he gathered with 15 or 20 former teammates to remember McNair Wednesday night at The Palm in downtown Nashville
McNair was killed on July 4, which led different players to different thoughts of future Independence Days.
"Here's an opportunity for us to get together every Fourth of July and celebrate his life," George said.
"I know from this point on, my July 4 will never be the same," Kearse said. "I may not even celebrate July 4 from this point on. Instead it will be on July 9 or something like that."
George wrote a poem -- entitled "Where Do Warriors Go?" -- in recent days as he tried to sort through his feelings about McNair's death.
"It was a great question, and based off of that question, these words just started coming out of me and I tried to put it into form," said George, who read the poem at the memorial service. "It was something that I wanted to send off to him, directly speak to him and send him off in the right way. Maybe one day I can recite it for you.
"It's a special place they go to. I don't know the exact place, and that was the question. In it all, he's done his best, right or wrong, and basically it was a message to say, 'You know what, you're free to go into that life, without any judgment. You've done the best you can do and we're going to hold it down here for you.'"