NFL Nation:

Best of the NFL
June, 30, 2011
6/30/11
1:00
PM ET
»
Best of NFC
:
East
|
West
|
North
|
South
»
AFC
:
East
|
West
|
North
|
South
As part of Best of the NFL Week on ESPN.com, here are five bests for the NFC South:
Best training camp venue, Wofford College in Spartanburg, S.C.
,: That's where the
Carolina Panthers
train, and they're the only division team right now that goes away for training camp. There's been a league-wide trend of moving camps back to regular-season facilities. But if you're going to go away, this might be the best setup in the NFL. Spartanburg itself isn't all that picturesque or glamorous. But the Wofford campus is gorgeous, particularly the football facilities. In case you've forgotten, team owner Jerry Richardson played football for Wofford -- and, later, the Baltimore Colts, before starting to make his fortune with his first Hardee's restaurant in Spartanburg -- and he paid for those facilities.
[+] Enlarge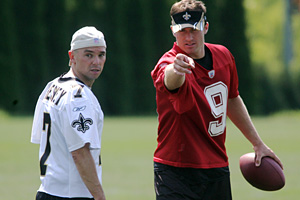 AP Photo/Tony TribbleKenny Chesney, pictured here with Drew Brees, has been known to show up at Saints practice.
Best coaching staff, Falcons:
Head coach Mike Smith's going to be challenged a bit this year because the Falcons lost quarterbacks coach Bill Musgrave to a coordinator job in Minnesota, but they've replaced him with Bob Bratkowski. The rest of the staff is a group of all-stars, highlighted by coordinators Mike Mularkey (offense) and Brian VanGorder (defense). Offensive line coach Paul Boudreau isn't a household name, but he's one of the best in the business. For the past three years, the Falcons have given
Matt Ryan
great protection without having a lot of big names up front.
Best celebrity fan, Kenny Chesney:
He's not just a fan of the
New Orleans Saints
, he played for them. Well, sort of. A few years back the Saints held a press conference to announce they were signing the country singer/wide receiver to a contract. They never really did, but it was coach Sean Payton's way of having fun with one of his best friends. It's not unusual to see Chesney around the Saints. Heck, he's even gone out on the practice field and attempted to catch punts.
Best team facility, One Buccaneer Place:
It's referred to as "One Buccaneer Palace'' by some, and it is a palace on the inside. Also, despite popular belief, it was not paid for with taxpayer money. The Glazer family paid for the facility. The lobby and team meeting room are awesome and the locker room is the nicest in the NFC South. Heck, even the media room is, by far, the nicest in the division. The Falcons' facility gets a strong honorable mention. In some ways, it's just as nice as Tampa Bay's facility, but the media room doesn't even come close.
Best meddling owner, Arthur Blank
: He's not the Cowboys' Jerry Jones or the Redskins' Daniel Snyder, but I think it's accurate to say Blank is hands-on in a healthy way. You'll see him on the sidelines at the end of games, and he sits in on Smith's postgame press conferences, which is pretty unusual for an owner. But I see Blank as more of a guy who cares passionately about his team and likes to keep a close eye on everything. He lets his people do their own thing, but he observes everything. Nothing wrong with that. After all, he owns the team.
June, 29, 2011
6/29/11
2:00
PM ET
»
Best of NFC
:
East
|
West
|
North
|
South
»
AFC
:
East
|
West
|
North
|
South
As part of Best of the NFL Week on ESPN.com, here are five bests for the NFC South:
Best delegator: Mike Smith.
The Atlanta head coach is not an ego-driven guy. He has a great defensive background and easily could run this team's defense as some other coaches handle play-calling duties on that side of the ball. Smith certainly has some input on the defense, but he lets defensive coordinator Brian VanGorder run the show. Given his defensive background, Smith felt it was important to hire a strong offensive coordinator when he first arrived. He went out and got a former head coach in Mike Mularkey, who has done a masterful job of developing
Matt Ryan
.
[+] Enlarge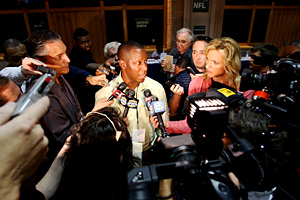 Matthew Emmons/US PRESSWIRETampa Bay coach Raheem Morris is a favorite among reporters.
Best postgame interview: Raheem Morris.
The Bucs' head coach is animated and doesn't hold much back. There are some in the organization who wish Morris would throttle it back a bit. But, from a media standpoint, there's not another NFC South coach who is nearly as good a quote as Morris. There aren't too many coaches around the rest of the NFL who are in his league.
Best at telling it like it is: Ron Rivera
. Fans and media are still getting to know the new Carolina coach, but, so far, he's come across as a very straight shooter. Unlike predecessor John Fox, Rivera actually answers questions. He's not the dynamic quote that Morris is, but he doesn't follow Fox's lead and turn interview sessions into dodgeball games.
Best X's and O's: Sean Payton
. If you had to take one NFC South coach to win one game, Payton is the guy. If you expanded the field to the entire NFL, he still might be the guy. There's not a coach and quarterback more on the same page than Payton and
Drew Brees
, and that's why the Saints have become a consistently good team. It also doesn't hurt that Payton went out and got Gregg Williams to handle the defense a couple years ago.
Best motivator:
Payton.
He's done things like hand out baseball bats as a reminder for his team to "bring the wood'' and brought back
Deuce McAllister
as a ceremonial leader during the playoff run at the end of the 2009 season. Payton seems to pay a lot of attention to the mood of his team and knows what buttons to push and when to push them.
June, 29, 2011
6/29/11
2:00
PM ET
»
Best of NFC
:
East
|
West
|
North
|
South
»
AFC
:
East
|
West
|
North
|
South
As part of Best of the NFL Week on ESPN.com, here are five bests for the NFC North:
[+] Enlarge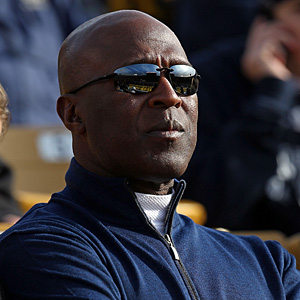 Jonathan Daniel/Getty ImagesBears head coach Lovie Smith always appears calm and cool on the sideline.
Best game face, Lovie Smith:
Chicago Bears
fans have grown frustrated over the years with Smith's placid sideline demeanor. They wonder why Smith isn't more emotional and if he could possibly be as disconnected from the game action as he appears to be. I actually think it's a positive attribute. Smith always projects calm amid the chaos of an NFL sideline. If the head coach is flipping out during the game day roller coaster, what can he expect from players?
Best coach-GM tandem, Mike McCarthy and Ted Thompson:
All successful NFL men have some level of ego about them, but the important factor in the
Green Bay Packers
' leadership is that neither McCarthy nor Thompson appears to have ambitions for the other's job. Thompson stocks the team and McCarthy runs it as he sees fit. The best example of their ability to work together: McCarthy has never, ever expressed any public dissatisfaction with Thompson's reluctance to participate in veteran free agency. Many coaches would be outraged. Thompson, meanwhile, doesn't appear interested in questioning McCarthy's strategic decisions or inserting himself into daily operations of the locker room in any way.
Most excitable, Gunther Cunningham:
The
Detroit Lions
' defensive coordinator has always had a fiery personality. (Don't believe me? Check out his star turn on HBO's Hard Knocks a few years ago when he was with the
Kansas City Chiefs
.) Cunningham is a hoot to watch on the sideline, often literally spitting out his words and leaving little left to the imagination. One of Lions coach Jim Schwartz's primary game day tasks is to keep Cunningham below the boiling point.
Best schemer, Dom Capers:
The Packers' defensive coordinator has enjoyed a career renaissance in two years with the Packers. It might be too late to earn him another shot as a head coach, but Capers has re-certified himself as one of the most innovative minds in the game. The Packers seemingly have a different defense for every game, and Capers isn't afraid to reveal a new look at any time. One of many examples: A new zone blitz call in the NFC Championship Game surprised Bears quarterback
Caleb Hanie
and led to nose-tackle
B.J. Raji
's interception return for a touchdown.
Best aura, Leslie Frazier:
The
Minnesota Vikings
' new coach carries himself with an admirable combination of confidence, humility, passion and patience. Mix it all together and the subconscious message is this:
I'm in control.
Make no mistake, that aura is a crucial ingredient of leadership. Frazier is neither overconfident nor nervous. Like any coach, Frazier will have to demonstrate that his initial impression is accurate. He'll also have to prove himself as an administrator and from a global scheme standpoint. But from the start, players will have no question about the authenticity of their leader.
June, 29, 2011
6/29/11
2:00
PM ET
»
Best of NFC
:
East
|
West
|
North
|
South
»
AFC
:
East
|
West
|
North
|
South
As part of Best of the NFL Week on ESPN.com, here are five bests for the AFC West:
[+] Enlarge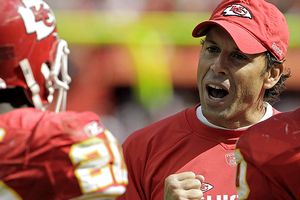 AP Photo/Charlie RiedelTodd Haley is an in-your-face coach which has allowed him to keep the Chiefs in check.
Best ego manager:
Kansas City's Todd Haley is an in-your-face coach. He is scared of no one. His demeanor has led Haley to clash with players, and player-coach sideline disagreements are not rare. But his style works. Players respond to Haley and he gets their respect. When he became the head coach in Kansas City in 2009, Haley wasn't looking for any friends, and he broke down several players, including former first-round picks
Dwayne Bowe
and
Derrick Johnson
. Both players responded well and played at a high level in 2010. Haley has dealt with several high-profile receivers in his career, such as
Keyshawn Johnson
and
Terrell Owens
. He survived them both. That is one of the reasons the Chiefs had no reservations about taking Pittsburgh receiver
Jon Baldwin
, who has a reputation as a diva, in the first round this year. Haley is prepared for Baldwin.
Best motivator:
We're taking a leap here because the Raiders' Hue Jackson has never been a head coach, but I'm confident he will be a premier motivator. He surely was as the Raiders' offensive coordinator last season. He is very positive and often talks up his players. He is very vocal on the practice field. He also produced instant results last season -- Oakland's offense was leaps and bounds ahead of the 2009 version. Jackson's players always speak well of him, and he has them believing the Raiders are on the doorstep of big things. Something must be working.
Best coach-GM tandem:
This is a potentially strong group of front-office types and coaches. In San Diego, GM A.J. Smith and coach Norv Turner work well together. Jackson and Oakland owner Al Davis appear to be very chummy and work well together. The early vibe on the John Elway-Brian Xanders-John Fox trio in Denver appears to be strong. But we're going to give the nod to Kansas City's tandem of Haley and GM Scott Pioli. The two have a strong working relationship, and they have turned the Chiefs around quickly. In their second season in Kansas City, Pioli and Haley built a division winner. The Chiefs are set up well for the future, and this tandem is the primary reason why.
Best delegator:
The ability of Turner to to delegate in San Diego is one of his strengths. Smith has complimented Turner's in that area in multiple discussions with this blogger. Turner is a premier play caller and quarterbacks coach. He knows his role, and he allows his coaches to work and coach. He is not a dictator or the type who needs to have his thumbprints on every minor detail. He lets his coaches do their jobs, and trusts they will get things done.
Best X's and O's:
I'm going to give the nod to Fox, the new head man in Denver. Don't be swayed by the fact that the
Carolina Panthers
were awful in 2010. Fox earned a strong reputation as fine coach in his nine seasons with the Panthers. He is a defensive specialist who is aggressive and detailed-oriented. On offense, Fox is a big believer in running the ball down opponents' throats. He sticks to his plan and is very organized. The Broncos will be well-coached in 2011.
June, 29, 2011
6/29/11
2:00
PM ET
»
Best of NFC
:
East
|
West
|
North
|
South
»
AFC
:
East
|
West
|
North
|
South
As part of Best of the NFL Week on ESPN.com, here are five bests for the NFC East:
Best coach-GM tandem, Eagles:
No matter how the responsibilities break down between Andy Reid, Howie Roseman and team president Joe Banner, it's working in Philadelphia. Reid gets control over all football decisions, but the team they've put together there is clearly in sync and effective. They've had good drafts and made smart personnel decisions as they've transitioned from older players to younger ones, and Reid has coached the on-field product to the top of the division each of the past two years. This call came down to the guys in Philly vs. the guys in New York, and Reid and Roseman
have Tom Coughlin and
Jerry Reese
's number right now.
[+] Enlarge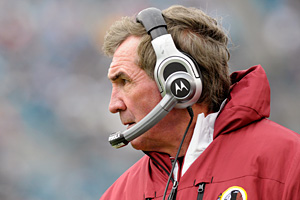 AP Photo/Phelan M. EbenhackRedskins head coach Mike Shanahan has an intimidating sideline presence.
Best game face, Mike Shahanan:
I don't know whether he practiced it in front of a mirror for years, whether it was taught to him by a coaching mentor or whether it just comes naturally. But of the NFC East coaches, none looks more serious, more in control or more intimidating with that headset on than the Redskins' Shanahan does. His angry scowl beats out Coughlin's exasperated fury, though I have to admit I did consider the latter.
Best at telling it like it is, Coughlin
: The video that went viral of him telling his players what people could kiss in the wake of the Giants' 10-win 2010 season speaks for itself. Coughlin is the most likely NFC East coach to just plain light up his team after a disappointing game. He doesn't believe in wasting time or words, and he's not afraid that he's going to hurt someone's feelings if he says in a postgame news conference that the offense or the defense or the special teams weren't any good. That's probably because he's telling those guys the same things, maybe even more directly, to their faces before he goes out and tells anyone else.
Best motivator, Jason Garrett:
First, we have to be fair here, and include everyone. This category seems to fit Garrett based on the difference between the way the Cowboys played under Wade Phillips last season and the way they played after Garrett got the job. He went 5-3 in the final eight games of the season and secured himself a job most people thought he had not shot of retaining when he first got it. It remains to be seen whether he can carry it over into the near and/or distant future, but based on the way Dallas finished the 2010 season, this looks like a winning category for the Cowboys' new head coach.
Best delegator, Reid
: For years, he let Jim Johnson run the defense with complete control because he was smart enough to know Johnson knew it better than he did. He gave Johnson's successor,
Sean McDermott
, free reign as well, though that didn't work out for McDermott. Reid's decision to elevate longtime offensive line coach Juan Castillo to defensive coordinator will be the toughest test yet of his ability to delegate defensive responsibilities to his defensive coordinator, but it's no coincidence that the move happened in conjunction with the hiring of venerable defensive line coach Jim Washburn, who will surely help ease Castillo's transition. Hiring Washburn for the defensive line and Howard Mudd for the offensive line shows that Reid is a guy who's not afraid to let others handle part of his vast responsibilities if they're qualified to do so.