NFL Nation:

Best of the NFL summer 2011 AFC players
June, 28, 2011
6/28/11
2:00
PM ET
»
Best of NFC
:
East
|
West
|
North
|
South
»
AFC
:
East
|
West
|
North
|
South
As part of Best of the NFL Week on ESPN.com, here are five bests for the AFC North:
Best QB arm:
This may surprise you, but
Baltimore Ravens
quarterback
Joe Flacco
has the strongest arm in the division -- and one of the strongest in the NFL. Flacco is lean, but the ball flies out of his hand and he throws one of the prettiest deep balls you will ever see. The problem is Baltimore hasn't taken advantage of "Bazooka" Joe's cannon arm much since his rookie year.
Pittsburgh Steelers
quarterback
Ben Roethlisberger
also has a strong arm and would be a close second.
Cincinnati Bengals
quarterback
Carson Palmer
's arm hasn't been the same since his severe elbow injury in 2008, and
Colt McCoy
of the
Cleveland Browns
has the
weakest arm in the division.
Best QB in the clutch:
Roethlisberger
takes this award
in the AFC North running away. He is strong in the clutch, and other quarterbacks in the division remain unproven in that area. Roethlisberger is 10-3 in the playoffs, including a 2-1 mark in Super Bowls. Many in Steeler Nation were surprised when Roethlisberger couldn't come up with the game-winning drive in Super Bowl XLV against the
Green Bay Packers
, because he'd done it so many times before in crucial moments.
[+] Enlarge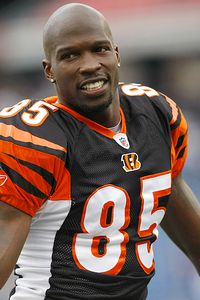 David Butler II/US PresswireBengals wide receiver Chad Ochocinco's unique world view often manifests itself on Twitter.
Best tweeter:
Is there really any debate? Cincinnati Bengals
Chad Ochocinco
is not only the best tweeter in the division, but he's the best tweeter in the NFL and possibly among all pro athletes. Ochocinco, who always enjoyed the spotlight and attention, was one of the first players to use social media as a tool to increase his profile. He has
more than two million Twitter followers
and doesn't hold back. His tweets range from sports to relationships to bashing his head coach. Most of his views are entertaining.
Best pregame orator:
Ravens middle linebacker
Ray Lewis
isn't just famous for consistently playing at a Pro Bowl level during the game. Lewis also gained fame for his speeches to motivate his teammates before the game. Lewis is a natural leader and as focused and intense as they come. There is no doubt the Ravens are Lewis' team, and his pregame entrances at M&T Bank Stadium have become a staple in Baltimore.
Best special-teams wrecking ball:
Although last year wasn't a good indication, Cleveland Browns receiver and special-teams ace
Josh Cribbs
is a terror in the third phase of the game. He's one of the NFL's top kick returners and also very tough to block on coverage teams. Cribbs had a toe injury that neutralized many of his strengths last year, but in previous seasons he was Cleveland's best overall football player. There was speculation at one point that Cribbs could play some safety in spot duty, because he's one of the team's surest tacklers, despite being a receiver.
June, 28, 2011
6/28/11
2:00
PM ET
»
Best of NFC
:
East
|
West
|
North
|
South
»
AFC
:
East
|
West
|
North
|
South
As part of the Best of the NFL Week on ESPN.com, here are five bests for the AFC East:
Best hands, Davone Bess:
Just to get a rise out of everybody, I could have gone with
New York Jets
receiver
Braylon Edwards
here. After all, he dropped only one ball last season on 98 targets and 53 receptions. But I couldn't bring myself to do it based on his track record. So I'm going with Bess, the
Miami Dolphins
' slot receiver, who drops one on occasion, but that's expected given his volume. The past two seasons, Bess has dropped 10 passes -- but on 233 targets and 155 receptions.
[+] Enlarge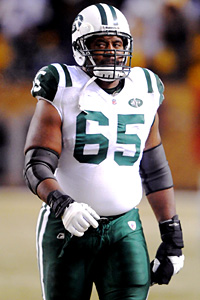 Kirby Lee/US PRESSWIREJets offensive lineman Brandon Moore, a.k.a. Meat.
Best celebrator, Steve Johnson:
The flamboyant receiver endeared himself to
Buffalo Bills
fans with his breakout 2010 season. He caught 82 passes for 1,073 yards and 10 touchdowns. But his signature moment -- well, his
positive
signature moment -- came in Week 11 against the
Cincinnati Bengals
. He caught eight passes for 137 yards and three touchdowns. He further showed up the self-proclaimed "Batman and Robin" duo of
Terrell Owens
and
Chad Ochocinco
. Johnson scored a TD and triumphantly lifted his jersey to reveal a T-shirt with a line from the Joker: "Why so serious?"
Best trash talker, Channing Crowder:
Not many players would get into a verbal sparring match with an NFL coach, but the Dolphins linebacker gleefully engaged Rex Ryan two summers ago. Crowder's diatribes are enthralling, although sometimes dotted with malapropisms. After he accused
Baltimore Ravens
fullback
Le'Ron McClain
of spitting in his face, Crowder went on a rant that invoked Anne Frank when trying to mock officials for being blind. He meant Helen Keller.
Best nickname, Meat:
That's what the Jets call right guard
Brandon Moore
. Why is it the best nickname? I don't know. Because it makes me laugh when I hear it, I guess. Maybe because it reminds me of the dialogue between Crash Davis and Nuke LaLoosh in "Bull Durham."
Best intimidator, Darrelle Revis:
He's not a snarling, frothing menace on the other side of scrimmage. But when it comes to eliminating top receivers, Revis is the best in the business -- and the opposition knows it. He causes dread in coaches, quarterbacks and receivers the week they play the Jets.
June, 28, 2011
6/28/11
2:00
PM ET
»
Best of NFC
:
East
|
West
|
North
|
South
»
AFC
:
East
|
West
|
North
|
South
As part of Best of the NFL Week on ESPN.com, here are five bests for the AFC South:
Best nickname, "Pot Roast."
Jacksonville defensive tackle
Terrance Knighton
ordered it his rookie year in range of teammate
Clint Ingram
, and Ingram turned it into a nickname that stuck. Knighton's gigantic to the point his weight has been an issue. But he's a warm and funny guy who's embraced the moniker rather than letting it bother him. It will become more widely known if and when he moves from lists of underrated players to lists of guys who are tops at their positions. He may also have the division's best sack dance: he rubs his belly.
[+] Enlarge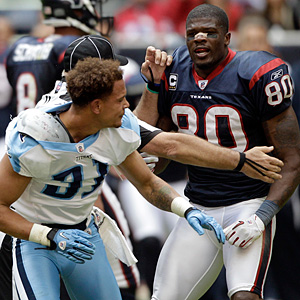 AP Photo/David J. PhillipAndre Johnson (80) and Cortland Finnegan went toe-to-toe last season.
Best leader, Peyton Manning:
No one does more to set a standard that teammates have to follow than Manning. His work ethic borders on ridiculous and his detailed one-on-one sessions with pass-catchers during the offseason pay dividends when games roll around. Young guys on the Colts step into serious expectations and know that if they can't live up to them, they'll be subject to a glare or worse from Manning, who wants everyone to be as prepared as he is and to execute as precisely as he does.
Best individual rivalry, Texans receiver Andre Johnson vs. Titans cornerback Cortland Finnegan:
They had some history before last season's game in Houston when they had a big, well-documented and publicized fight. Finnegan got under the mild-mannered Johnson's skin, provoking him. Johnson won the fight even as the Titans tried to play up and praise Finnegan's restraint. Moving forward, every time the division rivals play, the matchup between one of the league's best receivers and a cornerback who's been a Pro Bowler and All Pro will be a story.
Best teammate, Titans fullback Ahmard Hall:
Hall has a sense of the moment. He knows when to be funny and when to be serious. He's a Marine who served in Kosovo, who made it into the league as a free agent after he wasn't selected in the supplemental draft. The Titans lack leadership, and even though Hall is not on the field for all of the offensive snaps, he provides a follow-me work ethic and seems to get along with everyone in every situation.
Best tweeter, Jacksonville's Austen Lane:
Lane is the lone player in the NFL to appear on the first three versions of ESPN.com's
NFL Twindex
, which rates the quality of recent Twitter activity of players. He's consistently entertaining. "This is not an account...but a lifestyle," reads his Twitter bio. "If you are not into hitting QB's or dropping Twitter Bombs from the skies then this lifestyle is not for you!" As of Monday afternoon, he had only 1,975 followers, which is too few for him to have a chance to get Taylor Swift's attention, something he's joked about wanting. Badly.
June, 28, 2011
6/28/11
2:00
PM ET
»
Best of NFC
:
East
|
West
|
North
|
South
»
AFC
:
East
|
West
|
North
|
South
As part of Best of the NFL Week on ESPN.com, here are five bests for the AFC West:
Best trash talker:
One of the NFL's greatest talkers is San Diego linebacker
Shaun Phillips
. In league circles, Phillips is known for being an underrated pass-rusher. But he can also talk plenty of mess. I know several players who can't stand Phillips' mouth. He has gotten under the skin of many offensive players. He is consistently in offensive linemen's ears, and he had a famous on-field tiff with former Denver quarterback
Jay Cutler
. Then there was a classic pre-game trash-talk fest with former Denver coach Josh McDaniels. Phillips knows how to press buttons.
[+] Enlarge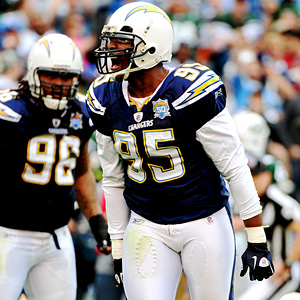 Robert Laberge/Getty ImagesOpposing players can't stand the mouth of San Diego's Shaun Phillips -- the top trash talker in the AFC West.
Best short fuse:
It's got to be San Diego quarterback
Philip Rivers
. A highly religious man and truly a kind heart off the field, Rivers gets fired up on the field. I've received countless emails from fans around the league accusing Rivers of being a "crybaby." He does get upset quickly when things go awry, and he's been known to let whoever is near him -- opposing players, teammates, referees, opposing fans -- know about it. But that's the beauty of Rivers. He's a great competitor who leaves his heart on the field. You know how badly he wants to win just by watching him.
Best individual rivalry:
It has to be San Diego center
Nick Hardwick
versus Oakland defensive lineman
Richard Seymour
. These are two very good players. And they don't like each other. This rivalry began when Seymour was with New England. After the AFC title game in the 2007 season, Hardwick
had this to say
about Seymour: "Richard Seymour is the biggest (expletive) I've ever come across in football," Hardwick said. "They've got 10 good football players on that (defense). Richard Seymour is a dirty, cheap little pompous (expletive)." Fittingly, Seymour's first game as a Raider in 2009 was against Hardwick and the Chargers. Hardwick suffered a serious ankle injury that day. The two teams have met since. There haven't been any major fireworks, but I've seen some pushing and shoving. As the rivalry between the improved Raiders and the Chargers heats up, this rivalry is a delicious side dish.
Best interview:
I feel fortunate to cover the AFC West because there are several great talkers in the division. Even better, many of the division's better players are also some of the division's best talkers. A notebook can get filled fast in an AFC West locker room. Rivers, Seymour,
Nnamdi Asomugha
,
Champ Bailey
,
Brian Dawkins
and
Antonio Gates
are all fabulous interviews. But I'm going to go with Chiefs' Pro Bowl guard
Brian Waters
as the best interview in the division. He's the epitome of being a go-to talker. He's the type of guy who can talk about any aspect of the game and break it down both colorfully and technically. This is one of my cardinal rules: When in Kansas City, stop by Waters' locker. It's a must.
Best intimidator:
One of the reasons Hardwick and Seymour have had problems is that Seymour is an intimidator. He has a reputation for being one of the dirtiest players in the NFL. I don't think Seymour cares. His toughness is one of the reasons Oakland gave up a first-round pick for him. He has given Oakland's defense a nasty demeanor it was lacking. He's been kicked out of games for his rough play. That, of course, isn't what the Raiders want from Seymour. They want him on the field. But the idea that Seymour may do something has to get into the heads of opposing teams, and that's a step toward a victory for Oakland.
NFL SCOREBOARD
Thursday, 10/2
Sunday, 10/5
Monday, 10/6