NFL Nation:

Best of the NFL summer 2011 AFC teams
June, 30, 2011
6/30/11
1:00
PM ET
»
Best of NFC
:
East
|
West
|
North
|
South
»
AFC
:
East
|
West
|
North
|
South
As part of Best of the NFL Week on ESPN.com, here are five bests for the AFC East:
Best tailgating, Ralph Wilson Stadium:
The crowd outside Sun Life Stadium provides the best scenery for male fans, but that's not what we're breaking down here. I know people who have no intention of walking through the turnstile for
Buffalo Bills
games but show up to tailgate with their friends in the same lot spaces they've occupied for years. The festivities start early and last all day.
[+] Enlarge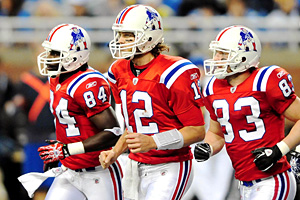 Andrew Weber/US PRESSWIREWith the Bills out of the picture this season, the Patriots have the division's top throwback.
Best mascot, Pat Patriot:
Slim pickings here. The
Miami Dolphins
have T.D. the Dolphin. The Bills have Billy Buffalo. The
New York Jets
have, uh, Fireman Ed, I guess? None of them is inspiring. But at least Pat Patriot is the team's classic helmet character come to life. And that leads us to ...
Best throwback uniforms, New England Patriots:
In past years, I would select the Bills and their standing red buffalo on the white helmet -- such a clean and classic look. But the Bills announced last week that they wouldn't use throwbacks in 2011 because they want to wear their new uniforms every game. The Patriots' retro duds are a close second in my book anyway. So they leapfrog to the front. I would appreciate seeing the green Jets' helmets for a game or two, though.
Best celebrity fans, Dolphins limited partners:
The Dolphins have a star-studded board room: Marc Anthony, Venus and Serena Williams, Fergie and Gloria Estefan. Jimmy Buffett couldn't get as involved because he has casinos in his business portfolio, but he was behind Land Shark Lager sponsoring the stadium in 2009. Other teams might have more famous fans, but none of them has a piece of the club.
Best team facility, New York Jets:
The Jets spent $75 million for their headquarters in Florham Park, N.J. It's by far the nicest stand-alone facility in the division and stacks up favorably around the league. The Patriots are the only AFC East club that makes its home within its home stadium. So I guess I could've subtracted points from the Jets for not having 69,000 seats. But their facility is stand-alone remarkable.
June, 30, 2011
6/30/11
1:00
PM ET
»
Best of NFC
:
East
|
West
|
North
|
South
»
AFC
:
East
|
West
|
North
|
South
As part of Best of the NFL Week on ESPN.com, here are five bests for the AFC South:
[+] Enlarge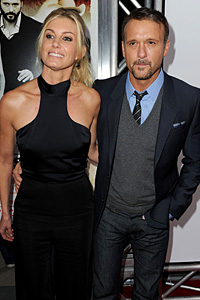 Kevin Winter/Getty ImagesFaith Hill and Tim McGraw are two of the Titans' more famous fans.
Best celebrity fans
-- Tim McGraw and Faith Hill bring a good deal of star power to LP Field and are the headliners of a large country music contingent that counts the
Tennessee Titans
as its hometown team. (There is a pretty good stream of musicians who pass through to take on the national anthem.) Hill picked games in print against staffers from The Tennessean last season and rare was the week when she didn't go with her team despite its struggles.
Best logo
-- We hit this in our
Power Rankings of helmets
. It's hard not to love that Colts horseshoe. First, it's a classic with a lot of history in two great cities. Second, it's a good luck charm so long as it's pointed the right way. It's practically stitched onto the image that comes into my head when I think of Johnny Unitas and
Peyton Manning
. Given the divisional competition -- three cookie-cutter "modern" NFL Properties designs (OK, the Texans' isn't too bad), this is a runaway.
Best tailgating
-- It's a Houston claim to fame. I get steady invitations to stop by but have always resisted, because it's not part of a reporter's pregame routine. Perhaps my boss will let me alter a game day to test things out for myself. It's a venue where cars line up well before the gates open and where there were huge complaints from non-ticket-holders because of a new rule forbidding them from taking up coveted parking lot space for pregame partying.
Best shot at HOF, non-QB
-- Colts defensive end
Dwight Freeney
is closer to the end of his career than
Andre Johnson
, so he gets the vote here. He's 31 but remains a consistent force who's a threat on every play. Offensive coordinators, left tackles and quarterbacks have to worry about him all the time, and game plans are built around slowing him. A high percentage of his sacks come with forced fumbles. With a few more good sack totals, his numbers will be at the right level to earn induction.
Best mascot
-- Much to rival T-Rac's chagrin in Nashville, I am going with wise-guy Jaxson De Ville of the Jaguars. Admittedly, it may be because I see him less and absence makes the heart grow fonder. But he's clever and edgy in a way that extends his appeal beyond people whose age is in single digits. He's an athlete who's
bungeed
onto the field and
flipped off a light tower
before rip lining, but his softer side is unafraid to
dance
to Michael Jackson. He's also been on fire and caught a last-second game-winning field goal.
June, 30, 2011
6/30/11
1:00
PM ET
»
Best of NFC
:
East
|
West
|
North
|
South
»
AFC
:
East
|
West
|
North
|
South
As part of Best of the NFL Week on ESPN.com, here are five bests for the AFC West: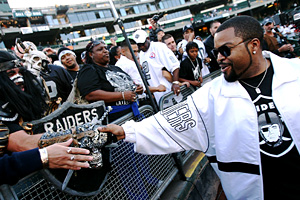 Ezra Shaw/Getty ImagesIce Cube has been a Raiders fan ever since the team moved to Los Angeles in the 1980s.
Best talent evaluation:
We're going with the Chargers here. I like what the Chiefs have done in the past two years. But the truth is, San Diego general manager A.J. Smith has built a consistent winner in the past seven years. The Chargers have talent throughout the roster and are deep at key spots. Smith has a plan and he clearly knows how to build a quality roster.
Best training camp venue:
The Raiders' training camp facility in Napa, Calif., is second to none. This is not simply just the best camp site in the AFC West, but it's the best camp site in the entire NFL. How can it be argued? While many NFL teams hole up in college dorms during training camp, the Raiders stay at a Marriott resort in the heart of wine country. Many players around the league need to rent bikes to get around massive college campuses to go to the cafeteria, training room, practice field, dorms and meeting rooms. Everything is centrally located at this spot. It's the only private camp in the NFL, and it's first class all the way.
Best coaching staff:
I really like the Chiefs' staff. There is a reason why this young team came together last season, went 10-6 and won the AFC West title after winning a total of 10 games in the three previous seasons. Kansas City head coach Todd Haley often praises his staff, and he knows how strong it is. This is a staff that relies heavily on teaching and communication. It has two former NFL head coaches on the staff in defensive coordinator Romeo Crennel and new quarterbacks coach Jim Zorn. Offensive assistants Bill Muir and Maurice Carthon are also top-notch coaches.
Best celebrity fan:
When you think about Ice Cube, the Raiders have to come to mind. One of the reasons is that he is often wearing a Raiders cap when he is out in public. Ice Cube grew up in Los Angeles and became a Raiders fan when the team moved to L.A. in the early 1980s. Ice Cube, a renowned rapper/actor/director/producer, has remained a die-hard Raiders fan since the team moved back to Oakland in 1995. Ice Cube directed an ESPN 30 for 30 film "Straight Outta L.A." on the team, and he is often on the sideline during Oakland games. He has also been known to tweet his thoughts on the Raiders (and the officiating) during games. There are lot celebrities who show up to games, but Ice Cube's loyalty to the Raiders runs deep.
Best tradition:
First off, this is a tradition-rich division. But I have to go with the
Oakland Raiders
. How can that be disputed? The Raiders are one of the most traditional teams in all of sports. Everyone equates the colors Silver and Black with the Raiders. There's Al Davis, who has been with the franchise for 48 years. There are all the great Hall of Fame players, there were great battles with Pittsburgh in the heyday of the 1970s. There's the three Super Bowl titles. You think of the AFC West, and you think of the Raiders.
June, 30, 2011
6/30/11
1:00
PM ET
»
Best of NFC
:
East
|
West
|
North
|
South
»
AFC
:
East
|
West
|
North
|
South
As part of Best of the NFL Week on ESPN.com, here are five bests for the AFC North:
[+] Enlarge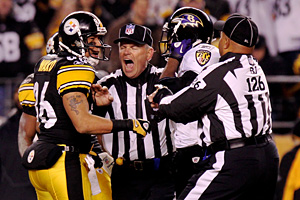 Nick Laham/Getty ImagesThe Ravens and Steelers have the best rivalry in the division and one of the best in the NFL.
Best rivalry:
The
Pittsburgh Steelers
and
Baltimore Ravens
are finally getting their due following a series of classic games the past three years. The rivalry recently included a pair of great playoff matchups following the 2008 and 2010 seasons -- both won by Pittsburgh. The Steelers have had the upper hand in this rivalry recently. Pittsburgh starting quarterback
Ben Roethlisberger
hasn't lost to the Ravens since 2006. But that
hasn't stopped
both teams from
trash-talking
this offseason. The Steelers and Ravens will play in Baltimore in Week 1.
Best QB controversy:
Few teams have a bigger quarterback controversy on their hands than the
Cincinnati Bengals
. Franchise player
Carson Palmer
refuses to play for the team and says he
wants to be traded or will retire.
On the other end, Bengals owner Mike Brown is calling Palmer's bluff and insists he
won't trade the quarterback
. This has been a major-league stare-down this offseason, and so far neither side has blinked. I don't expect either to back down any time soon. But we will have a lot more clarity on the situation once a new collective bargaining agreement is reached.
Best team facility:
"The Castle" in Owings Mills, Md., is impressive. It's the best team facility in the division and one of the best in the league. The Ravens have beautiful outdoor practice fields and a huge fieldhouse that is top notch. The team spared no expense. Pittsburgh's complex is second and the
Cleveland Browns
' training facility in Berea, Ohio, is third. Last is the Bengals, who practice at their stadium and are behind the times compared with most NFL teams. Cincinnati doesn't havean indoor practice facility, which has been a point of contention between ownership and Bengals head coach Marvin Lewis.
Best tailgating:
Although I don't tailgate, I do walk and drive by all the AFC North tailgates multiple times during the season. From the looks of it, I would rate Baltimore as the best pregame tailgate. The atmosphere is always energetic and the food smells great. I would be lying if I didn't say I thought about stopping by a few times and grabbing a bite to eat before the game.
Best fan base:
Steeler Nation is everywhere and is one of the top fan bases in the country in any sport. They pack Heinz Field every week during football season, and there's a long waiting list for tickets. Steelers fans also travel extremely well and often take over opposing stadiums. The team has rewarded these loyal fans with an NFL-high six Super Bowl championships. It's a two-way lovefest between the team and its fan base that few pro teams can match.
NFL SCOREBOARD
Thursday, 11/20
Sunday, 11/23
Monday, 11/24
WEEKLY LEADERS