NFL Nation:

Best of the NFL summer 2011 NFC coaches
June, 29, 2011
6/29/11
2:00
PM ET
»
Best of NFC
:
East
|
West
|
North
|
South
»
AFC
:
East
|
West
|
North
|
South
As part of Best of the NFL Week on ESPN.com, here are five bests for the NFC South:
Best delegator: Mike Smith.
The Atlanta head coach is not an ego-driven guy. He has a great defensive background and easily could run this team's defense as some other coaches handle play-calling duties on that side of the ball. Smith certainly has some input on the defense, but he lets defensive coordinator Brian VanGorder run the show. Given his defensive background, Smith felt it was important to hire a strong offensive coordinator when he first arrived. He went out and got a former head coach in Mike Mularkey, who has done a masterful job of developing
Matt Ryan
.
[+] Enlarge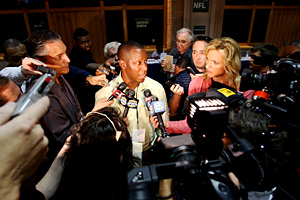 Matthew Emmons/US PRESSWIRETampa Bay coach Raheem Morris is a favorite among reporters.
Best postgame interview: Raheem Morris.
The Bucs' head coach is animated and doesn't hold much back. There are some in the organization who wish Morris would throttle it back a bit. But, from a media standpoint, there's not another NFC South coach who is nearly as good a quote as Morris. There aren't too many coaches around the rest of the NFL who are in his league.
Best at telling it like it is: Ron Rivera
. Fans and media are still getting to know the new Carolina coach, but, so far, he's come across as a very straight shooter. Unlike predecessor John Fox, Rivera actually answers questions. He's not the dynamic quote that Morris is, but he doesn't follow Fox's lead and turn interview sessions into dodgeball games.
Best X's and O's: Sean Payton
. If you had to take one NFC South coach to win one game, Payton is the guy. If you expanded the field to the entire NFL, he still might be the guy. There's not a coach and quarterback more on the same page than Payton and
Drew Brees
, and that's why the Saints have become a consistently good team. It also doesn't hurt that Payton went out and got Gregg Williams to handle the defense a couple years ago.
Best motivator:
Payton.
He's done things like hand out baseball bats as a reminder for his team to "bring the wood'' and brought back
Deuce McAllister
as a ceremonial leader during the playoff run at the end of the 2009 season. Payton seems to pay a lot of attention to the mood of his team and knows what buttons to push and when to push them.
June, 29, 2011
6/29/11
2:00
PM ET
»
Best of NFC
:
East
|
West
|
North
|
South
»
AFC
:
East
|
West
|
North
|
South
As part of Best of the NFL Week on ESPN.com, here are five bests for the NFC North:
[+] Enlarge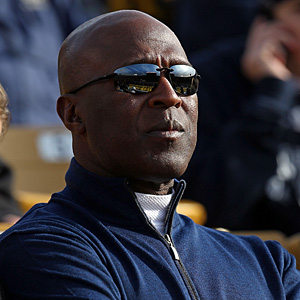 Jonathan Daniel/Getty ImagesBears head coach Lovie Smith always appears calm and cool on the sideline.
Best game face, Lovie Smith:
Chicago Bears
fans have grown frustrated over the years with Smith's placid sideline demeanor. They wonder why Smith isn't more emotional and if he could possibly be as disconnected from the game action as he appears to be. I actually think it's a positive attribute. Smith always projects calm amid the chaos of an NFL sideline. If the head coach is flipping out during the game day roller coaster, what can he expect from players?
Best coach-GM tandem, Mike McCarthy and Ted Thompson:
All successful NFL men have some level of ego about them, but the important factor in the
Green Bay Packers
' leadership is that neither McCarthy nor Thompson appears to have ambitions for the other's job. Thompson stocks the team and McCarthy runs it as he sees fit. The best example of their ability to work together: McCarthy has never, ever expressed any public dissatisfaction with Thompson's reluctance to participate in veteran free agency. Many coaches would be outraged. Thompson, meanwhile, doesn't appear interested in questioning McCarthy's strategic decisions or inserting himself into daily operations of the locker room in any way.
Most excitable, Gunther Cunningham:
The
Detroit Lions
' defensive coordinator has always had a fiery personality. (Don't believe me? Check out his star turn on HBO's Hard Knocks a few years ago when he was with the
Kansas City Chiefs
.) Cunningham is a hoot to watch on the sideline, often literally spitting out his words and leaving little left to the imagination. One of Lions coach Jim Schwartz's primary game day tasks is to keep Cunningham below the boiling point.
Best schemer, Dom Capers:
The Packers' defensive coordinator has enjoyed a career renaissance in two years with the Packers. It might be too late to earn him another shot as a head coach, but Capers has re-certified himself as one of the most innovative minds in the game. The Packers seemingly have a different defense for every game, and Capers isn't afraid to reveal a new look at any time. One of many examples: A new zone blitz call in the NFC Championship Game surprised Bears quarterback
Caleb Hanie
and led to nose-tackle
B.J. Raji
's interception return for a touchdown.
Best aura, Leslie Frazier:
The
Minnesota Vikings
' new coach carries himself with an admirable combination of confidence, humility, passion and patience. Mix it all together and the subconscious message is this:
I'm in control.
Make no mistake, that aura is a crucial ingredient of leadership. Frazier is neither overconfident nor nervous. Like any coach, Frazier will have to demonstrate that his initial impression is accurate. He'll also have to prove himself as an administrator and from a global scheme standpoint. But from the start, players will have no question about the authenticity of their leader.
June, 29, 2011
6/29/11
2:00
PM ET
»
Best of NFC
:
East
|
West
|
North
|
South
»
AFC
:
East
|
West
|
North
|
South
As part of Best of the NFL Week on ESPN.com, here are five bests for the NFC West:
Best hair story, Ray Horton:
Seventy-five of 76 coaches in the division sport shortly cropped hair or none at all in their most recently posted mug shots. Horton's braids make him a conspicuous exception. No big deal, right? Easy for us to say. Horton, a former NFL cornerback and longtime secondary coach, worried that his unconventional look might hurt his chances for advancement through the tradition-rich coaching ranks. He thought about cutting off his braids before interviewing with the Cardinals this offseason. But as Dan Bickley of the Arizona Republic
outlined
in April, team president Michael Bidwill encouraged Horton to keep his locks the way they were.
[+] Enlarge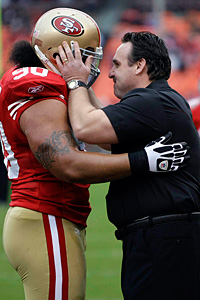 AP Photo/Paul SakumaJim Tomsula is known for having a good relationship with his players.
Best players' coach, Jim Tomsula.
There might not be a position coach in the division more beloved than the leader of the
San Francisco 49ers
' defensive line. Two head coaches, Mike Singletary and Jim Harbaugh, thought highly enough of Tomsula to keep him around. Ownership thought highly enough of Tomsula to name him interim coach for Week 17 last season. Players thought highly enough of Tomsula to win for him that week. Tomsula has brought together and usually gotten good results from a diverse group of linemen featuring
Justin Smith
,
Isaac Sopoaga
,
Aubrayo Franklin
and
Ray McDonald
, among others. Tomsula's
everyman persona
gives him a disarming presence. When the 49ers named him interim coach, Tomsula showed up for his introductory news conference wearing the short-sleeved shirt he had worn the previous day. He had been grinding away at the facility all night and hadn't gotten a chance to change. Tomsula apologized to ownership for his appearance, but it wasn't necessary. As Tomsula
told reporters
that day, "I'm Jim Nobody from Nowhere."
Best ambassador, Pete Carroll:
The Seahawks' second-year head coach has led five coaching philosophy clinics over the past three months, meeting with coaches from various levels in Los Angeles, Seattle and at two universities, TCU and Stanford. "If we don't change you one bit, that's OK," Carroll told attendees in the first of two sessions in Los Angeles, "but if we make you think, if we challenge you to look at what you are doing and what your world is all about in your coaching, and if you decide to accept what we're all about, that's cool, too." Carroll speaks from experience, having questioned and ultimately reinvented his approach after the
New England Patriots
fired him in 2000. Carroll doesn't need whatever benefits flow his way from these clinics. His passion and eagerness to share is admirable.
Best cult following, John Lott:
Cardinals players have sworn by -- and probably sworn at, from time to time -- their super-charged strength and conditioning coach. "He may have
saved my career
," Pro Bowl wide receiver
Larry Fitzgerald
once said. Lott played a significant role in helping head coach Ken Whisenhunt change the Cardinals' culture a few years ago. He pushed ownership to upgrade weight-room facilities in a manner that showed players Lott had pull within the organization. He convinced Fitzgerald and others to cut weight in an effort to improve their quickness, speed and durability. He has held players accountable and gotten them to do the same with teammates. It was significant news in Arizona when the Cardinals re-signed Lott following the 2009 season. Whisenhunt knew the Cardinals couldn't afford to let Lott get away. I don't recall another strength coach in the league generating the same level of public support. Key players have bought in completely. Pro Bowl safety
Adrian Wilson
pointed to
missed time with Lott
as one of the costs of the lockout, suggesting rookies faced a difficult adjustment.
Best sideline stance, Steve Spagnuolo.
There might not be a more intense stance in the game. Spagnuolo leans forward with hands on bent knees, his chin up and eyes focused on the action with palpable intensity. Every coach is tuned into every play of every game, of course, but Spagnuolo's sideline manner sets him apart. He looks like a guy who arrives for work at 3:30 or 4 in the morning (he does) and cannot prepare hard enough. But that forward-leaning stance also says something about Spagnuolo's mindset. The players I've spoken with over the past couple seasons have said Spagnuolo rarely, if ever, revisits something negative from the past. He turns the page faster and more completely than other coaches. I think that mindset helped the Rams get through their 1-15 season in 2009 without cracking. I think that mindset helps explain how they beat the
Washington Redskins
last season after two particularly tough defeats to open the season. I think it helps explain how they put together a mostly impressive performance in victory against San Diego after a dismal 44-6 defeat at Detroit that could have rocked them.
June, 29, 2011
6/29/11
2:00
PM ET
»
Best of NFC
:
East
|
West
|
North
|
South
»
AFC
:
East
|
West
|
North
|
South
As part of Best of the NFL Week on ESPN.com, here are five bests for the NFC East:
Best coach-GM tandem, Eagles:
No matter how the responsibilities break down between Andy Reid, Howie Roseman and team president Joe Banner, it's working in Philadelphia. Reid gets control over all football decisions, but the team they've put together there is clearly in sync and effective. They've had good drafts and made smart personnel decisions as they've transitioned from older players to younger ones, and Reid has coached the on-field product to the top of the division each of the past two years. This call came down to the guys in Philly vs. the guys in New York, and Reid and Roseman
have Tom Coughlin and
Jerry Reese
's number right now.
[+] Enlarge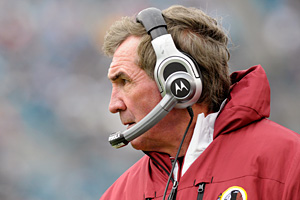 AP Photo/Phelan M. EbenhackRedskins head coach Mike Shanahan has an intimidating sideline presence.
Best game face, Mike Shahanan:
I don't know whether he practiced it in front of a mirror for years, whether it was taught to him by a coaching mentor or whether it just comes naturally. But of the NFC East coaches, none looks more serious, more in control or more intimidating with that headset on than the Redskins' Shanahan does. His angry scowl beats out Coughlin's exasperated fury, though I have to admit I did consider the latter.
Best at telling it like it is, Coughlin
: The video that went viral of him telling his players what people could kiss in the wake of the Giants' 10-win 2010 season speaks for itself. Coughlin is the most likely NFC East coach to just plain light up his team after a disappointing game. He doesn't believe in wasting time or words, and he's not afraid that he's going to hurt someone's feelings if he says in a postgame news conference that the offense or the defense or the special teams weren't any good. That's probably because he's telling those guys the same things, maybe even more directly, to their faces before he goes out and tells anyone else.
Best motivator, Jason Garrett:
First, we have to be fair here, and include everyone. This category seems to fit Garrett based on the difference between the way the Cowboys played under Wade Phillips last season and the way they played after Garrett got the job. He went 5-3 in the final eight games of the season and secured himself a job most people thought he had not shot of retaining when he first got it. It remains to be seen whether he can carry it over into the near and/or distant future, but based on the way Dallas finished the 2010 season, this looks like a winning category for the Cowboys' new head coach.
Best delegator, Reid
: For years, he let Jim Johnson run the defense with complete control because he was smart enough to know Johnson knew it better than he did. He gave Johnson's successor,
Sean McDermott
, free reign as well, though that didn't work out for McDermott. Reid's decision to elevate longtime offensive line coach Juan Castillo to defensive coordinator will be the toughest test yet of his ability to delegate defensive responsibilities to his defensive coordinator, but it's no coincidence that the move happened in conjunction with the hiring of venerable defensive line coach Jim Washburn, who will surely help ease Castillo's transition. Hiring Washburn for the defensive line and Howard Mudd for the offensive line shows that Reid is a guy who's not afraid to let others handle part of his vast responsibilities if they're qualified to do so.
NFL SCOREBOARD
Sunday, 2/2
WEEKLY LEADERS