NFL Nation:

Best of the NFL summer 2011 NFC teams
June, 30, 2011
6/30/11
1:00
PM ET
»
Best of NFC
:
East
|
West
|
North
|
South
»
AFC
:
East
|
West
|
North
|
South
As part of Best of the NFL Week on ESPN.com, here are five bests for the NFC East:
Best rivalry, Eagles-Giants
: Look, the beautiful part of this division is the rivalries -- the fact that every team has such an intense rivalry with every other team in the division. It's what makes it the most intense division in the league and the one that's most fun to discuss and debate on a daily basis. But right now, the best rivalry in the division is Eagles-Giants. The Eagles have managed to win six in a row. The Giants hate it, and willingly admit that it's in their heads. They will open the 2011 season, whenever it does open, determined to stop that streak and beat the team they believe is standing between them and the playoffs. The Eagles will open the season coolly confident that they have the Giants' number. The head-to-head matchups will be the two must-see NFC East games of the year.
[+] Enlarge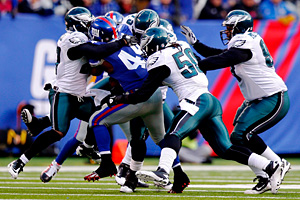 Jim O'Connor/US PRESSWIREThe Eagles have smothered the Giants for six straight victories, which has added intrigue to this rivalry.
Best meddling owner, Jerry Jones
: No offense, Dan Snyder, but Jerry's been on "Entourage." For pure caricature, there's nobody beating Jones in this category. He's the meddling owner right out of central casting. When a Cowboys game ends and the locker room opens to the media, every reporter covering the team goes first to Jones, who stands in the middle of the room and breaks down the game and the state of the team. It's comical. Jones is a larger-than-life figure who clearly loves the role. And when you remember that the successes of the Jimmy Johnson era occurred under Jones' ownership, it's not as if his meddling has been all bad, either.
Best non-meddling owner, John Mara
: I was tempted to give this to Philadelphia's Jeffrey Lurie, who gets less attention than any other owner in the division while letting his football people run the team with great success. But the attention Mara gets is all the right kind of attention. His angry review of the 2009 collapse was measured but stern. His backing of Tom Coughlin after 2010's near miss was appropriately in line with the class and stability for which the organization stands. Mara always strikes the right tone, and he's a worthy successor to the family members who preceded him at the helm of one of the league's signature franchises.
Best training camp venue, Eagles
: The bucolic setting offered by the campus of Lehigh University in Bethlehem, Pa., is the most training-campy site in the division. It's far more peaceful than the Cowboys' traveling training camp show. It's homier and more comfortable than the more urban campus of the University of Albany, where the Giants train. And it's just plain nicer than the Redskins' training camp site, which is, sadly, the same as their in-season practice facility. Lehigh offers the Eagles an annual chance to escape for a few weeks to a place where they can bond as a team and hear themselves think -- everything training camp should be.
Best fan base, Redskins:
OK, I wasn't going to go here because there were like 20 other categories to choose from and, really, what's to be gained by picking this one? But I have lived among Eagles fans. I have lived among Giants fans. I have ample experience with a wide variety of people who are passionate about their teams -- Red Sox fans in Boston, Chiefs fans in Kansas City, Red Wings fans in Detroit, to name a few. And I have never, ever, ever encountered a group of people more intensely invested in the fortunes of their favorite team than the fans of the
Washington Redskins
. It's a tough time to be a Redskins fan right now, but it's easy to see that that passion hasn't waned, and will roar back to vocal life as soon as the team turns things around. There haven't been too many things in this blog about which Redskins fans can feel good about lately, so I thought you guys deserved this.
June, 30, 2011
6/30/11
1:00
PM ET
»
Best of NFC
:
East
|
West
|
North
|
South
»
AFC
:
East
|
West
|
North
|
South
As part of Best of the NFL Week on ESPN.com, here are five bests for the NFC West:
[+] Enlarge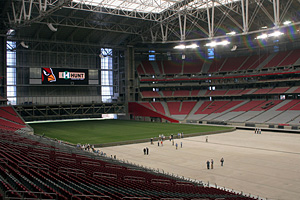 AP Photo/Roy DabnerThe Arizona Cardinals boast having the first fully retractable field in the country.
Best stadium innovation:
I'm all for downtown stadiums with open roofs and cityscape views. That wasn't practical in Arizona, where temperatures exceed even
Kurt Warner
's sizzling playoff passer rating. The Cardinals made the most of their climatic predicament by going with a retractable roof and, remarkably, what they hail as the first fully retractable
field
in the country. The natural-grass surface spends about 150 days each year basking in the Arizona sunshine, requiring only about an hour to slide back inside on a massive tray weighing 17 million pounds (the rough equivalent of 47,200 Deuce Lutuis). Cardinals players get to escape the heat on game days while playing on a natural-grass surface that ranks among the very best in biannual player surveys.
Best alumni assimilation:
This one isn't close. Keena Turner is the 49ers' vice president of football affairs. Guy McIntyre serves as director of alumni. Jesse Sapolu, Steve Bono and Eric Wright are alumni coordinators. Dwight Clark is a business consultant. Team president Jed York grew up around the team during its 1980s glory days. He was a fan first and it shows in how eagerly the 49ers embrace their past. The other NFC West teams also employ former players, but not to the same degree. Retired Rams great Jack Youngblood has even accused that organization of failing to adequately embrace its alumni.
Best team facility:
Few team headquarters in any sport can compete with the $75 million facility Seahawks owner Paul Allen constructed on Lake Washington south of Seattle. The practice fields overlook the water, with swank homes staring back from the opposite shore. Giant doors slide up for an open-air experience in the players' weight room, offering views of the practice field and, nearby, the water. The team has flown in free agents via seaplane, docking right at the facility. Square footage is right around 200,000 -- second-highest in the NFL,
according to the team
-- and includes an indoor practice facility adjacent to the locker room. No other facility in the division comes close.
Best billionaire owner:
Allen has the clear edge for now based on the Seahawks' success over the past decade, but Stan Kroenke's prospects deserve our attention. Kroenke has proven himself as a capable owner in other sports. He has also engaged his fellow NFL owners in ways Allen simply refuses to do. That gives Kroenke the ability to make the Rams more relevant at the league level. Seattle's profile has suffered with Mike Holmgren and Tod Leiweke leaving the organization in recent years.
Best training camp venue:
The Seahawks have it nice on Lake Washington, but there's something special about going away to camp if the venue is right. Northern Arizona University fits the profile for the Cardinals. It's far enough from Phoenix to escape the blistering heat, but close enough for fans to turn out in large numbers. The high-desert scenery and nearly 7,000-foot elevation combine to set apart NAU from other camp venues in the division and the league overall.
June, 30, 2011
6/30/11
1:00
PM ET
»
Best of NFC
:
East
|
West
|
North
|
South
»
AFC
:
East
|
West
|
North
|
South
As part of Best of the NFL Week on ESPN.com, here are five bests for the NFC South:
Best training camp venue, Wofford College in Spartanburg, S.C.
,: That's where the
Carolina Panthers
train, and they're the only division team right now that goes away for training camp. There's been a league-wide trend of moving camps back to regular-season facilities. But if you're going to go away, this might be the best setup in the NFL. Spartanburg itself isn't all that picturesque or glamorous. But the Wofford campus is gorgeous, particularly the football facilities. In case you've forgotten, team owner Jerry Richardson played football for Wofford -- and, later, the Baltimore Colts, before starting to make his fortune with his first Hardee's restaurant in Spartanburg -- and he paid for those facilities.
[+] Enlarge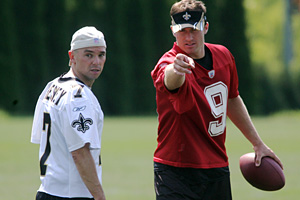 AP Photo/Tony TribbleKenny Chesney, pictured here with Drew Brees, has been known to show up at Saints practice.
Best coaching staff, Falcons:
Head coach Mike Smith's going to be challenged a bit this year because the Falcons lost quarterbacks coach Bill Musgrave to a coordinator job in Minnesota, but they've replaced him with Bob Bratkowski. The rest of the staff is a group of all-stars, highlighted by coordinators Mike Mularkey (offense) and Brian VanGorder (defense). Offensive line coach Paul Boudreau isn't a household name, but he's one of the best in the business. For the past three years, the Falcons have given
Matt Ryan
great protection without having a lot of big names up front.
Best celebrity fan, Kenny Chesney:
He's not just a fan of the
New Orleans Saints
, he played for them. Well, sort of. A few years back the Saints held a press conference to announce they were signing the country singer/wide receiver to a contract. They never really did, but it was coach Sean Payton's way of having fun with one of his best friends. It's not unusual to see Chesney around the Saints. Heck, he's even gone out on the practice field and attempted to catch punts.
Best team facility, One Buccaneer Place:
It's referred to as "One Buccaneer Palace'' by some, and it is a palace on the inside. Also, despite popular belief, it was not paid for with taxpayer money. The Glazer family paid for the facility. The lobby and team meeting room are awesome and the locker room is the nicest in the NFC South. Heck, even the media room is, by far, the nicest in the division. The Falcons' facility gets a strong honorable mention. In some ways, it's just as nice as Tampa Bay's facility, but the media room doesn't even come close.
Best meddling owner, Arthur Blank
: He's not the Cowboys' Jerry Jones or the Redskins' Daniel Snyder, but I think it's accurate to say Blank is hands-on in a healthy way. You'll see him on the sidelines at the end of games, and he sits in on Smith's postgame press conferences, which is pretty unusual for an owner. But I see Blank as more of a guy who cares passionately about his team and likes to keep a close eye on everything. He lets his people do their own thing, but he observes everything. Nothing wrong with that. After all, he owns the team.
June, 30, 2011
6/30/11
1:00
PM ET
»
Best of NFC
:
East
|
West
|
North
|
South
»
AFC
:
East
|
West
|
North
|
South
As part of Best of the NFL Week on ESPN.com, here are six bests for the NFC North:
[+] Enlarge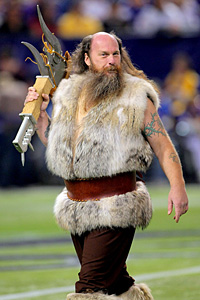 Doug Pensinger/Getty ImagesRagnar is the Minnesota Vikings' game-day mascot.
Best mascot, Ragnar:
Every now and then, a kid feels compelled to tug the beard of the "Santa Claus" sitting atop his chair at the local mall. I imagine the same urge strikes some football fans when they encounter Ragnar, the real-life Viking who serves as the
Minnesota Vikings
' game-day mascot. Joseph Juranitch has a real beard and has his own
Viking-style life history to share
. You might be surprised that he was born in the middle of Packers territory (Milwaukee), but you probably wouldn't be shocked to know he claims to hold the world record for shaving a beard with an axe (eight minutes, 43 seconds).
Best team facility, Allen Park:
It might be cool to show up for work every week at Lambeau Field, but the
Detroit Lions
' Allen Park facility is a
sparkling and first-class building
with most every amenity imaginable. (And I'm not just saying that because the press room includes a stocked kitchenette.) Opened in 2002 at the price of $36 million, it is smartly organized and features a cool two-story hallway that separates the locker room from the weight room. For those interested, it was also ahead of its time in terms of renewable resources, including bamboo floors in the lobby and rubber floors elsewhere.
Best throwback uniforms to hate, Packers:
Throwback jerseys generally get the benefit of the doubt, but I don't think I'm alone in hoping that the Packers never, ever, never, ever, never wear the
1929 uniforms
they threw on for last season's game against the
San Francisco 49ers
. Brown pants, a different shade of brown helmets, along with blue jerseys and numbers centered in a circle on the front aren't my idea of a good time. Occasionally, progress is a good thing.
Best non-meddling owner:
I've been critical of Vikings owner Zygi Wilf's
communication skills
, but I would have to imagine he's among the top five owners in the NFL to work for. Since buying the team in 2005, Wilf has given his football people almost everything they've asked him for. He has busted his player payroll budget on a number of occasions, going back to his minority investors to ask for cash infusions, and to my knowledge has never imposed his personal views on a football decision. Wilf is involved but doesn't meddle, the best combination imaginable.
Best training camp site, Green Bay Packers:
Most people imagine ideal NFL training camps in a small college town away from the hustle and bustle of the team's big-city roots. The Packers have all that and more at their year-round facility surrounding Lambeau Field. (Players live in dormitories at nearby St. Norbert College.) Players face a long walk from the locker room to their practice field, so the tradition of kids lending out their bicycles and carrying helmets lives on. The ensuing scramble is one of the NFL's most endearing training camp scenes. The Packers have upgraded their facility to include bleachers and concessions, eliminating the need for fans to stand on a sidewalk outside a chain-link fence, but the Packers' training camp remains the most unique of experiences.
Best rivalry, Packers-Bears:
A few years ago, I got in trouble for suggesting that the Packers-Vikings rivalry had surpassed Packers-Bears in intensity in recent years. I still think there was more animosity between the actual teams themselves during the Mike Tice/Brad Childress and Mike Sherman/Mike McCarthy eras. But from a fan standpoint, which is really all that matters, there is no substituting Packers-Bears. We found that out last January in the weeks leading up to
the Epicenter of Humanity
, a.k.a. the NFC Championship Game.
NFL SCOREBOARD
Thursday, 11/20
Sunday, 11/23
Monday, 11/24
WEEKLY LEADERS