January, 24, 2012
1/24/12
4:00
PM ET
Previewing some of the big decisions facing NFC North teams early in the 2012 offseason:
It's been a while since the
Detroit Lions
have faced the kind of dilemma they have with defensive end
Cliff Avril
, a homegrown talent and pending free agent who is in line for a budget-busting contract.
[+] Enlarge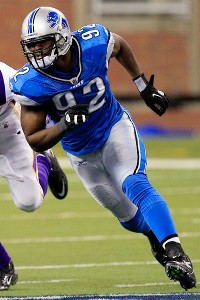 AP Photo/Carlos OsorioA four-year veteran out of Purdue, DE Cliff Avril has played in at least 13 games a season for the Lions.
Edge pass rushers are among the most valuable commodities in the NFL, and in 2011, Avril broke out with 11 sacks and a league-high six forced fumbles. He also scored touchdowns on separate fumble and interception returns, showing the kind of athleticism that could make him a fit in either a 4-3 or 3-4 scheme.
The Lions, of course, are in
a tight cap situation
that will make for what general manager Martin Mayhew has acknowledged will be his most challenging offseason. Four players — receiver
Calvin Johnson
, quarterback
Matthew Stafford
, defensive tackle
Ndamukong Suh
and defensive end
Kyle Vanden Bosch
— are projected to account for half of the $120 million cap in 2012. That leaves the Lions about $60 million in cap space to squeeze in 47 other players, including Avril if they want.
One option is to use the franchise tag, which would require about $10.6 million in cash and cap commitment to Avril for 2012 and leave him unsigned thereafter. A long-term contract isn't likely to count much less against the 2012 cap unless the Lions artificially backload it and create a bigger headache in future seasons.
The starting point for negotiations with Avril would almost certainly be the six-year, $72 million contract the
Carolina Panthers
gave defensive end
Charles Johnson
last season.
Like Avril, Johnson was 25 and emerging from a career year (11.5 sacks) as he entered free agency. The Panthers were motivated by the belief that a division rival, the
Atlanta Falcons
, would try to sign him on the open market, and in the end gave Johnson a deal that guaranteed him $34 million. Of that total, $30 million was in the form of a signing bonus that could be spread out over the life of the contract. His cap number was $10 million in 2011 and will fluctuate between $11 million and $16 million over the next five years.
Either way, the Lions probably would have to devote around $11 million in cap space toward retaining Avril for 2012. Is that a wise investment for a team that has about $20 million in 2012 cap space already devoted to a pair of other defensive linemen? Suh is projected to count for $12.7 million, while Vanden Bosch is around $7.7 million.
On the other hand, the Lions know how difficult it is to find a pass rusher with double-digit sack potential. Since the NFL began recording sacks in 1982, a span of 30 seasons, Avril is
one of eight Lions players to reach the milestone
.
Like anything else in the cap era, the Lions have the wherewithal to keep Avril in 2012. It just depends on how much they're willing to prioritize him, and sacrifice elsewhere, to do it.
January, 23, 2012
1/23/12
11:01
AM ET
Previewing some of the big decisions facing NFC North teams early in the 2012 offseason:
Earlier this month,
Detroit Lions
general manager Martin Mayhew suggested he was entering "probably the most challenging offseason so far" of his tenure. His team
has salary-cap issues
at a time when some
important players are approaching free agency
, and the Lions also have a conundrum at a key position with no clear answer in view.
[+] Enlarge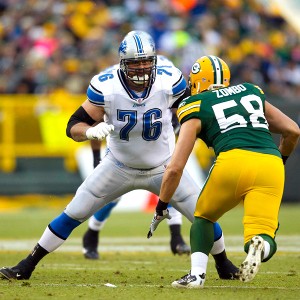 Jeff Hanisch/US PresswireThe Lions have an important decision to make regarding left tackle Jeff Backus.
Veteran left tackle
Jeff Backus
had major surgery Jan. 9 after tearing a biceps muscle late in the Lions' season-ending playoff loss at the
New Orleans Saints
. He is scheduled to be an unrestricted free agent in March, and the Lions don't have an obvious heir apparent to promote.
Backus will turn 35 in September, and the Lions will have to replace him at some point in the next few years. Will the injury, their cap situation and the occasion of his expiring contract accelerate the timetable?
Mayhew said he wants Backus to return
, but it's only fair to point out that general managers always say that at this time of year.
All indications suggest Backus' arm will be healed by the start of training camp. He hasn't missed a game in 11 NFL seasons, and the one player who might qualify as a potential replacement has appeared in only four games in two NFL seasons.
Jason Fox
, a fourth-round draft pick in 2010, has impressed the Lions in between injuries but can hardly be relied on as a starter entering training camp in 2012.
So unless they can grab a promising (and healthy) left tackle in the 2012 draft, the Lions might have no choice but to wait out Backus' rehabilitation and re-sign him as training camp approaches. He won't come cheap, having earned about $6.5 million in 2011, but even a cap-strapped team will have a hard time going cheap at the left tackle position.
The good news is that Backus finished the 2011 season well after a partially torn pectoral muscle seemed to limit him early on.
Pro Football Focus (PFF)
grades each block by NFL offensive linemen and gave Backus its highest grade among left tackles in the NFC North. He allowed seven sacks on the season, but five came in two games during the first half of the season, according to PFF.
The Lions just got franchise quarterback
Matthew Stafford
through the first 16-game season of his career. Chances are they won't risk a shaky situation with Stafford's backside protector anytime soon.
January, 19, 2012
1/19/12
11:45
AM ET
Previewing some of the big decisions facing NFC North teams early in the 2012 offseason:
Ever since the
Green Bay Packers
temporarily shifted him to safety in 2008, the question has followed cornerback
Charles Woodson
: When would the move become permanent? After all, you don't often see players in their mid-30s locking down one of the most difficult positions in the NFL.
[+] Enlarge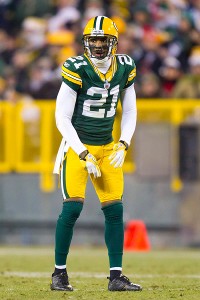 Jeff Hanisch/US PresswireCharles Woodson is expected to play both safety and cornerback for Green Bay this season.
Subsequently, Woodson has received the NFL Defensive Player of the Year Award (2009) and three consecutive All-Pro honors. At the end of his 14th season, at the age of 35, Woodson was arguably the best cornerback on the Packers' roster. It's more difficult to find a cornerback than a safety, but would moving Woodson help make the Packers' defense better overall next season?
The Packers will at least consider that question as they await word on the status of Pro Bowl safety
Nick Collins
, who is two months away from finding out if doctors will clear him to play or recommend retirement because of a serious neck injury suffered in September. If Collins returns, he could team with strong safety
Morgan Burnett
in 2012. If not, Woodson might be the Packers' best option if they want to improve their tackling at the position.
Coach Mike McCarthy termed the discussion "very premature" during a news conference Wednesday but did not rule it out. "We're not making any position changes today," he said.
Collins' replacement,
Charlie Peprah
, didn't play well in Sunday's divisional playoff game to the
New York Giants
, missing a tackle on
Hakeem Nicks
' 66-yard touchdown catch and, like Woodson, failing to break up a Hail Mary pass to Nicks at the end of the first half. The sure-tackling Woodson would presumably be an upgrade over Peprah, but as we've discussed many times, the move doesn't make sense unless the Packers have a credible cornerback to take his place.
A few months ago, it would have been reasonable to think
Tramon Williams
and
Sam Shields
could hold down the two primary cornerback positions moving forward. The Packers also invested a 2011 fourth-round draft pick in cornerback
Davon House
, a potential nickelback with a year of development. But while they each intercepted four passes, neither Williams nor Shields played as well in 2011 as they did in 2010. House, meanwhile, was deactivated for 14 of 16 games.
That makes the Woodson issue complicated. If you're going to have a hole on defense, it makes more sense for it to be at safety than cornerback. But would the Packers be better off with a foursome of Williams, Shields, Woodson and Burnett than Woodson, Williams, Burnett and Peprah?
I think you could make that argument. But in the end, Woodson's status probably will be contingent on a number of outside factors: Collins' health, whether the Packers can find instant reinforcements at safety or cornerback in the draft and whether Williams or Shields can use the offseason to restore themselves to 2010 levels.
NFL SCOREBOARD
Thursday, 10/30
Sunday, 11/2
Monday, 11/3
WEEKLY LEADERS