January, 19, 2011
1/19/11
4:10
PM ET
How much can the potential return of veteran defensive end Aaron Smith help the Steelers' defense?
PITTSBURGH -- Including the playoffs, Smith has missed the past 11 games of the season following triceps surgery. But Smith has a chance to play for the first time in more than two months in Sunday's AFC title game against the
New York Jets
.
[+] Enlarge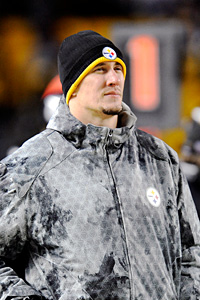 AP Photo/Don WrightAaron Smith, who has been sidelined since Week 7, hopes to play Sunday against the Jets.
Smith is in the process of trying to pull off a "
Rod Woodson
," who injured his knee early in the 1995 season but was kept on the roster and returned for the Super Bowl. Although this injury isn't as severe, Smith had triceps surgery in late October. He's trying to return to help Pittsburgh advance to its third Super Bowl in six years.
How much can Smith contribute? If Smith plays against the Jets, he won't be the starter.
"A snap count is probably going to be part of that discussion," Steelers coach Mike Tomlin said this week. "The guys who have been given the opportunity to replace him, like
Ziggy Hood,
have more than met the standard. They deserve to continue to play, but it will be nice to add that tool to the toolbox."
When healthy, Smith is the prototypical 3-4 defensive end. He's extremely good against the run and also has the ability to fight through double-teams and sack the quarterback on occasion.
The Jets aim to establish the run, so the Steelers will welcome any contribution from Smith. New York was one of two teams to rush for more than 100 total yards against Pittsburgh's defense this season.
For months, it seemed a foregone conclusion that Smith would not play. But this week there seems to be a buzz in Pittsburgh's locker room that it's possible Smith could get playing time.
"No doubt about it, he's a guy who's been here for a long time and we feed off his energy," Steelers captain and linebacker
James Farrior
said. "To have him out there, even if it's just for a few plays, will definitely give our defense a boost."
July, 13, 2010
7/13/10
1:00
PM ET
»
NFC Big Question
:
East
|
West
|
North
|
South
»
AFC
:
East
|
West
|
North
|
South
How will Carolina coach John Fox handle the development of rookie quarterback Jimmy Clausen?
[+] Enlarge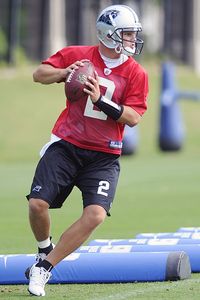 Sam Sharpe/US PresswireJimmy Clausen is just the quarterback the Panthers need, but he might not start right away.
Under normal conditions, Clausen's fall to the second round and into the hands of the Panthers would be considered a blessing. Under the current circumstances, though, his presence puts added pressure on Fox.
Clausen, as a quarterback prospect, is just what the Panthers have been looking for as a replacement for the departed
Jake Delhomme
. He's smart, talented and comes from a big-time school in Notre Dame. But Fox doesn't have the luxury to think long term. Despite his success, Fox is in the final year of his contract and there is a good chance he could leave after the season. Fox must win now, which can be difficult with a rookie quarterback.
Fox has spent the offseason with
Matt Moore
as the starter. Not trying to rush Clausen, Fox has had him working as the third-string quarterback behind Moore and
Hunter Cantwell
. To some degree, having Cantwell ahead of Clausen has slowed his development because Clausen has had fewer reps with the starters. With Moore, Clausen and
Tony Pike
on the roster, Cantwell won't make the 53-man roster unless there is an injury.
Further complicating things is the broken arm suffered by wide receiver
Steve Smith
. None of the quarterbacks gets to work with their go-to wide receiver until the start of the regular season. Clausen has the benefit of knowing the offense. Jeff Davidson, the Panthers' offensive coordinator, worked with former Notre Dame coach Charlie Weis in New England and has installed the same system Clausen ran in college. The conventional thought is that Moore enters the season as a starter, but if teams figure him out and the Panthers lose some games, Clausen could get the nod. Still, the Panthers are mostly a running offense, so it could be easier to start Clausen at the beginning if Fox wanted. It's a tricky situation to sort out this summer.
June, 29, 2010
6/29/10
1:00
PM ET
»
NFC Big Question
:
East
|
West
|
North
|
South
»
AFC
:
East
|
West
|
North
|
South
How do the AFC South safety tandems rank?
[+] Enlarge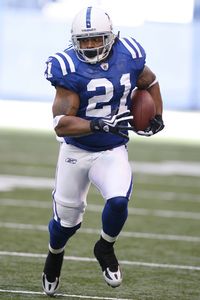 Brian Spurlock/US PresswireBob Sanders helps form the AFC South's most formidable safety tandem.
In a division with
Peyton Manning
and
Matt Schaub
, pass defense is at a premium, and division teams need pass rush and coverage to beat those two quarterbacks.
Beyond the Colts, who are three deep with
Antoine Bethea
,
Bob Sanders
and
Melvin Bullitt
-- there are far too many questions about the safety tandems than teams can afford.
Houston is second-best, though it's hardly cause for celebration. The Texans got excellent production and leadership out of strong safety
Bernard Pollard
when he joined the team and settled things down. But
Eugene Wilson
didn't make it through the season. He seems less than an ideal match for Pollard, but the Texans don't have any good alternatives unless
Troy Nolan
, a draft pick from last year who was hurt, can step up.
Tennessee's
Chris Hope
and
Michael Griffin
were Pro Bowlers two years ago. Last year they were quite shaky. Hope is aging and often seemed indecisive in 2009. He took some blame for not getting on Griffin enough, allowing their friendship to get in the way. Griffin admitted personal stuff was getting in the way last year. Can he compartmentalize better? That may be the biggest question for the defense.
Jacksonville has no real idea if
Reggie Nelson
will bounce back -- he also played some bad corner and nickel last season. Presuming he starts,
Gerald Alexander
is most likely the other guy, but
Sean Considine
and
Anthony Smith
are in the mix. Some scouts say all four are merely "guys," a way of saying the team can do better. Second-year man
Courtney Greene
could earn a chance.
I stack them in that order, but after the Colts, it's moveable ground based on camp and preseason performance. If things don't get better, however, look for Manning and Schaub to shred the deep middle.
June, 8, 2010
6/08/10
1:00
PM ET
»
NFC Big Question
:
East
|
West
|
North
|
South
»
AFC
:
East
|
West
|
North
|
South
With a lot of veterans gone, who will emerge as the Titans' leaders?
It's been out with the old and in with the new for the Titans, which creates a lot of leadership questions for me.
[+] Enlarge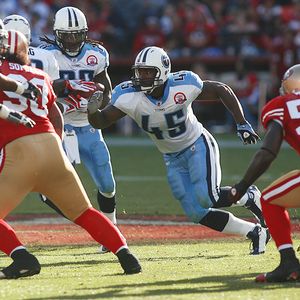 Tom Hauck/Getty ImagesAhmard Hall is a likely candidate to help fill the leadership void in Nashville.
Jeff Fisher has said he's not concerned. He's confident that leadership will emerge from a locker room he likes.
But look at the group that's gone:
Kyle Vanden Bosch
,
Keith Bulluck
,
Kevin Mawae
and
Alge Crumpler
.
That's a ton of veteran leadership. Young players regularly watched and followed those guys, who were proven over time.
There are fewer remaining candidates who are qualified to say "follow me" now.
Vince Young
has said he intends to do more, and the quarterback certainly has to be among the top leaders.
Chris Johnson
's production makes him a leader too, except he's not around because he's upset about his contract.
Ahmard Hall
, the Marine who's the fullback, has an excellent work ethic and can be a spokesperson for the offense.
Bo Scaife
has said he wants to assume Bulluck's mantle. The offensive line, for the first time I can remember, lacks a thoughtful veteran who can speak on all subjects and be a resource to everyone.
Defensively,
Chris Hope
can take on more of a leadership role, but only if his play gets back to standards.
Cortland Finnegan
is a guy people will follow, but he still has some maturing to do. He can get overly fired up in response to criticism. I look for the talkative and spunky linebacker
Gerald McRath
to be a guy who will develop a following.
None of them can force it -- they have to let it come. It's kind of a complicated thing to develop and it has to happen naturally. So leadership will be a big story we monitor with this team this season.
April, 13, 2010
4/13/10
1:06
PM ET
»
NFC Big Question
:
East
|
West
|
North
|
South
»
AFC
:
East
|
West
|
North
|
South
How much significance should we place in recent public optimism surrounding Minnesota's stadium effort?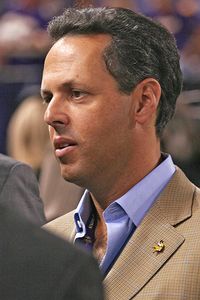 Icon SMIVikings president Mark Wilf recently indicated he was optimistic a new stadium deal would get done.
To rave reviews, the Minnesota Twins formally opened the sparking, $530 million Target Field on Monday. Unfettered public excitement about the structure has turned some attention to whether the Vikings can duplicate the Twins' feat: Secure public financing from an electorate that
opposes tax subsidies
for stadiums, according to multiple polls.
Team president Mark Wilf raised some eyebrows last week by
telling a group of business leaders
that "we feel something will get done this session." And in this
team-produced video
, Vikings vice president Lester Bagley said: "We think we're poised to get in position to resolve" the issue.
Could this really be the case? After more than 10 years of political battles, could the Vikings ride the Twins' momentum to an agreement?
Let's put it this way: If substantive progress has been made, it's happened behind closed doors and with no details emerging into the public debate. There have been reports of private meetings to consider financing proposals that would cover about 70 percent of the $870 million the Vikings say they need to replace the Metrodome, a development that has
outraged stadium opponents
. It would take an awfully creative proposal to generate $600-plus million without raising taxes on some level.
Those tax revenues would funnel to a stadium while state leaders cut costs elsewhere to balance a $994 million state budget shortfall. Can such a controversial event be squeezed into the final four weeks of the 2010 session? Suffice it to say, it would not occur without opposition.
The Vikings' lease expires after the 2011 season, but without viable threat in Los Angeles or elsewhere, it's hard to imagine politicians acting with the urgency team officials are requesting on this issue.

NFL SCOREBOARD
Thursday, 9/18
Sunday, 9/21
Monday, 9/22
WEEKLY LEADERS