December, 15, 2013
12/15/13
4:07
PM ET
INDIANAPOLIS -- A few thoughts on the
Indianapolis Colts
' 25-3
victory
over the
Houston Texans
:
What it means
: The Colts didn't wait until the second half to get going offensively. They started on their first offensive series of the game. The Colts mixed up the run with the pass to go 80 yards on 11 plays on their opening drive. The drive ended with quarterback
Andrew Luck
finding receiver
Griff Whalen
for a 14-yard touchdown. That was the first time the Colts scored a touchdown in the first quarter since doing it against Denver on Oct. 20. Slow starts have been a problem the past seven weeks for the Colts, but they went into the half with a 20-3 lead. They were 5-of-8 on third down in the first half after going 0-for-6 in the first half against Cincinnati on Dec. 8. The one downside about the Colts on offense is that they started the game 5-for-5 on third down but failed to convert on their final 10 attempts.

Whalen steps up
: Whalen has been an afterthought this season after having a strong training camp. He was elevated from the practice squad Saturday because of the injury to fellow receiver
LaVon Brazill
(foot). He took advantage of the opportunity. Whalen, a college teammate of Luck's at Stanford, caught four passes for 45 yards, returned three punts for 67 yards and a kickoff for 22 yards.
Being honored
: Former Colts running backs Eric Dickerson and Marshall Faulk were inducted into the team's Ring of Honor at halftime. Dickerson rushed for 5,194 yards and 32 touchdowns during his five seasons with the Colts. He won the league's rushing title in 1988, when he gained 1,659 yards to go with 14 touchdowns. The Colts traded Dickerson to the Los Angeles Raiders following the 1991 season. Faulk rushed for 5,320 yards and 42 touchdowns to go with 297 receptions and 2,804 yards in his five seasons with the Colts. He was traded to the
St. Louis Rams
after the 1998 season because he thought he deserved a raise. Dickerson and Faulk join Robert Irsay, Bill Brooks, Chris Hinton, Ted Marchibroda, Jim Harbaugh, the 12th Man, Tony Dungy, Marvin Harrison and Edgerrin James in the team's Ring of Honor.
Injuries
: Colts guard
Joe Reitz
left the game in first half after being tested for a concussion. Starting running back
Donald Brown
sat out the second half with a stinger. He ran for 38 yards on five carries. Linebacker
Daniel Adongo
(hamstring) and safety
Sergio Brown
(groin) also left the game.
What's next
: The Colts go on the road to take on the
Kansas City Chiefs
on Sunday. The Colts and Chiefs have a chance to face each other in the playoffs in Indianapolis.
October, 9, 2013
10/09/13
8:00
AM ET
INDIANAPOLIS – Lost in the news of running back
Ahmad Bradshaw
deciding to have season-ending knee surgery Tuesday was that the
Indianapolis Colts
plan to add former running backs Marshall Faulk and Eric Dickerson to the Ring of Honor together during the Dec. 15 game against Houston.

They will be the 10th and 11th members of the Ring of Honor, joining Robert Irsay, Bill Brooks, Edgerrin James, Marvin Harrison, Tony Dungy, Jim Harbaugh, Chris Hinton and Ted Marchibroda and the 12th Man.
Faulk, the No. 2 overall pick in the 1994 draft, rushed for 5,320 yards during his five-year career with the Colts. Dickerson rushed for 5,194 yards during his time with Indianapolis.
The city of Indianapolis also received some good news Tuesday, as it joins Minneapolis and New Orleans as finalists for the 2018 Super Bowl. Indianapolis hosted a successful Super Bowl in 2012.
December, 2, 2010
12/02/10
4:18
PM ET
ORCHARD PARK, N.Y. -- A lot has happened since I started writing this
Stevie Johnson
story more than a week ago.
It looks nothing like what I intended, and yet it's about the same thing.
The
Buffalo Bills
receiver is a natural entertainer in shoulder pads. He comes from a musical family and was known as Stevie Styles at the
University of Kentucky with rousing pregame poetry
. Johnson projects on television. He has that innate ability to relate with an audience. He wants to move people, bring them joy.
Johnson was doing that a week ago. A colorful interview on Jim Rome's radio show included a freestyle rap that made him an immediate smash. Rome brought him back to appear on his television show. Johnson was on ESPN's "First Take." He was doing one-on-one interviews with outlets across the country.
[+] Enlarge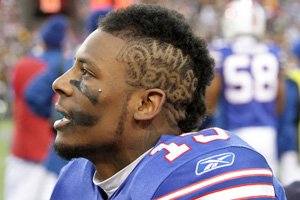 Timothy T. Ludwig/US PresswireIt's been a whirlwind season for Stevie Johnson, who's on pace to break the Bills' single-season record for TD catches.
"I didn't really expect this much attention," Johnson told me last week at One Bills Drive. "I always knew I could produce anywhere as long as I got the opportunity, but how it's blowing up, I didn't see that coming."
His breakout season started the whirlwind. He was a 2008 seventh-round draft choice who had trouble getting on the field until this year, yet he's tied for third in the NFL with nine touchdown catches, two away from the club record. He had a streak of five games with a touchdown.
Johnson scored three touchdowns in a stunning comeback victory over the
Cincinnati Bengals
in Week 11. His playfulness was revealed on his undershirt, lifting his jersey to reveal the hand-scrawled query "Why So Serious?" It was a reference to the Joker, and a tweak of former teammate
Terrell Owens
and
Chad Ochocinco
(aka Batman and Robin).
His stepfather, Andre Lewis, is a noted record producer in the Bay Area. So, using parlance to which he's well attuned, I asked Johnson how he prevents being a one-hit wonder.
"Continue being a student, knowing this isn't it," Johnson told me three days after the wild Bengals victory and four days before a perfectly thrown
pass landed on the end zone turf, not in his hands
for the winning touchdown against the
Pittsburgh Steelers
in Ralph Wilson Stadium.
Johnson's whirlwind turned tornadic. About an hour after he dropped what should've been a 40-yard touchdown in sudden death,
Johnson tweeted his anguish in a message to God
.
The assumption was that he was blaming God for making him drop the pass. Johnson clarified the next day, claiming he merely was making a rhetorical appeal.
Johnson's drop-and-tweet Sunday launched him into the media mainstream in a way he never wanted. Conan O'Brien and Jimmy Kimmel included Johnson jokes in their Monday night monologues. Johnson was a topic on "The View" and celebrity gossip site TMZ.com. He was the lead story on CNN.com's religion page.
I met up with Johnson again Wednesday at his locker stall. I'm no psychologist, but it appeared the incident was behind him. He was smiling again, confident he had adequately explained his poorly calculated tweet -- even though he still couldn't explain the drop.
As he beat Steelers cornerback
Ike Taylor
and looked skyward over his left shoulder, he saw the ball on its way and could tell by the trajectory.
"Money," Johnson said, re-enacting the play in the locker room. He held his hands out for the imaginary ball. "I got this. It's over."
From there, he doesn't know how the ball didn't land into the palms of what Kentucky head coach Joker Phillips (he didn't get the "Why So Serious" reference, by the way) told me "were some of the strongest hands I've ever seen." The tip of the ball somehow glanced off Johnson's right upper arm and fell incomplete.
I wondered if Johnson knew the story of Jackie Smith, the Hall of Fame tight end who dropped a pass in the end zone against the Steelers in Super Bowl XIII. The
Dallas Cowboys
had to kick a field goal and lost by four points.
Johnson said he wasn't familiar with Smith's tale, so I sent Johnson a link to a story about him. What struck Johnson most was that it was Smith's last play in the NFL.
Johnson will have more opportunities, including this year. With five games left, he's only two touchdown receptions from
Bill Brooks
' club record of 11.
"This Johnson boy has emerged," legendary Bills receiver
Andre Reed
said. "He catches the ball well in traffic. He finds seams in defenses. He's very confident about what he's doing and that's No. 1 what you have to have when you go out there. Plus, [Bills quarterback]
Ryan Fitzpatrick
is looking for him. Defenses are going to pay attention to him."
How amazing that a kid who didn't play football until he was a junior in high school and didn't play receiver until he got to college is on pace to score more touchdowns in a season for the Bills than
Eric Moulds
or Reed or
James Lofton
or Frank Lewis or Haven Moses or Elbert Dubenion.
When I mentioned that a week ago, I was more surprised at his reaction than I was at the fact he might break the record. It was almost as though he didn't realize how impressive the record would be.
"So you're saying, like, if I get these two touchdowns, I'll be the single-team leader in touchdowns? When you say Lofton, Reed and Moulds, that's huge. That's unbelievable," Johnson said.
"When I came into the season, I wasn't thinking about scoring 15 or 13 touchdowns or getting a record. I was just trying to fill a vacancy and be the guy next to
Lee Evans
to make plays."
There's a lot of aw-shucks in Johnson, and that's what makes him so easy to root for.
Phillips, the head coach at Kentucky who was Johnson's position coach there, explained how Johnson struggled in his transition from San Francisco to Lexington because he couldn't be with his future wife, Britney. She moved there to be with him, got a job, centered him.
"That says a lot about a young man who's going off to college," Phillips said. "He's a big-time family guy. He loves his daughter, loves his wife. From the day he got here, all he talked about was getting his [future] wife out here with him."
Johnson expressed a similar sentiment Wednesday, noting by the time he walked up to Britney in the kitchen after Sunday's heartbreaking defeat, he was all smiles -- because it was better than crying.
Why so serious?
"After looking at this season," Johnson said, "it's pretty evident: 'OK, Stevie. You probably can make some noise in this league. Just go out there next Sunday and do it again.' You can't be settled. I have to continue to prove to myself I can be with those guys."
November, 28, 2010
11/28/10
8:19
PM ET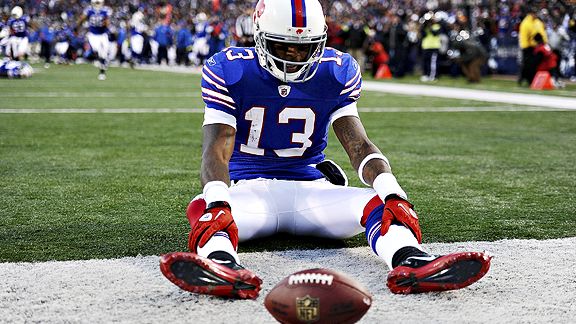 Karl Walter/Getty ImagesSteve Johnson had five dropped passes Sunday, including what would have been the game-winning touchdown during overtime.
ORCHARD PARK, N.Y. -- Tears still were welled in
Steve Johnson
's bloodshot eyes when he stepped down from the podium, walked out of the postgame interview room and exited Ralph Wilson Stadium up the tunnel ramp.
Based on how he was dressed, he should have headed back to the locker room. But Johnson clearly was in another world as he dejectedly trudged toward the parking lot in a sleeveless shirt, basketball shorts, his red
Buffalo Bills
leggings and untied sneakers.
The wind made it feel like 31 degrees and there was snow on the ground. On this day, though, Johnson couldn't catch a cold.
Johnson has been Buffalo's breakout star, a 2008 seventh-round draft pick on pace to break the club's season record for touchdown receptions.
He should have caught his 10th touchdown Sunday. He should have beaten the
Pittsburgh Steelers
in overtime Sunday. He was wide open for an arcing 40-yard bomb. He dropped it in the end zone.
The Steelers kicked a field goal on the next possession to win
19-16
.
A third straight Bills victory caromed off Johnson's fingers. They lost for the third time in sudden death, becoming the fifth team to do so since overtime was instituted in 1974 and just the second over the past 20 seasons.
Johnson was so despondent after the game, he took to Twitter where he questioned a higher power for
allowing him to drop the would-be touchdown
.
"I PRAISE YOU 24/7!!!!!! AND THIS HOW YOU DO ME!!!!! YOU EXPECT ME TO LEARN FROM THIS??? HOW???!!! ILL NEVER FORGET THIS!! EVER!!! THX THO..."
In his postgame news conference before he left the stadium, Johnson's emotions were raw.
"It comes down to one play and you drop the ball," Johnson said. "We'll bounce back, of course. The season's not over yet. We're going to have to bounce back, and we will.
"I'll never get over it. Ever. The Buffalo Bills will get over it, but I won't. You're a receiver. You don't drop the ball. I won't get over it."
The Bills (2-9) are playing terrifically lately and have grown significantly since the season began. They have lost three games by an overtime field goal to teams that are at least tied for first place in their divisions. They are clearly not the NFL's worst team, a distinction that was in question a few weeks ago.
The loss should not be blamed solely on Johnson. His end zone flub came on first down, giving the Bills two more chances to move the chains or get into field goal range for
Rian Lindell
, who had kicked a 49-yarder with two seconds left in regulation time.
After Johnson's end zone drop, the Bills' defense could have made a stop on the next possession. Instead, the Steelers ended the game with a 13-play drive, converting a third-and-8 along the way.
Leodis McKelvin
would have returned the overtime kickoff for a touchdown had he not tripped over teammate
Arthur Moats
in the open field.
But Johnson's failure to latch on will take the spotlight because it could have ended the game right then and there.
"We're playing the Pittsburgh Steelers, and the Buffalo Bills come to play football, and it just so happened today that I had 75 drops in the game," said Johnson, who has become a bit of a media sensation the past couple weeks.
Johnson made a statement a week earlier with three touchdowns in the Bills' amazing comeback victory over the
Cincinnati Bengals
. He had more catches, yards and points than
Terrell Owens
and
Chad Ochocinco
combined. Johnson wore an undershirt that read "Why So Serious" in reference to The Joker, a message to the receiving tandem who call themselves Batman and Robin.
Johnson could not laugh Sunday. His magical season was interrupted.
"You talk about a guy who has been extremely hot, making a ton of plays for them," Steelers safety
Ryan Clark
said.
[+] Enlarge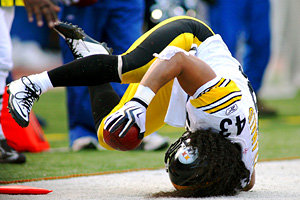 Rick Stewart/Getty ImagesTroy Polamalu intercepted one of Johnson's five dropped passes.
Drops are not an official NFL statistic and are open to interpretation, but CBS Sports had Johnson down for five. Another drop resulted in a
Troy Polamalu
interception near the goal line in the fourth quarter.
Clark explained there was not a blown coverage on the play in overtime. Johnson was wide open because he ran a fabulous route.
Johnson scorched Steelers cornerback
Ike Taylor
so badly up the left sideline that even after Johnson dropped
Ryan Fitzpatrick
's perfect pass, the Bills' sideline celebrated what they thought was their third straight victory.
"Game over," Steelers linebacker
James Farrior
said. "That's what everybody else was thinking. The Buffalo fans, the Buffalo sideline, our sideline. I think everybody thought it was a catch."
Johnson sat stunned in the end zone for several seconds until receiver
David Nelson
pulled him up. Johnson took the end zone gaffe hard in the locker room, too.
"If you're not emotional and hard on yourself, then I would question his passion for the game," Bills safety
George Wilson
said. "But, man, that guy is over there crying his eyes out. He knows how precious those moments are.
"If we want to be one of the elite teams in this league, we have to make the big plays in the big moments. Steve has been making big plays for us all year. That play doesn't make me believe any less in him. He's been beasting out on the field all year."
Johnson did have seven receptions for 68 yards. He leads the Bills with 59 catches for 796 yards and nine touchdowns.
Bill Brooks
holds Buffalo's record with 11 touchdown receptions.
"No matter what, I want him on my team for the rest of my career," said Bills running back
Fred Jackson
, who gained 163 yards from scrimmage and scored the lone Bills touchdown.
"It's uncharacteristic of him, and I know that. I know he's going to make plays for us. I'm not going to define his whole season off of that one play."
November, 22, 2010
11/22/10
12:33
PM ET
Nearly 17 years ago, the
Buffalo Bills
pulled off the greatest comeback in NFL history. That's not just my opinion. The
Pro Football Hall of Fame
and
the NFL Network
have declared what transpired in January 1993 as the most epic rally the league has seen.
The Bills beat the Houston Oilers despite trailing by 32 points at halftime.
The stakes weren't nearly as high and the deficit not quite as deep Sunday. But the Bills pulled off a victory almost as astonishing in Paul Brown Stadium.
The
Cincinnati Bengals
led the Bills by 21 points early in the second quarter and 17 points at halftime. Then the Bills morphed into another team in the second half, scoring 35 unanswered points to turn a blowout defeat into a rout.
Some facts and figures pertaining to another epic Bills comeback:
Elias Sports Bureau notes it was the first time in NFL history a team at least seven games under .500 came back from a 21-point deficit to win on the road.
Also from Elias, the 18-point victory was the largest margin in NFL history by a team that trailed by at least 21 points.
It was the third time in franchise history the Bills won after falling behind by 21 points.
The 24 points Buffalo allowed in the second quarter were the third-most in club history. The 21 points Buffalo scored in the fourth quarter were sixth-most.
For the ninth time in Bills history, they had a 300-yard passer (Ryan Fitzpatrick), 100-yard receiver (Steve Johnson) and a 100-yard running back (Fred Jackson).
For only the fifth time, a Bills quarterback has two four-TD games in one season. Jim Kelly did it three times, Joe Ferguson once.
Buffalo's 49 points were their second-most of the past 19 years.
The last seven times the Bills have scored at least 40 points, it has happened on the road.
Strange stat to me: The Bengals haven't beaten the Bills since 1988.
Another strange stat: Even with all the great receivers Buffalo has had (Andre Reed, James Lofton, Jerry Butler, Eric Moulds), Johnson's three touchdown receptions put him only two behind the club record for most in a season. Bill Brooks had 11 in 1995.
"There's no quit in this team," Fitzpatrick said. "You really saw that in the second half. When you get that first win, then you start learning how to win, and everything starts falling into place. What a great team effort."