August, 10, 2010
8/10/10
12:24
PM ET
FOXBOROUGH, Mass. -- With almost 160 players dotting two practice fields and multiple drills going on simultaneously, it was difficult to figure out what to watch at Tuesday morning's joint practice between the
New England Patriots
and
New Orleans Saints
.
As my eyes darted back and forth, ESPN's Michael Smith and I stood under a tree and discussed what a pleasure it was to take in the scene --
Tom Brady
working one field,
Drew Brees
the other.
Scrimmages such as this should be part of the equation for an 18-game season.
AFC West blogger Bill Williamson and I
debated the 18-game season last month
. I'm all for it.
One of the drawbacks to an 18-game schedule has been the argument over eliminating two preseason games.
Would teams have enough prep time for the regular season? Would they be able to properly evaluate their rosters? Would players have a fair shot to make the cut? Would officials have enough time to get used to enforcing new rules?
The solution to those questions seemed obvious while watching the Patriots and Saints engage in the first of three practices Tuesday and Wednesday outside Gillette Stadium.
They competed at what's called a "team pace," not quite all-out, but lively. There's no tackling, but plenty of hitting and an obvious spirit of competition. They competed in individual drills, seven-on-seven, 11-on-11 and in special teams.
"What's pretty neat about this deal is you're not really sure what they're going to," Patriots quarterbacks coach Bill O'Brien said. "It's the preseason. They're not really sure what we're going to do. It gives us, as coaches, a good chance to [watch film] and come back out this afternoon to see if we can make some adjustments."
Joint scrimmages would need to be overseen and scheduled by the league to maintain a level playing field.
As of now, they're done at the clubs' expense. If that were to continue, then organizations such as the Patriots,
Dallas Cowboys
or
Washington Redskins
would have a colossal advantage over the
Buffalo Bills
,
Jacksonville Jaguars
or
St. Louis Rams
.
The atmosphere was great for the fans who attended. They were able to see two teams in an intimate setting, take pictures and get autographs.
Joint workouts get teams ready for the season, give back to the fans and are great for the game.
July, 2, 2010
7/02/10
5:42
PM ET
Tom Brady
rarely had been more surgical. To the
Jacksonville Jaguars
he looked like Kevorkian.
With the AFC East championship there for the clinching, Brady completed 23 of 26 passes for 267 yards and four touchdowns in a runaway
New England Patriots
victory in Week 16 last year.
[+] Enlarge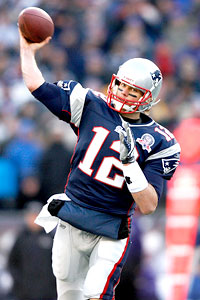 Elsa/Getty ImagesTom Brady still looks to one of his first coaches for guidance.
One of Brady's three incompletions was dropped, another purposely thrown out of bounds. His 149.0 passer rating was the third-highest of his 147-game career behind two games from his record-setting 2007 campaign.
A face in the crowd that chilly, late December afternoon was Tom Martinez. He might not have been grinning as widely as those around him, but nobody could come close to matching his feeling of satisfaction.
"Other than maybe his parents, people don't know what I do," Martinez said of his relationship with Brady. "But he knows."
A week before Brady scalpeled the Jaguars, he summoned Martinez cross-continent from Northern California to Foxborough, Mass. Brady felt battered and a little insecure. His delivery wasn't right. Injuries, sloppy mechanics, whatever it was ... He needed help.
Martinez has been Brady's personal throwing coach since before the three-time Super Bowl champion made his first junior varsity start. They spent the Christmas holiday tinkering in the Dana-Farber Field House. Brady was in a four-week funk that produced three passer ratings below 75.0 and a defeat in the exception.
"He had a broken finger and three broken ribs," Martinez said, ostensibly confirming reports Patriots coach Bill Belichick and Brady himself denied during the season. "He wasn't throwing well.
"It's one of those things where I can see right away what he's doing. He trusts me, so when I tweak him, it's right back to where he wants to be. Then, at that point, it probably is psychological."
Martinez has been working with Brady since 1992, when Tom Brady Sr. brought his 15-year-old son to the College of San Mateo coach for some pointers.
Martinez has been Brady's throwing whisperer ever since.
"What I feel good about is when guys trust me enough to do it, and it actually works," Martinez said. "There's a special relationship that's kind of unsaid between them and me.
"Guys don't say a lot to each other. It's just a masculine thing. On the other hand, you know what you did for them, and they know what you did for them. There's a respect."
Despite having groomed such a star pupil, Martinez hasn't pursued jobs as a quarterbacks coach in the NFL or at a major college. He interviewed for the
Oakland Raiders
opening a few years back but declined the opportunity because of health concerns.
Martinez still resides in Brady's hometown of San Mateo. He conducts youth camps like the one being
staged by JuniorRank Aug. 6
in San Diego for elite sixth- to ninth-graders and works with NFL quarterbacks who seek him out.
He worked with
JaMarcus Russell
before the Raiders drafted the Louisiana State rocket-launcher first overall in 2007. The Raiders released Russell this spring.
Russell has requested Martinez coach him up again
in hopes of getting another shot.
He's tutoring Brady this weekend in the Los Angeles area. They've been meeting once a month throughout the offseason. They're often joined by Patriots receiver
Wes Welker
, who is rehabilitating from major knee surgery with the same specialist who helped Brady come back from his.
The Patriots, of course, have their own quarterbacks coach. Bill O'Brien is a respected member of Belichick's staff. Josh McDaniels was their quarterbacks coach before O'Brien.
So why does Brady still need Martinez after all these years? Martinez explained discussing flaws with a future Hall of Famer's mechanics can be a dicey proposition.
"When a guy gets that good like Brady, the quarterback coach is intimidated because he's not as good as the player," Martinez said. "So they hesitate to say things. Therefore, the player gets sloppy.
"Mechanics should be coached on a daily basis, and I don't know that it is. It's like Tiger Woods' golf swing or Michael Jordan's free throws."
Martinez declines to render opinions on how much Brady's reattached knee impacted last season or whether its stability messed with his confidence. Martinez prefers to concentrate on mechanics alone. He reasoned it doesn't matter why they're off, only that they are.
He will remain on call as long as Brady remains a driven perfectionist.
"He understands what it takes to get to Super Bowls," Martinez said. "A lot of guys don't, so they'll minimize preparation because it might be inconvenient. Where with him, he knows if he's off, that's the difference of whether they keep going or not.
"If he's off a little bit, he's going to be way off. The margin of error is so slim at that level that if you miss by a foot, you're off. Most guys accept that. He doesn't."

NFL SCOREBOARD
Thursday, 8/21
Friday, 8/22
Saturday, 8/23
Sunday, 8/24
WEEKLY LEADERS