NFL Nation:

Bill "Tiger" Johnson
May, 19, 2011
5/19/11
11:57
AM ET
Examining the most crucial event in the history of every team in the division.
A longtime
Cincinnati Bengals
assistant named Bill Walsh was having a hard time convincing NFL teams to hire him as a head coach.
The Bengals had promoted another assistant, Bill "Tiger" Johnson, when Paul Brown retired after the 1975 season. Walsh spent 1976 as offensive coordinator with the
San Diego Chargers
before leaving the NFL entirely for the best head-coaching job he could get. Years later,
Walsh accused Brown
of conspiring to keep him from advancing.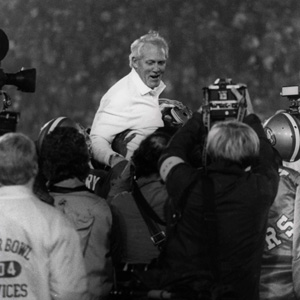 Malcolm Emmons/.US PresswireThe 49ers won three Super Bowls under coach Bill Walsh.
While Walsh was building a winner at Stanford, the sputtering
San Francisco 49ers
were running through four head coaches in less than two calendar years. Young owner Eddie DeBartolo Jr. made Walsh the fifth in 1979.
"Caution should be exercised in proclaiming Bill Walsh the savior of the 49er franchise," Bay Area columnist Ed Jacoubowsky wrote at the time. "But the selection of Walsh as director of the club's football operations probably is the best step the young owner could have taken."
Probably? Let's make that a "definitely" in hindsight.
The organization would never be the same. Offensive football would never be the same. The balance of power in the league itself would shift for a decade, and then some. This was the most crucial event in 49ers history and more significant than any the team's current division rivals have experienced.
That message came through clearly at the SportsNation ballot box, where Walsh's hiring received significantly more votes than any other NFC West Flash Point among the more than 129,000 ballots cast across the division. The 49ers' Flash Points drew more than 44,000 votes, most in the NFC West, and Walsh's hiring commanded better than half of them.
"If the 49ers never hired Bill Walsh, they would not have changed the organizational structure of the team, how players are graded and drafted, how to prepare those players for the season and utilize them on the field of play,"
razzberry80
wrote. "Bill changed EVERYTHING.
Joe Montana
was the best, but without Bill Walsh, Joe is probably not drafted by the 49ers."
Another 49ers fan,
servegmo
, credited Walsh for drawing him in as a fan living in Costa Rica.
"He is the reason people from all over the world started watching football,"
servegmo
wrote. "He put the 49ers in a position where they changed football as a whole -- the offseason preparation, the inclusion of black coaches, the practices, the West Coast offense, how he managed the draft (drafting the best players EVER at quarterback, wide receiver and safety). How many coaches can say that?"
The 49ers won three Super Bowls in 10 seasons under Walsh, who qualified as a football visionary in strategy, philosophy and personnel evaluation. Walsh became famous for scripting plays to separate in-game emotions from the decision-making process. His personnel moves and broader philosophy scripted more lasting success: five Super Bowls, including two won after Walsh retired from the sideline.
With full support from DeBartolo, who had learned from past mistakes, Walsh showed an exceptional eye for talent. Has any coach possessed a superior vision?
"When he drafted
Ronnie Lott
, he thought, 'He's a corner now, but he'll be a longtime All-Pro safety,'" former Walsh assistant and two-time NFL head coach Dennis Green said for this project. "When he drafted
Roger Craig
, he saw him as a fullback now, but a little small for the fullback we really needed, so we would draft a fullback and Craig would make the transition to running back.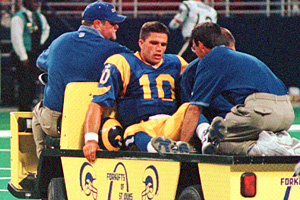 AP Photo/Harold JenkinsTrent Green's knee injury paved the way for Kurt Warner to step in at quarterback.
"Bill did that sort of thing constantly when he thought players could fit in a certain way and be very unique players."
Walsh's hiring commanded 53 percent of votes cast for the 49ers' Flash Points, with "The Catch" ranking second at 37 percent. Of course, there never would have been such a signature play if Walsh hadn't put together a 1979 draft class featuring Montana in the third round and Dwight Clark in the 10th.
RAMS: Trent Green's injury pivotal
The
Kurt Warner
story might never have been told if the San Diego Chargers'
Rodney Harrison
hadn't knocked out Green with a severe knee injury during the 1999 preseason.
Fans voted that moment supreme with 49 percent of more than 28,000 votes. Only
Mike Jones
' Super Bowl-saving tackle against
Kevin Dyson
(36 percent) came close to challenging.
The comments section of the Rams-related item drew barely more than a dozen contributions, however. So much for exit polling.
[+] Enlarge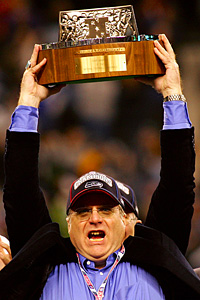 Robert Giroux/Getty ImagesPaul Allen helped bring an NFC title to Seattle.
"The ownership change [in 1972] precipitated everything that has happened to the Rams in 'modern' times,"
patdpenguin
wrote. "The true answer to the question would be the ownership change, but as a lifelong fan, speaking with my heart, I would choose the Trent Green injury. Prior to that, the team had not proven anything, and was spinning its wheels."
SEAHAWKS: Paul Allen trumps all
The Seahawks were planning
a move to Los Angeles
during their darkest days of the 1990s, at one point even conducting free agency from an elementary school parking lot in Southern California.
Allen wasn't much of an NFL fan at the time, but he rallied to the cause of keeping the team in Seattle. Allen led a push to secure a new stadium, contributing $130 million of his own money in exchange for $300 million in public funding, as part of a deal to purchase the team.
Within a couple years, the team had landed Mike Holmgren as coach and general manager. Multiple division titles and the first Super Bowl in franchise history followed.
"I went with Allen buying the team,"
DiLune2
wrote. "It is hard to point to any one of those [other] moments as the one point where it all changed. They were part of a long, ugly slide. Allen buying the team, though, was the one point in time where you can look and say, 'It all changed right there.'"
[+] Enlarge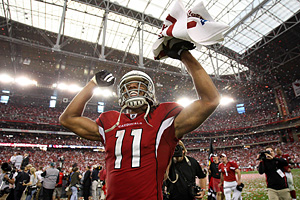 Jed Jacobsohn/Getty Images Larry Fitzgerald caught nine passes for 152 yards and three TDs in the NFC Championship Game.
CARDINALS: Beating Eagles to reach Super Bowl
Sixty-eight percent of more than 26,000 Cardinals voters pointed to the team's victory over Philadelphia in the NFC Championship Game. No option for any team drew a higher percentage.
The runner-up for the Cardinals -- securing a new stadium in 2006 -- lagged with only 16 percent. But some felt strongly it should have prevailed.
"Wow, this is a slam dunk," longtime blog contributor
Leesters
wrote. "The stadium changed this team overnight. It went from the least competitive financial situation in the league to one of the best, in one year. Free agents could be afforded, better coaches, better home-field advantage. If it wasn't for this stadium, there would be no NFC Championship win."

NFL SCOREBOARD
Sunday, 12/28
WEEKLY LEADERS