NFL Nation:

Bills sign Mario Williams
March, 16, 2012
3/16/12
8:44
AM ET
I see both sides of
Mario Williams
.
I see why Buffalo put together a ridiculous package to lure him to Western New York, with $50 million guaranteed. The Bills think he will be a productive player and that a big-time pass-rusher can transform a defense. As a bonus, luring the top defensive free agent sends a message to other players in the league about the Bills as a team and Buffalo as a destination.
[+] Enlarge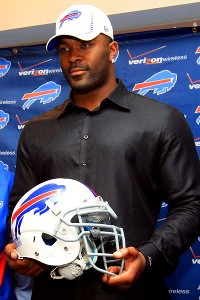 Kevin Hoffman/US PresswireThe Bills are banking on Mario Williams being the pass-rusher to push their defense to an elite level.
I see why the Texans were content to watch him walk away. They have cap issues and while I am sure they made him a nice offer, they couldn't get in the ballpark, financially, with the Bills. Williams has been a force at times, but too often he was fighting through nagging injuries that made him not himself. When he was lost for the season after five games, the defense thrived anyway.
You can make the case that
Jerome Solomon did
in the Houston Chronicle: "Mario Williams has always looked better than he played. He's long and lean, yet muscularly defined, and at 6-6, 290 pounds is faster than men his size are supposed to be."
Solomon also wrote:
Many are upset that Williams recently said becoming the highest paid defensive player in NFL history wasn't important to him.

Then he went out and became the highest paid defensive player in NFL history.

His departure is a shot in the gut to the Texans, who feel they are primed to be a Super Bowl contender. Why wouldn't Williams want to be part of that? I'd estimate he has around 100 million reasons.

The Texans did want to keep Williams – losing one of your more talented players isn't how you improve as a team. Texans general manager Rick Smith tried to talk him into staying, but money talks. While the Bills' bills were shouting, the Texans' dollars, thanks to their salary cap situation, could do little more than whisper.
Odds are the Texans defense isn't as good next season as it was this past one, when so much went right.
But even if the defense takes a step back, it's unlikely to be because Williams is missing.
March, 15, 2012
3/15/12
4:56
PM ET


The
Buffalo Bills
and free-agent pickup
Mario Williams
already have become trash-talk targets. And the first jab comes from -- surprise! -- the AFC East rival
New York Jets
.
New York starting left tackle
D'Brickashaw Ferguson
sent a congratulatory tweet Thursday afternoon to Williams,
who just signed the richest contract
for a defensive player worth $100 million over six years.
"Congrats to Mario, now he has to face us twice a year. I like our odds. Go Jets!"
Ferguson tweeted Thursday.
It was a good-natured jab at Williams, but a jab nonetheless. New York did sweep Buffalo last season.
Ferguson will see plenty of Williams. The Jets and Bills play twice a year.
March, 15, 2012
3/15/12
3:04
PM ET
Perhaps aside from
Peyton Manning
, the
Buffalo Bills
have landed the biggest fish in the 2012 free-agency pool. The Bills have agreed to sign defensive end
Mario Williams
-- a high-impact player at a high-impact position -- to
a contract reported to be worth $100 million over six years
, with an eye-popping $50 million guaranteed. A couple of things to note:
Small-market survival
: Yes, the fact that Williams a) made his first free-agent visit to Buffalo, and b) signed with the Bills is surprising. The Bills are not a team that fits the stereotype of an enticing free-agent destination. However, this is the NFL, not Major League Baseball or the NBA. Competitive balance and parity, fueled by a cap and equally shared billions of television revenue, allow for this to happen. Of course, the first prime free agent in NFL history, Reggie White, went to the Packers.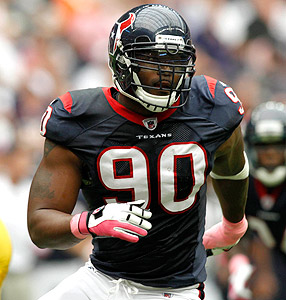 Brett Davis/US PresswireMario Williams' new deal with the Buffalo Bills includes $50 million in guarantees.
Green Bay and Buffalo, places not known to be geographically desirable, can financially attract free agents as easily as bigger markets can. And, with a new CBA in place for the next decade, this trend can continue.
Shown the money
: As to the financial package, Williams will receive $25 million in the first year of the contract and $53 million total in first three years of the deal.
Pay no attention to the $100 million; that is for show. Indeed, the fact that the contract has a sixth year on it has little true value to the Bills or to Williams, as the CBA mandates that bonuses can only be prorated for five years.
However, pay close attention to the reported $50 million guarantee. That is the "real money" of this contract, and it is eye-popping. In fact, it may prove more valuable than the $60 million guarantee given to
Calvin Johnson
by the Lions, as Johnson had two years remaining on his contract for a potential $50 million.
According to an NFL source, half of the $50 million is fully guaranteed for skill and injury while the other $25 million is only guaranteed for injury initially, converting to full skill guarantees later in the contract. The reason for this, the source said, is that the NFL requires teams to fully fund -- meaning placing the money in escrow -- skill guarantees, having no such requirement for injury guarantees. For a small-market team such as Buffalo, Williams and his agents were not going to press on the up-front guarantee.
A $50 million guarantee for Williams would zoom past the highest guarantee for a defensive player, that of Bears defensive end
Julius Peppers
. Peppers received a $42 million guarantee from the Bears in 2010. Williams will now sign a deal that is 19 percent more than that of Peppers, the next-highest number. Pretty impressive.
There will be more analysis when all the numbers are in, but it appears the Bills have shown Williams the money and were successful in not letting him leave Buffalo without a contract. Parity lives.
Andrew Brandt, a former vice president with the Packers, is a contributor to ESPN.com.
March, 15, 2012
3/15/12
2:45
PM ET
The
Buffalo Bills
made
the biggest splash
so far in free agency by signing former
Houston Texans
defensive end
Mario Williams
to a six-year, $100 million contract. Williams is a game-changer who will greatly improve Buffalo's anemic pass rush.

Here are four questions and answers on the signing:
1. Does this make Buffalo a contender?
Too early to say. Free agency just started and the draft is next month. A lot of teams will get better and some will get worse by the end of April. Williams is a big difference-maker. But right now, the
New England Patriots
are still my early pick to win the AFC East. The Williams signing makes perfect sense, but the Bills still have work to do at left tackle, receiver, cornerback and overall depth. Second place in the AFC East is wide open. With the way things are going with the
New York Jets
and
Miami Dolphins
-- unless
Peyton Manning
saves them -- the Bills are making a strong push to end their 13-year playoff drought. But let's see what happens the rest of this offseason.
2. How good is the defense with Williams?
Buffalo's defense was ranked No. 26 last year. So there is a long way to elite status. But Williams solves two of Buffalo's biggest defensive issues: He improves the pass rush and sets the edge against the run. I don't know who Buffalo's other defensive end will be. But with Williams,
Marcell Dareus
and a healthy
Kyle Williams
, it's safe to say the Bills will have one of the league's more dominant defensive lines. Buffalo will not be pushed around this season, and I like the switch to a 4-3 defense. If the Bills make additional improvements at linebacker and corner and everyone stays healthy, they have the potential to be a top-10 or top-12 defense next season.
3. Was $100 million too much?
This question will linger. But here is the blunt truth: Buffalo had no choice. There is a reason it took three days of courting and convincing. The Bills are not a winning franchise and had to talk with their checkbook. The Bills were willing to pay more to get Williams, because if they didn't or all things were equal, Williams probably would have joined another team. The Bills proved that money still talks. Did they overpay? It depends on how well Williams performs the next several years. But Buffalo's goal was to get the best pass-rusher on the market and the team accomplished that goal.
4. How does this impact the draft?
I don't think it impacts Buffalo's draft plans all that much. The Bills can still go in a variety of ways, and adding to the front seven on defense is still a possibility. For example, Williams is going to get a lot of double-teams. Therefore, the Bills will need another threat opposite Williams. Can Buffalo rely on
Shawne Merriman
, who suffered a season-ending Achilles injury last year? Should the Bills draft a player such as South Carolina's
Melvin Ingram
or
Courtney Upshaw
from Alabama at No. 10? The Bills can go in a lot of different ways to either help build the offense with early picks or build around Williams.

NFL SCOREBOARD
Thursday, 9/4
Sunday, 9/7
Monday, 9/8