NFL Nation:

Blaine Gabber
December, 15, 2012
12/15/12
2:55
PM ET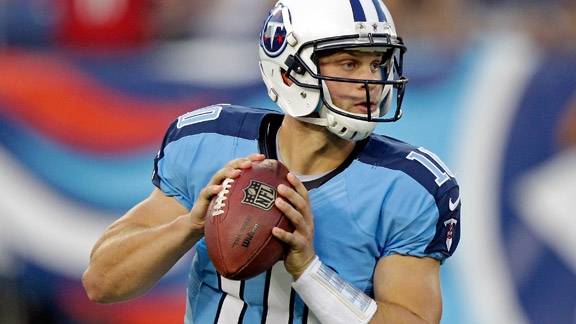 AP Photo/Wade PayneJake Locker has thrown nine TD passes and nine interceptions in his first season as a starter.
NASHVILLE, Tenn. -- The ticking clock for young quarterbacks is louder and louder.
If they allow for it, they can hear it at every turn.
Quick success for
Cam Newton
,
Andy Dalton
,
Andrew Luck
,
Robert Griffin III
and
Russell Wilson
means a large share of pundits, and even players, look at a guy like
Jake Locker
and wonder if he has "it."
It might not be fair to a quarterback with just eight starts, but as Locker prepares to lead the Titans against the Jets at LP Field on Monday night, it's a fact of life.
"Those guys, especially in their first year, are setting the bar, and I think it's normal to make those comparisons," Titans general manager Ruston Webster said. "So Jake is having to live with that. That's OK. In my mind, playing quarterback is a long-term thing, and really when you look back on a player's career and how he improved and how he played, I think that's the most important thing.
"But it's amazing to me how well some of these guys are playing now early in their careers."
Locker is 2-6 in his starts. Andrew Luck, playing in the same division, is on the verge of taking the Colts to the playoffs at 9-4. Those team win-loss records are the most important thing, but quarterbacks are hardly entirely responsible for them. Locker's passer rating is actually nearly two points better than Luck's.
Many of his contemporaries are faring very well early, and plenty of great NFL quarterbacks had sterling first years as starters. (See chart.)
In last week's loss in Indianapolis, Locker threw a terrible interception out of his own end zone that turned into a Colts' touchdown. He also ran a quick sneak his coaches called for despite the fact that the play before had produced a first down. The two plays were part of an effort that left me questioning his
situational awareness
.
"He played wonderfully in the first half, he had an awesome first half," said
Matt Hasselbeck
, Locker's veteran backup. "And then throughout the game he had some other mistakes that he will learn from. Hopefully late in his career if those situations ever come up, he'll have something inside of his head that says, 'No, this has happened before, I'm not doing this.'"
I don't think Locker lacks confidence, but I do think that if he could find that one moment -- making a giant play at a crucial point in a game or leading that one game-winning drive -- it might crystallize some things for him and for the Titans, and things could get a little easier.
When they drafted him eighth overall in 2011, the Titans said his accuracy issues at Washington were not going to be a problem. But so far, he's connecting on 57.5 percent of his passes, when most of the best quarterbacks who don't have an especially vertical offense (like Luck and the Colts) are at least at 60. His supporting cast has often failed him with drops, and he's now playing behind a line that has one starter left from the favored preseason lineup.
He's been better on third down than he is during other parts of the game -- a good indicator. But he's been worse in the fourth quarter -- a bad one.
Monday night, Rex Ryan and the Jets will work hard to confuse him with unpredictable blitzing.
"There is a lot of thinking involved and a lot going on trying to, especially protection-wise, figure out where they are coming from," Locker said.
The 4-9 Titans finish with the Jets at home, a trip to Green Bay and a home game against Jacksonville. They certainly have a chance at 2-1, and a strong finish would go a long way toward assuring that Mike Munchak will be back for a third season as the team's head coach.
A spark from Locker would help the coach make his case. A regime change can slow down a quarterback in development.
"The good thing is he's got the demeanor, I don't think that's going to be a problem for him," Munchak said. "I think he can handle the pressure of things not going as well as he'd like immediately. I've seen guys who couldn't handle that. He doesn't want to have to deal with it, but this is part of him growing as a quarterback …
"He's not going to have a two-year career. He's got to look at it as he's going to be around for 15 years, God willing. I think he looks at things more long term. You mentioned the guy drafted ahead of him, Newton. Well Newton hasn't won anything. How many wins do they have? And how many did they have last year, six? I mean he had the stats, but they haven't won anything. Dalton's the only guy in his class that had a nice first year."
The Titans believe Locker is mentally tough, and that could be more valuable than ever, considering that ticking clock.
Peyton Manning's rookie passing record stood for 13 years. It's now been passed twice in the last two seasons, by Newton and Luck.
Even so, everyone follows a different path.
While the first- and second-year guys with big numbers get the attention, Locker's not alone.
Blaine Gabbert
probably won't enter his third season as the starter in Jacksonville.
Christian Ponder
has been struggling in Minnesota. In Miami (
Ryan Tannehill
) and Cleveland (
Brandon Weeden
) they've got rookie quarterbacks they think can be long-term answers who have played much like Locker so far.
Munchak and the Titans are too polite to come right out and say it, but their last first-round quarterback,
Vince Young
, won offensive rookie of the year with an impressive start and flamed out. They'd much prefer the opposite trajectory and are confident that's what they will get from Locker.
Locker, Ponder, Gabbert, Tannehill and Weeden have time. They can all aspire to do what the best of their contemporaries have done so far. They all know the success of other young quarterbacks makes it harder for people to be patient with them.
"Andrew Luck is having a great year and what his team is doing is awesome," Hasselbeck said. "But even him, he's got like 18 interceptions. But he's making those big plays, he's making those critical plays to win the game at the end, or his team is, someone is. As they're winning games, he's improving. As they're learning how to do things together, they're winning games. And that's really the key, winning games along the way.
"For sure the success that those teams are having with those young guys, it eliminates excuses for anybody the same age."
October, 3, 2011
10/03/11
9:56
AM ET
Our Monday look at QBR shows Tennessee's
Matt Hasselbeck
faring well yet again.
From ESPN Stats and Info, Hasselbeck 97.8 QBR in the Titans win against Cleveland was the single best quarterback game of the year so far.
He made big contributions when the game was close on the relatively few action plays that he was involved in -- just 21 for the entire game. In the first half, Hasselbeck went 8-for-12 for 194 yards and three touchdowns with no turnovers and no sacks, helping the Titans jump out to a 21-6 lead.
While Hasselbeck didn't do much of anything in the second half, even throwing an interception, all those plays came with the game pretty much decided -- the Titans had a win probability over 90% for the entire second half. So overall QBR rewards Hasselbeck for making winning plays early on that put the game away, and doesn't penalize him much for his so-so play when the game was basically out of reach.
It might seem weird that Hasselbeck's rating is higher than that of
Aaron Rodgers
from Sunday (96.2), but keep in mind that Total QBR is a rate statistic that evaluates quarterbacks on a per-play basis. While Rodgers had by far more total value by virtue of his awesome efficiency over 52 action plays, Hasselbeck was slightly more efficient on a per-play basis in the plays he was involved in.
Hasselbeck's 97.8 Total QBR on Sunday was the highest by any QB with a minimum of 15 action plays in a single game so far in this young season. Hasselbeck also owns the fifth-best QBR game of the season (92.2) from Week 2's win against Baltimore.
Here's a rundown of
the whole league
.