NFL Nation:

Blake Williams
February, 7, 2013
2/07/13
12:51
PM ET
The
St. Louis Rams
' 2013 schedule became a little more interesting Thursday when the NFL reinstated Gregg Williams following an indefinite suspension relating to his role in the
New Orleans Saints
' bounty scandal.
The reinstatement
means Williams will accompany his new team, the
Tennessee Titans
, against his would-be team, St. Louis, at the Edward Jones Dome. Williams' title with the Titans is senior assistant/defense.
The Rams had hired Williams as defensive coordinator before the NFL suspended him. They decided against retaining Williams, and have yet to hire a coordinator. They did not retain Williams' son, Blake, who had coached linebackers and reportedly played a role in making the defensive calls.
"Commissioner Roger Goodell today notified Gregg Williams and the Tennessee Titans that Williams' contract with the Titans has been approved and that he has been reinstated," the Titans announced. "The commissioner cited several reasons for the reinstatement, including Williams' forthcoming acknowledgement of and acceptance of responsibility for his role in the bounty program at the Saints, his commitment to never again be involved in a pay-for-performance or bounty system, and his pledge to teach safe play and respect for the rules at all levels of the game. The commissioner emphasized that Williams must fully conform to league rules, and will be subject to periodic monitoring to confirm his compliance."
Periodic monitoring? I'm not sure what that entails, but suffice to say, Williams surely must know he's out of second chances.
Williams worked with Rams coach Jeff Fisher when both were with the Houston Oilers and Titans through most of the 1990s. Williams' hiring in St. Louis last offseason seemed to signal a commitment to an edgier, more in-your-face style of defense. But with Williams' reputation taking a big hit and the NFL continually stressing player safety, I wondered whether a team would ever take a chance on Williams in the future.
The Rams seem better off without Williams' baggage, in my view. The subject will be worth revisiting once the Rams make their hire and Williams makes his mark on the Titans' defense.
"I have known Gregg for over two decades and have seen him work his way up from a quality control coach to a head coach," Titans coach Mike Munchak said, according to the team. "He will bring a great deal of defensive knowledge and energy to our staff. The decision to bring him here only came after going through a thoughtful and thorough process."
January, 26, 2013
1/26/13
9:42
PM ET
If Gregg Williams indeed becomes the
Tennessee Titans
' new
assistant head coach
after a year off the NFL map, he'll face a load of questions. Many will be about players trusting him after the way he spoke with the league about some guys on the
New Orleans Saints
while cooperating with the commissioner's investigation into what Roger Goodell determined was a pay-for-injury program.
But he'll have one major thing going for him in Nashville that may lead Titans fans to quickly look beyond all that: He's not Jerry Gray.
Gray might be the most unpopular guy in Music City sports. Many were baffled as to how he held on to his post as defensive coordinator after the Titans' offensive coordinator was fired with five games remaining in the season and four other veteran coaches were either let go or saw their contracts not renewed.
If Williams joins the team with the assistant head coach title Adam Schefter reports he would carry, Williams would rank as more powerful than Gray. If Gray is as overmatched as it appeared last season, he'll have someone to lean on -- and perhaps someone to lean on him.
Williams' relationship with Gray goes way back.
The two were assistants on Jeff Fisher's Oilers and Titans staff from 1997-2000, and when Williams left after the 2000 season to take the head job in Buffalo, he took Gray with him as his defensive coordinator. Later, Williams brought Gray to Washington.
[+] Enlarge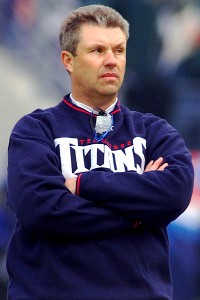 AP Photo/Chuck BurtonGregg Williams left the Titans after the 2000 season to become head coach of the Buffalo Bills.
In Gray's second incarnation with the Titans, he has hardly looked like a disciple of the aggressive Williams, who ran Fisher's 46 defense, loved to blitz and carried elements of that to Buffalo, Washington, Jacksonville (where he really ran what Jack Del Rio wanted on defense) and New Orleans.
The 2012 Titans played their cornerbacks way off, suggesting fear in a season when the franchise yielded the most points in the NFL and an Oilers/Titans franchise record. They were destroyed by top quarterbacks and top teams.
It seems that Gray, a former NFL defensive back, too often thinks like a passive defensive back as a coordinator when it's a lot healthier to think like an aggressive lineman. If, in working together, Gray and Williams meet somewhere in the middle -- as a position coach for Fisher, Williams worked with linebackers before becoming coordinator -- Tennessee could face a philosophical upgrade.
Of course, it won't matter if the personnel upgrade to match doesn't arrive.
Three other thoughts on the idea of Williams re-emerging as part of the Titans staff if it happens:
Respect of the room:
Much has been made of the idea that he won't command the respect of players because they will see him as a guy who sold out some of their brethren when coming clean about what went on with the Saints.
To that, I say the Titans should come to terms with it quickly. I imagine Williams would address it early on in some fashion. Head coach Mike Munchak should too, and he should put it in these simple terms: "I don't particularly care what you think of him. I think he helps us. Follow him or I'll find someone who will."
If players don't respect Williams, they will do so at the risk of their job security. He might have softened in a year away, but he won't stand for not being listened to.
Ego:
Williams is a good football coach whose ego can be an issue. It's part of what made him work, but it's also part of what led to his downfall. He simply has to strike a better balance at this stop.
He's a good coach with a good mind, and he can be a wonderful guy. But it would be healthy for him to acknowledge that there are plenty of good coaches with good minds around the league and to be that wonderful guy more regularly.
Part of that can come with a separation from his son, Blake, who worked with his father in three previous stops and was in line to work with him in St. Louis last season. While Gregg Williams was suspended, Blake took on a great deal of power for the Rams defense, which was particularly surprising considering he turned 28 in December. When the season ended, Fisher ended things with Blake Williams quickly and word came out via Mike Silver of Yahoo! Sports that the Rams were completely put off by Blake Williams' "brusque, tactless style."
A dad's going to be a dad, but Gregg Williams has to concede that some of his negative personality qualities rubbed off on his offspring and that the rest of the NFL world doesn't necessarily fall in line with his opinion of his son as a coach.
If Munchak somehow hires Blake Williams, I'll have a major issue -- and so should any players who would be coached by the younger Williams, whose résumé is more about his parent that his achievement.
Munchak doing it his way:
Munchak has two years left under contract, but if the Titans don't make the playoffs in 2013, it would take something extraordinary for him to stay in the job for a fourth season.
Many of his moves since his second season ended suggest that if he's going down, he's going down his way.
Munchak knows Williams well from their time together as Fisher assistants. Williams would be the second guy from that time frame to return to the Titans staff this year, joining tight ends coach George Henshaw.
If the Titans don't make huge gains from 6-10, Munchak and Williams will likely both be looking for work.
Williams will really have to have done solid work and reputation restoration to be appealing to someone who isn't an old friend.
January, 2, 2013
1/02/13
3:38
PM ET
Former NFL defensive coordinator Gregg Williams remains banned from the league.
It's not looking like the
St. Louis Rams
are holding a spot for him.
That's one way to read the
news
that the Rams have fired Williams' son, Blake, from their staff. The younger Williams coached linebackers. He also was thought to be a playcaller on defense.
The Rams hired Gregg Williams as coordinator before the NFL banned him for involvement in the
New Orleans Saints
bounty scandal.
Rams coach Jeff Fisher told reporters Monday that the team hoped to have a new coordinator in place within a couple weeks. That meant Williams could not be named coordinator unless the NFL reinstated him quickly.
Blake Williams' familiarity with his father's defensive system enhanced his value as the Rams adjusted on the fly to losing Gregg Williams unexpectedly. I would assume the Rams would have a spot for Blake Williams on their staff if Gregg Williams were to serve as coordinator.
January, 28, 2011
1/28/11
11:25
AM ET
With Jeff Fisher out as coach of the
Tennessee Titans
, Gregg Williams' name is being tossed around as a
possible replacement
.
There's some logic in that because the
New Orleans Saints
defensive coordinator has deep ties to that franchise. Williams was an assistant there starting in 1990 when it was still the Houston Oilers, until 2000. He left to become the head coach in Buffalo and remains a popular figure in Tennessee.
That's given rise to speculation that Williams could be a candidate. But there are no indications so far that the Titans have requested permission to interview Williams, who still has a year remaining on his contract with the Saints.
The
Denver Broncos
requested and received permission to talk to Williams during their coaching search this month. But Williams decided to pull his name out of consideration.
Williams has talked in the past about how he's happy in New Orleans and would only take a head coaching job in what he views as a perfect situation. Despite his ties to the Titans, they might not fit his profile. Williams might not want to replace Fisher, his longtime friend. The Titans also have a policy of not hiring more than one person from a family.
Williams had a chance to go back to Tennessee as defensive coordinator two years ago, but he didn't, in part because he wasn't allowed to bring along his son, Blake, as an assistant coach. Blake Williams joined his father in New Orleans and remains part of the Saints' staff.
January, 27, 2011
1/27/11
9:26
PM ET
After his offensive coordinator, Mike Heimerdinger, was diagnosed with cancer and began treatment during the season, Titans coach Jeff Fisher brought in cheap help.
His oldest child, Brandon, joined Heimerdinger as he moved from the sideline to the coaching box, taking a crash course in play-calling terminology to be ready to help convey calls to quarterback coach Dowell Loggains on the field if needed.
[+] Enlarge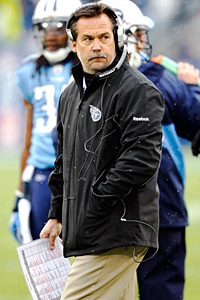 AP Photo/Paul SpinelliAccording to John Clayton, Jeff Fisher was looking to add his son, Brandon, to the Titans' coaching staff in 2011.
Loggains was sending the calls into
Rusty Smith
for one game, then to
Kerry Collins
for the remainder of the season.
After that little apprenticeship for Brandon Fisher, who played football at Montana, his father apparently wanted more.
A source told John Clayton that Jeff Fisher was looking to add Brandon Fisher to his 2011 staff as a quality control coach, and that turned out to be a breaking point for Bud Adams.
I can't believe Jeff Fisher didn't know it would be.
Nepotism has long been taboo for Adams, and it's the primary reason Gregg Williams, who wanted to bring his son Blake along, didn't rejoin the franchise as defensive coordinator after the 2008 season. Like Adams and ultimately Fisher, I wasn't big on the idea.
I think it's generally better to get your son who wants to coach on a friend's staff, not put him on your own. Gregg and Blake Williams landed in New Orleans instead.
From South Florida, as the two Saints assistants prepared to coach in Super Bowl XLIV, I wrote about why things didn't work out a second time with Gregg Williams and Tennessee and about Williams' subsequent reaction to what I wrote --
here
and
here
.
As for what just unfolded in Nashville...
Did Fisher have a change of heart and decide to challenge Adams when it came to his own son? Or did he know that pushing Brandon as a staff addition would likely blow things up and set him free from what was turning into an ugly, lame-duck situation?
And if Gregg Williams is to be a candidate for Fisher's old job now, would he be willing to leave his son out of the equation?
NFL SCOREBOARD
Sunday, 2/2
WEEKLY LEADERS