NFL Nation:

Blane Gabbert
February, 28, 2011
2/28/11
11:00
AM ET
The NFL combine was in full throttle over the weekend. Here are some things we picked up as it pertains to the AFC North:
[+] Enlarge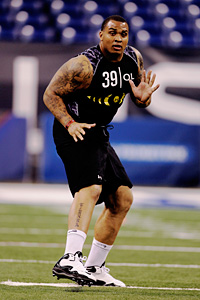 AP Photo/Darron CummingsThe Steelers and Ravens have shown interest in Florida offensive lineman Mike Pouncey.
Florida offensive lineman Mike Pouncey confirmed my initial thoughts entering the combine. Pouncey showed the same quickness, good feet and athleticism this weekend that he showed all season for the Gators. But something under the radar I was impressed with was Pouncey's natural enthusiasm. Not only did Pouncey look good in drills, but he was genuinely enjoying himself more than most prospects. Getting to know Pittsburgh Steelers center Maurkice Pouncey last season, the twin brother also has an upbeat mentality and is enthusiastic about football. Small things like that count in my book. I'm not surprised at all that both the Steelers and Baltimore Ravens have shown interest in Mike Pouncey. Those are two teams that not only look for talented players, but those who genuinely love the game.
The quarterbacks can really run this year. I don't know how many of them can throw at the NFL level, which is a major concern, but extending plays with their feet won't be an issue for this year's class. Top quarterback prospects like Missouri's Blaine Gabbert, Auburn's Cam Newton and Washington's Jake Locker all looked very athletic, and so did lower-profile quarterbacks such as Nevada's Colin Kaepernick. The Cincinnati Bengals are the only AFC North team in the market for a quarterback potentially in the first two rounds after starter Carson Palmer demanded to be traded and threatened to retire.
Speaking of quarterbacks, I think Arkansas' Ryan Mallett likely cemented his place outside of the first round, which might be a good thing for the Bengals. He threw the ball very well and has a cannon for an arm. But he also skipped some combine drills and has off-the-field concerns. When asked to clarify his issues at the combine, Mallet was defensive with the media, which was not the right way to handle it. Mallet said he would do so with teams and not with the public. Teams likely know those issues by now and at some point they may leak to the media anyway. But the Bengals have a track record of drafting talented players who fall down the draft board because of character issues. So Mallet could be a target for them in the second round. With Gabbert not throwing, Mallet was the best pure passer this weekend, in my opinion.
I still like the top two receivers in the draft: Georgia's A.J. Green and Alabama's Julio Jones. I'm convinced you can't go wrong with either player. Jones probably closed the gap on Green in the combine with this freakish athleticism. Jones' 40 time (4.39) and measurables were a little better than Green's (4.48), who remains more polished. Jones needs to work on his consistency catching the football. "The gauntlet" drill exposed him a bit and that could be the difference. I also liked Kentucky receiver Randall Cobb, who ran a 4.45, stood out in his workouts. The Browns, Bengals and Ravens could all look for receivers in the first or second rounds.
The Ravens' strong interest in Oregon inside linebacker Casey Matthews is interesting. For all the great things general manager Ozzie Newsome and his staff have done with the Ravens, they have yet to find a successor to middle linebacker Ray Lewis, who turns 36 in May. But it looks like Baltimore is putting a strong effort into finding that player in this year's draft. Matthews is getting a lot of attention because of the success of brother, Clay, with the Green Bay Packers. But Casey is projected to be a third-rounder.
February, 25, 2011
2/25/11
11:31
AM ET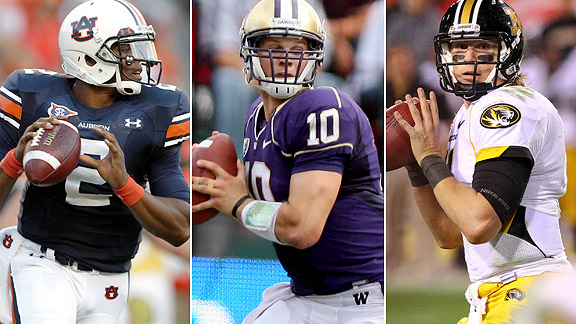 US Presswire/Icon SMIWill the Minnesota Vikings position themselves to draft Auburn's Cam Newton, left, Washington's Jake Locker, center, or Missouri's Blaine Gabbert?
INDIANAPOLIS -- The
Minnesota Vikings
arrived at this week's scouting combine carrying the most intense personnel burden a team can face: They have no starting quarterback and no clear path for finding an obvious answer in the draft.
You've heard of the Scarlet Letter? In the Nathaniel Hawthorne novel, Hester Prynne is forced to wear an "A" on her chest to signify a moral crime. So let's assign our own Scarlet Letter to the Vikings for putting themselves in this position. We'll slap them with a "B." Their cupboard is Barren at the most important position in professional sports, a hole that will swallow up their new coaching staff unless it is filled quickly and creatively this offseason.
"We're going to look at all avenues at the quarterback [position]," vice president of player personnel Rick Spielman said at the NFL scouting combine, which he and his scouts are scouring for quarterback options. "... But you're hoping that by the time all the dust settles and we're getting ready to go into the season that we have that position pretty much resolved."
We've seen this act before, of course. Consider the first chart: The Vikings have been patching together this position for an extended period of their history, spanning multiple ownership regimes, personnel executives and coaching staffs.
In the 21 years since Tommy Kramer's final season, the Vikings have used 10 different primary starters. Most recently, they set themselves back with an indefensible plan to develop
Tarvaris Jackson
as their long-term answer. Jackson is a pending free agent and, with the departure of coach/benefactor Brad Childress, seems unlikely to return.
That leaves the Vikings with second-year player
Joe Webb
as the only returning player who has taken a snap with the team. Spielman said "we're very excited about what Joe Webb brings to the table," but it's hard to believe that new coach Leslie Frazier will open his first full season with a player as raw as Webb as his starter.
History has showed the Vikings can find a temporary solution. This year, it could be
Donovan McNabb
,
Kyle Orton
,
Vince Young
or some other passer whose previous team is willing to part ways. But more important to me is whether the Vikings will make the long-overdue plunge into planning their future at the position.
In their 50-year history, the Vikings have drafted only two quarterbacks in the first round: Kramer in 1977 and
Daunte Culpepper
in 1999. It only takes a look around the NFC North to realize that finding a long-term starter in the modern-day NFL usually requires a first-round commitment. That's how the
Detroit Lions
got
Matthew Stafford
(No. 1 overall). It's how the
Chicago Bears
acquired
Jay Cutler
(two first-round picks in a trade) and it's how the
Green Bay Packers
secured
Aaron Rodgers
(No. 24 overall).
Can the Vikings make a similar grab at No. 12 overall this year? Will they move up to ensure they can draft Auburn's
Cam Newton
or Missouri's
Blaine Gabbert
, both of whom will likely be off the board at No. 12? Would Washington's
Jake Locker
make sense at that spot? Or would the Vikings identify a second-level prospect, perhaps Florida State's
Christian Ponder
, and maneuver to draft him in the second or third round?
That approach is how the Vikings landed Jackson in 2006, and Childress' insistence that Jackson would develop into a permanent starter held back the team from planning for the eventual retirement of
Brett Favre
. My understanding is that even last year, Childress' vision was for Jackson to take over whenever Favre retired.
That position caused considerable consternation within the Vikings' front office, which under Spielman had taken a proactive approach to planning for other veteran departures. Center
John Sullivan
, for example, was drafted in 2008 with the intent of replacing
Matt Birk
. The same was true for safety
Tyrell Johnson
, who took over for
Darren Sharper
in 2009.
[+] Enlarge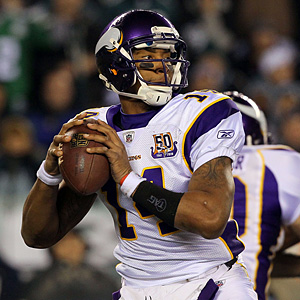 Jim McIsaac/Getty ImagesQuarterback Joe Webb is the only returning player who has taken a snap with the Vikings.
Never in his career had Jackson demonstrated the aptitude to be a long-term starter. So why didn't the Vikings seek a successor to Favre as they had with Birk, Sharper and others? I asked Spielman that question Thursday, fully expecting to get the answer he provided.
"We're excited to move forward on everything," Spielman said through gritted teeth.
The real answer, of course, is that Childress had amassed enough internal power to serve as the Vikings' general manager when it came to quarterbacks. He plainly disapproved of Spielman's decision to acquire
Sage Rosenfels
two years ago and summarily buried him on the bench. And in the previous three years, the only quarterback the Vikings drafted was USC's
John David Booty
, a project who didn't make it past his rookie year.
Vikings fans should feel optimistic that Frazier agrees with Spielman on the state of the position. And in truth, the first offseason of a coaching regime can and should be a seminal moment at the quarterback position.
On Thursday, I sought out Lions coach Jim Schwartz to talk about the similar position he found himself in two years ago. The Lions had the No. 1 pick, of course, but Schwartz knew he wanted to build his program around the identity of his quarterback.
"[Drafting Stafford] allowed us to select personnel," Schwartz said. "You're not spinning your wheels. If you don't have a quarterback, you're drafting maybe a different kind of running back, maybe a different kind of offensive lineman, than if you have somebody. We had
Calvin Johnson
. But our ability to get
Jahvid Best
,
Nate Burleson
in free agency, to draft
Brandon Pettigrew
. Those pieces were because of the quarterback that we have. You're probably not going to run the ball 45 times per game when you have a quarterback that you want the ball in his hands.
"So in order to make progress, in order to fit guys to where they're going to be, in order to fit guys to a job description, you need to know what that job description is going to be. Having a quarterback settles a lot of that, knowing what that quarterback can do, knowing his ability to make throws, knowing his ability to process things, those kinds of things, it's all very important.
"The quarterback is the most important position on the team, and if you're strong at that position, you can overcome weaknesses at other positions."
Injuries have prevented Stafford from establishing himself as a franchise anchor, but the point is the Lions have built their team with a clear vision based on his presence. That's something the Vikings have done only rarely in their history.
As the second chart shows, they haven't had many opportunities. The Vikings' prospects for drafting a blue-chip passer at No. 12 overall are murky at best, but years of neglect and poor evaluations have left the Vikings in an unenviable spot.
No one wants their hand forced in a draft, but the Vikings are as close as they can be to that ultimatum. We've seen how far the Band-Aid solution can take them. They won't win a championship with someone else's quarterback. Even they now realize it's time to find one of their own.

NFL SCOREBOARD
Thursday, 9/18
Sunday, 9/21
Monday, 9/22
WEEKLY LEADERS